A Complete Guide to Seven Corners Travel Insurance
Seven Corners travel insurance plans are designed to make it easy for you to protect yourself against the unexpected.
With an industry-leading range of travel insurance options and competitive premiums, you can feel confident knowing that Seven Corners is here to help you with any travel issues that may arise.
Seven Corners insurance offers a variety of options, considering comprehensive travel medical policy for parents visiting you in the USA, or you searching for a complete policy for your international trip or emergency medical coverage to augment the coverage with your credit card.
Having travel insurance can aid in the event of an unexpected emergency before, during, or after your trip.
Seven Corners travel insurance is a highly reputable travel insurance provider for both residents of the United States and international travelers including the ones who are visiting the USA.
Don't take our word for it, Seven Corners insurance has been constantly ranking in the best lists:
NerdWallet ranked Seven Corners in their list of 10 best Travel Insurance Companies, in 2022
MarketWatch ranked Seven Corners in their 11 Best Travel Insurance Companies list, in 2022
This complete guide will help you understand all the information you need to know about Seven Corners Travel Insurance, its features, and why it's one of the best choices for you.
What are the types of insurance offered by Seven Corners?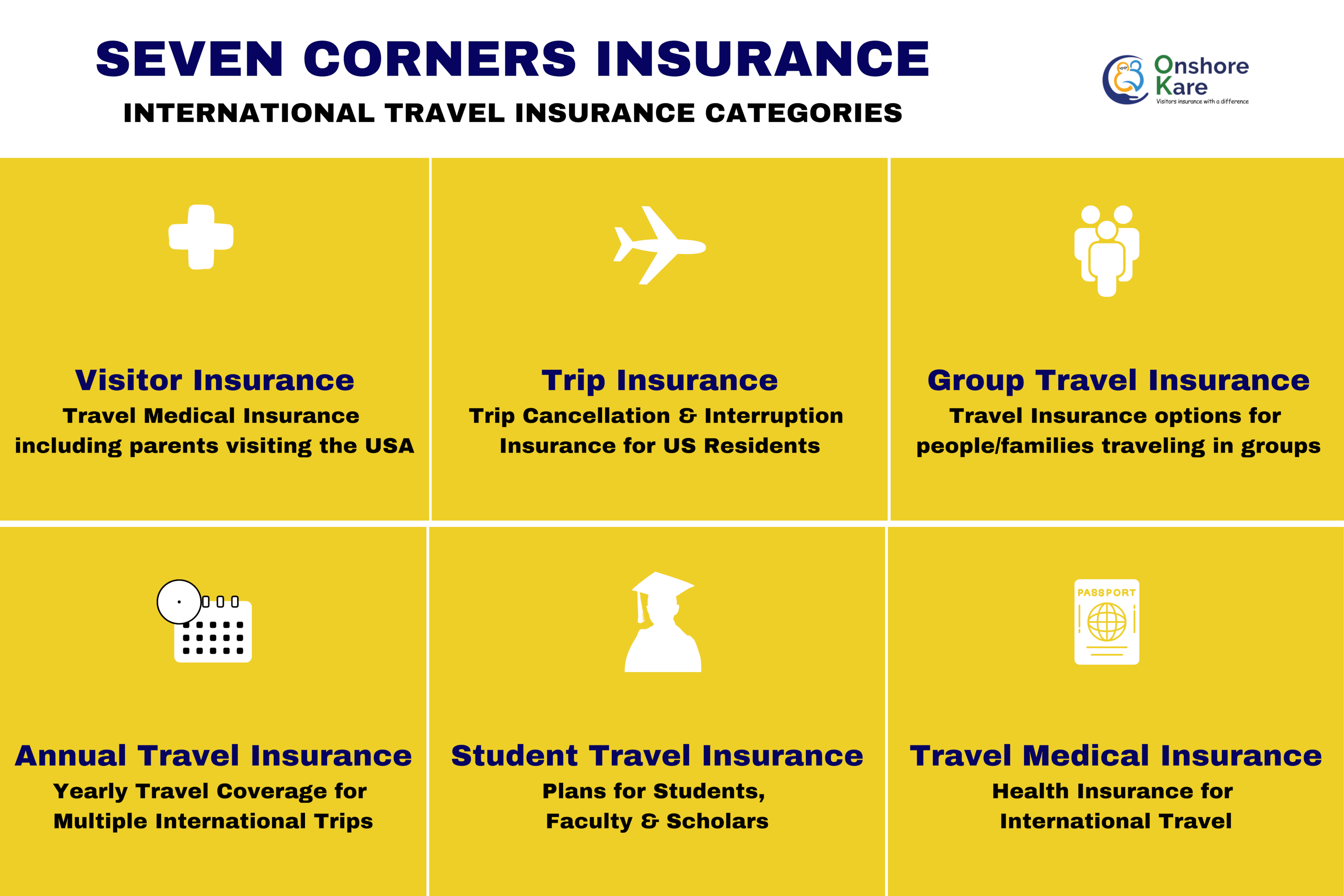 Seven Corners offers insurance plans for both domestic travelers and foreign tourists, they provide a wide range of travel insurance plans:
Visitors Insurance (for non-U.S. Citizens/ Non-U.S. Residents to visit the USA)
Trip Insurance Coverage
Group Insurance
Annual Plans
Student Health Coverage
Travel Medical Insurance plans (for US citizens/Residents to travel internationally)
And more…
Visitors Insurance:
Non-US citizens can get specialized health insurance while they are in the United States from visitor insurance offered by Seven Corners
Inbound USA
In short, Inbound USA is a visitor insurance policy that offers visitors to the U.S. pre-determined amounts for medical coverage and emergency services during their journey and brief stay abroad.
Inbound USA is available only to non-U.S. Residents and non-U.S. Citizens visiting the USA.
The range of coverage lengths is 5 days to 364 days. After the deductible is met while in the US, the insurance provider will cover each covered treatment or service up to the maximum sum specified in the policy agreement.
Perfect for international travelers in the United States on short-term business, vacation, or academic visits.
Benefits of Inbound USA include:
Emergency Medical Evacuation
Return of Mortal Remains
Travel Related Coverage
Dental Emergency
Accidental Death and Dismemberment (AD&D)
And more…
Inbound USA plans offer 2 options viz. Inbound Basic and Inbound Choice. Inbound Basic provides essential medical coverage for visitors to the USA and Inbound Choice which is a popular plan offers higher limits of coverage.
Trip Insurance Coverage
Having trip insurance provides you with a number of benefits, primarily trip protection, and reimbursement of prepaid trip costs in case of a change of plans, some plans may even cover you for nonrefundable trip costs, and trip interruption.
Trip Insurance helps you travel with peace of mind.
Trip Delay/Cancellation*
Property Lost or Stolen
Baggage Delay or Loss
Costs Related to Medical Expenses
Emergency Medical Evacuation
*The non-refundable parts of your domestic and international trips may be covered by your plans if you have to cancel due to an acceptable reason per the policy
Seven Corners offers a few options for travel protection to US Residents, these plans are:
RoundTrip Basic Plan:
If your trip is cut short or canceled, this trip insurance will reimburse you for up to $30,000 (per person) of your expenses. If the cruise excursion is delayed for three hours or more, the company will pay up to $250 per day for the inconvenience.
You'll be covered for up to $100,000 in medical bills and $500 in lost luggage costs.
RoundTrip Choice Plan:
It will reimburse you up to $100,000 if your trip is cut short or canceled. In the event of a cruise delay of 6+ hours, passengers will receive up to a maximum of $1500. Medical expenses will be covered up to $500,000 and passengers will receive $2500 for any lost, stolen, or damaged luggage.
When should you purchase travel protection? It is essential to purchasing your plan as soon as you can after making the initial trip deposit /initial trip payment. Why? Only if you purchase your plan within the allotted time frame will you be eligible for certain advantages like Cancel for Any Reason (CFAR), Interruption for Any Reason (IFAR), and the Pre-Existing Condition Waiver.
Read more about How Trip Insurance Works to understand the intricacies of Trip Insurance.
RoundTrip International Coverage :
Non-US citizens need this insurance for trip protection in order to travel safely.
As an added bonus, Seven Corners also provides extensive coverage. The supplementary coverage they offer consists of:
Coverage for flight accident
Coverage for damage to rental cars
Coverage in the event of cancellation due to job obligations
Equipment rental insurance
Group Travel Insurance
For groups of ten or more travelers, Seven Corners offers a range of group travel insurance alternatives.
They offer significant features like medical evacuation in an emergency as part of their group travel insurance. Additionally, the plans also include 24/7 multilingual travel assistance services for emergencies and other problems.
Some of the group travel insurance offered by Seven Corners include :
Seven Corners Travel Medical Plus Group: Individuals and families traveling together will benefit the most from this option
Liaison Student Plus Group: International medical insurance for students and faculty
RoundTrip Group: Group Travel Insurance for domestic and international vacations that cover trip expenses, valuables, and medical expenses
Annual Insurance Plans
What are the Annual Travel Insurance Plans offered by Seven Corners?
If you are a frequent flyer then it is convenient having an insurance plan to cover multiple international trips. These are the plans that provide coverage for an entire year that are best for frequent fliers who expect to take multiple trips during the coverage period (364 days).
Seven Corners provides two types of annual plans:
Wander Frequent Traveler
Wander Frequent Traveler Plus
There is flexibility in the policies based on the total amount of time you anticipate being away from home during any given vacation.
As long as no single trip exceeds the chosen duration (30, 45, or 60 days), you are free to travel as much as you wish during the allotted 364 days.
Each plan covers up to $1,000,000 in medical costs and $1,000,000 in medical evacuation/repatriation costs.
Insurance Coverage For Annual Evacuation And Repatriation
Those who enter the United States on a J1 Visa are mandated to have medical coverage. This is called Medical evacuation and repatriation coverage. J1 Visa holders are required by law to have $50,000 in evacuation insurance and $25,000 in repatriation insurance.
Seven Corners Insurance plans are the best option because of the reasonable price they charge for this service.
Students Travel Insurance
Liaison Student
Students who are studying abroad have access to health insurance through the Liaison Student plan. This plan is offered in two distinct tiers (Liaison Student Basic and Liaison Student Plus) has outstanding coverage, and can be purchased right away. It provides protection worldwide including in the USA.
Benefits of Liaison Student include :
Medical coverage for illness and injury
Covid-19 coverage (Choose Liaison Student Plus to avail of this benefit)
24/7 multilingual travel support
24/7 medical assistance
Coverage for maternity, vaccinations, and mental health
All students from any country who study abroad are covered for their medical expenses.
It is the best option for college students who don't want to worry about medical plans. The Spouse and dependent children are covered as well while studying abroad. The policy will renew each year if the insured person meets the requirements.
Who are eligible to buy this plan?
If you are a full-time student, faculty member, or scholar, you may purchase Liaison Student Health Insurance for yourself and your dependents
Full-time involvement in academic or research pursuits
Traveling outside of your home country
Younger than 65 years of age and at least 12 years old
Read more about Liaison Travel Insurance plans
If you are a student then this article on Health Insurance for International students will be helpful for you.
Travel Medical Insurance
When you travel internationally, your regular domestic insurance policy probably may not cover you internationally. The typical domestic insurance may not extend medical coverage if you are hurt or sick while on vacation in another country.
High costs of your medical care won't be covered if you are treated in a foreign country. In a country like the USA where medical expenses can run very high even for simple treatments.
To assist your budget for these costs, the Seven Corners Liaison product line provides travel medical insurance. If you get sick or hurt while you're away from home, your travel medical insurance will take care of you financially for eligible medical expenses.
A modest deductible is standard for insurance policies. The remaining costs will be covered by the policy. There are affordable options for international medical insurance coverage.
In addition, Seven Corners provides the Wanderer plan. Business travelers who take multiple travels per year and want continuous coverage may consider this package.
There are three tiers to the Liaison insurance plans:
All of a person's international medical costs are covered by these policies. In addition, they cover the cost of any necessary emergency dental care as well as the cost of any necessary emergency services.
Seven Corners provides travel medical insurance for a variety of groups, including tourists from the United States, students, and missionaries.
Many people with lesser incomes who are frequent travelers may benefit from purchasing one of these insurance because of its low cost and comprehensive coverage
Other Coverage by Seven Corners
COVID-19 Related Coverage
Under the Seven Corners RoundTrip Basic, Economy, Choice, and Elite plans, COVID-19 is treated the same as any other sickness.
For Students' travel insurance, you may choose the Liaison Student Plus plan if you would like to get COVID – 19 coverage.
The policyholder is entitled to compensation for losses sustained as a result of trip cancellation, trip interruption, medical expenditures, medical evacuation, and repatriation.
What's not included in Seven Corners Insurance?
It's important to read the fine print of your travel insurance policy and understand the limitations on coverage that may apply. Some common exceptions are as follows:
High-risk activities :
The insurance may not cover you for skydiving, bungee jumping, heli-skiing, or any other extreme sport they deem too dangerous. Some plans offer coverage of adventure activities as an optional add-on coverage.
Intentional acts :
Losses incurred as a result of deliberate actions, such as intoxication, drug usage, self-inflicted injury, or criminal behavior.
Specifically designated events :
Commonly excluded occurrences include pandemics, natural disasters, and war.
It is important to read the policy's exclusions to understand what is and is not covered, as they may differ according to the insurer and the policyholder's location.
Which is the best medical coverage from Seven Corners travel insurance?
Knowing what kind of protections you need while away from home is important when choosing the right package.
For Visitors Insurance: People who have family/relatives/parents visiting them in the USA can consider highly competitive comprehensive medical coverage travel plans from Seven Corners Travel Insurance.
For premium travel credit card holders: If you currently have appropriate trip cancellation coverage through a premium travel credit card, you may not need additional coverage beyond a standalone emergency medical policy.
For people requiring more coverage: If the credit card coverage you have isn't enough for your needs, if you don't have credit card coverage, or if you didn't pay for your trip with the credit card, you may want to consider upgrading to a more extensive plan, such as a RoundTrip or Annual Trip plan from Seven Corners, depending on how often you travel and how much you spend.
For people traveling frequently: Long-term travelers who plan to take multiple journeys per year will find the annual plans to be the most convenient. There is a 60-day limit on travel coverage, so if you anticipate being away from home for longer than that, you may want to check into alternative choices.
Frequently Asked Questions – FAQs
What is Seven Corners' travel protection?
Seven Corners Travel Insurance company is based in Carmel Indiana, USA. They have over 4000 reviews on Trustpilot with a rating of 4 stars (Great).
Options for travel insurance from Seven Corners range from one-time trips to yearly policies, medical coverage exclusively, student discounts, and even coverage for those traveling internationally. people from other countries who are tourists in the United States, etc. Additional coverage options include plans with benefits tailored to the spread of COVID-19.
Do Seven Corners offer international travel insurance?
When you travel beyond the United States, Seven Corners has plans to accommodate you. Take a look at the insurer's RoundTrip plans if you're just planning on doing one vacation and coming back.
The Wander Frequent Traveler policy is a wonderful option if you're looking for yearly coverage.
Is there protection against COVID-19 with Seven Corners
If you contract COVID-19, you will be covered by Seven Corners' policies because the company treats it the same as any other ailment.
Seven Corners also provides two premium travel plans, Wander Frequent Traveler Plus and Liaison Travel Plus, both of which have enhanced coverage for COVID-19 incidents.
Is coverage for pre-existing medical conditions included in Seven Corners' plans?
Seven Corners offers RoundTrip Choice and RoundTrip Elite customers pre-existing medical conditions exclusion waivers.
If you have a pre-existing condition, you can now travel with peace of mind utilizing these waivers. To be exempt from paying the fee, you must:
Purchase the policy no later than 20 days after making the original trip payment
Coverage for all pre-payments for the trip
Coverage for the cost of any further travel arrangements you make within 20 days of making those payments
Not be disabled from traveling at the time you purchase the policy
Bottom Line
Seven Corners insurance is highly competitive for group insurance and their premiums for all other products are competitive as well. You will agree that in travel insurance while the premium being competitive is good but what really matters is the extent of coverage provided.
With Seven Corners travel insurance plans you will have adequate protection in the event of emergency medical expenses while traveling abroad.
We hope our complete guide on Seven Corners travel insurance helps you make an informed decision to determine if this is the right option for you.
Seven Corners is amongst the few reputed insurance providers who specialize in Visitors Insurance and provide a wide range of travel cover options.
They have a great reputation and excellent customer service, a solid player to depend on for your insurance needs.
Also Read:
Review of WorldTrips – Tokio Marine Travel Insurance
Review of IMG Travel Insurance