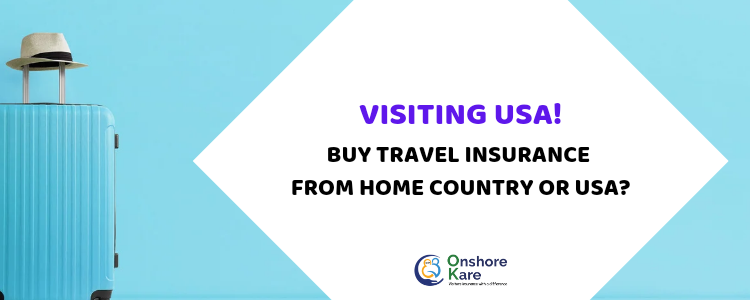 Advantages of buying Travel Medical Insurance from the United States
Nobody wants to get sick while on vacation, and illness or injury can be one of the most terrible situations that can occur.
Travel medical insurance is intended to assist in these situations. It's especially critical if you're travelling outside of the country, your domestic health insurance in your home country may not or only provide only extremely limited coverage.
And, if you are travelling to a country like the United States the cost of any medical treatment will burn out your bank balance. You need to cover against this risk.
What exactly is Travel Medical Insurance?
Travel medical insurance covers unexpected medical expenses while on vacation. If you experience an unexpected illness, injury, or medical condition while travelling that is covered by your travel medical insurance plan, the plan will compensate you up to the plan limitations.
Travel medical insurance covers reasonable and customary expenses such as:
Emergency medical services
Medical bills such as unexpected medical costs
Charges for hospitalisation and operating rooms
X-rays, examinations, treatments, lab tests, and anaesthetics.
Medications and drugs.
Emergency medical transportation
Dental care, but be aware of any special limits on dental payouts.
There are two types of travel insurance options:
Trip Insurance:
These policies cover the investment cost of your planned trip and may have limited coverages for emergency medical expenses. These plans provide reimbursements for trip cancellation, flight delays, missed connections, lost luggage and more.
Travel Medical Insurance:
A comprehensive travel insurance plan can include coverage for sickness, hospitalization, accident, injury and in some cases emergency medical evacuations. A travel insurance policy may also have coverage for baggage loss, and other things in addition to emergency medical benefits. It's the most effective way to address a wide range of potential issues.
Travel medical insurance is intended to cover medical emergencies that occur while travelling abroad. It is not intended for use in experimental medical treatment in another country. It is intended for travellers who are experiencing medical and require care and treatment while abroad.
What does Travel Medical Insurance cover?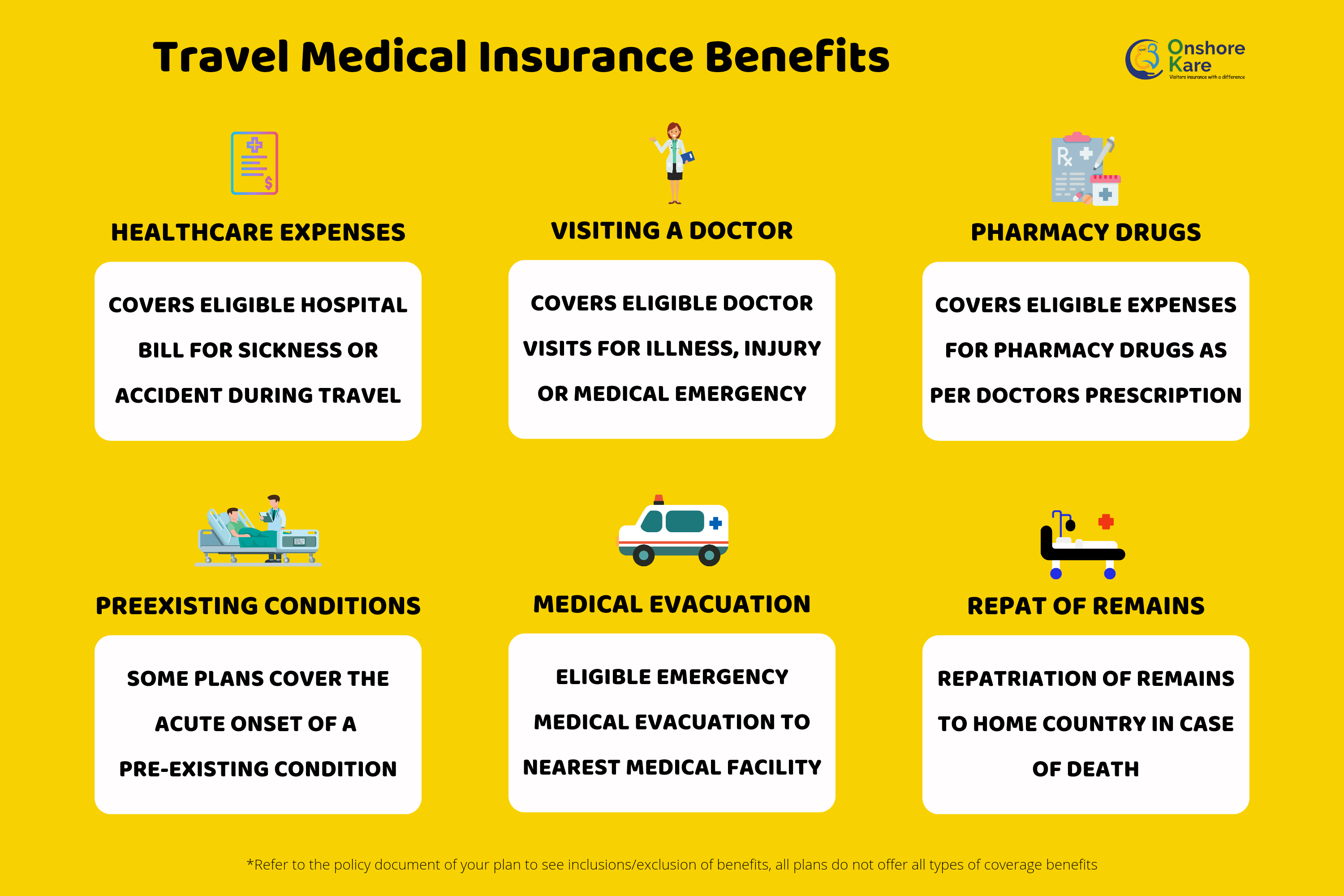 Is Covid covered by travel medical insurance?
There are numerous travel medical insurance plans that cover Covid-related medical expenses. Since not all the plans include Covid Coverage, it's important to confirm Covid coverage before purchasing a plan if it's a priority for you.
Covid medical coverage will be limited to the plan's travel medical coverage limit. It may cover any medical costs incurred as a result of contracting Covid during your trips, such as doctor bills, medication, and hospitalisation.
Additional travel insurance benefits, such as travel delay insurance, may be able to cover the additional costs of Covid quarantines.
For example, if you contract Covid while travelling and need to extend your stay due to a quarantine, your travel insurance plan may reimburse you for the additional costs if the plan covers Covid.
What is the difference between Comprehensive travel insurance and Fixed Travel Insurance?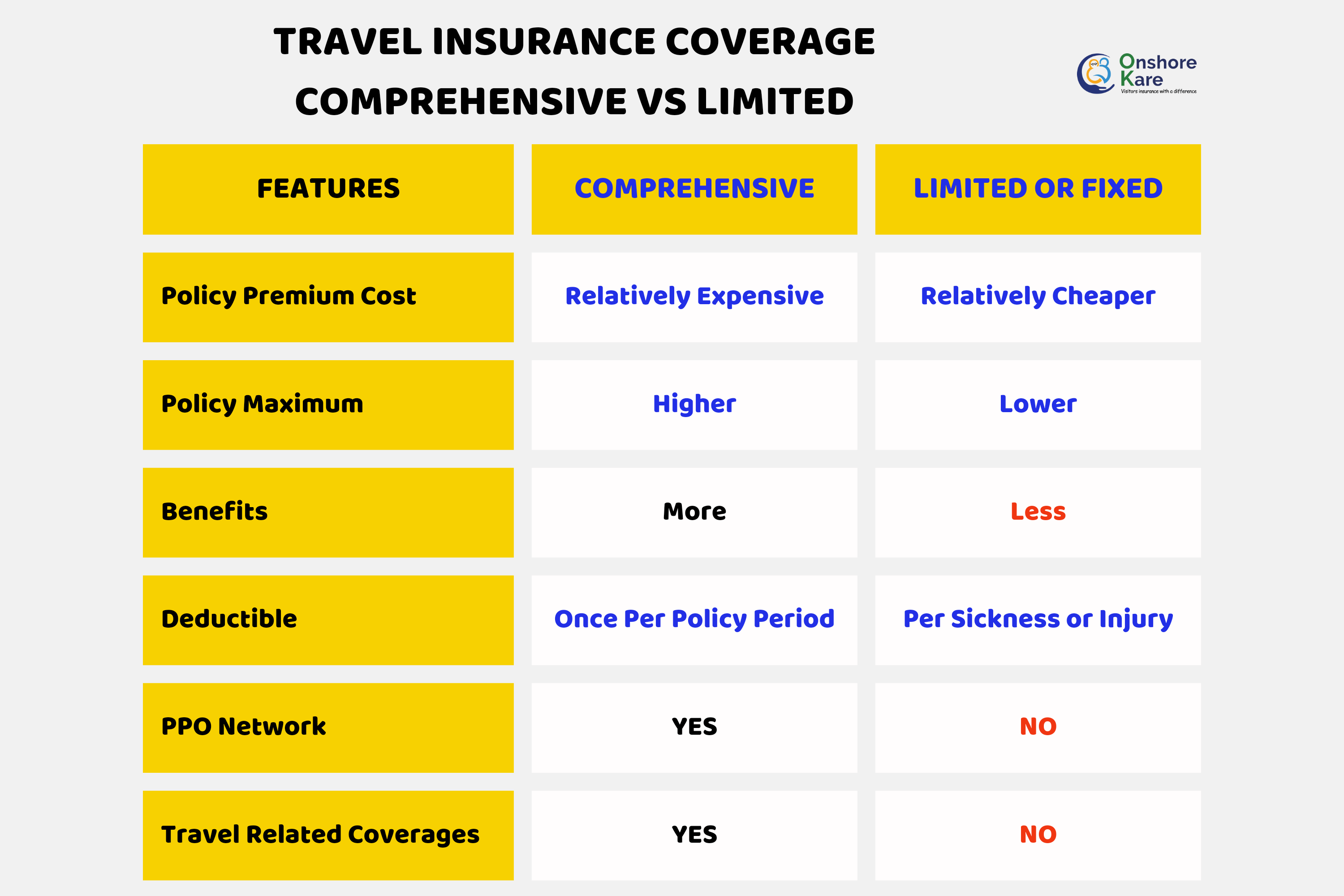 The difference between comprehensive coverage and a limited coverage plan is that a comprehensive travel insurance policy will provide more protections like trip insurance than fixed travel medical insurance. Fixed travel medical insurance plans will provide coverage for emergency medical events, whereas comprehensive trip insurance policies will cover everything from medical care to trip insurance such as trip cancellations. Although fixed travel medical plans may include coverage for benefits such as trip interruption, the amounts covered are typically limited.
A limited coverage plan offers a fixed amount for each category. Though limited coverage plans may be less expensive, they will almost certainly not provide adequate coverage if anything serious occurred during your stay in the United States.
When it comes to coverage, a limited coverage plan can be less expensive but has some limitations because it provides fixed benefits. That is why many people opt for a comprehensive coverage plan to protect themselves.
What are the types of Travel Medical Insurance Policies?
When purchasing travel medical insurance, it is critical to understand the distinctions between these coverage types.
Primary Coverage vs Secondary Coverage
Depending on the plan, travel medical insurance can provide primary coverage or secondary coverage. If it is primary coverage, it will take precedence over any other health insurance you may have.
If you are travelling outside of the United States to a foreign country and your U.S. health insurance plan does not provide coverage, a secondary coverage of travel medical plan will essentially become primary coverage.
Multi-Trip vs. Single-Trip
The regularity with which you travel in a calendar year may be the deciding factor between these two coverage types. Here's the distinction between the two.
Single-trip coverage begins when you leave your house and travel to your destination (or destinations) and ends when you return home. The plan will cover you for the entire duration of your trip.
For example, you could buy a single-trip plan for a four-week European vacation that includes visits to several countries.
Multi-trip coverage, also known as annual travel insurance, is good for travellers who take three or more trips per year and covers you for a calendar year.
For example, you could travel to Italy, return home for a few weeks, then travel to Germany, return home, and then depart for Mexico.
Advantages of Travel Medical Insurance
Purchasing a travel medical insurance policy has a number of advantages. Here are a few examples:
Peace of mind – Medical emergencies can occur at any time. It may give you some peace of mind knowing that the cost of unexpected injuries and illnesses will not devastate your vacation budget.
There is no need to postpone treatment – With travel medical insurance, you can focus on getting the care or treatment you require right away, rather than waiting until you return home.
Foreign language assistance services- Communicating with medical personnel about your condition can be difficult unless you are fluent in the country's official language.
Your travel medical insurance provider can assist to facilitate emergency services so that you can have these conversations effectively.
You'll have to deal with these unexpected costs on your own if you don't have travel medical insurance. At best, this could put a dent in your vacation budget; at worst, it could put you in serious debt or jeopardise your health.
Getting to a More Desirable Location
You should also think about emergency medical evacuation insurance. Depending on your condition, this will pay for your emergency transportation to the nearest adequate medical facility or even back home.
For example, if you're going on vacation in a remote part of the world, this is important coverage to have. According to the US Department of State, medical evacuation back to the US can cost more than $50,000.
Be aware of the evacuation rules in your travel insurance policy. Some policies, for example, may pay for your return to the United States only after you've been hospitalised for seven days following a medical emergency.
What Does Travel Medical Insurance Not Cover?
What a travel medical insurance plan covers and excludes depends on the travel insurance company. Here are some examples of common exclusions.
Pre-existing medical conditions:
They are treated differently by each travel insurance company, and one insurer may define a pre-existing condition differently than another.
Some insurance companies will look at your past medical history to see if a condition existed during a time period ranging from 90 days to a year ago, depending on the policy.
Pre-existing conditions are generally not covered by travel insurance plans. Some plans do offer coverage for the acute onset of a pre-existing condition.
Drug use and intoxication:
Emergency medical costs resulting from intoxication or drug use are typically not covered by travel medical insurance. For example, if you get drunk and fall off a balcony, your travel medical insurance will not pay for your injuries.
Activities that are dangerous:
Some travel medical insurance policies will not cover expenses incurred as a result of activities like mountain climbing, skydiving, or parasailing.
If you intend to participate in activities like this, consult with a travel insurance agent to compare adventure travel insurance plans to ensure that your specific activities are covered.
Other common travel medical insurance exclusions include:
Vaccinations and immunizations
Obesity and weight loss surgery
Transplantation of organs or tissues
Eyeglasses and contact lenses repaired
Who Should Get Travel Medical Insurance?
Purchasing health insurance for international Travel is a simple way to save money in an emergency, and anyone can benefit from it.
If you are travelling on an international trip to a country where your health insurance provider does not provide coverage, you must purchase travel medical insurance.
If your insurance provider covers healthcare costs in the country you're visiting, purchasing international travel insurance can still help you save money and avoid out-of-network charges.
This is also true if you are travelling by cruise ship. You should be able to receive some medical care onboard the ship and use your travel health insurance to cover the costs.
However, if your injuries necessitate transfer to a medical facility on land, a travel medical insurance policy can be beneficial.
You should also research the country you intend to visit to determine whether you will require travel health insurance or not.
Some countries, such as Aruba, Costa Rica, French Polynesia, St. Maarten, Turks and Caicos, and the United Arab Emirates, may require you to show proof of travel medical insurance before entering.
Even healthy travellers should have travel health insurance if they are travelling outside the United States.
Following are the most common overseas medical emergencies experienced by their policyholders:
Bone fractures due to a fall
Motor vehicle-accident-related injuries
Problems with the lungs, such as a collapsed lung
Heart problems, such as a heart attack
Hospitalization due to food poisoning or sickness/illness
If you do not have adequate coverage and become injured or sick while on your trip, you will be forced to pay medical bills out of pocket.
Senior travellers, in particular, should ensure that they have adequate emergency medical coverage when travelling abroad, read more on travel insurance for senior travellers visiting the USA.
What Is the Difference Between Travel Medical Insurance and Health Insurance?
Travel medical insurance is distinct from health insurance because it is a supplemental policy that protects you while you are travelling.
It is only valid for the duration of your trip and is intended to supplement your health insurance when you are travelling outside of your network.
If you have a medical emergency while on vacation, your health insurance policy may not cover the cost of treatment and services.
Travel medical insurance can help fill in the gaps while also providing extra protection to keep you safe and healthy on your trip.
How can I obtain Travel Medical Insurance?
Before purchasing travel insurance, it is a good idea to compare quotes from various insurers. The majority of travel insurance companies provide free quotes on their websites.
You can save time by visiting a website that compares insurance quotes from various companies. This helps you save time.
However, price should not be the only determining factor. It's a good idea to look for a plan that also includes Covid-related issues.
The best travel insurance companies provide a comprehensive range of coverage limits at an affordable price.
How much does travel medical insurance cost?
The travel medical insurance cost is typically determined primarily by:
The travellers' ages
Coverage limits decided
Trip length
How Much Travel Medical Insurance Should You Get?
It's a good idea to choose a plan that provides adequate coverage for the type of trip you're taking. According to the Centers for Disease Control, an emergency medical evacuation from a cruise ship can cost between $50,000 and $100,000.
The most generous travel insurance policies cover emergency medical expenses up to $500,000 per person and emergency medical evacuation up to $1 million.
What you should know about insurance limits, exclusions, and deductibles?
Travel medical coverage, like regular health insurance, has limits, exclusions, and deductibles.
Exclusions are specific events that are not covered. Some plans, for example, may exclude coverage for risky activities (such as skydiving). Check the policy to ensure that the activities you intend to participate in are not prohibited.
Limits are monetary restrictions on coverage. For example, the policy may cover emergency dental care but only up to $500 in value. Anything above that limit would be your responsibility.
A deductible is an amount you must pay before your insurance policy will reimburse you. For example, if you have a $250 deductible policy and submit claims for eligible expenses totalling $400, the insurer will only reimburse you $150. Policies can frequently be tailored to raise or lower the deductible.
Frequently asked questions
Is travel insurance necessary if I already have health insurance?
Even if you have a U.S.-based health plan, consider purchasing travel medical insurance if you are travelling outside of the United States.
Many health plans will not cover you outside of the United States, or will only provide limited global coverage. If you become ill or injured, you may be forced to pay for your medical expenses out of pocket.
Medicare is not accepted outside the United States, except in very limited circumstances, so senior travellers should obtain travel medical insurance.
If you are visiting the United States then your home country's health insurance may not provide you coverage.
What are the advantages of having travel health insurance?
Travel insurance not only covers unexpected incidents and injuries and hospital costs, but it also provides coverage for the acute onset of a pre-existing condition, emergency evacuation, repatriation, trip interruption, trip delay, baggage loss or delay. Some travel insurance plans include coverage for adventure sports.
When should I consider purchasing travel insurance?
It is always advisable to buy travel medical insurance before leaving your home country and beginning your journey. This is to ensure that you make full and genuine use of the insurance so that you are covered from day one in a foreign country.
However, you can also buy insurance once you arrive in your destination country. Some insurance plans may have an arrival time restriction, requiring insurance to be purchased within 30 days of arrival. This time could also be 6 months depending on the person's age.
How can I make use of my international travel medical insurance abroad?
If you have a medical emergency while travelling abroad, contact your travel insurance provider.
Travel insurance companies provide 24-hour global assistance hotlines to assist travellers in emergencies, such as coordinating medical treatment, translating languages, and arranging for medevacs.
How far ahead of time should I buy travel medical insurance?
It is best to purchase travel medical insurance within 14 days of making your first trip deposit in order to qualify for a pre-existing medical condition exclusion waiver. Pre-existing conditions will not be excluded from your travel medical coverage as a result of this waiver.
You can still purchase travel insurance even at the last minute but plan ahead and buy in advance. Some plans also offer a cancellation window in case you change your mind and feel the coverage is not suitable for you. You can get a refund with minimal or no deductions.
Should I purchase comprehensive coverage or a standalone travel health plan?
Look into comprehensive travel insurance plans if you want coverage for issues like trip cancellation, trip delay, trip interruption, and lost luggage.
If you only require emergency medical coverage, it makes no sense to spend money on coverage that you will not use, and you can instead focus on medical-only plans.
Is it necessary for me to have primary health insurance in the United States in order to be eligible for travel medical insurance?
It is determined by the type of coverage you have. You don't need another health insurance policy if your single-trip plan refers to your medical coverage as primary.
However, if your single-trip plan has secondary coverage, you must have primary health insurance.
As previously stated, all multi-trip plans require you to have primary medical insurance coverage in the United States.
How do I make use of my travel medical insurance?
If you have a medical emergency while travelling abroad, contact your travel insurance provider for advice. You will almost certainly need to pay for your medical expenses with a credit card or cash and then file a claim for reimbursement with the insurer.
Some coverage (for example, emergency evacuation) may need to be arranged by your travel medical insurance provider in order to be reimbursed. So, before making any arrangements or paying any bills, always contact your insurance provider.
Bottom Line
If you have an unexpected medical emergency while travelling abroad, travel medical insurance can protect you. Although no one wants to think about it, it is critical to be aware of your options.
You can choose between a stand-alone medical policy and comprehensive travel insurance depending on your needs. The best policy for you is determined by your circumstances and any additional protections you may already have through your premium travel credit card.
Some of the best comprehensive travel insurance plans are:
Read more on some of the best travel insurance companies from the USA.