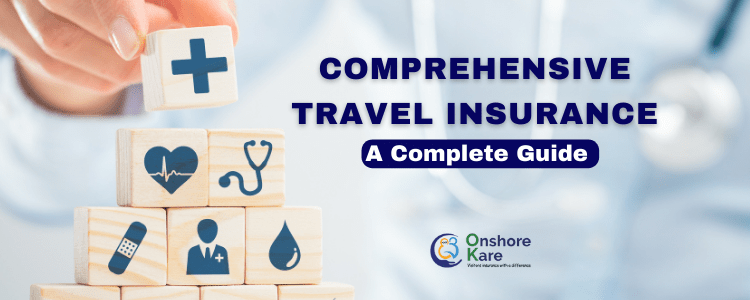 Comprehensive Medical Insurance for Travel
Many common medical costs are excluded from the basic coverage of travel insurance plans! Before purchasing coverage for yourself or your family you need to understand the coverage the plan offers, this helps avoid unwarranted situations during a medical emergency.
Many of these costs associated with medical treatments may fall on you as an individual if your plan doesn't provide extensive coverage.
There are two main categories of visitor health insurance plans:
Comprehensive Coverage Plans
Limited Coverage Plans
Simply put, Limited Benefit Plans also known as Fixed Coverage Plans don't offer as much coverage but are typically less expensive. Comprehensive plans, on the other hand, cost a little more but offer a wider range of coverage for unforeseen events requiring medical attention.
This article will explain why a comprehensive health insurance policy is important when you travel. We also cover details of the advantages of Comprehensive health insurance plans vis-a-vis basic health insurance plans with limited coverage.
What does it mean by Comprehensive Coverage of Health Insurance?
If you haven't purchased comprehensive health insurance from a travel health insurance company, you may not be prepared for costly medical emergencies.
While most health insurance plans only pay for inpatient care, the comprehensive benefit is inclusive and provides extensive coverage from doctor visits to hospital stays to diagnostic tests to the cost of any supplies or equipment needed during the course of treatment.
Always read the policy document carefully to understand the inclusions and exclusions in a health insurance plan.
What is covered by Comprehensive Health Insurance?
A wide variety of medical costs are covered by comprehensive health insurance plans. Some of these include:
In-Patient and Out-Patient Care:
The cost of in-patient and out-patient treatment is equally covered by this policy. Everything from lodging to medical care is included in this coverage.
Pre and Post-Hospitalization Expenses:
Additional expenses incurred before and after a hospital stay include payment for preventative care measures like checkups and lab work. Medical bills, follow-up appointments, and other costs incurred after a patient is discharged from the hospital are all covered by this policy.
Doctor Consultation Charge:
General consultation with your doctor is another service that should be covered by your comprehensive health insurance.
Daycare Procedures:
Many treatments can be completed in less than 24 hours, and these daycare procedures are usually performed in specialized hospital wards.
Radiation therapy, hemodialysis, chemotherapy, and other medical procedures may be covered by a comprehensive health insurance plan.
Alternative Care:
This Insurance plan covers a wide range of medical services including alternative medicine.
Daily Hospital Allowance:
This insurance plan includes a daily hospital allowance to help with things like an attendant's food, lodging, and travel expenses while you're in the hospital.
Expenses of Medical Consumables:
Medical consumables are not always covered by insurance, and many cheaper policies won't pay for things like needles, gloves, syringes, and other similar necessities. A comprehensive health insurance plan will cover all of these things for you.
Ambulance Fees:
Medical emergencies often necessitate the use of an emergency ambulance service. In the event of an emergency, the cost of an ambulance ride may be covered by your health insurance policy.
Domiciliary Process:
If a patient is unable to travel to the hospital for treatment, or if they have been instructed to continue treatment at home, they may need to undergo a domiciliary procedure. Such expenses are covered by health insurance policies with comprehensive plans.
Severe Illness Treatment:
Critical illness treatment is also covered by an all-inclusive comprehensive health insurance plan. This includes many of the most commonly experienced critical illnesses such as heart attack, paralysis, cancer, and many others.
Coverage for AD&D (Accidental Death & Dismemberment):
In the event of a fatal accident, personal accident coverage may be included in your comprehensive health insurance plan and will pay out a lump sum to your beneficiaries. The beneficiaries of the policyholder will receive the full amount of the sum insured.
Medical Expenses and Diagnostic Tests:
Health examinations and other diagnostic procedures are typically covered by comprehensive plans. This can be helpful for covering the cost of yearly checkups.
Delivery Related Cost:
As long as both partners are covered by the policy, all childbirth-related medical expenses including those associated with a cesarean section, are covered by the comprehensive plan.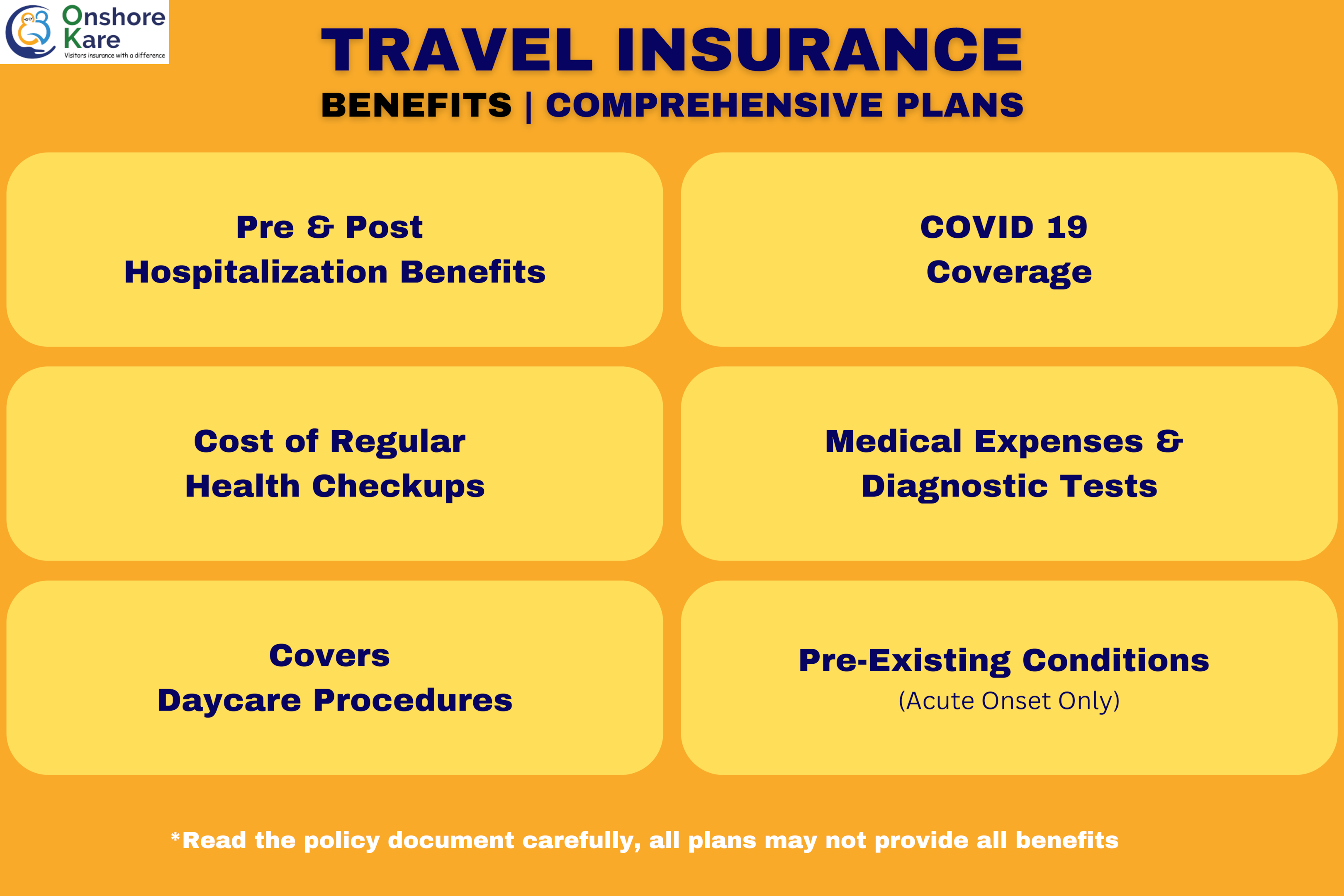 Which of the following is not covered by a comprehensive medical insurance plan?
Even with comprehensive health insurance, there are some things that aren't covered and will result in a claim being denied, just like with any other type of health insurance:
Cosmetic and surgical treatments aimed at improving one's appearance
Self-harm injuries
Sexually Transmitted Diseases (STDs)
and more, read the policy document for a complete list of exclusions
How much does it cost for Comprehensive Travel Related Coverage?
The cost of comprehensive health care insurance can differ based on a number of factors like the age of the traveler, coverage duration, countries being visited, etc.
For a 55-year-old person traveling from India to the USA the pricing for 30 days of coverage would be:
VisitorsSecure, Limited Coverage Plan Premium $49.50
Visitors Care, Limited Coverage Plan Premium $45.90
Safe Travels USA, Comprehensive Plan Premium $114.00
Patriot America Plus, Comprehensive Plan Premium $115.40
Atlas America, Comprehensive Plan Premium $128.70
The above premiums are for a policy coverage limit of $50,000 with a $250 deductible. The incidents and coverages will vary in each of the plans but this gives a snapshot of the price difference.
What to keep in mind before buying Comprehensive Medical Insurance?
When comparing different health insurance options, keep a few things in mind:
The length of coverage provided by the insurer
Look into the availability of the coverage extensions and additional coverage riders you want to purchase from your insurance provider
Maximum age & term to renew
Policy Terms and Conditions, limitations of coverage
Why would you purchase a comprehensive health insurance policy?
Comparatively speaking, the range of coverage and benefits provided by comprehensive health insurance is much greater than that of standard limited-cover health insurance plans.
The advantages of having health insurance are amplified when the coverage is all-encompassing.
Taking care of your health care costs is simple:
Coverage is Extensive
A comprehensive health insurance policy covers medical expenses and provides protection against a wide variety of medical expenses.
You can tailor your health insurance plan to meet your specific needs by adding optional riders and supplemental coverage, such as accidental injury protection, critical illness protection, maternity benefit, and so on.
Coverage for Pre-Existing Conditions
You can get your medical expenses for pre-existing conditions you've had for a while covered by comprehensive health plans. Do note that the comprehensive plans generally cover the Acute Onset of Pre-Existing Conditions only.
There are some plans available that may cover Pre-Existing conditions but they will have a waiting period before the conditions are covered and the plans will be very expensive.
Coverage for Family
Comprehensive coverage plans may allow insuring dependents under the same policy. Coverage for a spouse, dependent children, and parents may be included in some plans. also coverage for a spouse's parents is sometimes available from specific insurance companies.
Cashless Treatment
Unlike standard health insurance, a comprehensive health plan may not require you to pay out-of-pocket for the medical expenses for treatment. In a cashless claims system, the insurance company may cover eligible hospitalization expenses & other eligible medical expenses, this is especially possible in a network hospital.
Outpatient Treatment
In most cases, regular health insurance plans won't cover the cost of outpatient care, but a comprehensive plan may cover eligible expenses. Doctor's visit costs will be covered for people without a prerequisite stay in the hospital.
What exactly is Limited Benefit Health Plan?
It's possible that you won't be reimbursed in full by your health insurance providers if you have a limited or fixed coverage plan. The lower cost of the premium makes fixed-benefit plans seem appealing to many people.
The question is whether or not it will provide adequate protection in a crisis. Your current state of health may have a greater bearing on the type of coverage you select.
Limited coverage plans, also called fixed coverage plans, are an affordable choice for those who want some security but can't afford hefty premiums.
Fixed-benefit health insurance may be adequate for low-risk travel, particularly for those with no significant medical history.
If you're researching what a fixed-benefit health plan is, you should know that the insurance company will pay a set amount for each medical visit.
For instance, some insurance plans cap their reimbursement at a certain amount, say $55 for a doctor's visit and $350 for an ER visit, regardless of the actual costs involved.
Budget-friendly and offering minimal protection, travel medical insurance plans with limited benefits are ideal for those who are only in the country temporarily. This sort of plan might make sense for short trips if you're young and healthy.
Although pre-existing conditions are not covered by visitor insurance policies, many policies will cover the unexpected onset or recurrence of a condition that has already been diagnosed if the insured is under a certain age. This is called the acute onset of pre-existing conditions. Also Read: Choosing US Travel Medical Insurance for Parents With Pre-existing Medical Conditions
Key differences between Comprehensive and Fixed Coverage Plan benefits
Health insurance plans with fixed coverage provide less protection and often cap benefits at a predetermined fixed amount. These plans have lower premiums than comprehensive coverage. While comprehensive medical insurance does not have limits and covers expenses up to the plan maximum.
If you're considering a medical insurance plan. We advise comprehensive coverage plans because they provide higher and more advantageous coverage benefits.
The advantages of comprehensive coverage medical plans outweigh the costs even though they are more expensive than fixed coverage plans.
Comprehensive coverage plans have higher policy maximum limits in addition to a number of other benefits.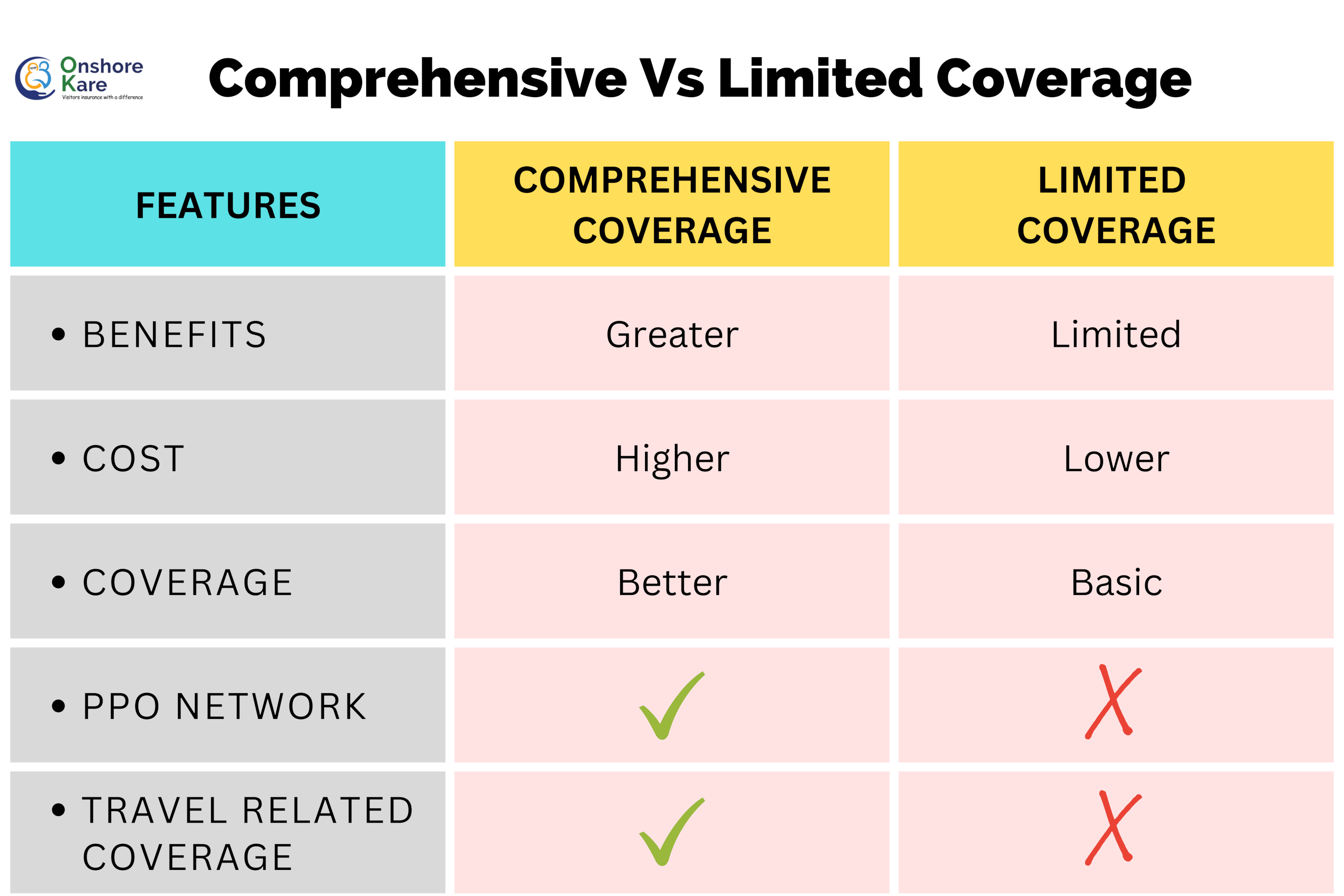 Check out the key differences between comprehensive and limited coverage benefits in detail here.
Bottom Line
While travel insurance is not mandated by law in order to visit the USA, having health insurance while you travel is of critical importance. If your parents are visiting the USA then it becomes even more pertinent to buy insurance coverage for them.
In order to make the best choice do some research and purchase the right individual health insurance policy.
Having travel health insurance gives us confidence that we won't go bankrupt if we ever need expensive medical care that we didn't plan for. This is true for countries with extremely high medical costs like the United States.
Make sure you do your research and compare plans with OnshoreKare to find the best one for your health care needs, and get a no-obligation travel insurance quote.
Do read about the Doctor Now Service, now that's providing travel insurance with a difference!
Also, read about two of the most-selling comprehensive travel insurance plans, Atlas America and Patriot America.