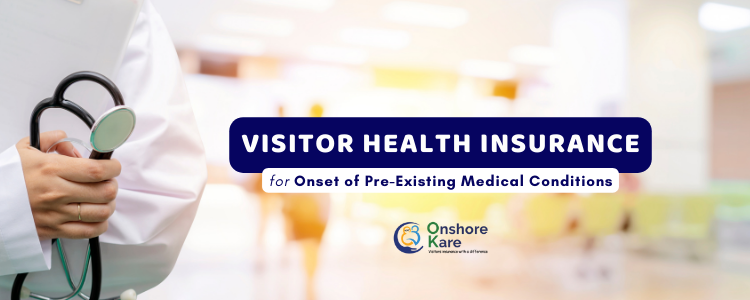 What is an Acute Onset Of Pre-Existing Conditions?
Pre-Existing Conditions are typically not covered by a travel medical insurance policy. By design, travel medical insurance plans are for any new injury or sickness that occurs during your travel.
Your travel insurance generally will not pay for treatment or care related to a pre-existing condition or health problem, including treatment to alleviate symptoms or care to prevent future health problems.
However, there are options if you need visitors' insurance plans that cover medical expenses for pre-existing conditions while abroad. It is recommended to review individual plan definitions to determine the precise definition of pre-existing medical conditions.
If you are inviting your parents to visit you in the United States this article will help you to understand more about Acute Onset of Pre-Existing Conditions coverage benefits.
What does it mean by "Pre-Existing Conditions"?
Any medical condition or health problem that the insured person was diagnosed with, received treatment for, or is currently taking medication for, before the effective date of the insurance policy, is considered a pre-existing condition.
Travel health insurance providers will not pay for treatment of pre-existing medical conditions, but some travel insurance coverage extends for the unexpected worsening of a condition, up to a set maximum.
A medical condition for which you received treatment or a diagnosis prior to purchasing a travel insurance policy is considered a "pre-existing condition" by the insurance provider.
Among these, the following are considered pre-existing health conditions:
Chronic diseases like cancer, diabetes, heart disease, etc.
Physically disabled
Impairment of hearing and vision
Mental illnesses and other psychological conditions.
Even though visitor medical insurance is intended to cover you for any new medical emergencies while you are in the United States, it does not replace the health care you would have received for an illness or medical condition in your home country. Most travel insurance companies do not offer coverage for a pre-existing condition. However, some plans offer cover for the Acute onset of pre-existing medical conditions.
What exactly is the Acute Onset of a Pre-Existing Condition?
Acute onset of pre-existing conditions refers to the sudden and unanticipated return of a pre-existing condition that is self-limiting, and rapidly progressive, and medical attention is required immediately.
Pre-existing conditions that worsen gradually over time (and are already present at the time your visitors' insurance plan is in effect) do not qualify as having an "acute onset," and thus your purchased plan is unlikely to provide coverage.
When traveling, what Pre-Existing Conditions are covered by Travel Insurance?
You may be eligible for coverage if you use a wheelchair due to a mobility disability or impaired hearing or vision, as long as you haven't required medical assistance or treatment related to those conditions in the previous year.
Hypertension, asthma, diabetes, lung diseases, epilepsy, coronary problems, etc. are all under pre-existing conditions coverage, as long as they have been stable for a certain time.
If your health is stable, you should have an easier time locating a policy that meets your needs when you travel. You may be required to pay a higher premium and provide a doctor's note to get coverage in this situation.
Can Pregnancy Be Considered a Pre-Existing Medical Condition?
Contrary to common belief, pregnancy is not typically treated as a pre-existing condition by insurance companies.
To what extent a pregnancy is covered by health insurance is company-specific, but in general the following holds true:
Read the policy document to understand the Inclusions & Exclusions in the travel insurance plan you shortlist to buy.
I have a mental illness; can I still get travel insurance?
It may be challenging, but not impossible, to find a travel insurance provider that actively covers treatment for mental illnesses like anxiety, depression, schizophrenia, and bipolar disorder.
If you want mental health coverage from a travel insurance company, you'll probably have to take an evaluation before you leave. If you can show the insurance agency that you have not had any mental health issues in the last 1–5 years and that you are not currently experiencing any mental health problems, then you may be eligible for coverage.
When a mental illness manifests for the first time during a trip, this is another scenario in which travel insurance may provide financial protection.
To What Extent Should I Inform My Travel Insurance Company That I Have a Disability?
You must reveal your disability if you believe that doing so will necessitate medical attention while abroad or prevent you from taking your planned trip. If you don't, the travel insurance companies might not pay out for any claims you make related to your disability or pre-existing condition. Generally, when you buy travel insurance the insurance provider may not ask you specific questions, and the buying process is completely online. It would be helpful for you to engage with the customer service and discuss the options and restrictions.
Tips to buy health insurance in the USA for Visitors with a Pre-Existing Condition
People with pre-existing medical conditions have a few options for obtaining travel medical insurance when booking their trip online.
To sign up for a policy with the insurance provider, all you have to do is visit their website. By using an intermediary, like Onshorekare's insurance services, you can easily select the best policy that will cover the sudden onset of a pre-existing condition by comparing the options on the website. You can also buy plans that cover Pre-Existing Conditions.
Remember these points about buying travel insurance for the disabled:
Notify your insurance company while traveling. When purchasing a policy, you must inform the travel insurance company of your condition or disability. The policy premium will increase, but without disclosure, you may be uninsured.
You should get the insurance as soon as possible after booking your trip. Getting trip cancellation coverage in place after making a reservation is the best practice. It is especially important to purchase travel insurance as soon as possible if you have a medical condition that could worsen and prevent you from going on your trip as planned.
Coverage for Travelers with Pre-Existing Conditions
High blood pressure and diabetes are the most frequently mentioned pre-existing conditions. People with these conditions can be in good health and stable condition, but they may need medication, insulin, or routine medical care to stay that way.
CoverAmerica – Gold Travel Medical Insurance Plan
Acute onset of a pre-existing condition coverage is available as an add-on to the CoverAmerica-Gold plan. CoverAmerica-Gold insurance is the only plan of its kind on the market, and it comes highly recommended for senior tourists and relatives visiting the United States.
INF Elite and INF Premier
These plans from INF Insurance offer coverage for Pre-Existing Conditions, the plans have to be bought for a minimum of 90 days and before departing from the home country.
Additional Tips for Travel Insurance
While it's true that pre-existing conditions aren't always covered, there are steps you can take to protect yourself from getting sick in the first place and have a backup plan in place.
In addition, here are a few recommendations for guests who are already dealing with a medical condition:
Make sure you have good visitors' health insurance coverage.
Before coming to the United States, if possible make sure you've had a full and thorough medical examination. This will serve you well on your trip and also aid in the detection of any underlying health problems. This ensures that you can relax and enjoy your trip without any unnecessary concerns.
Get the necessary medication from your home country and bring enough for the trip.
Those who suffer from hypertension and/or diabetes may want to invest in home monitoring devices. These are inexpensive but will serve a useful purpose around the house. They can cost anywhere from $15 to $100.
Those who are sending their parents to the United States on a visitor visa can pick one up at any of the country's many electronics stores or online.
Except for controlled substances, you can even have your prescription medications delivered to you by regular mail from the country of your origin.
Monitor your blood sugar and blood pressure regularly, keep up with your regular exercise routine, expand your social circle, and watch what you eat.
Instead of planning a hectic itinerary for their guests, hosts should make sure to check in with them periodically to see if they're having any issues.
Which Travel Insurance Companies Provide Coverage for Foreign Visitors to the USA Who Already Suffer From a Chronic Illness?
Depending on your home country and the destination, your options for travel insurance will naturally vary.
Furthermore, not all insurance providers will cover pre-existing conditions.
Insurance for your trip can be purchased from travel insurance providers such as:
Top Travel Medical Insurance Options for People With Pre-Existing conditions 
The acute onset of a pre-existing condition is covered by five of the best health insurance plans, which are as follows:
Safe Travels USA Comprehensive
Coverage for medical expenses up to the policy maximum ($25,000 for cardiovascular-related expenses) applies to policyholders under the age of 70

Medical costs for those over the age of 70 are covered up to $35,000. (Cardiac-related costs are covered up to $15,000.)

The condition must have been stable for the previous 36 months after the date of coverage

 Up to $25,000 on a Medical Evacuation
Insurance for people under 80 years old (covers acute onset of pre-existing conditions, but not chronic or congenital ones)

Includes up to $25,000 in medical evacuation

Medical treatment is covered up to the policy maximum
Acute onset of a pre-existing condition is covered for people under the age of 70

Up to $25,000 in medical evacuation

Eligible medical expenses are covered up to the policy maximum
Pays up to $1,000 if you suddenly develop symptoms of a pre-existing condition
Persons under 70 years old are protected against the financial consequences of the acute onset of pre-existing conditions up to the policy maximum

Aged 80 and up are eligible for up to $10,000 in coverage for acute onset of pre-existing conditions

 Up to $25,000 on a Medical Evacuation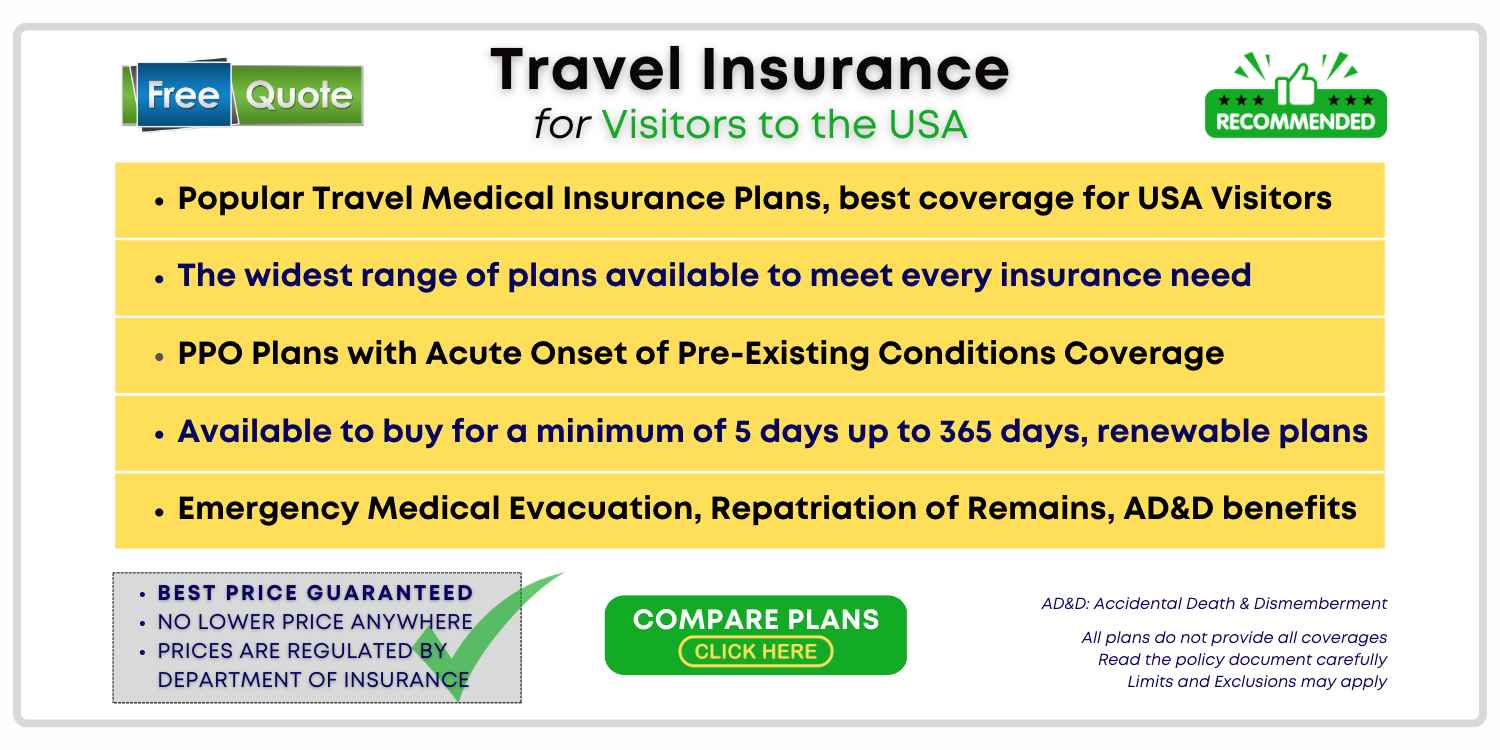 Pre-Existing Condition Coverage for Legal Permanent Residents or Green Card Holders
US Residents who have obtained green cards are considered permanent residents and are thus eligible for ObamaCare and subject to the regulations of the Affordable Care Act (ACA) for residents of the United States.
U.S. citizens and permanent residents are now protected from having their insurance canceled due to a preexisting condition because of the new regulations.
Thus, medical care for pre-existing conditions is included in the health insurance plan for Green Card holders and is handled no differently than for any other medical condition.
The Affordable Care Act (ACA) does not apply to foreign nationals who are in the United States temporarily; instead, these individuals can obtain visitors insurance.
If your Green Card application is under process then you can read more about visitor medical insurance options for Green Card Applicants.
Which Features Make Up a Comprehensive Travel Insurance Plan?
Look for a policy that includes disability travel insurance as well as coverage for other common travel disruptions when looking for a travel insurance plan. Examples of this are:
Adequate coverage for medical costs
The costs of seeing a doctor, getting transported to the hospital in an emergency, staying in the hospital, and potentially even having surgery or taking prescription drugs are all covered by a typical travel insurance policy in the event of an accident or illness while you're away from home.
Typically, travel health insurance/visitors insurance plans only cover unexpected illnesses or injuries not related to a pre-existing condition, but you can customize the level of coverage to your specific needs.
Trip cancellations or delays
In the event that your trip must be cut short or canceled, the insurance policy will compensate you for a portion of your expenses.
Baggage lost, stolen, or damaged
Things that have been misplaced, broken, or stolen. This may also include any necessary medical supplies.
Repatriation or emergency medical evacuation
The insurance policy can cover the price of an emergency air ambulance or repatriation if you need to be evacuated from a foreign country.
Flight missed
You can rest assured that your missed flight will be covered by insurance if it was postponed or delayed due to circumstances beyond your control.
Check out Travel Insurance for Parents Visiting the USA to understand the need for visitor insurance and the best plans offering it.
Insurance for Medical Equipment
Most basic travel insurance policies will cover the loss or theft of your baggage, which can include necessary medical supplies. It is possible to find an insurer who will pay some of the cost of your mobility or hearing aids.
If your wheelchair or hearing aids are on the pricier side, they may not be automatically covered by your policy, but you can choose to pay more on premiums and have sufficient coverage for them anyway.
Note:
The full value of your possessions will not be reimbursed to you. The maximum amount the company will reimburse you for each item is typically between $500 and $2,000 (but can be more or less depending on the policy).
If your property is lost or damaged as a result of your "recklessness," you will not be compensated (i.e. if you leave them unattended).
Before considering your claim, the travel insurance company will want to see proof of purchase for any items that were stolen, damaged, or lost. A police report or airline report stating that your belongings were lost in transit will also be required. Get familiar with the policy's rules so you know what to bring in the event of a claim.
Travel Insurance Coverage for Mobility Aids (Wheelchairs)
Bringing a wheelchair on a flight increases the risk of theft, damage, or loss because you will have to stow it away before boarding. Unless it's expressly excluded, your wheelchair may already be covered by the travel insurance company you select. Look for a service that covers everything, including wheelchairs and high-priced items, and if you have any questions, be sure to ask the insurance provider.
As an expensive piece of equipment, an electric wheelchair is not typically covered by a basic policy, so you will need to purchase additional coverage if you own one.
 Travel Insurance Coverage for Hearing Aid
The use of hearing aids is analogous to that of wheelchairs. Due to their status as personal property, they may already be insured, but checking is recommended just in case.
Hearing aid coverage is also affected by the device's retail price. If the cost is high, it may be placed on a "exclusions" list, meaning that the insurers will not cover it at all or will only cover a fraction of the total.
There is a list of things that your insurance won't cover if you lose or damage them. You can usually find them on the policy itself. Items like electronics and high fashion are examples of this.
 What Happens If You Lose Your Medication While Traveling?
Medication is also a crucial part of any trip abroad if you have a medical condition or illness. Fortunately, the cost of replacing any lost prescription drugs is covered by some types of travel insurance.
According to the terms of your policy, your licensed insurance agent may pay all or part of the cost of replacing any prescription drugs that are lost or stolen while you are on the road.
Coverage for a Substitute Caregiver's Trip Expenses
There is insurance available that will cover the cost of your trip if your caregiver is unable to join you on it because of your disability. The extra expense of bringing along a second caregiver or receiving reimbursement for having them come along is something they may be willing to cover.
So, if your scheduled caregiver is unable to make it, the insurance company will foot the bill (up to a set maximum) for a replacement caregiver's travel and lodging expenses.
What should I do if I have to cancel my trip due to my disability?
Plans will typically specify what qualifies as a "valid" reason for a claim, in the event of a trip cancellation. The most common exceptions involve some sort of health crisis, such as an unexpected illness or injury.
But if you have a pre-existing condition, they can decline to cover you. That's why it's so crucial to get clarification from your insurer and read your policy thoroughly to understand what's covered and what isn't.
The "Cancel For Any Reason" coverage is exactly what you should consider purchasing if you need to cancel your trip for any reason, including a disability, you will not lose any of your money.
Although there are restrictions and the policy is more expensive than others, it may be worthwhile if you have spent a significant amount of money on a trip and need to cancel it.
Does travel insurance cover pre-existing conditions?
For the most part, foreign nationals visiting the United States will not receive coverage for pre-existing medical conditions under their travel medical insurance. In medicine, "pre-existing conditions" refer to any chronic illnesses for which you are receiving regular treatment. Because of this, it is crucial to understand how to identify the best international travel medical insurance plans for your requirements. Travel Insurance by design is made to cover any new sickness or illness along with some emergency coverages, some plans do offer acute onset of pre-existing conditions coverage.
OnshoreKare offers plans that cover pre-existing medical conditions, you can explore these plans.
 How do you know which medical conditions will be considered pre-existing when purchasing travel insurance?
A pre-existing condition, in the simplest terms, refers to a health problem that you already had before buying your international travel insurance.
A health issue can be considered "pre-existing" in one of three broad categories:
1. Medical history form
This form must be filled out by all new patients prior to seeing a doctor in the United States. The form is legally binding and seeks information about the patient's general health history in order to make an accurate diagnosis and treatment plan.
2. Pay attention to the doctor's opinion
During the consultation, the doctor or physician may inquire further into the patient's medical history in order to make a proper diagnosis and treatment. The doctor will use this information to give an assessment of the patient's health, including the presence or absence of any pre-existing conditions, and will then share this assessment with the insurance company covering the trip.
3. Test results and diagnosis
If the patient has a pre-existing condition, the doctor will notify the insurance company via official Doctor Notes detailing the patient's diagnosis.
Options for Pre-existing Conditions in Travel Health Insurance for people traveling to the United States
Generally, travel insurance companies have been hesitant to cover customers who are traveling with pre-existing medical conditions because they pose too great of a risk. ChoiceAmerica is a regular plan that does not cover visitors with pre-existing medical conditions but can be supplemented by an add-on benefit. INF Elite and INF Premier, on the other hand, may be preferable because they provide insurance for pre-existing medical conditions. 
Disputes Over Pre-Existing Condition Claim Denials
If your claim was denied because of a pre-existing condition, you can file an appeal and present supporting evidence. Proof that your condition was under control or not present before the effective date of your current insurance in the form of a report or a written statement from your family doctor.
Claim
Your insurance provider should be able to provide you with a claim form. Submit your claim by the due date, which is usually no more than 90 days after the date on which you first received the service. Check with the insurance company periodically to see how things are going.
Claims Advice
You can avoid unnecessary delays and frustration by providing the travel insurance company with all the documents and information as soon as they request it.
The healthcare provider/facility may be asked to provide some of the data and paperwork. If the hospital or doctor doesn't promptly send the requested information, the claims process could be slowed down.
A health checkup is recommended before a trip to the USA. You may need to rely heavily on those reports to back up your case.
While filing a claim may require some time and effort on your part, you can rest assured that you will be compensated for a valid claim.
Frequently Asked Questions 
When someone has a pre-existing condition, how do insurance companies make their choices?
High blood pressure, diabetes, AIDS, pregnancy, and any similar condition, whether known or unknown, fall under the umbrella of "pre-existing conditions." Pre-existing medical conditions may not be covered by some visitor insurance policies, so it's important to read the fine print. In the eyes of the insurance company, you have a pre-existing condition if your injury, illness, or medical condition meets any of the following: Any condition that
Necessitates medical advice, diagnosis, care, or treatment prior to the Effective Date of coverage under the policy
Manifests itself prior to the Effective Date of coverage under the policy and for which medical advice, diagnosis, care, or treatment was recommended, received, or noticed.
What is meant by "Acute Onset of Pre-Existing Coverage"?
Any medical emergency that poses a threat to your life or requires immediate medical attention is covered by the benefits for the acute onset of preexisting conditions. Depending on the features of your selected plan, it may also pay for things like emergency medical transportation, visits to the emergency room, surgery, medications, and more.
To what end do most visitor insurance policies exclude coverage for pre-existing conditions?
Visitor or travel insurance policies are temporary policies. The purpose of insurance policies is to provide financial protection in the event of a sickness or an injury after the policy's Effective Date. Insurance won't pay for things like checkups, dialysis, or anything else the customer knows they'll need while they're away from home and has planned ahead of time. OnshoreKare offers travel insurance plans that cover Pre-Existing Medical Conditions, if your trip to the USA is 90 days or longer and if you have not arrived in the USA from your hoome country, you may be eligible to buy these plans.
What does it mean by pre-existing medical conditions waiver?
The term "pre-existing condition waiver" refers to a clause in a health insurance policy that includes coverage for certain pre-existing medical conditions
No need to stress if you've already been diagnosed with a health problem. Look for a travel medical policy that includes coverage for pre-existing conditions. This waiver allows for trip changes, interruptions, and medical attention. Coverage will be provided if the incident or illness is related to a pre-existing condition.
Conclusion
Visitors to the USA and foreign tourists with pre-existing conditions must exercise extra caution when in the US or any other country to prevent potential medical emergencies. Visitors with a medical history should always purchase health insurance that covers the sudden and unexpected recurrence of pre-existing conditions; otherwise, their plan may not cover an emergency caused by an ongoing medical condition.
Review policy features and coverage before choosing any visitors insurance offering coverage for the acute onset of pre-existing conditions. Compare visitor insurance plans with OnshoreKare to find the best visitor insurance for parents traveling to the USA