Does Costco Offer Travel Medical Insurance?
Costco is best recognized for being a members-only retail warehouse club with the slogan "value in bulk shopping," the corporation also runs a rapidly expanding travel services program called Costco Travel.
Compared to the majority of specialized travel agencies, Costco Travel appears to have a different priority. Costco is seeking to outperform its competitors in terms of value whereas most services compete by providing the lowest price for the same offerings.
Does this also hold true when it comes to Travel Insurance? Read this article to know the details.
If you are a AAA Member, we have covered AAA Travel Insurance.
What is Costco Travel Service?
Costco Travel offers families and individuals an extensive vacation package that offers discounts on numerous excursions.
When your family goes to Disneyland, you can plan this trip and pay in installments; the balance must be paid in full 30 days before the holiday start date.
Thus, Costco Travel can assist you in organizing your upcoming vacation and even get you a lot of deals on hotels, car rentals, flights, and other expenses to help you make savings.
But the real question is: Does Costco offer travel insurance that will address all of your specific travel requirements?
Travel insurance is important for the protection against unanticipated events. Even ankle sprains may make your trip to the hospital more expensive than planned. Sometimes things do not always go as planned. What should you do in case your flights get canceled or delayed or your baggage has been stolen in transit?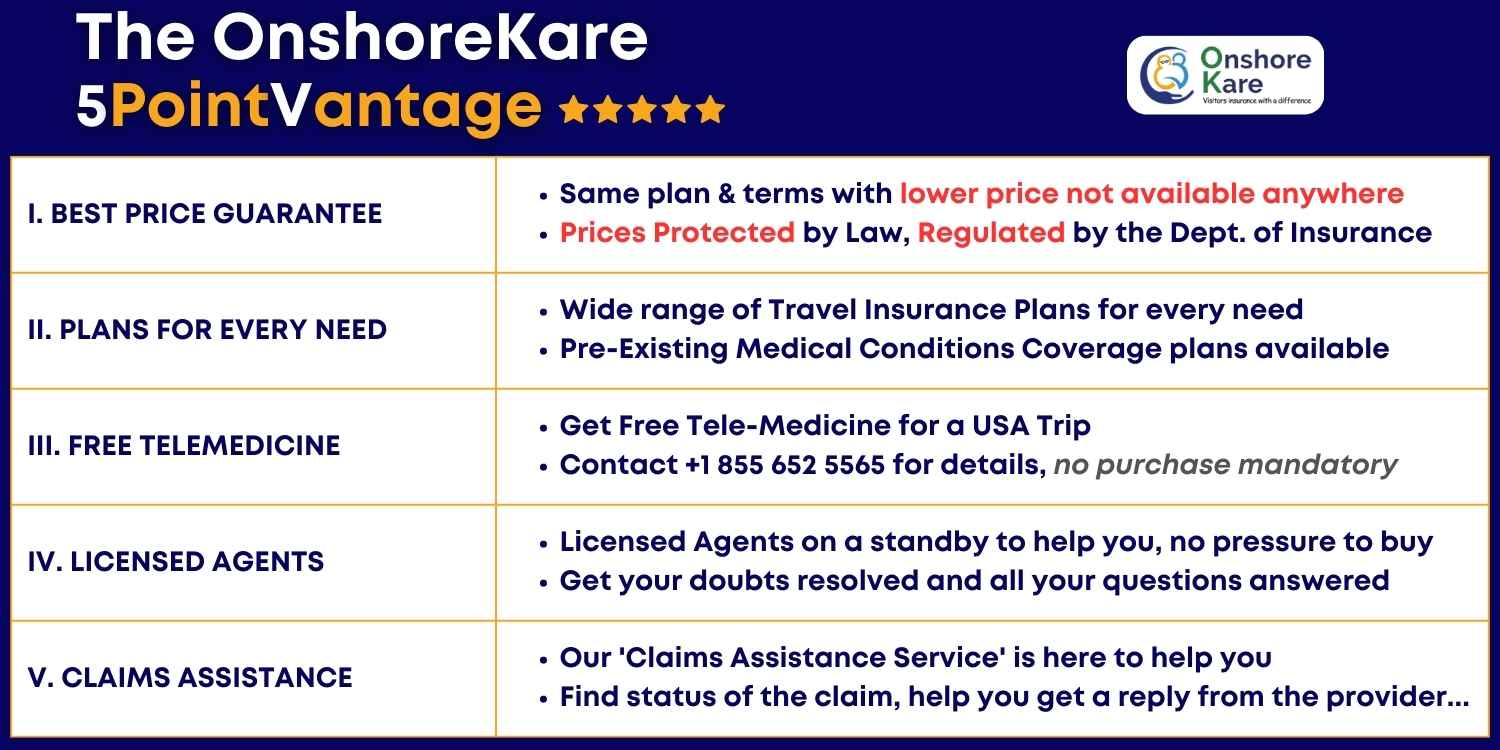 Does Costco Offer Travel Insurance?
Yes, Costco does offer travel insurance.
However, Costco does not sell travel insurance directly to its members. Costco Travel offers travel insurance products provided by Cover-More Inc., an insurance firm affiliated with Zurich Travel Insurance to protect trips purchased through the service.
With the Costco Travel Insurance service, you can book a Domestic Trip Protection Plan for traveling within the USA OR an International Trip Protection Plan if you are traveling outside the United States.
At the moment, residents of New York are not eligible for Costco Travel Insurance.
If you are searching for travel insurance for your parents or family members visiting you in the USA then you may want to check plans from specialist travel insurance companies for Inbound Visitors Travel Insurance for USA, read more travel insurance for parents visiting USA.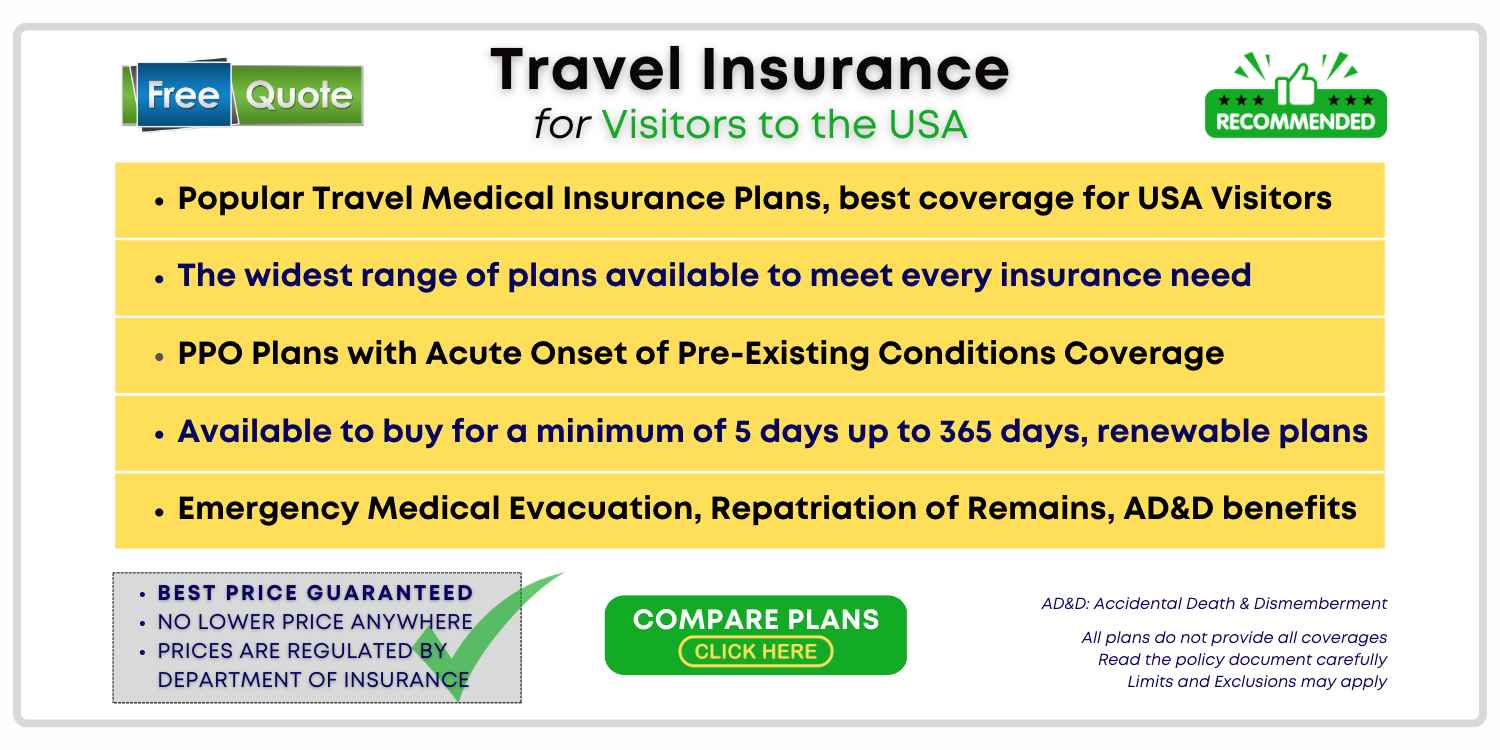 What Is Covered By Costco Travel Insurance?
Costco Travel Insurance provided by Cover-More Inc., a Zurich Travel Insurance company can only be used by Costco members.
Additionally, it is not necessary to buy this travel insurance product in order to buy any other travel product or service.
Costco Travel Insurance covers the following:
Travel Assistance
Trip Cancellation
Trip Interruption
Medical Insurance
Medical Evacuation
Pre-Existing Medical Condition Waiver
Baggage Insurance
Baggage Delay
Trip delay
Missed connection
You can add travel insurance to any Costco Travel booking after the initial trip payment, through Zurich Travel Insurance up until 10 days before the departure date.
Please note that you cannot buy travel insurance via Costco Travel/Zurich Travel Insurance if your trip starts within 10 days. It is advisable to buy once you have made the initial trip payment.
To qualify for the waiver of the pre-existing medical condition exclusion, the protection plan must be purchased within 21 days of the time you make your initial trip payment.
We recommend that you read through the insurance policy as it specifies all of the coverage's specific terms and conditions, including any limitations and exclusions.
Who Can Book Costco Travel?
Anyone who is a U.S.-based Costco member can book through Costco Travel. This is a service available to members of the wholesale club.
Costco offers two membership options:
Gold Star membership (Entry level Costco membership)
Executive membership (Premium level Costco membership)
These membership levels have separate fees and benefits. Costco does not offer free memberships.
Gold Star membership offers a basic level of membership that allows shoppers to buy in Costco retail stores worldwide. The program includes memberships with a person living in your home. There aren't many more advantages beyond this initial access. But you'll have substantial savings because Costco has relatively low pricing.
Executive Membership is a more premium version of Membership and costs $120 annually, which is broken down into a $60 yearly price and a $60 upgrade fee.
Executive members' perks offer extra value and savings. You will mainly receive up to 2% cash back on eligible Costco purchases, which includes travel-related products like vacation packages from Costco Travel. The maximum reward each year is $1,000.
Costco Vacations
Various trip options at Costco are available via travel packages. These plans include family-themed parks, all-inclusive resorts, and a romantic holiday to Europe. You can also purchase international or domestic packages including accommodation, transportation, and tour options.
Famous attractions are Disney World, Europe, Hawaii, and Las Vegas. Some couples are using Costco's unique price for their honeymoons.
Costco Cruises
Costco cruise booking offers a choice of bookings from 12 different ships including Disney Cruises Disney Cruise Line Holland America Line Norwegian Cruises.
Through the Costco Travel website, booking a cruise is simple. You can search cruises, filter your options, customize your cruise, and complete the booking process all at once.
Compared to other travel websites, Costco may not always provide the lowest pricing on cruises, but it does have some excellent offers. Costco is also transparent about its cruise pricing.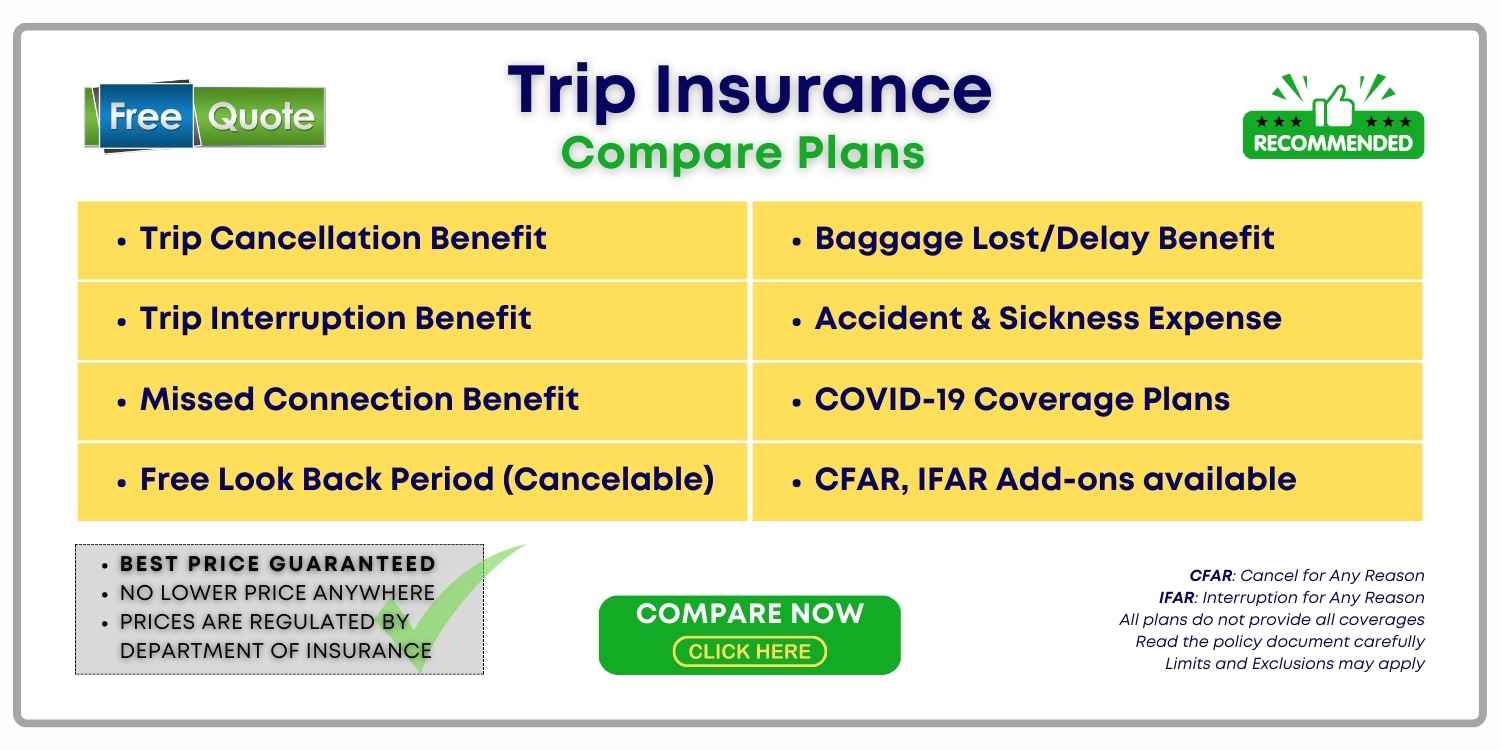 Costco Hotels
On its website, Costco Travel provides a hotel booking feature that enables you to look for and reserve a hotel room. Simply choose a hotel, login, and enter your dates to make a reservation. Compared to many hotel search engines and travel websites, Costco offers significantly fewer hotel options, but it may offer extras and perks to make your stay more pleasant.
Costco Car Rental
Rental cars: Costco Travel provides an easy method to look for rental cars, compare rates and vehicle options, and reserve a car for your upcoming trip.
Costco car rentals include:
Alamo
Avis
Budget
Enterprise
Costco offers transparent pricing that includes all applicable taxes and fees.
What Is Covered Under Trip Cancellation?
The coverage repays you 100% of the entire trip cost (after you have made the initial trip payment) for the trip cancellation for any of the reasons specified in the policy:
Medical issues, accidents, or death of the insured person, a family member, a travel companion, or a business partner
Quarantine, jury duty, subpoena, witness attendance, and hijacking
Called to active duty in the military, or leave is canceled or reassigned
Termination of employment without cause
Employer-initiated transfer
Residents left homeless or inaccessible because of a fire, flood, act of vandalism, theft, or another natural disaster
When a named hurricane makes a home or destination uninhabitable or inaccessible
Traffic accident en route to the destination
Strike
Unfavorable weather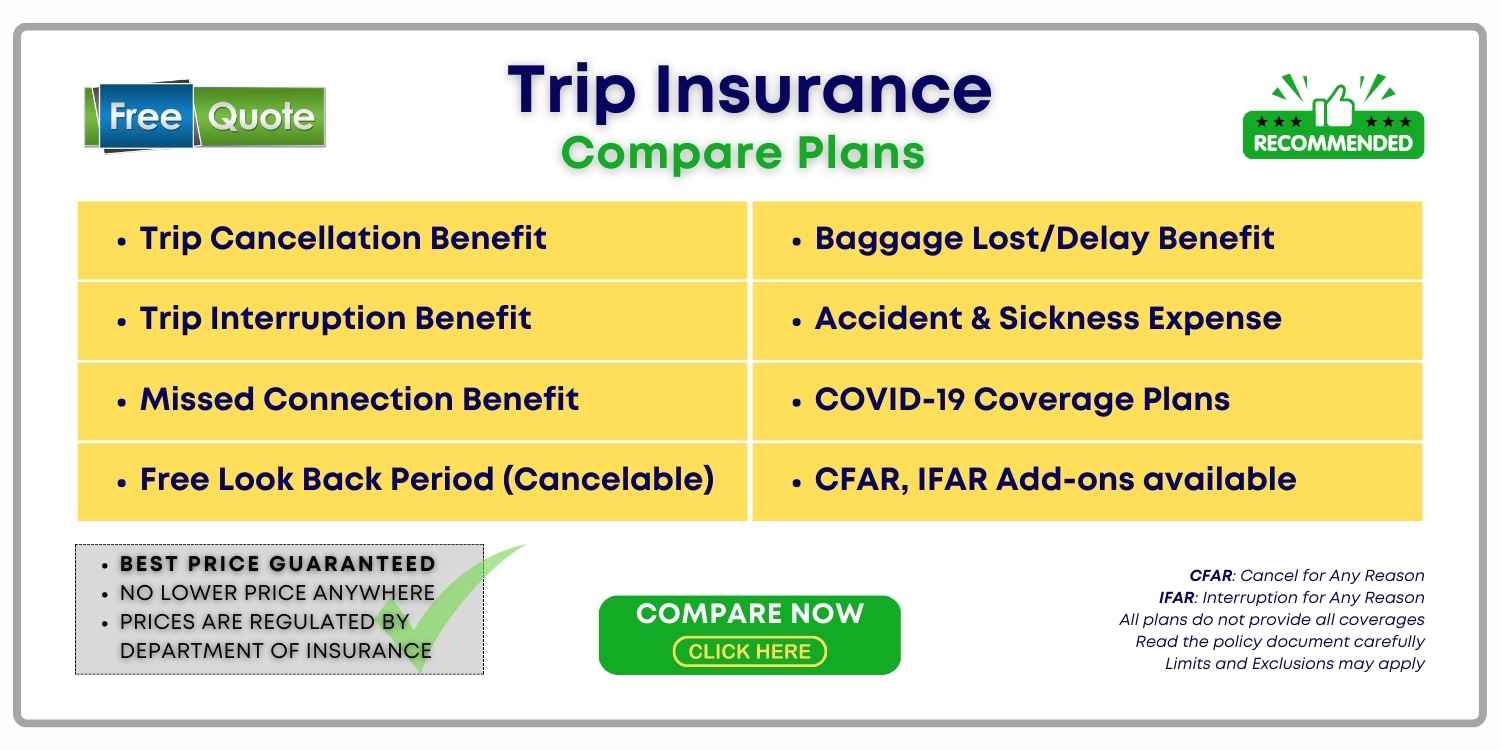 Drawbacks Of Costco Travel Insurance
Low Medical Insurance (not adequate for international travel)
Prices almost double for senior travelers with no extra benefits
Ideal only for young, healthy individuals who wish to travel domestically
Not recommended for international or senior travelers
Does not offer Cancel For Any Reason or any other optional upgrades
Lacks numerous typical cancellation factors, such as the bankruptcy of a carrier
No protection against terrorism
There is no chance to customize it
Only one insurance option
FAQs
My Parents are arriving in the US to meet us, will the Costco travel insurance policy be helpful to buy?
Parents arriving in the USA need medical insurance for their short-term stays. Their domestic medical insurance policy from their home country may not extend coverage in the USA. Travel Insurance offered by Costco via Cover-More Inc. a company in Zurich, is designed for Residents in the USA who are traveling. You may want to consider comparing medical insurance plans for Visitors to the USA, here is some helpful information on travel insurance for senior travelers to the USA.
You can also evaluate the best travel insurance plans.
What are the other Travel Insurance options for Costco Members?
There are several options when it comes to travel insurance. If your primary concern is to buy trip insurance for trip cancellation or trip interruption for your domestic or international travel then the Costco travel insurance option would be worth considering. If you are looking for travel insurance for someone who is Inbound to the USA then do consider travel insurance from the following service providers:
International Medical Group (IMG)
WorldTrips, Tokio Marine Insurance
I Bought my vacation package from Costco Travel, can I buy Trip Insurance from a provider other than Zurich travel insurance?
Yes. Travel Insurance can be bought from any service provider, it is not mandatory for you to buy insurance from any specific provider only. The best value can be derived by comparing plans offered under Costco travel insurance service and other service providers listed above. We also covered options provided by Travel Guard insurance. Always get a no-obligation travel insurance quote, compare plans, read the policy document, and then buy once you have understood the plan what it covers and how much will it cover.
How Much Does Costco Give Back On Travel?
You can earn 2% Rewards when purchasing from Costco Travel. This may not apply to any insurance purchase.
Do I Get A Discount With Costco Travel?
Costco Travel program provides discounts on hotel rates, flights, cruise packages, travel packages, and rental cars. You can also get discounts such as Costco credit cards and onboard cruising credits.
Can I Book Travel Through Costco Without Being A Member?
You must be a Gold Star or Executive member to access the Costco Travel program because it is only available to members. There are $60 and $120 in annual membership fees, respectively.
What Type Of Insurance Is Travel Guard Insurance, Is it provided by Costco Travel?
Travel Guard Insurance offers travel insurance that covers travelers from all over the country. Plan types can offer unforeseen expenses, travel interruptions, and emergency travel services.
Costco used to offer members preferred rates from Travel Guard Insurance, which was underwritten by a reliable partner, American Airlines Group (AIG) Travel Guard. It stopped providing preferred rates on its plans as of September 27, 2021. Please contact Travel Guard to review the features and coverage of the travel insurance you purchased before that date.
Does Costco Travel Result In Cost Savings?
Costco Travel can help you save money by providing great benefits and special discounts at a low cost. Costco doesn't always offer the best deals on cruises, hotels, rental cars, and vacation packages. You should shop around and compare costs with different online travel agents before making your reservation. Costco trips typically have affordable costs and extra value like welcome beverages or upgraded rooms.
What Are Costco Shop Cards?
Gift cards that can be used to pay for Costco items are called Costco Shop Cards, also referred to as Costco Cash Cards. They never expire and come in denominations from $25 to $2,000.
Given that many cruise and vacation packages come with these cards, a Costco Shop Card can help you get the most out of your Costco Travel value. These credits can nudge some tourists into booking through Costco.
If you are not a member of Costco you can use a Costco Gift Card to shop at Costco.
Does Costco Travel Include Airfare In Its Packages?
You can choose to include flights when booking Costco trips. You can select packages from Costco Travel that include a hotel and airfare, a rental car, or both. For packages without a rental car, ground transportation from the airport to the hotel is usually included.
Can I Book Costco Travel For Someone Else?
Even if you aren't going on the trip yourself, you can still book a Costco trip or cruise for someone else. If you book A Costco trip for a friend or family member, you should provide them copies of the itinerary along with the confirmation information you receive from Costco in case there are any questions later on.
Should You Apply For a Costco Anywhere Visa Card by Citi?
The Costco Anywhere Visa Card by Citi is a special Costco credit card (issued by Citibank) for Costco members through their tie-up. Costco provides advantages directed at customers of the wholesale one-stop shop. You can apply for the Costco Anywhere Visa Card by Citi to get the most out of Costco Travel. Or, if you own a small business, you might like the Citi Small Business Costco Anywhere Visa Business Card.
These cards give both 4% cash back on eligible gas purchases for the first $7,000 in annual spending, then 1%, 3% on dining out and travel, 2% at Costco and Costco.com, and 1% on all other expenditures. When it comes to Costco Travel, the 3% back on travel purchases is the most advantageous.
Is Costco Travel A Good Deal?
The ease of booking holidays, all-inclusive resort stays, theme park accommodations, cruises, flights, and car rentals through a single dependable platform with transparent pricing makes Costco Travel an excellent value. Some Costco trips and car rentals offer the best deal.
Is Costco Travel Insurance Worth The Price?
Costco is known to provide value to its members be it through shopping deals or in any of the other services it provides. If you looking for Trip Insurance Protection then the plans offered via Costco tie-up with Zurich Travel Insurance options look good. The plans seemed to be designed for US-based members traveling either outside the USA or within the country. You can also explore options from Travel Guard.
On the plus side, Costco Travel Insurance offers a Pre-Existing Medical Condition Waiver, adequate Medical Evacuation coverage, and adequate Trip Interruption protection. However, due to the high cost for senior travelers, and the limited coverage when compared to other retail travel insurance plans, it provides little value for the price.
If you are looking for travel insurance plans for visitors inbound to the USA then you need to look elsewhere, read more about plans from specialized travel insurance providers for travel to the USA.
Conclusion
If you have a membership with Costco, you may be enjoying their fantastic bulk-purchasing discounts, however, for travel insurance plans, it might be a good idea to look into alternative possibilities.
This way you get to know the ideal travel insurance plan depending on your needs, your age, and any existing medical concerns or pre-existing issues.
Trip Insurance for $15,000 for 10 days to France can cost as much as $750 plus and Travel Insurance without the trip coverages could cost $40 to $60 for a 45-year-old person. Of course, the difference is coverage limits, and what is covered will apply. But comparing will help you decide.
You should shop for quotes from several travel insurance providers. Compare their plans since each of the top carriers offers a variety of coverages.