Best Travel Insurance – Helpful Tips
Finding the best travel insurance can be quite a task, With so many insurance options available in the market, it can be challenging to determine which one is the best fit for your specific needs.
Finding the right travel insurance policy requires careful consideration and research.
Whether you're planning a short domestic trip or a long international adventure, our tips will help you find the best travel insurance policy to protect you and your belongings while you explore the world.
Here are some important tips to help you find the right one, faster.
Business Travelers who fly frequently can benefit from Multi-Trip Plans.
Important Tips To Find The Best Travel Insurance
Here are some important tips to help you find the right travel insurance, faster.
Determine Your Requirements
Before you purchase travel insurance, the first step in finding the right insurance plan is to:
Assess your needs based on your travel plans

Consider the length of your trip and your destination

List of activities you'll be participating

Take into account the type of trip you'll be taking

The activities you'll be participating in

Any pre-existing medical conditions you may have

If you're planning a high-risk adventure, such as bungee jumping or skydiving, look for a policy that includes these activities
Once you've determined your requirements, it's time to look into different insurance providers.
Look for companies with a good reputation and a history of paying claims promptly.

You can also get recommendations from friends and family who have recently traveled.

Reading reviews online can also be helpful, but be sure to take them with a grain of salt.
Next, you'll want to compare policies from different providers. To determine which policy provides the best value for your needs, consider the
Coverage Limits

Deductibles, Copay

Premiums & Add-ons

Inclusions & Exclusions

Covers Pre-Existing Conditions

Plan Restrictions
Pay close attention to the details of the policy covers, whether it covers
Read more on Fixed vs Comprehensive Coverage.
Please Note: Limited Coverage plans are cheaper options but a comprehensive travel insurance policy offers better coverage
Check the Policy Limits
Make sure you understand the policy limits for each coverage category

For example, some policies may have a limit on how much they will pay for medical expenses, so make sure the limit is sufficient for your needs

If travel insurance plans cover pre-existing medical conditions, limits/incidents may apply
Consider Additional Coverage
In addition to basic coverage, some travel insurance policies offer additional coverage for specific needs. For example,
If you're traveling with expensive equipment, you may want to look for a policy that includes equipment protection.

If you're concerned about the possibility of a terrorist attack, you may want to consider a policy that offers terrorism coverage.
Read the Fine Print
Don't just rely on the summary of coverage or the beautiful & colorful plan brochures, Before you purchase a policy, be sure to
Read the fine print of the policy carefully.

Look for any hidden fees, such as processing or administrative fees.

Pay attention to the terms and conditions of the policy, including any exclusions or limitations.
If you have any questions, please ask the provider for clarification.
Check the Ratings
Look for companies that have high ratings from reputable rating agencies, such as A.M. Best, Standard & Poor's, and Moody's
Make sure the insurance company has good customer service with different ways in which you can connect with them like a local number in the country you are visiting, this will ensure you get assistance when you need it. See if the plan offers a Telemedicine option for small minor medical issues.
Gather Information and Make a Decision
Once you've narrowed down your options, it's time to
Get quotes from the providers you're considering.

Compare the quotes to determine which policy offers the best value for your needs.

Once you've made a decision, be sure to purchase the policy in advance of your trip to ensure that you're fully covered.
If you are a AAA Member, check for Coverage Options provided by AAA
If you have a Costco Membership, check for Coverage Options from Costco
Going on a Royal Caribbean Cruise? Royal Caribbean Travel Insurance Guide will be helpful
Remember to purchase insurance as soon as you book your trip, so you can be covered for any unforeseen circumstances that may arise before or during your travels.
Read our coverage on the Best Travel Insurance for 2023.
Insurance Plans that cover COVID-19
Many insurance providers offer coverage for COVID-19-related events, but the coverage and terms may vary depending on the policy and the insurance provider. Here are some coverage options to look for in travel insurance policies that cover COVID-19:
Trip Cancellation/Interruption Coverage

due to COVID-19: This coverage can provide reimbursement for trip costs if you have to cancel or interrupt your trip due to COVID-19.
Emergency Medical Coverage for COVID-19: This coverage can provide coverage for medical expenses incurred due to COVID-19 while traveling.
Quarantine Expenses Coverage: This coverage can provide coverage for expenses incurred due to mandatory quarantine or isolation requirements while traveling.
Travel Delay Coverage due to COVID-19: This coverage can provide reimbursement for additional expenses incurred due to a delayed or canceled flight or other travel arrangements due to COVID-19.
Cancel For Any Reason (CFAR) Coverage: This coverage can provide reimbursement for trip costs if you have to cancel for any reason, including concerns related to COVID-19.
What does it mean by Cancel for any reason benefit?
Cancel For Any Reason (CFAR) plans will bump up the cost of your travel insurance by about 40%. But 'cancel for any reason' gives you the latitude to cancel your trip if you need to as long as you meet certain requirements like canceling no later than 48 hours before your scheduled departure.
No matter your reason for canceling, "Cancel For Any Reason" coverage will refund you for a sizable portion of the average trip cost. Additionally, some businesses allow you to cancel for any reason including medical reasons and pay an additional fee to provide pre-existing conditions coverage.
Please Note: Cancel for Any Reason is a feature applicable more for Trip Insurance Policies, for Travel Medical Insurance, the cancel for any reason generally is not available. There are cancellation benefits built into the plan for eligible reasons. Cancel for Any Reason helps you get paid back for the nonrefundable part of the trip cancellation cost.
It's important to carefully review the policy and the coverage options before purchasing travel insurance that covers COVID-19 to ensure that you understand the terms and conditions of the coverage. Some policies may have exclusions or limitations on coverage related to COVID-19, so be sure to read the policy carefully.
There are several travel insurance companies that offer coverage for COVID-19-related issues:
Match Coverage to your Journey and Destination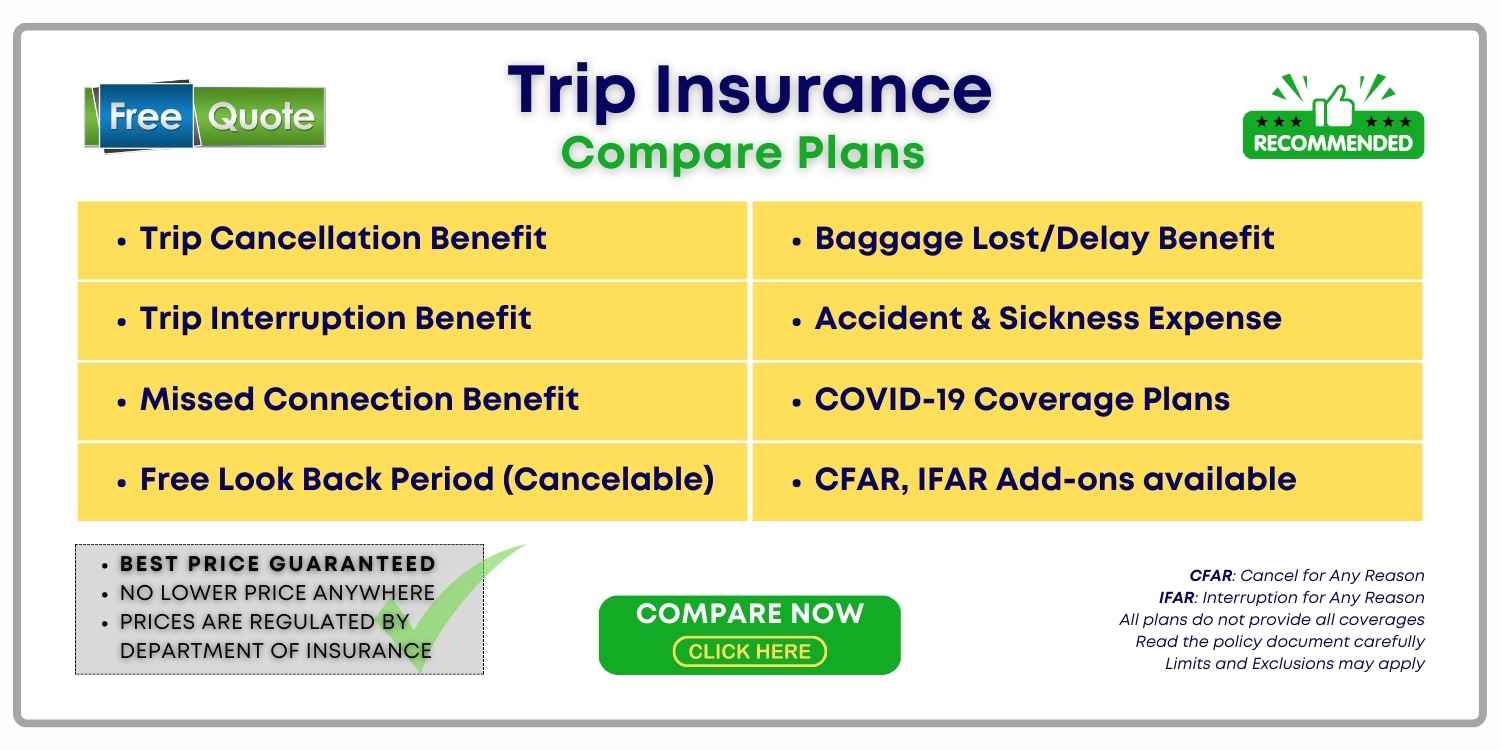 How to Chose the Best Travel Insurance Companies
Here are some factors that are commonly considered when choosing the best travel insurance companies
Coverage Options
The best travel insurance companies offer a range of coverage options, including medical coverage, trip cancellation or interruption, baggage loss or delay, and emergency evacuation.
Policy Limits
The policy limits should be sufficient to cover the costs of unexpected events that may occur during the trip.
Customer Service
The best companies have excellent customer service, with 24/7 assistance available to travelers in case of emergencies.
Premium Cost
The cost should be reasonable and competitive with other companies in the market.
Reputation
The best companies have a good reputation, with positive reviews from customers and high ratings from reputable rating agencies.
Claims Process
The claims process should be straightforward and easy to navigate, with clear instructions on how to submit a claim and what documentation is required.
Flexibility
The best companies offer flexibility, with the ability to customize coverage based on the travelers' insurance needs.
It's important to do some research and compare travel insurance companies and plans before purchasing a policy, ensure that you choose the one that is best suited to your needs and budget.
Based on the specialty in travel medical insurance, range of insurance products and coverages offered at competitive prices, the following companies stand out:
It is important to note that the best travel insurance company for you may depend on your specific needs and travel plans. Make sure to research and compare policies before you purchase travel insurance. The insurance provider and underwriter of the travel insurance should be high-rated, it ensures you have good protection.
What does it mean by Travel Insurance?
Travel insurance offers protection from potential financial losses that one can incur throughout their vacation. Before you purchase travel insurance it is good to know that Travel Insurance is of 2 types:
Used synonymously, they cover a wide range of unexpected events that can occur while traveling:
Medical Expenses for a New Sickness or Injury
Hospitalization and Medical Treatment
Trip Cancellation and/or Trip Interruption
Delayed, Lost, or Stolen Baggage
Emergency Medical Evacuation
AD&D, Accidental Death & Dismemberment
Repatriation of Remains…
The primary objective of Trip Insurance is to protect your financial investment in the Trip Cost while the primary objective of a Travel Medical Insurance policy is to protect you from unforeseen expenses related to medical emergencies.
Both types of insurance overlap each other in many areas and yet are significantly different.
What are the different types of Travel Insurance Plans?
There are several types of travel insurance policies available, each with its own specific coverage and benefits.
Not all travel insurance policies are similar. Primarily there are variations depending on
Whether you are traveling domestically or abroad,
Whether it is for a single trip or multiple trips, and
Whether you are traveling alone or in a group.
Here are the main types of travel insurance plans:
Single-Trip and Multi-Trip Travel Insurance Plans
SINGLE TRIP: As the name suggests, single-trip travel insurance covers one specific trip for a certain amount of time mentioned clearly in the policy. This starts from the time of departure till the date of return.
MULTI-TRIP: Multi-trip travel insurance covers several journeys taken within a period of one year from the date of the beginning of the policy. This is a great alternative for folks who travel regularly.
If you travel frequently throughout the year, getting a multi-trip insurance policy is not only practical but also economical.
List of Travel Insurance Plans
Here is a list of the short-term and long-term travel insurance plans that provide coverage for short or extended trips:
Comprehensive Travel Insurance Plan:
Also Read: Visitor Insurance Comparison
Limited Coverage Plans
Travel Insurance for the USA with Pre-Existing Conditions Coverage
Also Read: Best Visitors Insurance for Pre-Existing Medical Conditions
Travel Insurance with Cashless Benefit
Trip Insurance
For people who are either traveling alone or with their families, an individual travel insurance package is recommended. Although the policy is titled "individual," it covers both the policyholder and any family members who are traveling with him or her as long as their names are stated accurately when obtaining the coverage.
On the other hand, a group travel insurance policy is for companies whose employees are traveling for business. In order to protect different people who could be traveling together as part of a package trip, tour operators frequently additionally purchase group travel insurance. This kind of insurance is often included in the package tour.
The Covid-19 pandemic saw millions of students suffer due to the restrictions that were imposed. This was especially true for students who studied abroad.
Student travel insurance comes in handy in such a case as it not only covers medical bills that can eat up your limited expenses while you study abroad but also insurance will pay paid semester tuition if the policyholder's education is stopped for genuine reasons.
Moreover, these plans also cover the cost of canceled trips.
What does Travel Insurance Cover?
Travel insurance can cover a range of unexpected events that may occur during a trip. The coverage typically varies based on the policy and provider, but here are some common things that it can cover:
Trip cancellation or interruption: This coverage can reimburse you for non-refundable travel expenses if you need to cancel or cut your trip short due to unexpected events such as illness, injury, or death of a family member.

Emergency medical expenses: This coverage can reimburse you for medical expenses incurred during your trip due to an injury or illness.

Emergency medical evacuation: This coverage can pay for the cost of transportation to the nearest appropriate medical facility in case of a medical emergency.

Lost or stolen baggage: This coverage can reimburse you for the cost of lost or stolen baggage and personal belongings during your trip.

Trip delay: This coverage can reimburse you for expenses such as food, lodging, and transportation if your trip is delayed due to unforeseen events such as bad weather or airline strikes.

Accidental death or dismemberment: This coverage can provide a lump sum payment if you are killed or suffer a loss of limbs or eyesight due to an accident during your trip.
When purchasing a policy, you'll come across a diverse range of travel protection plans. Typically, travel insurance is sold as a package known as a comprehensive plan, which includes a variety of coverage.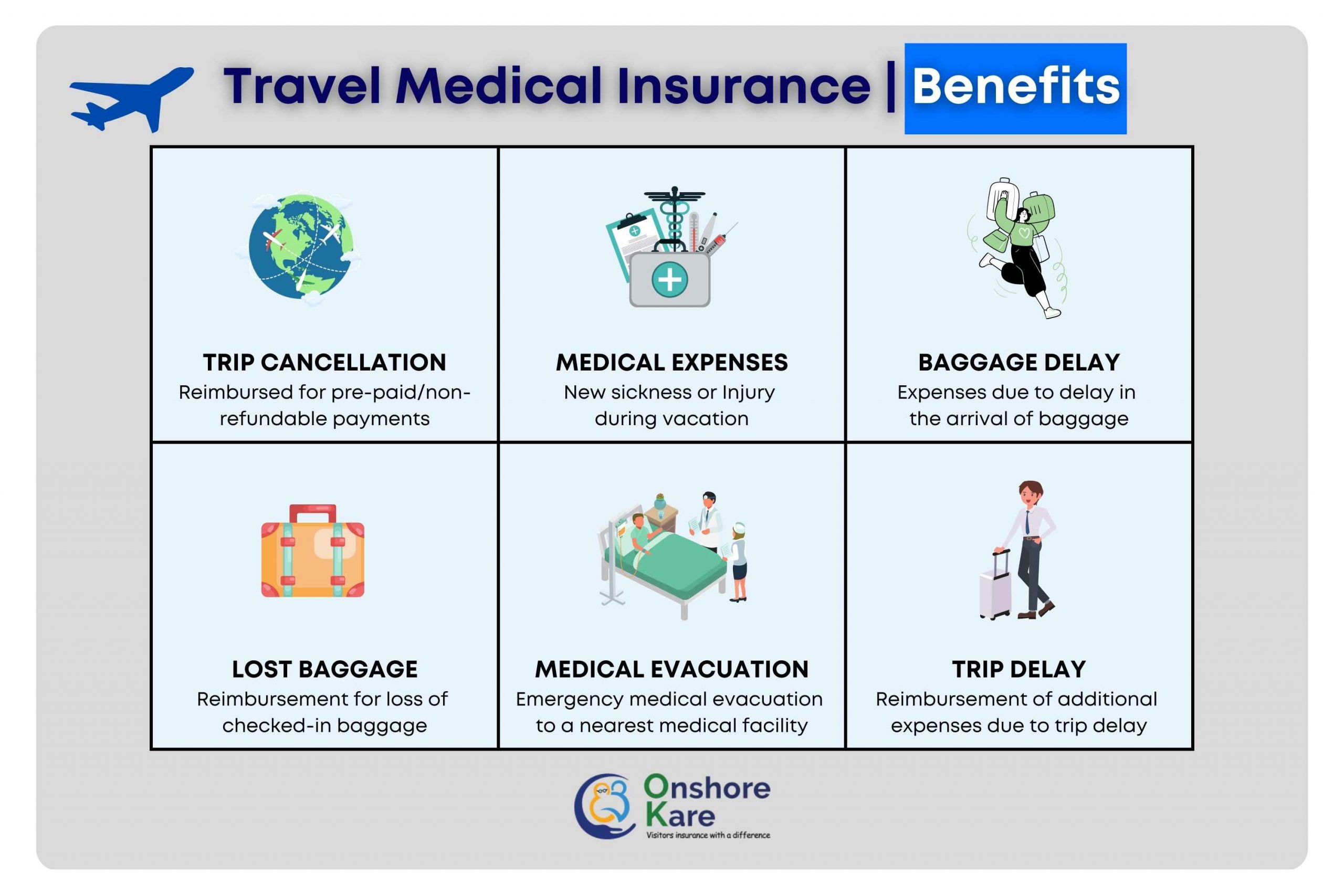 Travel Medical Insurance
These plans provide health insurance while you're away from home.
Although in some aspects these policies work like standard health plans, normally you cannot utilize travel health insurance for routine medical issues. For instance, a standard medical exam is typically not covered.
In addition, these insurance generally feature limitations on coverage and exclusions for pre-existing diseases.
Although the majority of travel insurance policies cover a variety of leisure pursuits like skiing and horseback riding,
They frequently don't cover adventure sports like skydiving or parasailing, or participation in competitive sporting events.
You might need to get unique travel insurance made for adventurous or competitive sports.
Emergency Medical Coverage
Traveling is risky, especially when you visit places with various climatic conditions, cultures, customs, and eating patterns.
When an unexpected emergency arises, what you had anticipated was a relaxing holiday can rapidly turn into a stressful nightmare that causes both mental and financial stress.
Finding assistance could be challenging in an unfamiliar location, particularly if you have additional financial obligations due to a medical issue that exceeds your vacation budget.
But, if you choose travel insurance, it would pay for your other medical expenses in addition to the cost of hospitalization if you became sick or hurt.
Some policies also cover the expense of transportation and emergency evacuation coverage to transfer the patient to an adequate medical institution in the event that there isn't a suitable hospital nearby.
Also, some plans provide a daily hospital cash allowance if you end up in the hospital while on your trip. With the aid of this allowance, you can pay for any additional costs that might be connected to but do not qualify as medical expenses.
Some travel insurance plans also include post-hospitalization expenses for a limited time. So, it is wise to be sure that the plan you are contemplating provides all of these advantages.
Trip Cancellation Coverage
The Trip cancellation coverage reimburses you for prepaid, nonrefundable trip costs if the tour operator goes out of business or you have to cancel the trip due to one of the policy's covered causes, such as:
Your own ailment
A family member who is not traveling with you becomes ill or dies
Natural calamities
Trip Interruption Coverage
Your trip interruption insurance may cover the trip costs if you return home early in the event that you need to cut short your trip due to,
Illness,
Injury, or
A family emergency at home.
An economy flight home may also be covered by your insurance policy. Nevertheless, not all causes are mentioned.
If a vacation is cut short for a cause specified in the policy, trip interruption coverage will pay the nonrefundable trip cost of the unused portion of the trip.
If you are delayed while traveling, trip delay coverage pays for your trip cost, lodging, and meals (e.g., your flight gets canceled due to weather).
Baggage Delay Coverage & Personal Belongings
Your travel insurance can come in handy if your checked luggage gets lost or fails to arrive at its destination.
If your travel insurance includes baggage delay benefits, your insurer may reimburse you for insured loss, theft, or damage to your baggage and personal effects, up to the maximum specified on the confirmation of coverage.
If your luggage or other personal belongings are stolen, destroyed, or damaged while you're traveling, this baggage delay coverage pays for replacement costs. In some cases, if your baggage is delayed for more than a predetermined amount of time, you are also reimbursed for additional costs.
Your personal items while you are traveling may be covered by your homeowners or renters' insurance. To avoid paying for coverage you already have, it is best to evaluate your home's insurance policy to assess the level of protection it offers.
Emergency Medical Evacuation Coverage and Repatriation
If you become ill or hurt while traveling, this coverage will cover your trip cost. Both medical evacuation coverage and medical repatriation will pay for the cost of getting you to the closest hospital and back home, respectively.
Accidental Death & Dismemberment coverage
In the event that you pass away in an accident while traveling, this policy will pay a lump sum to your beneficiary, such as a family member. You will also receive a percentage of the payout from accident-related death and dismemberment insurance plans if you lose a hand, foot, limb, eyesight, hearing, or speech. Some policies only cover unintentional plane fatalities.
Rental Car Insurance
Rental cars get damaged in an accident, by vandals, or during a natural disaster, and rental car insurance will cover the cost of rental car damage & repairs. The insurance from a rental car company may exclude liability insurance, which covers injuries to other people or other people's property in the event that you cause an accident and are found at fault.
To find out if you are covered by car rental collision insurance while traveling, contact your car insurance company. Except for Canada, you are typically not covered by a U.S. auto insurance policy when driving abroad.
Because they differ between nations, requirements for auto insurance providers are complicated. Liability insurance is typically available from the rental automobile business.
You can't customize the insurance to meet your needs. Most credit cards offer secondary car rental insurance, which pays for the costs not covered by your regular car insurance
How much does Travel Insurance Cost?
Travel Insurance cost depends on several factors. It takes into account the non-refundable trip costs, medical costs in the destination country you are traveling to, medical costs associated with existing conditions, the age of the traveler, etc.
To know more about travel insurance costs, we recommend, reading this article on Visitors' Insurance Cost.
Bottom Line
In conclusion, finding the best policy from a reputed travel insurance company requires some research and consideration.
By assessing your needs, researching different providers, comparing policies, considering additional coverage like adventure sports coverage, checking the fine print, and getting quotes, you can ensure that you have the right coverage for your next adventure.
Remember, travel insurance is an investment in your peace of mind, it's important to take the time to find the right policy for your needs.