Travel Medical Insurance or Trip Insurance – A Complete Guide
While Trip Insurance and Travel Medical Insurance may appear to be synonymous, they are not. Understanding the distinctions between the two can help you select the best coverage for your needs and avoid unpleasant surprises while traveling.
Visiting a foreign country can be an exciting experience. However, you need to consider a number of factors before your international travel, one of which is travel insurance.
Your own health insurance plan that you use domestically will seldom offer worldwide medical insurance.
Your financial investment in traveling abroad needs protection along with the assurance that you will receive medical care without burning a hole in your pocket taking care of all the medical expenses.
In this article, we'll look at the differences between Trip Insurance and Travel Medical Insurance, and how they can add value to your travel plans.
Watch this short video
What is Travel Medical Insurance?
Commonly referred to as travel insurance or visitors insurance. It is intended to safeguard travelers against unanticipated illnesses and accidents that could develop while they are traveling abroad.
As specified in the policy provisions, these insurance plans will pay for qualified travel insurance benefits and services. Benefits for medical costs such as doctor or hospital visits, medical evacuation, and repatriation are covered by travel health insurance coverage.
Also Read: Important helpful tips to find the best travel medical insurance plans
Best Travel Medical Insurance Plans
These are some of the best travel medical insurance plans:
Please Note: the best travel medical insurance term is subjective, these plans are the most popular ones. Please assess your needs and then buy a plan that meets your needs. Call on +1 855 652 5565 to get clarifications on questions you may have about plans.
What is Trip Insurance?
Your financial investment in the cost of international or domestic travel may be covered by trip insurance.
Financial investment in a trip consists of refundable and nonrefundable expenses. Trip Insurance can compensate you for a portion of pre-paid travel expenditures up to the limitations of your policy if you are required to cancel a trip, miss a flight connection, or are otherwise unable to proceed with your plans.
It helps you get reimbursed for a significant portion of the nonrefundable expenses. Most plans also offer the option of adding Cancel For Any Reason (CFAR) to your coverage.
Also Read: How does Trip Insurance work?
What are the key differences between Trip Insurance and Travel Medical Insurance?
Understanding the key differences between these two types of insurance can help you determine which type of coverage best suits your needs for traveling abroad.
Here are the main differences between the two:
Coverage Duration
Trip insurance provides coverage for a specific trip or vacation, usually for a few days or weeks.
Travel medical insurance policy, on the other hand, is intended to cover longer periods of time, typically up to a year or more, and can also cover multiple trips.
Trip Cancellation Insurance vs Trip Interruption Insurance
Trip cancellation coverage protects you if you need to cancel your trip before it begins due to unforeseen circumstances such as illness or death in the family.
If your trip is cut short due to unforeseen circumstances such as illness, natural disasters, or political unrest, trip interruption coverage will compensate you.
Also Read: Does Trip Insurance Cover Cancelled Flights?
Medical Coverage
Both types of plan can provide medical coverage in the event of an emergency or an accident while traveling.
Travel insurance, on the other hand, typically provides more comprehensive medical coverage, such as emergency evacuation, repatriation of remains, and coverage for pre-existing conditions.
Coverage for Lost, Stolen, or Damaged Baggage and Personal Items
Trip insurance can provide coverage for lost, stolen, or damaged baggage and personal items during your trip.
International Travel medical insurance policy may provide more comprehensive baggage coverage, such as coverage for delayed or lost baggage, as well as protection for valuable items such as cameras or laptop computers.
Pre-Existing Conditions
Unless you are purchasing travel insurance that explicitly covers pre-existing medical conditions, expect that any expected or unexpected medical costs related to existing conditions are excluded from the plan.
Trip insurance may not cover pre-existing medical conditions or may need a pre-existing conditions waiver, whereas some very select comprehensive travel insurance plans may provide some coverage for pre-existing conditions.
Always Check the policy details thoroughly and, if necessary, consider purchasing additional coverage.
If you are looking for travel insurance companies to cover your trip to the USA and need pre-existing conditions coverage then check this article.
Cost Factor
The advantages that a trip insurance plan offers and the kind of coverage and add-ons decide its cost.
The cost of trip plans takes into account the trip cost and the premium of the plan can be more expensive depending on the total cost of the trip.
A good estimate is that trip insurance could cost about 10% approximate on top of your trip cost.
Travel Medical Insurance takes into account the age of the traveler, the destination, the number of days coverage is required, medical emergencies being covered, etc.
Travel insurance benefits can be advantageous to both domestic and foreign travelers, as they can help them avoid medical and financial worries.
Furthermore, reliable insurance companies are providing these options. Trip insurance plans are less costly than travel insurance because of this.
Also Read: Complete Guide to Travel Guard Trip Insurance
What is covered by a Travel Medical Insurance Plan?
Unexpected Medical Expenses and Dental Costs
Payment for emergency medical expenses incurred for receiving medical treatment. Reimbursement for emergency dental treatment resulting from a mishap during your international trip.
Medical Coverage
When you are injured, medical expenses are covered to get emergency transportation as well as payments in advance to medical facilities.
Emergency Medical Expenses
Coordination and funding of emergency medical evacuation services, including the hiring of medical personnel to care for you until you arrive at a suitable facility for treatment.
Accidental Death & Dismemberment (AD&D)
If you are severely hurt or killed while traveling, there are benefits available to you and your family, such as Accidental Death & Dismemberment (AD&D).
Services for emergency travel assistance to help you find a nearby, suitable medical facility to take care of your family's and your own medical requirements.
Please Note: These expenses have to be eligible as per the policy terms, all plans do not provide all types of coverages, always read the policy document for details.
Also Read: Our Complete Guide to Best Travel Insurance 2023
What is covered by Trip Insurance Plans?
This insurance can lessen the burden of unanticipated costs and additional travel arrangements that must be made at short notice, even though it cannot avoid accidents.
Plans are created to provide you with peace of mind in the event that your plans are derailed due to a delay, cancellation, or loss of luggage.
You can safeguard the cost of your journey in the event of a delay or cancellation in your travel plans.
Lower the cost of supplemental expenses paid as a result of a flight delay or luggage loss interfering with a trip.
Trip insurance can shield you from last-minute cancellations while traveling abroad with your family, missing luggage, delayed evacuations, and stolen or lost passports.
Also Read: Complete Guide to Royal Caribbean Travel Insurance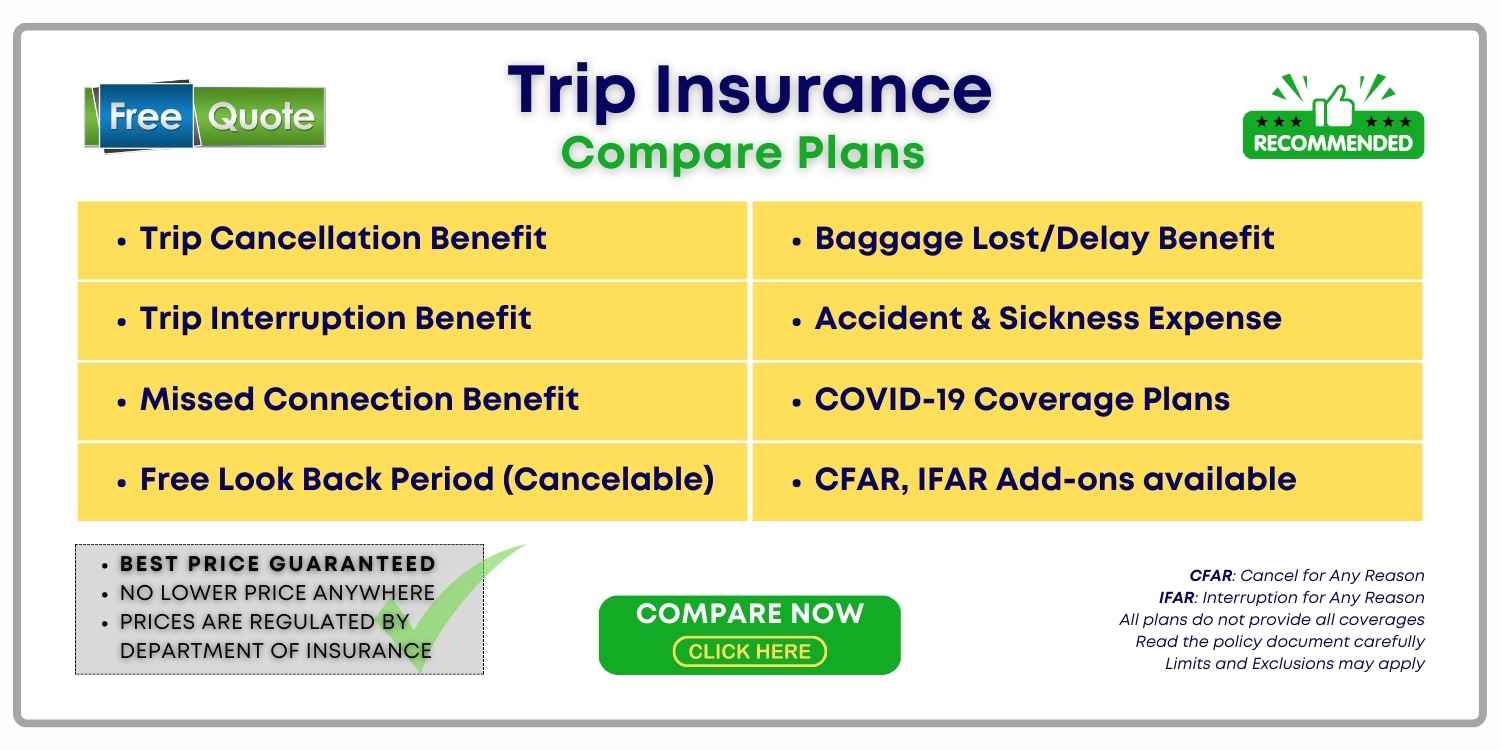 Types of Travel Medical Insurance
There are three types:
Single Trip Plans: The duration of your vacation is covered by this kind of plan, which is for a single trip.
Multiple-Trip or Annual Plan: This yearly plan offers yearly coverage for international insurance. It would cover several journeys throughout the course of the year.
Group International Travel: if you are traveling abroad in groups you may benefit from the premium cost of international travel insurance.
Also Read: Is Travel Insurance Worth it?
Travel Health Insurance for Visitors to the USA
Visitors to the USA have long-term coverage options for as long as a year or more. This could mean your parents and other relatives traveling to the United States and staying with you can be covered for any medical situation. This ensures a pleasant worry-free stay in the USA.
Read More: How to find the Best Travel Insurance for USA
Travel Insurance vs Trip Insurance: What's the difference?
Many people are unsure of the kind of travel insurance they need. And they both can help pay medical bills when you're on your international trip.
Also, everything has different names: vacation insurance, cruise insurance, trip insurance, foreign insurance, and travel medical insurance.
You can choose between purchasing trip coverage or travel medical coverage.
But how do they differ?
Trip Insurance Focuses on Cancellation Protection, Medical Emergency Coverage is what Travel Medical Insurance Prioritizes
The emphasis of a travel medical insurance plan is on emergency medical and evacuation expenses.
It would pay for your medical expenses if you are hurt or ill while traveling. Moreover, emergency dental care is frequently covered.
Emergency medical evacuations will transport you from a remote location to a location where you can access the necessary medical care. and If required, it would also transport you back home.
If someone passes away while traveling, repatriation coverage will make sure the body is safely returned home or to a local funeral home.
If you purchase trip protection insurance, you don't have to worry about losing any of the money you've already paid for the trip.
Cancellation due to sickness or injury is covered by trip insurance. In addition, it addresses things like storms, house fires, jury duty, and job loss. It covers cancellations due to unanticipated and unexpected circumstances.
Also covers excursions that are cut short for any reason when they are already underway. It also covers delayed flights, lost or stolen luggage, and other issues.
As with travel medical insurance, it also includes coverage for medical emergencies and medical evacuation insurance.
Comparing Trip Insurance and Travel Medical Insurance
Of course, it is difficult to compare the cost directly, it's like comparing Apples to Oranges, many factors impact the pricing like age, duration of coverage, cost of the trip, destination country, emergency medical coverage limits, etc.
Cost: The cost of travel medical insurance may be lower than trip insurance. But if your trip is say luxury-oriented with heavy financial investment then it may turn out to be more expensive.
Read more on Comprehensive vs Limited Coverage Travel Insurance
Travel Medical Insurance as highlighted earlier in the article is designed to cover medical risks and costs associated with it. There are other coverages included on the policy like emergency services, trip cancellation etc.
Trip Insurance, on the other hand, covers financial costs if you have to cancel your trip for approved reasons, and if you have CFAR then for any reason. The trip cover also provides other protection like medical benefits etc.
The cost of travel medical insurance can vary depending on a number of factors such as the age of the traveler, duration of the trip, medical & healthcare costs at the destination country, etc. Trip insurance on the other hand takes into account the total trip cost on top of other criteria.
Pro-Tip: Trip cancellation and Trip Interruption, Baggage delay, or lost may be covered in your travel medical insurance plan. The limits may be lesser as compared to a trip insurance plan but sufficient enough for the loss you may incur.
AD&D – Accidental Death and Dismemberment coverage offer a lump sum payment in the case of death or dismemberment of bodily functions. It adds additional financial protection.
Key Takeaways:
Trip insurance provides short-term coverage for a trip, while travel insurance can extend coverage for the short to long term.
Trip cancellation and Trip Interruption coverage protect you if you need to cancel your trip or in case of interruption and offer compensation if your trip is cut short.
Travel insurance offers more comprehensive medical coverage, including coverage for pre-existing conditions and emergency evacuation. Do note that coverages are specific to individual plans and you need to pay attention to the inclusions and exclusions in the policy document.
Baggage and personal items coverage is offered in both types of insurance, the limits may vary.
Pre-existing medical conditions may not be covered by trip insurance and you may have to give a pre-existing conditions waiver. With Pre-Existing Conditions waiver the Trip Insurance plan may cover pre-existing conditions, the waiver helps the insurance to kick in during an incident. Some select trip insurance plans offer coverage with conditions.
Some Travel Medical plans may cover pre-existing conditions or the acute onset of preexisting medical conditions.
Frequently Asked Questions
When can I buy travel medical coverage?
You should always have travel health insurance whenever you travel either through a trip protection plan or a travel medical plan.
What distinguishes trip insurance from travel medical coverage?
Medical crises, evacuations, and a few other things like baggage are all covered by a travel medical insurance policy.
Trip protection, sometimes known as trip cancellation insurance or just international medical insurance, provides coverage for a variety of events, including disruptions, baggage delays, medical emergencies, and evacuation.
What should I do if I require immediate medical attention?
If at all feasible, obtain any urgent care you require to stop more damage. As soon as it's practical, call the insurance provider's round-the-clock helpline for more assistance.
What does primary vs. secondary travel medical insurance coverage mean?
Prior to whatever additional insurance you could have, primary coverage pays out first. In other words, you file a claim directly with the insurance provider, and they take care of the rest.
After using any other insurance, secondary coverage kicks in. Hence, if your home health insurance did provide some coverage, that would be used first before travel medical kicks in.
Your secondary coverage effectively becomes primary coverage if you have secondary coverage and no other insurance provides coverage.
As there are fewer firms to deal with, the key advantage of Primary is the simplicity of claims.
How Much Does Travel Medical Insurance Cost?
One of the most frequent inquiries from travelers is how much travel medical insurance would cost. Age, duration of the trip, and coverage quantity all factor into the cost of medical policies.
This normally amounts to few dollars per day, making it an extremely cost-effective method of obtaining emergency medical coverage abroad.
Bottom Line
In conclusion,
understanding the differences between trip insurance and travel insurance help you make informed decision when choosing coverage for your travels.
While trip insurance may be suitable for short trips. travel insurance can provide more comprehensive coverage for longer periods, multiple trips, and a wider range of risks.
When selecting coverage, consider your specific needs and any potential risks, and always read the policy details carefully.
To learn more about travel insurance options and find the right coverage for your upcoming trip,
Visit OnshoreKare and get a no-obligation travel insurance quote.