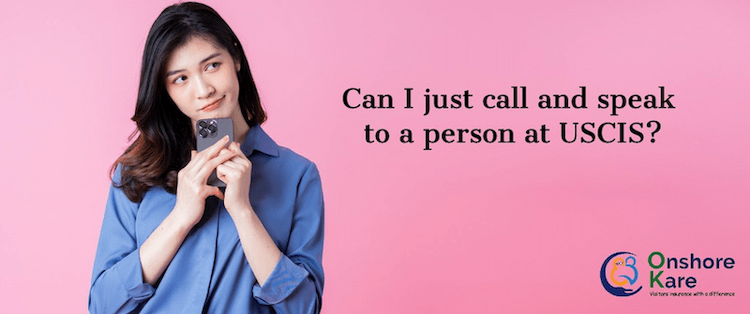 How do I speak to a live person at USCIS?
How do I speak to a live person at USCIS? is an important question in many minds. If you have the same question, read on to get the answer. This article will help you to understand how and when should you attempt to speak to a person at USCIS (the United States Citizenship and Immigration Services).
You can use your receipt number to view the status of your immigration application on the USCIS website.
The USCIS is the department of the government in charge of overseeing immigration to the United States of America.
Can You Talk to Someone Live at USCIS?
The short answer is Yes but it is more complicated than that.
For a better chance of success, you need to navigate an automatic telephone answering machine.
The U.S. Immigration Service handles nearly one billion applications annually. To handle such a large workload of applications USCIS has developed systems and processes to address questions like an automated voice assistance system.
USCIS provides online self-help tools and digital inquiry channels. This is due to the financial and resources challenge it faces.
USCIS has made changes at their contact center to reduce the call volumes with live person assistance service and is actively promoting the other channels for questions and inquiries.
The call is routed to a USCIS representative/immigration service officer only if necessary for issues that the automated IVR system (IVR: interactive voice response system) cannot address.
To get assistance, use the agency's toll-free phone number 1-800-375-5283.
We must first have a basic understanding of how the USCIS helpline operates before moving on to the process of contacting a customer service representative at USCIS.
How to Contact USCIS Customer Service?
The USCIS representative is a two-tiered structure.
Customer Service Representatives (Tier I)
Immigration Service Officers (ISO) (Tier-II)
You'll encounter a USCIS representative with a different designation at each tier.
At tier I, you speak with a customer service representative, and at tier II, an immigration service officer.
 Customer Service Representatives (Tier I)
You will speak with a customer service representative when you contact the USCIS. The customer service representative will be able to respond to all of your inquiries and provide you with broad recommendations.
Your customer service representative should assist you with scheduling appointments, completing paperwork, and resolving technical problems. A customer service representative is unable to give you legal advice or answer specific inquiries about your situation.
Immigration Service Officers (ISOs) (Tier-II)
The call will be sent to an immigration service officer if the customer service representative is unable to assist you and determines that your questions are important enough.
You can resolve a lot more queries and receive case-specific assistance from an immigration service officer. The immigration service officer is unable to review the requests for evidence, send out duplicate notices, or offer legal counsel.
Both Tiers I and II officials prepare a "service request" for these specific requests, which is subsequently sent to the neighborhood USCIS Office.
You can also give the regional offices or service centers a call. To find the nearest USCIS local office, click here.
How can I speak to a live person at USCIS in 2022?
You're prepared to proceed and speak to a live person now that you know who might be on the other end of the phone. However, you must use the automated voice assistance system to get through. Tens of millions of applications and forms are processed annually by the USCIS. They are unable to answer every call personally. They have this system in place as a result.
The USCIS helpline is a phone number where an automated system is available to assist you. If the automated system is unable to answer your questions, it will forward the call to a live agent. The following alternatives, which should be chosen, are provided by the automated system so that we can speak with a customer support agent more quickly.
Automated System of USCIS:
The automated system can be used in the following ways:
Please call 1-800-375-5283.
 Press 1 – For English. Dial additional digits for accessible languages.
Press 2 – To view the status of your case.
Press 2 – If you can no longer retrieve your receipt number.
Press 2 – To speak with a USCIS representative.
Once you've completed the above procedures, you'll be added to the queue, where you might have to wait 10 to 30 minutes before a representative becomes available online. After the wait is ended, a tier I officer known as the customer care representative will connect with you.
USCIS Customer Service menu:
On the phone call, you'll be choosing from the following options:
Press # –  to hear the most recent immigration-related news.
Press 1 – to call USCIS and get a form.
Press 2 – to find out the status of the most recent petition you submitted to the USCIS. If you want the answer to the question, press 2 as well.
Press 3 – To notify USCIS of the change of address
Press 4 – To find the closest USCIS local office or application facility. If you want to make an appointment or request a reasonable accommodation for a disability, you should press the same key.
Press 5 – To schedule a doctor for your immigration medical examination.
Press 6 – If you want to speak with an attorney or a BIA official
Press 8 – If you seek information according to the freedom of information act.  Additionally, dial this number to report a possible immigration law infringement.
For all more relevant information, press the star (*) key.
The following choices will be provided to you after pressing the Star key:
Press 1 – To obtain a copy of the USCIS manual for the naturalization procedure.
Press 2 – To learn the priority cutoff date.
Press 3 – To access the section with services just for US people.
Press 4 – To access the services area for conditional residents, asylees, and LPRs.
Press 5 – To see information about transient guests.
Press 6 – To access information about employers.
Press 8 – If you encounter technical difficulties while submitting an electronic application form
For details about deferred action, use the hash (#) key.
To access information about temporary waivers of unlawful presence, press the star (*) key.
You must proceed through the section in this manner until you are pleased with the responses.
Speak with a representative:
Press the appropriate buttons if you still have questions and would like to speak with a representative. There will be a key provided in each section that will enable you to contact a live agent.
Please be aware that the call menu is updated frequently. As a result, when you dial in, you can hear various possibilities. The important choice is what you need to emphasize.
Tell me the best way to contact USCIS?
Keep in mind that the live person assistance service isn't available 24/7. You must call at a specific time. Live customer services can be accessed between 8 a.m. and 9 a.m., Monday through Friday. This service is not offered on the weekends.
In addition, the Interactive Voice Response system is accessible 24 hours a day. Even on weekends, the IVR will assist in answering you with simple questions for most of the day.
Most common reasons why people contact USCIS
There are numerous reasons why someone might be attempting to contact USCIS, but a few of the most frequent ones are as follows:
Visa-related basic queries
Concerns with citizen application procedures
Requests for updates on visa status
Inquiries about citizenship applications scheduling
Planning appointments for in-person interviews
Support for technical failures on the USCIS website.
Things you should keep in mind before dialing USCIS
You must be ready before phoning the USCIS. You need to:
Verify the status of your case or application online.
Have all the case-supporting documentation on hand.
Check to see if your case has been given a processing time.
Bring along all of your receipts.
Should you first use the USCIS website OR call USCIS Contact Center?
Here are the requests that USCIS recommends you should contact them via their Contact Center:
When you need to change an appointment or interview for biometrics before the appointment or interview date;
For emergencies, like when you need emergency advance parole to travel or proof that you are a lawful permanent resident (like an Alien Documentation, Identification, and Telecommunications (ADIT) stamp in your passport),
To ask USCIS to move your case along faster if any of the criteria for doing so apply; and/or
For any other questions that can't be answered online and really do need live help.
How to Get Ready for Your USCIS Call
Since it's not always simple to talk to a live person at USCIS, you should be ready to take advantage of the opportunity when you contact.
You can prepare for your call by doing the following things:
Jot down essential notes, and keep a pen and paper nearby.
Assemble any necessary data for the call, like receipt numbers or immigrant registration numbers
Plan extra time into your schedule to wait on hold while you speak with a USCIS official.
Additionally, there are a few details you should jot down when you make the call:
Before you dial, note the day and time of the call.
Note the name of the USCIS agent who answers your phone.
Keep track of any reference numbers mentioned throughout the call.
Problems That Can Be Solved Over the Phone
Share "basic," scripted details
Give responses to inquiries regarding forms
Call an immigration officer if necessary in certain circumstances.
 Few issues with technical support
Problems That Can't Be Solved Over the Phone
No matter who you speak with at USCIS, a representative cannot:
Give legal counsel
Make appointments at the regional offices
Call forwarding to a field office
Other ways to contact USCIS
Phone contact is also available, for free, at 1-800-375-5283.
USCIS also has a Facebook and Twitter account.
You may contact them using their Twitter accounts. Twitter has been considered to be better for responding faster. Contact details for USCIS can be found here.
Conclusion
USCIS processes tens of millions of applications and every day, USCIS receives hundreds of calls, making it nearly impossible to talk to a live person for each call.
In order to obtain the information you require, USCIS personnel advise that you explore alternative approaches first.
The majority of the information is provided by USCIS, and you can contact Emma Virtual Assistant for guidance.
If you need to seek legal assistance you should speak to an immigration lawyer who is qualified to assist you.