Parent Visitor Visa to the USA – 2022 Complete Guide
If you want your parents to come to visit you in the United States, we help you in finding the answers to some of your more fundamental questions about applying for a Visitor Visa for them in their home country.
Currently, the visa application process is taking longer than usual due to backlogs at visa processing centers/US consulates. This has impacted countries where the US embassies/consulates see a large volume of visa applications, like India.
The US Embassy & Consulates in India recently announced opening up appointments for 1st time B-1/B-2 Visitor visa appointments from 1st September 2022. Anyone, renewing their visa within 28 months of expiry will continue to be eligible for an interview waiver.
If you want to secure a Visitor Visa for your parents then you need to be on top of the application process. Read on to find more details about the process in this article.
You generally do not need immigration services from a lawyer/attorney, the US Visitor Visa application process can be managed by yourself. If you are short on time and need professional help then consider obtaining professional/immigration services.
If you have already secured a visitor visa for your parents then read about Travel Insurance for Parents visiting the USA. You can generate free no-obligation travel insurance quotes from here.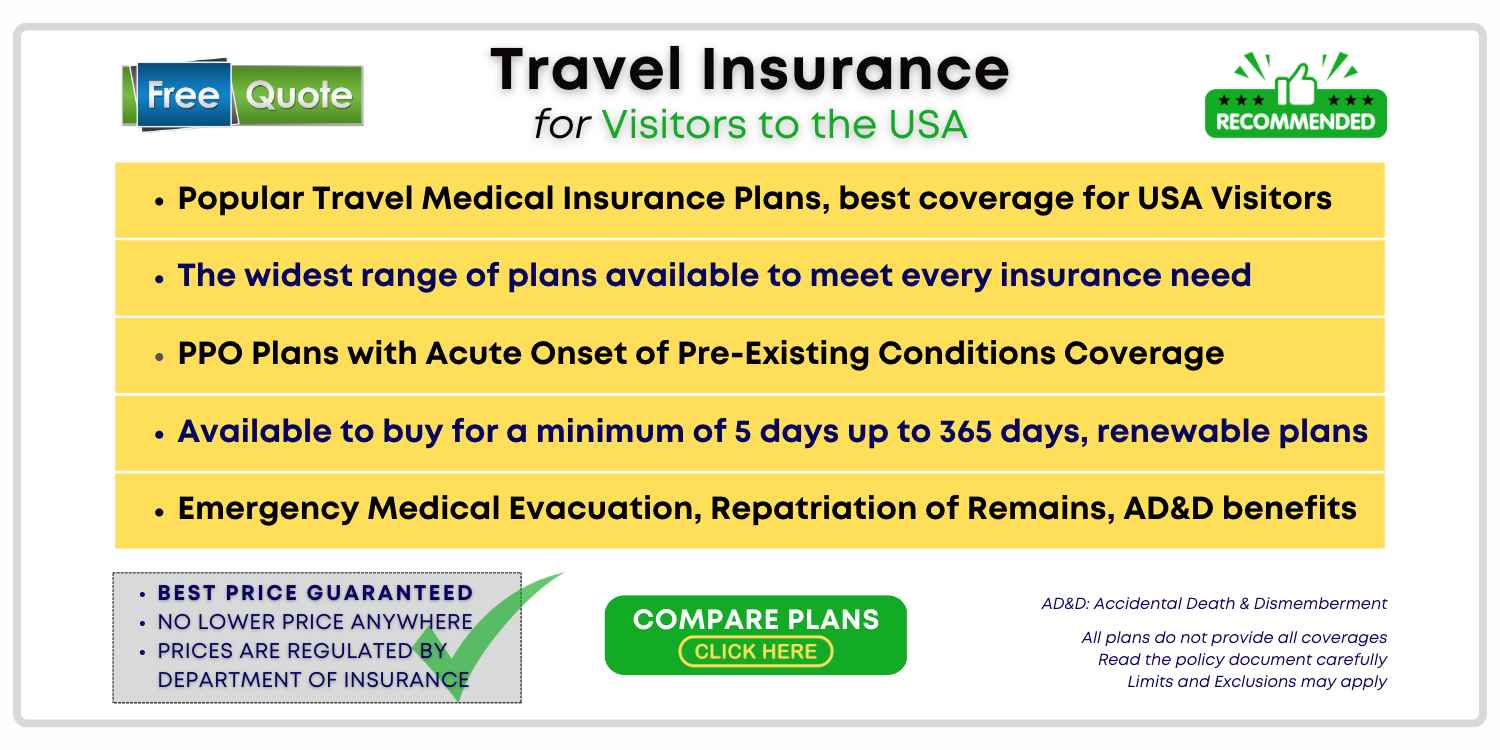 What is a US Visitor Visa?
Non-Immigrant visitor visas are available to those who wish to briefly enter the country:
Business – visa category B-1
Tourism – visa category B-2
The B1/B2 Visa is popularly known as the Visitor Visa OR the Tourist Visa.
B-1/B-2 Visitor Visa for the USA
If you want to visit the United States temporarily you can apply for a Visitor Visa i.e. the B-1/B-2 visa.
If you live in the United States and want your parents to visit you then you can apply for a visitor visa for them to be able to come and visit you.
Visa Status and Allowed Activities
There are several visa categories and the activities allowed under each of them. As far as a parent's visa for visiting the USA is concerned the Visitor Visa and activities allowed under them are:
B-1 Visa/Business Visa may be used for activities such as:
Attend Business Meetings
Consulting with business partners
Attending conventions or conferences
Settling estates, and contract negotiations
B-2 Visa/Tourist Visa may be used for activities such as:
Tourism, Vacation, Holiday
Visiting friends or family
Receiving medical treatment
Taking part in social events hosted by fraternal, social, or service organizations
Amateur participation in musical, sporting, or similar events or contests (can't be paid for such activities)
Enrolling in a brief recreational course of study that is not for credit toward a degree
Note: B1/B2 visa falls under the non-immigrant visa category, this category of visa is popularly known as a Visitor Visa for temporary visits to the USA. If you want to bring your parents/family members permanently to the US then explore other categories of Visas.
As you prepare for your parents to visit the United States you will find this information helpful on travel insurance.
Documents to Check before starting the Visitor Visa Application process?
To apply for a B1/B2 visa you need to first collect all the documents needed to submit the visitor visa application.
Have a valid passport?
You need a passport valid for 6 months beyond the planned period of stay in the USA.
Consider applying for a new passport for your parents before initiating a visitor visa application process if:
Parents never had a passport
Currently don't have a valid passport
A valid passport is nearing its expiry date
The passport is torn/damaged
Bank Account Statements & other financial-related documents?
Being able to display the availability of funds for the planned trip and strong ties to the home country for returning after the visit makes for a strong case for parents' visas.
The required documents need to support their financial strength (bank statements/bank verification letter) and/or your resources to support your parents while they are visiting you in the USA. Collect documents like real estate/property ownership documents and other relevant papers to demonstrate ties to the home country.
The funds available in the bank account should be >= $5,000 -10,000 or more. If this is not a concern and the bank account balances are usually higher, you can go ahead with the application. If you need to arrange for the money then it is recommended to start the process once you have accumulated the needed funds.
Do I Need a Tourist Visa OR a Visitor Visa to Enter the United States?
The only people who must apply for a tourist visa/visitor visa/b1-b2 visa to the USA are those who are not part of the US Visa Waiver Program.
You're in luck if your country offers visa waivers. You can simply follow the easy steps to apply for an ESTA, and after that, plan your trip.
What are the requirements for a Visitor Visa?
Your visit must be for one of the following reasons if you want to obtain a US visitor visa:
Enjoy your holiday in America.
Visit several American cities.
Visit family or friends.
Attend social gatherings that various organizations host.
To receive medical treatment or care.
Take part in music or sports-related events or competitions (not being paid for them).
Enroll in brief study courses that you won't get credit for (ex. cooking classes).
If you do not fit into any of the aforementioned categories, you should research additional US non-immigrant visa categories to determine if you are eligible for any other visa category.
You will also need to show that you have the financial resources to support your stay in the US on a B1/B2 Visa and that you intend to leave the nation as soon as your approved stay/visa expires.
How can I obtain a US tourist visa?
You must follow these basic steps to apply for a US tourist visa OR the Visitor Visa:
Submit the DS-160 form.
Pay the fees for the visa.
Schedule your Visa interview
Create the file for your B2 Visa documents.
Attend the interview
Submit the DS-160 form.
Send in your contact information as well as information on why you are visiting. For your US tourist visa, you must complete the required documentation and submit it online. You will receive a verification confirmation page and code after submitting it, which you must keep for your document file.
The DS-160 form is available online either with assistance from a visa processing assistant or through the Consular Electronic Application Center.
Pay Fees for the Visa
The application fee for a b1/b2 visa is $160. You might also be required to pay additional fees, depending on how your nation and the US are related. They are known as visa issuance fees, and they differ from one nation to the other.
After completing the payments, you need an application fee payment receipt to proceed further on your application. Keep all your papers/documents organized in a file that can be taken for the visa interview.
Schedule your Visa interview
All visa applicants must attend a visa interview at the US Embassy and must be between the ages of 14 and 79.
You must make an appointment with the US Embassy in your home country to attend this visa interview. Considering their heavy workload, be sure to schedule an appointment as soon as you can.
You will receive an interview confirmation letter following the completion of this process, which you must bring with you to the interview.
Create the file for your B1/B2 Visa documents.
All the additional supporting documents are in the file you have, which demonstrates to the US Embassy that it is safe to grant you a visa. At your visa appointment, all required paperwork must be brought with you.
You must submit the following required documents/paperwork when applying for a B1/B2 visa:
Valid passport
A picture that complies with the rules and specifications
Page and confirmation code for the DS-160 form
Receipt for the paid visa fees
Confirmation page for the visitor visa interview
A letter outlining the objective of your journey
Evidence of financial capacity: Financial or bank letter demonstrating that you have at least $266 available for each day of your intended stay in the US
Ties to your native nation: family, employment contract, rental agreement, or property deed, which attest to your return
An optional invitation letter from US-based friends or family
Criminal history or a letter from the authorities confirming your innocence
The records of your previous trips. This only applies if you've previously traveled to the US
Certificates or transcripts. Only students are affected by this
An employment verification letter from your employer and the previous three months' pay stubs for those who are employed
Documents of your relative's immigration status in the US
Letters from your doctors detailing your diagnosis and care if you're traveling for a medical reason
Social media information: list the social networks you are a member of, along with the name of your account
Attend the Visa Interview
On the day of your interview, a consular officer will quiz you about your past and the reasons you wish to visit the USA.
The consular officer will examine your papers to make sure everything is in order. Although the interviews are brief, it is important to provide all pertinent information.
If a question is not understood then there is no harm in asking the visa officer to repeat the question rather than trying to answer without context.
The visa officer will decide if the case merits a visa approval or a denial or needs more information. If the visa is approved then the passport will be mailed back with the visa stamped on the passport.
Note: For parents who don't speak English, local language interview appointments are usually available as an option.
Important Links
Check out these links from the US State Government Website and the US Travel Document Official Website for information on how to successfully process a DS-160 form for your parents.
Consider getting travel health insurance for your parents if they are planning to visit you in the USA.
FAQs
1) How long does it take to process a B1/B2 Visa Application?
The processing of the B1/B2 visitor visa could take a few weeks to a few months. Processing dates vary from nation to nation because they are heavily influenced by the workload of the US Embassy where you submitted your application. Covid-19 has heavily impacted the processing timelines.
2) How long parents can stay on a visitor visa in the USA?
A B2 visa allows for a stay of up to 6 months OR as approved at the port of entry by the CBP officer. You are free to go anywhere in the US or for any other reason during that period. You must go back to your country of residence nonetheless after your visa expires.
If you want your parents to stay longer then you can consider filing a stay extension before their approved stay expires.
3) Do I Need a US Tourist Visa to Apply for a Green Card?
If you are visiting the country as a tourist, it is extremely challenging to obtain permanent residence or a Green Card. Since the B2 visa is only valid for a short period, you must demonstrate that you will leave the USA when your approved stay or visa expires. Additionally, you are prohibited from looking for work or enrolling in school, which means that you might not be able to take the simplest routes to obtain permanent residence.
4) Do tourists have access to American healthcare?
American healthcare is extremely expensive, and if someone had an ankle or wrist broken in the past year, the average cost for the treatment would be about $2,500. While the average cost of a single night in a US hospital is over $10,000.
Therefore, the purchase of visitor medical insurance is recommended. If your parents have pre-existing medical conditions then this information will be helpful. If your parents have pre-existing conditions then read about travel insurance plans that cover pre-existing conditions.
5) Can my parents visit me in the USA with a B2 visa?
You can ask your parents to come to visit you if you are studying, working, obtaining permanent residence or are a Green Card holder, or have become a citizen in the US.
6) What is the validity of a visitor visa/b1-b2 visa?
The B-1/B-2 visitor visa is generally issued with a validity of 10 years however you can stay for a maximum of 6 months at a stretch or as approved during entry to the USA. Obtaining a visa is not a guarantee to enter the United States. The Department of Homeland Security (DHS) and Customs and Border Protection (CBP) officers will ultimately decide at the port of entry if you will be allowed into the country. If allowed into the country then your I-94 record will contain the details of your approved stay.
Conclusion
We sincerely hope that this article has given you enough information to help you through the entire process.
The B1/B2 Visa is the most commonly issued visa at the same time there are many cases where the visas are rejected, even for parents wanting to visit their children in the USA.
There have been many cases where the visa is approved for one parent but rejected for the other. This usually happens when the appointments were scheduled on different dates for each parent and for some reason the visa officer was not convinced of the reasons for the visit during the interview.
So plan ahead, organize, and prep up your parents as needed. If they are well-traveled internationally then perhaps they don't need hand-holding in this process whereas parents who have not traveled internationally may need more guidance on the process.
Assess your situation and plan according to it. All the best.