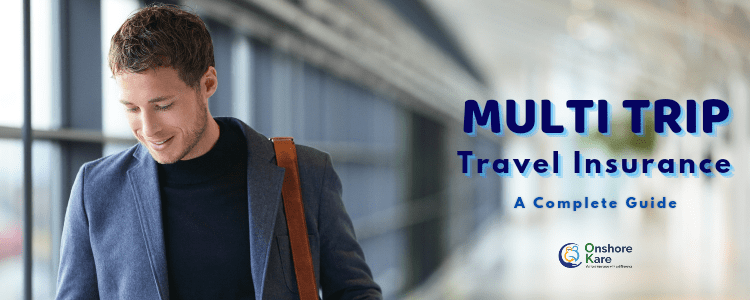 Business Travel Insurance for Multi-Trip Frequent Flyers
If you are a frequent international traveler you can save money by buying an annual multi-trip travel insurance cover instead of opting for travel insurance for each trip.
Business travelers or Executives who travel internationally can also benefit from this.
If you are a green card holder and shuttle say between the USA and India for business several times a year, you can benefit from an annual multi-trip travel insurance cover.
Annual multi-trip travel insurance protects you for the whole year, but each trip can only be for a maximum of 30, 45, or 70 days.
It is essential for frequent travelers/business travelers to have a reliable travel insurance plan in case of an emergency and to cover unwarranted medical expenses.
With annual multi-trip travel insurance, you can not only save money but also save time and avoid the hassle of buying travel insurance for every single trip.
What Exactly Is Business Travel Insurance?
If a business executive (self-employed or an employee) travels where the company pays for the trip and the travel insurance, that is business travel insurance. The underlying policy functions just like that for an individual buyer.
The costs associated with you being delayed or canceled on a flight, requiring emergency evacuation, lost baggage or valuables, and other unforeseen catastrophes are all things that business travelers can stay protected from with travel insurance.
In case you were to fall sick on a business trip or meet with an accident/injury the travel insurance plan ensured that the out-of-pocket expenses are to a minimum and the insurance plan pays for medical expenses as defined in the policy document for incidents that are covered.
What are the types of business travel medical insurance?
All travel insurance coverage falls into one of two broad categories: domestic or international. Single-trip insurance and multi-trip insurance for businesses are subsets of these two main categories.
Single-Trip Insurance:
This type of insurance plan only protects you from the moment your trip begins until the moment it ends.
Multi-Trip Insurance :
When you get an insurance plan that covers multiple trips within a set period of time, say six months or a year, you can rest assured that all of your business trips within that time period are covered.
Watch this video to understand why purchasing travel insurance is important
What is covered by business travel health insurance?
The level of coverage provided by business travel medical insurance varies by the insurance plan. A business travel medical insurance company may be able to create a policy that is unique to your needs.
Creating a policy means customizing the coverage limits, types of incidents being covered, and adding coverages that may be available as add-ons only (Like CFAR – Cancel For Any Reason)
A few standard provisions are generally available in any travel insurance plan are:
Medical Expenses:
Eligible medical expenses, including emergency care, hospitalization, emergency medical evacuation, and repatriation of remains are all paid for by business travel medical insurance.
In order to receive coverage, the insured person must submit their medical records and other required paperwork at the time of filing a claim.
In addition, the majority of travel insurance companies will assist you in getting your money back if you have to cancel your business trip at the last minute due to illness.
Travel delays or trip cancellations:
These are rather common and can disrupt your well-planned business vacation. If you need to get there on time, you may need to find another way to get there. Protection against unforeseen events, such as bad weather or administrative delays and cancellations, is included in most travel insurance policies. It covers the cost of transportation and lodging in the event of an emergency.
Baggage and work-related gadgets :
One of the most important aspects to consider when selecting business travel medical insurance for you is whether or not your baggage, which may include work-related gadgets, will be covered. You should check to see if your policy includes regular coverage for work electronics, as most plans only cover expenditures related to missing luggage or travel papers.
Life Cover:
This often covers the unexpected demise of a business traveler as a result of accidental death on the road or in the air. It is prudent to confirm with the travel insurance company whether or not they offer life insurance cover as part of the travel insurance. Some plans do offer AD&D coverage, that is death or dismemberment of the insured person.
Please note: Always read the policy document carefully to understand inclusions and exclusions, the incidents & events mentioned above are for reference only.
What is not covered by Business Travel medical insurance?
Your travel medical insurance coverage may include exclusions, just like any other sort of insurance. Generally speaking, travel insurance does not cover the following:
Pre Existing conditions:
If an employee has been ill or has a pre-existing condition that worsens during the business trip, the insurance provider may not cover pre-existing conditions.
Medical procedures such as cosmetic surgery may also be excluded from coverage by your travel insurance policy.
However, if you report a pre-existing condition which is an ailment or disability in advance, you may be covered by your travel insurance.
Accidents Caused by the Traveler's Own Negligence:
Any claim that arises from the policyholder's own recklessness will likely be denied by the insurance company.
For instance, if you lost your baggage while under the influence of drugs or alcohol, you would not be allowed to file a claim for compensation. In addition, claims that arise from high-danger pursuits like extreme sports may be denied.
Personal belongings:
Business trip insurance often covers work-related electronics like computers, but it may not cover your personal valuables like jewelry and a smartphone. Always check for the items covered in the plan you are buying.
Natural disaster and conflict:
When it comes to claims filed because of natural disasters like floods and earthquakes, business travel medical insurance companies do not pay out any kind of compensation. In addition, it does not extend to areas that are particularly vulnerable to disasters or are already in the midst of a conflict.
Travel to Negative List Countries
Travel Insurance plans may have a list of negative countries. It means that the insurance plan will not offer protection if you travel to one of the countries listed. These countries could be at war or may be at very high risk for international travelers.
Trip Cancellation at will
If you decide to cancel a trip because you didn't feel like traveling or due to some other priority (unrelated to this trip) then the insurance plan may not cover it unless the plan includes CFAR – Cancel for Any Reason. Read the fine print in the plan document to ensure this is covered.
When do you need to buy annual travel insurance?
If you want to take multiple trips away from home each year, then yearly travel insurance or multi-trip coverage is what you need.
Both work and leisure visits of up to a certain maximum period are covered under annual travel insurance plans.
All of your needs may be met by this all-inclusive insurance. Multiple international travels taken by a person or family or a group within the insurance year are covered.
Before purchasing, check the advantages, coverage choices, and annual premiums of several travel insurance plans.
Note that the total number of days you can spend away from home on any given vacation is capped. In most cases, you'll have the option of selecting 30, 45, or 60 days of a covered trip.
There is travel insurance available for both frequent international travelers from the United States and international visitors to the United States.
For what reasons should you get annual multi-trip travel insurance?
Single trip insurance is the most economical option if you don't take many trips during a given year. For single trip insurance, you only get charged for the exact number of days that you require protection.
However, if you get yearly travel insurance coverage, you will be covered for all of your visits, as long as each trip duration is within the max number of days allowed/trip. Multi-Trip insurance has limits on the per-trip duration.
If you often visit loved ones, travel internationally for work, or travel just because you enjoy it, then you should look into purchasing a policy that covers multi-trips. This will also be more economical as compared to buying travel insurance for every trip.
How much does an annual travel insurance plan cost?
How much you pay for multi-trip travel insurance depends on factors including your age, the length of your trips, the amount of coverage you want, and your desired deductible, as well as the countries you plan to visit.
You might save money on annual travel insurance plans for the following:
Younger people
Decide on a greater deductible
Limit the number of travel days as defined in the policy
Undertaking frequent international trips
Is it possible to get multi-trip travel insurance for family members?
Yes, a policy that covers travel for a whole year may be purchased for the entire family. Usually, the insured person will incur the highest premium.
Including children in your plan will not dramatically increase your yearly premiums. You can have your kids covered under some plans at no extra cost.
What are the benefits of annual travel insurance plans?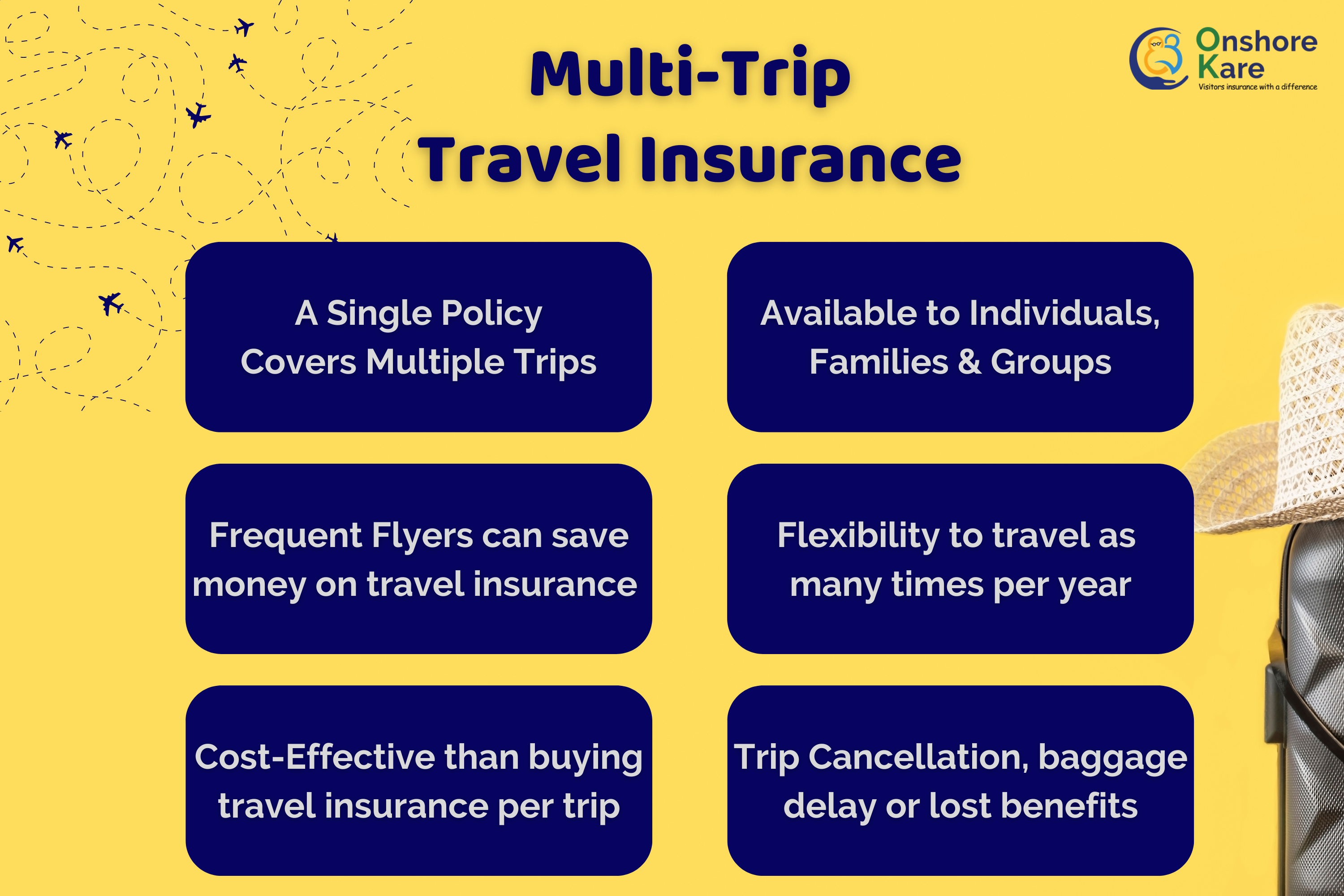 For frequent travelers, the greatest value in travel health insurance is an annual plan that covers many trips abroad.
Those who frequently take short overseas travels, such as corporate travelers or vacationers, will find this particularly helpful.
Unlike the finest trip cancellation insurance, annual multi-trip travel health insurance is meant to cover frequent international travelers' health.
Since trip interruption coverage is typically excluded from annual multi-trip policies, they are reasonably priced (some plans offer optional trip cancellation coverage on a per-trip basis for an extra fee).
Most yearly multi-trip travel health insurance policies are merely a couple of hundred dollars each year for a traveler, and that's taking into account the traveler's age. Higher the age more expensive the premium.
Also, read Advantages of buying travel medical insurance from the United States
Who should purchase multi-trip travel insurance?
Business Travelers often travel internationally
Entrepreneurs who need to travel frequently
People in the media and academia frequently go abroad to study or teach
Pensioners in retirement who want to see the world
Digital Nomads who work for short durations in international locations
Families that travel together multiple times a year
Group of travelers who travel together often
Since it would be inconvenient to get travel insurance every time you travel abroad, a more practical solution would be to purchase a plan that covers many business trips during the course of the year.
The yearly travel insurance will also help save money, please do note that the year will be counted from the date you purchase the plan.
There are a few people that shouldn't get annual travel insurance:
Business travelers who only once or twice a year for conferences
People who only travel abroad once or twice a year
Families that take only one overseas holiday a year
Long-term international visitors with trips lasting more than a few months
What is covered by Patriot Multi-Trip Travel Insurance?
Payment of medical bills incurred within the first 30 days of your travel for illness or injury
Dental care for unexpected discomfort or unintentional harm to the mouth
Up to $25,000 in costs for transportation to a medical facility of your choice outside of your immediate area
Reimbursement of up to US$25,000 for the repatriation of mortal remains
Protection up to US$15,000 in the event of a tragic separation
Protection for returning children
Assistance in the event of a terrorist attack, identity theft, lost luggage, or a canceled trip
For pre-existing conditions, coverage is available up to $5,000
Patriot multi-trip insurance plans from the International Medical Group – IMG
Let's take a look at one of the popular multi-trip travel insurance plans for citizens traveling abroad and non-US Citizens taking a trip outside their country of residence.
Non-US citizens traveling to the USA several times a year to meet their family can consider buying this plan. Do note that the United States should not be the country of your residence.
If you are a US Citizen residing in the USA then you can consider this plan for your international travel.
What are the benefits of the Patriot multi-trip insurance plan?
Patriot Multi-Trip America Medical Plan covers domestic and international travel within the United States, while Patriot Multi-Trip International Medical Plan covers international travel for non-U.S. citizens traveling outside their home country.
While away from home, you are exposed to greater health and financial risks. These policies protect you from all of them. With a Patriot Multi-Trip plan, you can relax and enjoy your time away from home without worrying about the cost of any unexpected medical care you may need.
The Patriot Multi-trip Annual policy provides up to $1,000,000 in coverage for travelers less than 70 years old. Ages 70–75 qualify for the maximum policy benefit of $50,000 USD.
Who can purchase Patriot Multi-Trip travel Insurance?
Patriot Multi-Trip Insurance is made for frequent fliers who spend a significant amount of time abroad each year. The simplicity and low cost of a yearly plan make it ideal for regular use. The following demographics can purchase Patriot Multi-Trip Insurance:
The Patriot Multi-trip International plan is available to U.S. citizens and their families who are under the age of 76 and who travel internationally many times each year. Further, they should have health insurance, either individually or via their employer.
Regular overseas business travelers might benefit greatly from Patriot Multi-Trip Insurance. Patriot Multi-trip Insurance is the most convenient and complete way to protect yourself and your loved ones financially if you or they travel internationally frequently. A solid travel insurance plan will save you time, effort, and money.
Why should people choose multi-trip travel insurance?
Benefit from Huge Discounts
A better value than single-trip policies is annual multi-trip insurance. The more times you and your family travel internationally in a given year, the cheaper each individual trip will be with a multi-trip insurance package.
Time-saving
The corporate sector places a premium on time because of its monetary value. Patriot's annual multi-trip insurance package eliminates the need to shop around for separate medical coverage each time an individual traveler books an overseas vacation.
Buy it and Forget About It
The pace of modern life sometimes causes us to overlook important details. Patriot's annual multi-trip travel insurance package removes the need to think about buying coverage each time you take a vacation abroad. A full 12 months of protection is provided by these policies.
Benefit from the Versatility
A journey may last for a few days, or it could go on for weeks. All of your annual excursions with a duration of fewer than 30 days are covered by the same policy with Patriot Multi-trip insurance. Pre-existing conditions are typically not covered by American health insurance plans for foreign visitors. Some, however, will provide coverage for the sudden development of pre-existing conditions. That is to say, if you suffer a recurrence of a pre-existing condition, the correct plan will pay for your emergency medical care.
Which restrictions apply to annual travel insurance for multi-trip?
Patriot Multi-Trip plans are made for frequent, short-term overseas travel. While protected with Patriot Multi-trip travel insurance, policyholders can take as many trips outside the nation as they like, up to a total of 30 days, but no more than once every 12 months.
Beginning on the policy's effective date, coverage will remain in effect for a full calendar year. Patriot Multi-Trip insurance policies are not renewable, however, policyholders can buy a new policy at any time after the first period of coverage expires.
Frequently asked questions
What are the benefits of annual multi-trip travel insurance?
There is no annual restriction on the number of overseas travels covered by these policies.
You can go on a journey for as long as you want but not more than 1 year.
This policy is perfect for business people that travel internationally frequently for their jobs.
This plan covers emergency medical evacuation and pre-existing conditions.
If I buy an annual multi-trip insurance policy, how long will my insurance cover me?
Any yearly multi-trip policy will be valid for a full calendar year from the policy's effective date. For instance, if you purchased a policy on September 1, 2022, you will be covered through August 1, 2023.
If I buy a multi-trip insurance policy, how does it work?
Those who travel frequently may consider purchasing annual medical travel insurance to ensure they are protected no matter where their adventures take them. It's hassle-free since you only have to pay once a year to be protected. The total number of consecutive days you can be covered is usually capped by your policy.
When compared to buying insurance for each individual trip, why is annual travel insurance a better value?
Annual travel insurance is more cost effective than purchasing separate policies for each overseas trip taken during the year. An annual travel insurance policy covers several journeys taken during the policy's trip period without incurring any additional costs to the policyholder.
Bottom line
Multi-trip insurance will get you covered for your whole family whether you're taking a work trip or a vacation. For frequent travelers who often visit foreign countries, an annual travel insurance package will provide you with the most comprehensive protection.