CoverAmerica – Gold, The Best Travel Insurance for USA visitors
Are your parents traveling to the USA to visit you? Are you planning to travel to America?
If yes, then you need to get visitors' coverage from a reputed insurance company that offers comprehensive coverage insurance plans.
Medical expenses in the United States can be very expensive, and there is no universal health insurance/care. Short-term visitors need to be mindful of the exorbitantly expensive healthcare services.
International visitors need medical coverage to bear these unexpected medical expenses.
Visitors' Insurance offers protection and access to the best medical service in case of unexpected illness, accident, or injury as long that the unfortunate event is covered by your insurance plan.
We emphasize on comprehensive coverage plan because the option of a fixed coverage plan may not be enough to cover your medical expenses. More on it here.
Lets us understand if there is anything as a Best Travel Insurance cover and if CoverAmerica Gold insurance is a plan that meets the needs of international visitors to the USA.
What is travel insurance?
A comprehensive travel insurance policy offers numerous advantages. A travel cover policy can cover travel cancellation or just medical expenses. Several options are available to meet your budget and your travel needs.
How to find the most reliable coverage option on your comprehensive policy:
Purchasing it before your travels ensures that your coverage starts from the time you start your trip.
Why do you need travel insurance?
Unexpected medical expenses burn a hole in your pocket especially if you are traveling to a country like the United States.
There is no universal healthcare and medical costs for treatments can be very steep. Medical emergency services like emergency medical evacuation can cost upwards of thousands of dollars.
You need travel medical insurance to cover you in such situations.
There are 2 types of coverages that you can buy for protection on an international trip:
Trip Insurance generally offers more coverage for your material things like trip cost, flight cancellation, lost baggage, etc. on your trip abroad.
Travel medical insurance plans generally offer more coverage on your health insurance aspect like coverage on medical expenses, emergency medical evacuation, access to PPO network (like United Healthcare PPO network,), etc.
Please note that either of the options generally overlaps where a Trip Insurance Plan offers medical coverage and Travel Medical Insurance also offers benefits like flight cancellations, delays, and lost baggage cover. Pay attention to the policy maximum for situations you may encounter and decide.
What is CoverAmerica – Gold?
CoverAmerica Gold is a comprehensive visitor insurance plan rated A-.
It provides medical insurance coverage and emergency services to non-US citizens and non-US residents traveling to the USA.
The CoverAmerica Gold insurance plan administrator is IMG (International Medical Group), here is our review of IMG.
CoverAmerica Gold travel medical insurance plan also covers trips to Canada, Mexico, Central America, the Caribbean Islands & South America, while traveling to the USA.
What does CoverAmerica Gold Insurance Cover?
CoverAmerica Gold Insurance Plan is available for ages 14 days to 79 years and can be purchased for 5 days up to 365 days.
The plan provides access to the United Healthcare PPO network.
The policy maximum available is $50,000, $100,000, and $250,000, limits are based on the age and/or destination of the visitor.
This plan pays for 100% In-Network up to the policy maximum and Out-Network it pays 80% of the first $5,000 and 100% thereafter. The plan also provides
If you are looking for travel medical insurance plans that offer coverage for pre-existing condition coverage then please note that the CoverAmerica Gold Insurance plan provides acute onset of pre-existing condition coverage.
The limits on coverage for the acute onset of pre-existing condition coverage is:
acute onset of pre-existing conditions coverage up to the policy maximum for those under the age of 70 and
acute onset of pre-existing conditions coverage for age group 70-79 is up to $30,000
CoverAmerica Gold Insurance Plan also offers emergency medical evacuation coverage to the nearest medical facility for medical treatment and services.
CoverAmerica Gold Visitors Insurance Unique Features:
CoverAmerica Gold medical coverage includes:
CoverAmerica Gold is A- rated comprehensive coverage plans
CoverAmerica Gold Plan is available for a Minimum of 5 days to a Maximum of 365 days
CoverAmerica Gold offers No cancellation Fee, Zero admin fee for renewals
$15 co-pay for urgent care
Up to $1,000,000 in Emergency medical evacuation coverage.
Extensive PPO network in the USA (Under United Healthcare PPO network)
In Network pays 100% of eligible medical expenses up to the Policy Maximum.
Out of network pays 80% of the first $5000, then 100% thereafter
Provides coverage for the acute onset of pre-existing conditions
Return of mortal remains up to policy maximum
CoverAmerica Gold also provides trip insurance-related benefits viz.
Covers Missed Connection Coverage
Covers Lost Passport and Travel Documents
Covers Border Entry Protection in case
Lost luggage benefits
10 Exclusive Benefits of CoverAmerica Gold insurance plan: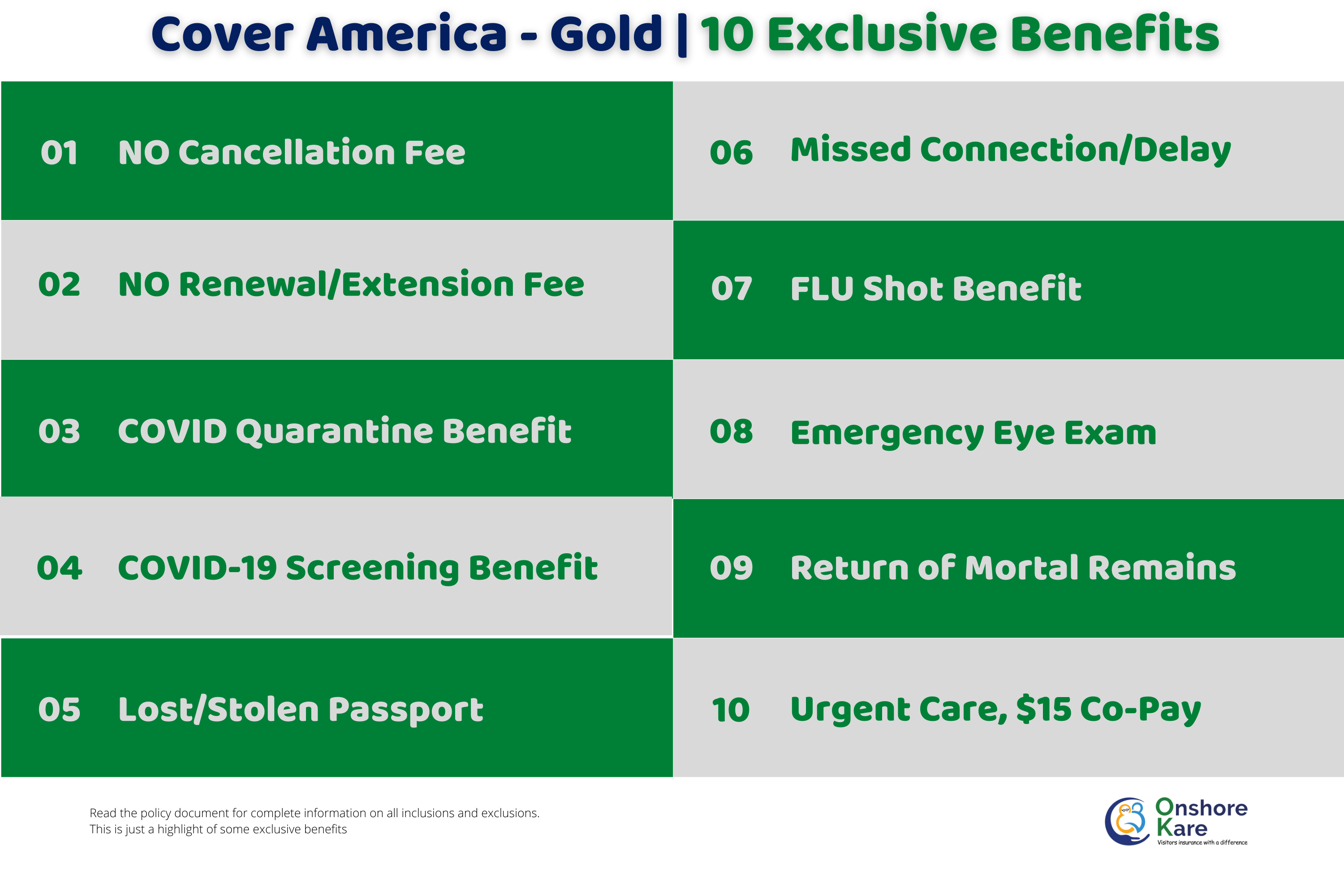 Which is the best travel insurance plan for USA visitors?
Let's burst the myth that there is the best travel medical insurance coverage plan.
There are no one-size fits all plans and you need to do some analysis and research on your specific needs and then select a plan that best meets those needs.
Start the process by generating a no-obligation Quote and comparing plans to shortlist the ones that meet your needs. If you have questions and concerns:
call on +1 855 652 5565 and speak to a licensed representative to clarify doubts.
send a WhatsApp message at +1 916 930 9200 and get your doubts cleared.
You should also consider the following plans for Visitors Insurance:
Atlas America (Atlas America Comprehensive Coverage plan)
Patriot America (Patriot America Plus Comprehensive Coverage plan)
Safe Travels USA (Safe Travel USA Comprehensive Coverage Plan)
Liaison Travel Insurance (Liaison Travel Elite Comprehensive Coverage Plan)
Can visitors to the US get Insurance?
Yes, visitors can and should buy Travel Medical Insurance for the USA. As medical cost in the US is very costly, it is very risky to travel to the US without Travel Medical Insurance.
In most cases your domestic health insurance plans do not provide coverage overseas, your credit card coverage may be limited to air tickets and baggage, and the tick mark to exclude yourself from the air tickets booking site provided insurance is usually a trip insurance plan that may not provide sufficiently comprehensive coverage for medical treatments.
Why You Should Buy Visitors Medical Insurance When Visiting the USA?
In order to go to the United States, you are not mandatorily required to get visitor health insurance. Even in the majority of cases, nobody will ask you for it until you need to go to a medical facility.
However, you must keep in mind that medical care is highly pricey in the United States; even for a consultation and a minor procedure, you can have to pay a significant sum.
Get the appropriate visitors' medical insurance before traveling to the US if you genuinely want to avoid unpleasant shocks and financial loss.
You can avoid spending a lot of money and suffering in the hospital by having an excellent medical insurance plan. If you try to save money on the insurance premium by opting for plans that cost less, they may eventually turn out too expensive when you need to use insurance in emergency situations.
FAQs (Frequently Asked Questions)
What is the average cost of travel insurance to the USA?
The average cost of travel insurance is mostly determined by the age of the travelers and the expense of the trip. Of course, the plan and provider you pick will have an impact on price including the age of the traveler and the duration of cover. Any add-ons like Cancel for any reason, emergency medical evacuation coverage, etc. to the policy will add to the premium amount.
What is Comprehensive and Fixed/Limited Medical coverage?
The key difference between these plans is the limits of coverage and benefits. we have covered these differences in detail here.
What is urgent care medical coverage?
Urgent care refers to medical conditions that are not considered emergencies but still need to be treated within 24 hours, examples include accidents and falls. You need to avail of medical facilities to treat situations falling under urgent care. Most comprehensive travel medical insurance plans provide urgent care coverage for any new injury treatments. Do read the policy documents for inclusion or exclusions and coverage details for urgent care.
What are pre-existing medical conditions?
We have covered this in detail here, excerpt explaining pre-existing medical conditions: According to the U.S. Department of Health & Human Services, a "pre-existing condition is a health problem you had before the date that new health coverage starts." A health problem can be an injury, illness, sickness, disease, other physical, medical, mental condition, disorder, or ailment. The condition was that the health problem existed at the time of buying the insurance.
How to Purchase travel insurance
You have many options to purchase travel insurance. You can buy directly from an insurance company, here is a list of the best travel insurance companies or an agent or you can buy from a travel insurance marketplace like OnshoreKare where you have multiple options to select and compare and buy.
Why CoverAmerica Gold Plan is considered the best for USA Travelers?
If you have plans to travel to the USA, CoverAmerica Gold is one of the best plans for you. It offers a wide range of benefits that cover almost every situation. The CoverAmerica Gold plan is designed for a visitor to the USA and also covers protection for other countries in North America & South America. This comprehensive plan pays 100% In-network (PPO network) after the deductible for the covered policy benefits.
CoverAmerica Gold plan is administered by International Medical Group (IMG), there are no hidden costs or restrictions. The price is also very competitive compared with other travel insurance providers in the USA who offer similar plans when compared side by side.
My parents are visiting only for a few days should I buy comprehensive medical coverage or opt for a limited coverage plan?
A comprehensive plan will offer more benefits like PPO network access, coverage for pre-existing conditions (acute onset coverage only), prescription drugs, medical emergencies treatment with a high policy maximum, cashless payment of hospital bills (not all plans offer this), border entry protection during these uncertain times of pandemic, urgent care with less co-pay, emergency medical evacuation, repatriation of mortal remains, etc.. These may not be adequately provided by a limited coverage plan.
Is there a plan that offers coverage for pre-existing conditions?
Most short-term visitor insurance plans are designed with the idea of covering any new sickness, injury, or accident-related medical expenses. These plans may offer limited coverage for acute onset of pre-existing conditions. If you are looking for plans to cover pre-existing conditions you need to bear in mind that these plans will come with more conditions to be met and carry very high premiums. Mitigate your international travel risk as you assess and deem fit.
What are the best travel insurance plans for international students? Will this plan meet the needs of students?
We have covered the topic of US health insurance for international students in detail and for OPT Students. Do read these articles for more information.
Should I buy travel insurance from my home country or the USA since I am visiting the United States?
First and foremost to ensure you do buy coverage for your travel to the United States. There are several advantages to buying a plan from an insurance company based in the USA, read more about the advantages of buying travel medical insurance plans from the USA.
Conclusion
We hope that this article has helped you learn more about the CoverAmerica Gold plan and options and alternatives.
CoverAmerica Gold is designed for international visitors' coverage needs who are visiting North America and South America apart from their primary visit to the USA. This plan and other options discussed in the article are suitable for short-term visitors, so if you have your parents visiting you in the USA and then your sibling in Canada and you'll are planning a trip to Mexico together with your parents then this plan would serve the purpose well.
Bon Voyage!