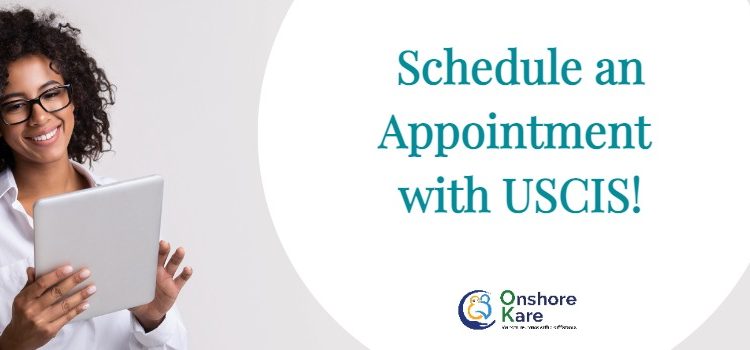 The Easiest Way to Make an Appointment With USCIS – 2022
Immigration-related matters can be difficult and stressful. Especially if you can't seem to find answers to your questions from various immigration resources, available online.
The United States Citizenship and Immigration Services (USCIS) is in charge of handling immigration cases in the United States. USCIS is governed by the U.S. Department of Homeland Security (DHS).
Hundreds of Thousands of immigrants apply for permanent residence in the United States including those seeking asylum.
USCIS handles a significantly large volume of cases and receives tons of queries/questions and handles a large number of visitors at their local offices for appointments related to their immigration process.
With respect to your immigration case or a query, if you wish to make an appointment with a local immigration office you will be able to schedule one only if USCIS believes there is a need for an in-person meeting.
This article will guide you to understand everything about how to schedule an in-person meeting with the USCIS and which method works best for you.
Why Do I Need to Schedule an Appointment with USCIS?
The USCIS oversees lawful immigration to the US and provides the following:
Citizenship including the Naturalization Process for legal immigrants
Immigration of family members of US citizens and permanent residents
Getting a work permit in the United States
Humanitarian Programs
Adoption procedure (for adopting children from outside the U.S.)
You may have to meet with a USCIS officer at one of their local offices if:
If you have inquiries about any of the services listed above
You applied for one of the processes listed above and wish to know the case status of your application.
You must adhere to specific formalities for any of the above processes (such as a green card for permanent residents, document verification, I-551 stamps, etc.)Check out How do I speak to a live person at USCIS to know more about how and when you should speak to a live person at USCIS.USCIS encourages you to contact them via their contact center or seek answers to your questions from the online resources they provide. You may be able to schedule an appointment if you need an emergency advance parole for urgent travel. Speak to a USCIS officer if you are experiencing an extremely urgent situation.
What Exactly Is InfoPass?
InfoPass appointment was an online service that allowed people to arrange appointments with USCIS officers.
The goal of the infopass appointment booking system was to eliminate office queues and make it easier for people to arrange in-person appointments.
The infopass appointment has been discontinued since March 2019. As a result, InfoPass appointments are no longer available for booking USCIS appointments online in the USA.
If you are outside the USA then please check for available appointments in your country on the USCIS website.
Why Does the United States Citizenship and Immigration Services No Longer Allow Appointment Scheduling Online?
The USCIS no longer offers online self-scheduling services such as infopass appointments if you are inside the United States.
Many appointments scheduled online were discovered to be cases that did not require an in-person appointment. Many individuals who schedule appointments were able to get their questions answered over the phone.
With the removal of the online service, a new mechanism for making appointments at the USCIS has been established, as stated below.
How to Schedule an Appointment via USCIS Contact Center?
The present system requires you to call the USCIS contact center at 800-375-5283 to schedule an appointment.
There are other methods to reach the contact center, as mentioned on their official web pages https://www.uscis.gov/about-us/contact-us and https://www.uscis.gov/contactcenter
When you dial the number, an interactive automated voice service will assist you. It will present you with numerous options in response to your inquiries.
If the automated voice system is unable to handle your problem, you will be sent to a live operator at the contact center. If the live operator is unable to answer your question, it will be passed to a trained USCIS officer.
The officer will not answer your phone right away but will take note of your inquiry and contact you at a later time.
After speaking with the immigration officer on the phone, they will determine if your case requires an in-person appointment.
If it does, they will schedule one for you in the nearest USCIS field office as soon as possible.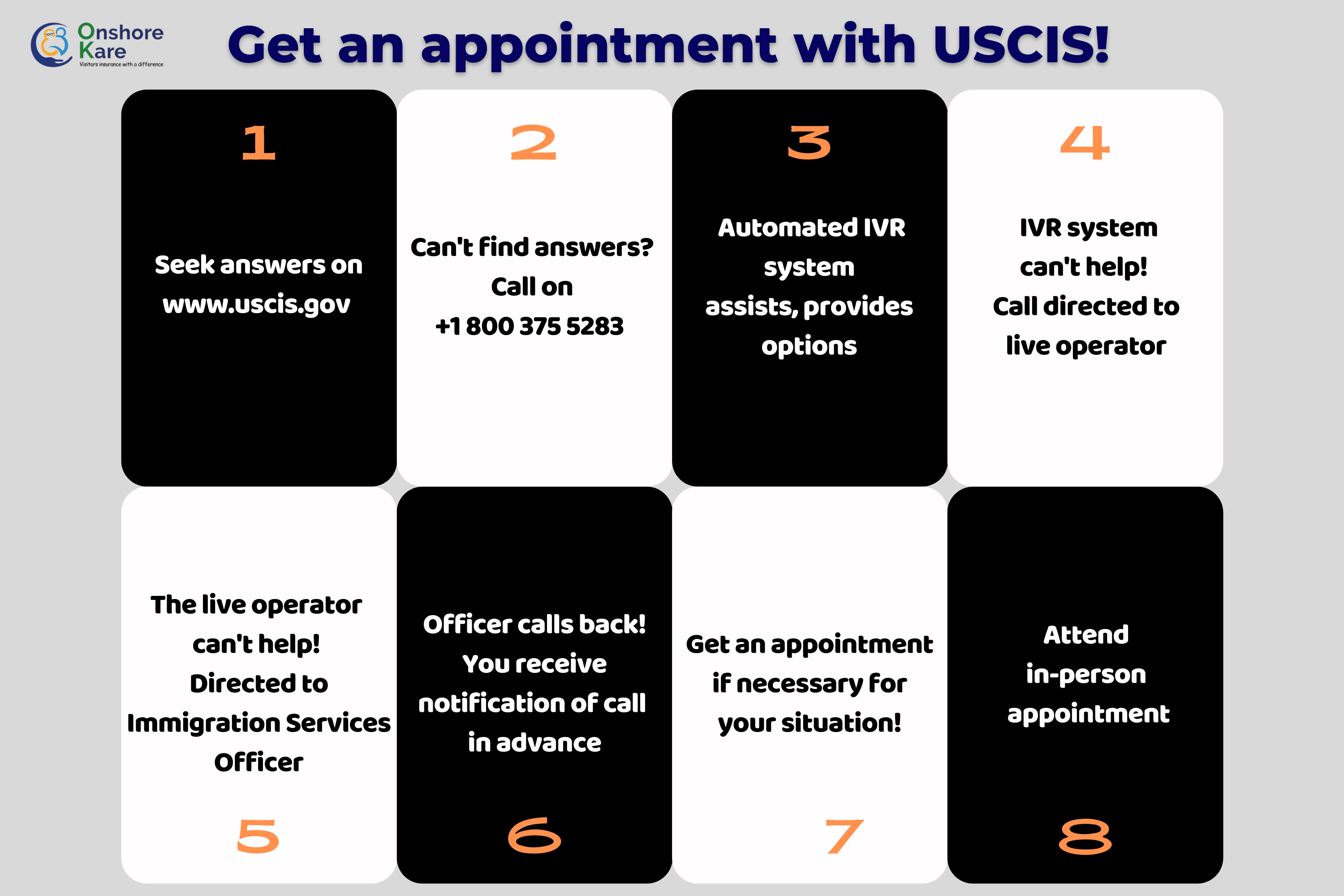 Please note: If you are in the United States you can no longer schedule Infopass appointments, you will need to call the USCIS contact center to request an appointment.
If you are outside the United States then please visit the USCIS website to check for the availability of appointments in your country.
What Documents Do I Need to Bring to My USCIS Appointment?
You may need to bring different documentation to your USCIS appointments depending on the nature of your visit. However, the majority of appointments are for immigration matters. In such circumstances, the following specific documents are frequently required:
Evidence of permanent residency
Passport and visa for an immigration benefit
Any documents issued by the United States after a legal immigrant enters the country
Identification documents, such as a passport, driver's license, or green card (I-551)
These are just a handful of the documents you may require when visiting the USCIS office. Since appointments are only scheduled after a phone chat with an officer, they will guide you through all of the documents related you need to bring when you arrive at the USCIS office.
What Should You Do If You Have a Problem With a USCIS Appointment?
When booking walk-in appointments with the USCIS, you may encounter two primary issues.
To begin, you may have difficulty getting an appointment. You have few options in this situation. You can either wait and call their contact center later, or you can go to the field office and wait in line. You can also try to contact them via other methods, such as the links listed above.
The second problem you may have is that you have a planned appointment but cannot attend.You can notify the immigration information officer if you are unable to attend the meeting due to valid reasons such as a major illness. They will reschedule your appointment at no extra expense.
In an emergency, is it possible to request an urgent in-person appointment?
Yes, there is an option for scheduling urgent requests for in-person appointments at USCIS field offices in the event of emergency requests. However, the judgment on how urgent or bad the situation is, and whether or not an emergency appointment is required, lies completely in the decision of USCIS officials.
Is the Biometrics Appointment with USCIS an Interview?
No, your original biometrics appointment notice with USCIS is not an interview.
The biometrics appointment merely allows USCIS to obtain your biometric information to establish your identity, confirming that you are who you claim to be and also allowing USCIS to run the required background search/security check.
During your visit to the Application Support Center (ASC) when the biometrics officer calls you, you will be needed to do some or all of the following to authenticate your identity:
A digital scan of some or all of your fingerprints
Make a passport photo
Digital signaturePlease refer to your biometric appointment notice (Form I-797C) for general information and specific details related to your appointment.
How long does it take to get a biometric appointment notice in 2022?
Processing times at the USCIS contact center have increased significantly as the COVID-19 pandemic continues in 2022.
After submitting your application to USCIS, you should receive a biometric appointment notice between 4 to 12 weeks.
Your wait time will, however, be determined by the USCIS service center handling your case.
Where Will My Biometrics Appointment Take Place?
You will be provided with details of the date, time, and location of your scheduled appointment at the USCIS Application Support Center (ASC) on your appointment notice (I-797C).
Your biometrics will be taken at the ASC that services the address you provided in your application.
Documents you need to bring to your Biometrics appointment online
When you visit the Application Support Center (ASC), you must bring the following:
Form I-797C – ASC Appointment Notice: If you have received numerous ASC notices, please bring all of them with you to your appointment.
A valid photo identification document (such as a green card, driver's license, or passport). In case, the name on your photo ID differs from the name on the ASC appointment notice, bring original supporting documentation.
Please keep in mind that applicants filing an Application for Naturalization or an Application to Replace Permanent Resident Card or Green Card must bring their Green Card with them to the appointment.
Frequently asked questions
Can I go to a USCIS office without an appointment?
USCIS has no walk-in facilities, you need to schedule appointments for your visits.
How long does it take to get a biometric appointment 2022?
The USCIS has increased processing time for incoming documents in USCIS services since the COVID19 pandemic. The biometric appointment can take up to 12 weeks.
What is the duration of the scheduled biometrics appointment?
Your biometrics appointment should last approximately 10 to 20 minutes. This could be shorter or longer depending on the number of persons in line before you or the number of biometrics officers available.
Do we have to pay the fees for the USCIS biometrics appointment?
The USCIS biometrics fee is currently $85. This charge is paid when you submit your application to USCIS, not at your biometrics appointment. During your appointment, you are not required to show proof of payment for your biometrics fee.
What will happen if I don't show up for my appointment?
If you do not show up for your planned appointment, USCIS may consider your application to be abandoned, and your entire application may be dismissed. If you are unable to attend your appointment, you should consider rescheduling it for a more convenient date and time.
Hope this article answers your questions about the best method to schedule an appointment with USCIS.