Indian Passport Renewal Process in the USA – Complete Guide
This is a complete guide on the Indian Passport Renewal Process in the USA. If you are living in the USA and need to know about 'India Passport Renewal in USA', you have come to the right place.
This article refers to the renewal of the ordinary passport category in the USA (ordinary Indian passports booklet for Indian Citizens).
Renew / Re-issue of Passport: You may submit an application for re-issue of passport if you need a replacement passport for any of the following reasons:
Expiration of current passport
Modification of existing personal information
The current passport has run out of pages for visas/stamps
Passport is damaged
Lost/Stolen Passport
New passports are issued with a validity of 10 years for adults and 5 years for minors. Visa stamped on the old passport remains valid and is not canceled during this process.
A person with an Indian passport who has been living and working in the United States must apply for a new valid passport if their current passport is about to expire. You can apply up to a year in advance before the expiry of your passport.
Can an Indian passport holder renew their passport in the USA?
YES, you can renew your Indian passport in the USA.
You don't need to travel to India or send your passport to India for renewal.
Passport Seva of the Government of India Division under the Ministry of External Affairs has a tied-up with VFS Global, to process passport-related services in the USA.
With VFS Global, India Passport renewal can be done in an organized step-by-step manner, easily for Indians living in the consular jurisdiction areas of Indian Consulates in:
Atlanta, Georgia (GA), Chicago, Illinois (IL), Houston, Texas (TX), New York, New York (NY), San Francisco, California (CA), Washington DC, District of Columbia (DC).
All passport services are offered by VFS Global. Direct services linked to passports are not accepted by Indian consulates. Indian passport services like communications and applications must go through VFS Global.
You can submit applications for a passport by mail or in-person (by prior appointment on a limited basis) and pay the applicable fees:
Call VFS Global from 8 a.m. to 10 p.m. EST, Monday through Friday if you need help with your application: +1 800 320 9625.
*Please note that the first 5 minutes of a call to this VFS phone number are free once a week. Once you've used your 5 free minutes, you'll have to wait +7 days from the date of your last call to get another free 5-minute call, or you can pay for faster service at 2.48/minute charged in 10-minute increments.
How to Renew Indian Passport in USA?
Indian Passport Renewal Process in the USA: The process for Indian passport renewal in the United States is the same as applying for a new passport application.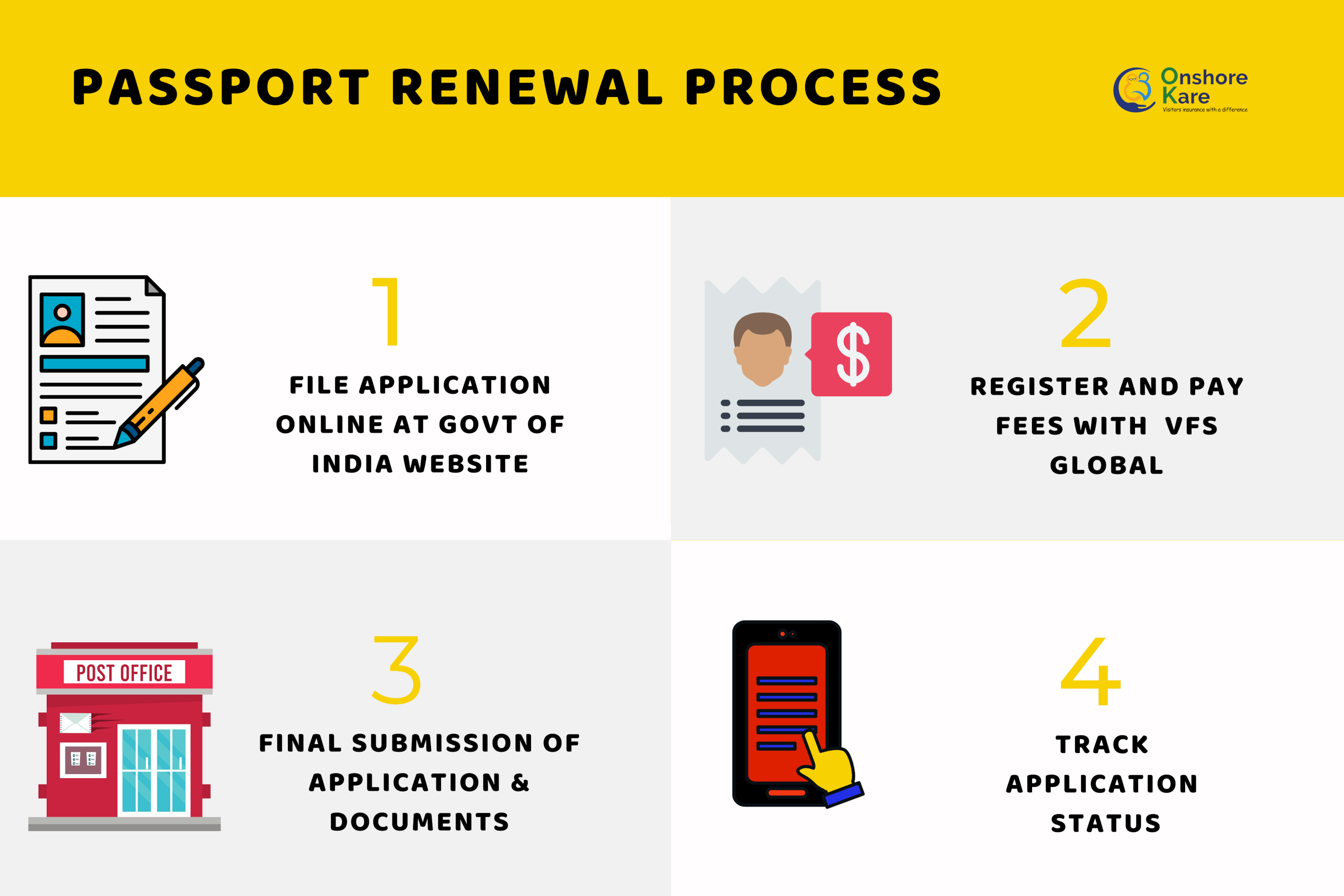 Step1 for Indian Passport Renewal Process in the USA
You must fill out an online application form on Passport Seva At the Indian Embassies and Consulates website.
Step 2 for Indian Passport Renewal Process in the USA
When completing the online passport application form, choose the correct passport-related service, and carefully fill out all the fields including the VFS document checklist.
Step 3 for Indian Passport Renewal Process in the USA
Write the "Application Reference Number" (ARN) on the Passport Seva Portal form when you've finished filling it out, then print it out.
Step 4 for Indian Passport Renewal Process in the USA
Visit the VFS website to continue with the future steps of the submission procedure.
Note: The Indian Government's Passport Division under the Ministry of External Affairs has outsourced passport/visa processing work to VFS Global. Their contract with Cox and Kings expired in Oct'2020. After you fill out and submit the form and required documents on the Passport Seva Portal, the physical application form must be delivered to the VFS India Consular Application Center in the USA.
Documents necessary for renewing an Indian passport in the USA
The following list of all the documents are necessary for Indian passport renewal in USA:
A signed copy of the applicant's completed online application.
The previous passport expired with the most recent and original passport.
3 copies of filled Nationality Verification Form/Personal Particulars
3 recent colored pictures (2″ x 2″ front-facing)
8 pictures are needed if the passport is older than 3 years.
A notarized color copy of the Green Card or Employment Authorization Card (EAD) and,
Documentation of another legal status within the US such as:

H-1B, B1 B2 visa, I-797 approval letter, current I-20, etc.

Authentic passport: If the passport is less than 5 years old, attach the previous passport.
Copies of the current passport's first five (5) pages and last two (2) pages.
The highest degree of qualification: A copy of the highest degree of education.
US address proof:

rental lease agreement or
mortgage statement or
any utility bill not older than 3 months (electricity, gas, water, etc.)
driver's license or state identification card, etc.

Indian address proof:

aadhaar card
driver's license
recent bank statement
Indian utility bill, not older than 3 months (electricity, gas, water, or landline phone)

Form for a change of appearance and signature

If you are applying after ten years, you must print this form, sign it, and submit it.

List of VFS required documents:

Print the filled, signed checklist and check each item off.

A sample of the applicant's declaration on plain paper is in Annexure "E"
Certificate of birth or graduation certificate
Self-sworn notarized affidavit
Extra paperwork for a child's passport
As instructed on the VFS portal system, send all the paperwork in a FedEx envelope (preferred service) or UPS only. Other submission formats might not be approved.
A single envelope may contain only one Indian passport application; duplicate applications are not be accepted.
Please take note that you might need to submit some extra paperwork. You will be able to see an exhaustive list of documents needed on the VFS website.
Passport Related Services Fees for Indian Passport Renewal in the USA
You can pay the fees associated with the passport services you wish to avail of from VFS Global. Online Payment/Payment by Card will attract a 3.5% convenience charge over the total amount payable for your case. VFS Global accepts only Visa and Master Card. You can also pay by Money Order or Banker/Cashiers' check made in the favor of "VFS Services (USA) Inc.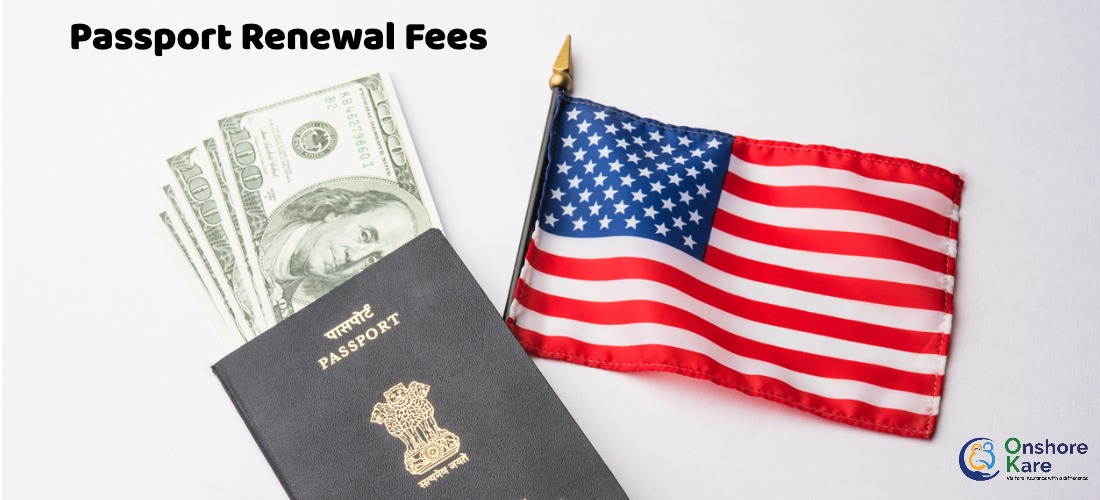 The cost breakdown for renewing an Indian passport in the USA is as follows: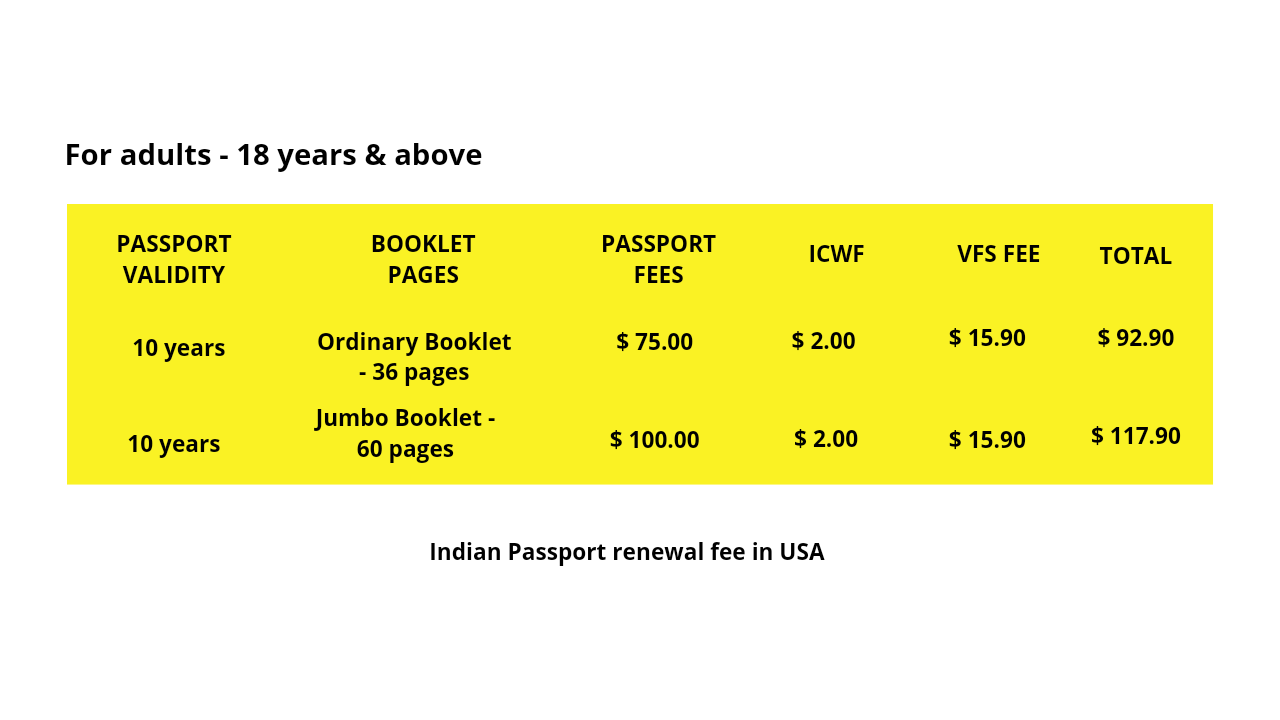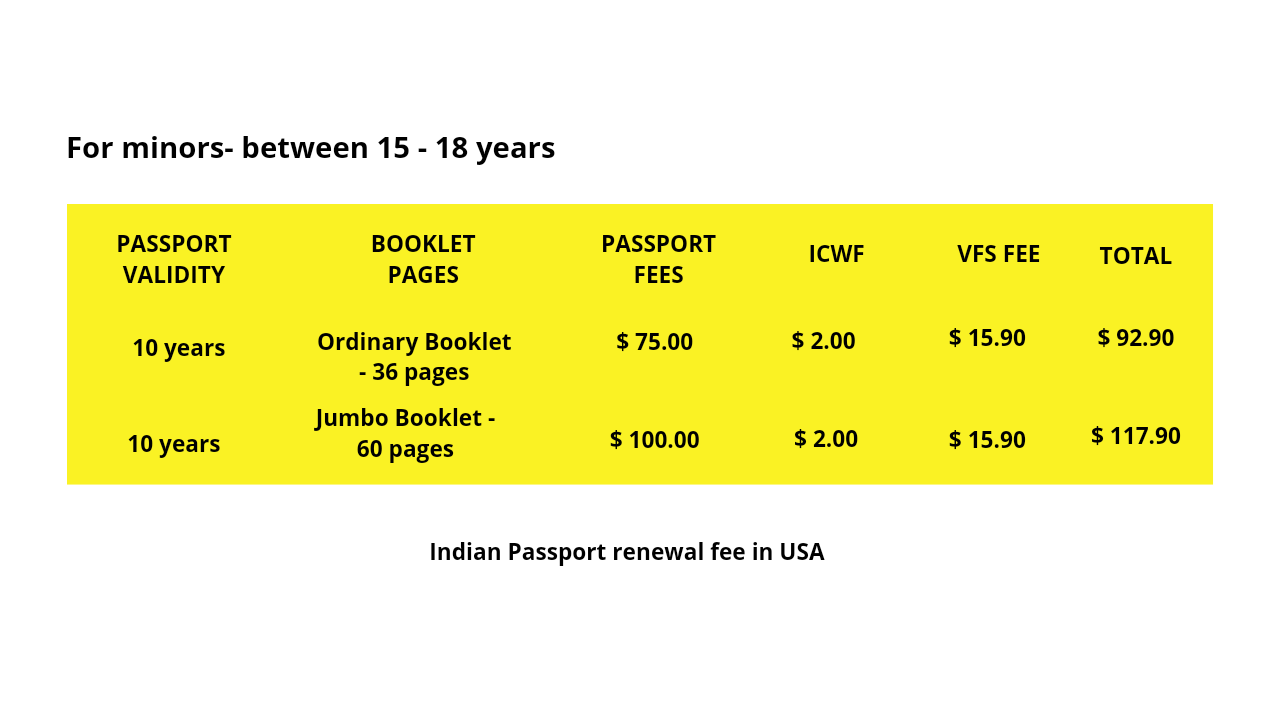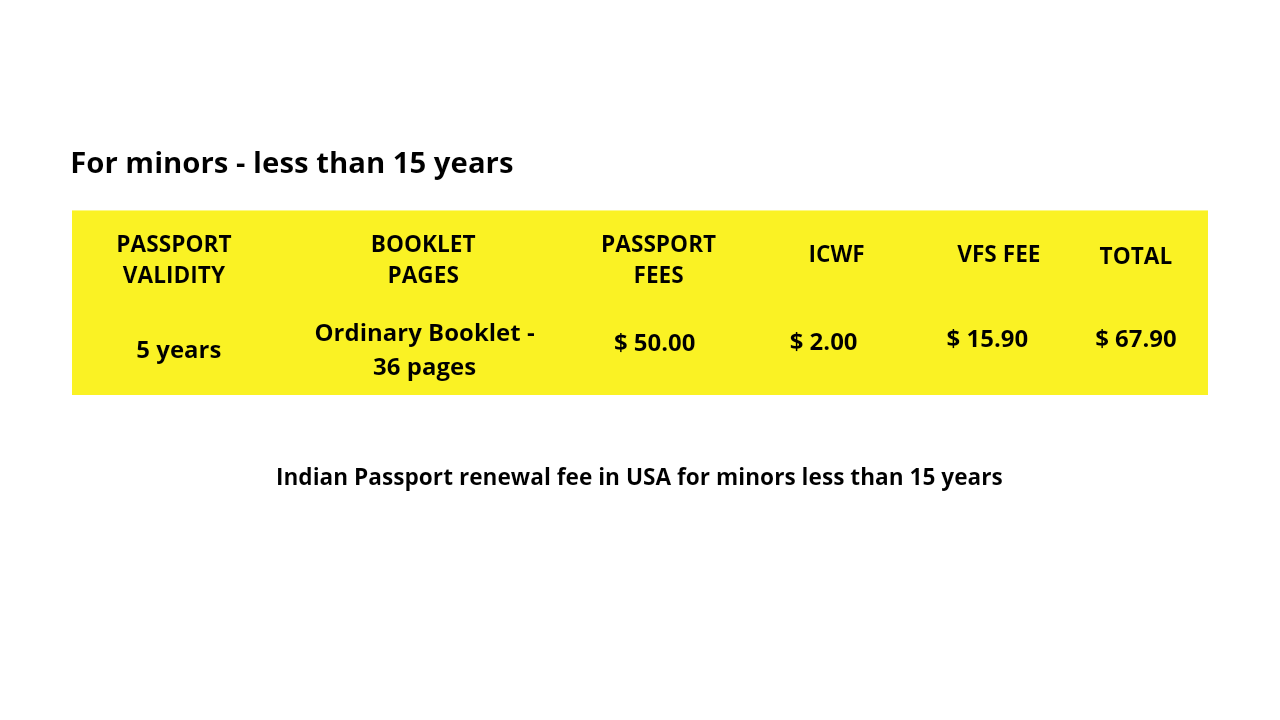 What is the processing time for the Renewal of an Indian Passport application and getting a renewed passport?
After validation of the applicant's Police Verification Records (PVR) from the Consulate's system, a passport will be issued.
The matter will be sent to the relevant Indian authorities for clearance if the PVR status is not included in the system.
The amount of time it takes to process a Police Clearance Certificate depends on whether clear PVR forms are available in India.
A passport application typically takes three (3) weeks to process.
Indian passport renewal processing may take up to 30 days or longer if the Police Verification Report (PVR) is unclear or pending (excluding VFS's processing time).
Processing times in these situations are determined by the availability of precise PVR forms among concerned Indian authorities.
Applicants must specify their address exactly so that the police clearance may be completed, including the police station and district with the PIN code in India.
Tatkal – Passport Service
Tatkal Passport Reissue is an Emergency Passport Service where all applicants residing in the USA with a passport that is valid and valid visa status ("Visa Page/EAD/Green Card/I-797A Approval Notice") are eligible to apply for re-issue of passport under Tatkal Passport Scheme with the following exceptions:
Lost/ Stolen Passport/ Damaged beyond recognition
Renewal of Short Validity Passport (SVP)
Change in:

Name
Sex
Appearance (Minors can apply)
Change/ Correction of Date of birth
Change/ Correction of Place of birth
Change in Signature (Minors can apply)
Change of Father/ Mother's name
The processing time under Tatkal is 3-4 business days excluding VFS's processing time. All other conditions like PVR Clear etc. highlighted above apply. Tatkal's fee is $150 over and above the other fees mentioned above.
Frequently Asked Questions on Passport Services
How many pages are in a booklet for an ordinary Indian passport?
A typical passport has a blue cover and 36 pages for ordinary and 60 pages for the jumbo booklet. After the date of issuance, it remains valid for ten years.
What will happen to my current USA Visa in my passport?
Valid visas in the old passport are not canceled during the passport renewal process. Valid visa's status remains as it is and you will receive your old passport (with status as canceled, remarks: contains valid visa) along with your renewed passport. Carry both passports, old/new to show current valid US Visa status while entering/exiting the USA.
I have an Indian passport with a validity of fewer than six months. Can I travel with this valid passport?
Your passport must be valid for a minimum of 6 months to travel internationally.
What additional requirements apply if your passport hasn't been renewed in more than three years?
If you apply for a reissue of a passport after the expiration of your existing passport more than three years ago, fresh police verification will be conducted. Processing times vary depending on whether a clear Police Verification report is available from the Indian Authority in Charge.
For a smooth process of police verification and approval, applicants should explicitly specify their Indian address along with the proper Police station, district, and phone number.
What exactly is a damaged passport?
A damaged passport is further categorized according to the severity of the damage, i.e.
Readable passport number, legible name, and unaltered photo
Beyond repair, mangled, entries smeared or washed away
What is the process for requesting a duplicate passport if one is lost or damaged?
Through VFS Global, you must apply for a "Re-issue" of a passport in place of the damaged/lost Passport category if you need to apply for a duplicate passport due to a lost or damaged passport. Along with the other necessary documents, a lost passport report from the police should be filed.
Can I renew my passport in person at the nearest embassy or consulate?
Not any longer. There are no longer any walk-ins accepted, and new appointments are not being scheduled. All Indian passport renewal applications should be submitted online.VFS Global must handle all Indian passport renewals in the US.
How long would it take for my new passport to arrive?
You could be able to receive your passport in as little as 30 days, which is quick depending on where in the US you reside. The processing times in Washington, D.C., and New York City are the quickest. Door-to-door delivery will take six to twelve weeks everywhere else.
Should I preserve my old passport?
YES! Your current US visa will remain in your old passport. You need to carry both your passports old and renewed for identification (passport) and residential status (Visa) when you travel.
I am in the USA on a B1-B2 visa, but I misplaced my passport there. Can I get a passport renewal?
It is recommended that B1-B2 visa holders from India who do not usually stay in the United States have passports that are valid for the duration of their trip.
Read Parent Visitor Visa to the USA – 2022 Complete Guide if your parents are coming to visit you in the USA
If a passport is lost and a replacement is required, either an Emergency Certificate (EC) or a Short Validity Passport (SPV) will be provided to the applicant to enable him to return to India after receiving approval from the original passport issuing authority in India. Indian passport renewal services are for Indian citizens currently residing in the USA.
Can I add more pages to my passport, which is nearly full but still good for another four years?
An ordinary Indian passport booklet cannot be expanded with more pages. If the passport booklet's pages have run out, you must submit an application for a "Re-issue" of your passport using the VFS Global website under the Passport Pages Exhausted category. Your passport would be replaced. If you travel frequently then you can apply for a Jumbo booklet at the time of renewal of your passport.
The spelling of my name on the passport is incorrect. What should I do?
Please visit the consulate and return the passport for any necessary corrections if you discover any mistakes or errors in the information printed in the passport booklet according to the submitted application form.
The merit of the case, as determined by the Consulate, would evaluate any further expenses that would need to be paid. A penalty might also be levied if the facts are misrepresented.
However, applicants are urged to double-check all information while submitting an online application to prevent typos from appearing on printed passports. You must reapply for a new passport to have your personal information changed through VFS Global if you filled out your passport application form incorrectly, for example by writing your only actual name in the "Given Name" field.
What steps are involved in adding my spouse's name to my passport?
You must apply for a "Re-issue" of your passport through VFS Global and have the requisite update made to your personal information by selecting the necessary option under Miscellaneous Services. Visit VFS Global to view the complete list of documents that must be supplied with the application.
What happens if you send incorrect information/documents for your Indian passport renewal process?
You will be given 20 calendar days to make the required changes. VFS will return your application unprocessed if it is not finished within 20 calendar days. In this case, the necessary postal fees will be deducted before refunding the consular and ICWF fee (if applicable).
After 20 days, photocopies of documents will be removed, and original documents will be sent back to the Indian Embassy or Consulate-General.
Once VFS delivers the original documents to the Embassy of India or Consulate General of India, applicants should get in touch with those offices directly to request their original documents. In this case, after deducting any applicable postal fees, only the consular and ICWF fees will be returned (if applicable).
Important Links for Passport Renewal
Visit VFS Global website for all the information about Indian passport renewal in USA. Check out this link from Passport Seva at Indian Embassies and Consulates while applying the online application form.
Conclusion
If you are an Indian Citizen living in the USA you can use consular services for passport services, without having to plan or schedule an India trip for such needs.
Always keep your passport updated for you never know when emergency situations warrant you to take a quick flight overseas. As a foreign citizen living in the USA, a passport is one of the strong proofs of identification.