Travelers guide to taking prescription medicine into the US 2023
Don't forget your medications if you're going on vacation. However, traveling with medication can be challenging, particularly if you're traveling abroad.
Several questions come to mind:
How are your medicines packaged?
Can you adhere to your medication schedule?
Will there be security issues?
Should I carry all my medicines or will they be as over-the-counter medications (OTC)?
Some of us might be unaware that even for personal use, importing medicines into the US is subject to strict regulations.
In this complete guide, let us find all the information on bringing prescription medications safely into the United States.
If you are worried about Pre-Existing Medical conditions then explore Travel Medical Insurance that covers Pre-Existing Medical Conditions.
CBP Guidelines for Bringing Medication into the US
According to US Customs and Border Protection (CBP) medication travel rules, the recommendations for bringing medicines into the US are listed below
All prescription medicines should be kept in their original labeled containers with your doctor explaining the prescription clearly.
You must carry a separate letter from the doctor and the prescription if the medicines are not in the original boxes with the prescription.
Medicines dosage carried should be for 90 days.
For all medications, you must bring a valid doctor's note or valid prescription.
A prescription and a letter from your doctor are also required if you carry any medical devices for your health.
All medicines brought into the US are subject to US FDA regulation.
Additionally, if you are carrying any specific medical devices that contain sharp things, such as oxygen tanks or needles, you need to call the TSA to inquire about their requirements.
FDA Guidelines for Bringing Medication into the US
The primary body in charge of regulating the entry of medications into the US is the US Food and Drug Administration (FDA).
These are some of the general recommendations provided by the FDA in their guidance on traveling with medications.
General FDA Regulations for Medicine Importation into the US
You must have a current doctor's prescription or a doctor's letter in English authorizing you to transport medications to the US.
The medications must be kept in their original packaging, with printed directions from the doctor on the bottle or pill.
A copy of the prescription or a note from the doctor outlining the condition and the rationale for prescribing the medicines is required if the container does not include a printed prescription label.
You can receive them by mail or courier service like FedEx, UPS, etc. if you plan to stay in the US for longer than 90 days.
If you intend to ship your medicines, you must provide documentation, including an English-language doctor's prescription, a copy of your visa, a letter from the doctor's office, an invoice, and any other pertinent information.
Importing Medicines for Personal Use: Exceptions
FDA generally prohibits the importation of medicines for personal use into the US because they are unable to adequately assess the products' safety. The exceptions they permit for the importation of medications or medicines for personal use are listed below.
The medication or drug is intended to treat a serious ailment for which there is no appropriate treatment option in the US.
The medicines pose no significant health risks.
The individual does not advertise or market the medication to US citizens.
You are attesting by your signature that it is strictly for personal use.
Your doctor prescribed the medication as a follow-up to the treatment you began while you were traveling outside the United States. Additionally, information on the US doctor who will monitor your condition while taking the medication is required.
Only three months' worth of enough medicine is being given to you.
What are the medically required substances you can fly with?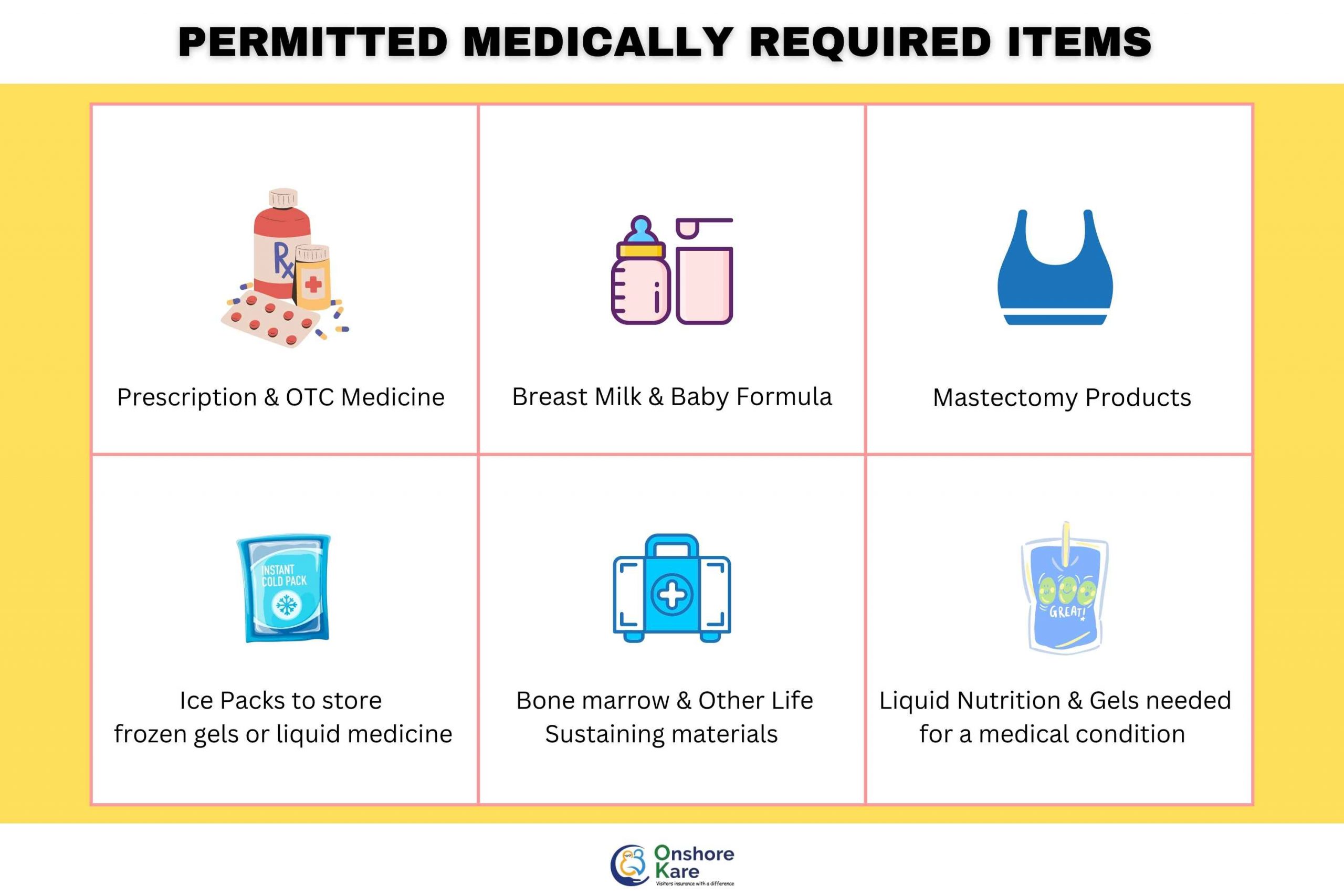 Flying with Prescription Medication: TSA (Transportation Security Administration) Tips
The following prescription medicine travel advice is also available on the Transportation Security Association website:
It is not necessary to show your prescription to or inform the TSA officer about any medication you are bringing unless your prescription is a liquid medicine
The TSA allows reasonable quantities of medicine in liquid form or liquid medications in carry-on bags up to 3.4 ounces in weight.
Liquids needed for medical purposes don't need to be kept in zip-top bags. You must however let the officer know that you have medically necessary liquids at the beginning of the screening process.
As long as it is screened, medication in tablet or solid form may be taken in any quantity, up to and including reasonable amounts.
Both your carry-on bag and checked luggage are acceptable for the transportation of prescriptions and/or certain medicines. If you think you might need these things right away, pack them in your checked baggage.
Although the TSA does not mandate that passengers carrying prescribed medicine do so in prescription bottles, travelers are still required to abide by the state-specific regulations governing prescribed medication labeling.
X-rays are commonly used to screen pharmaceuticals. However, a passenger may request an inspection if they do not want their medication X-rayed. Make careful to ask for an examination before putting any objects through the X-ray machine.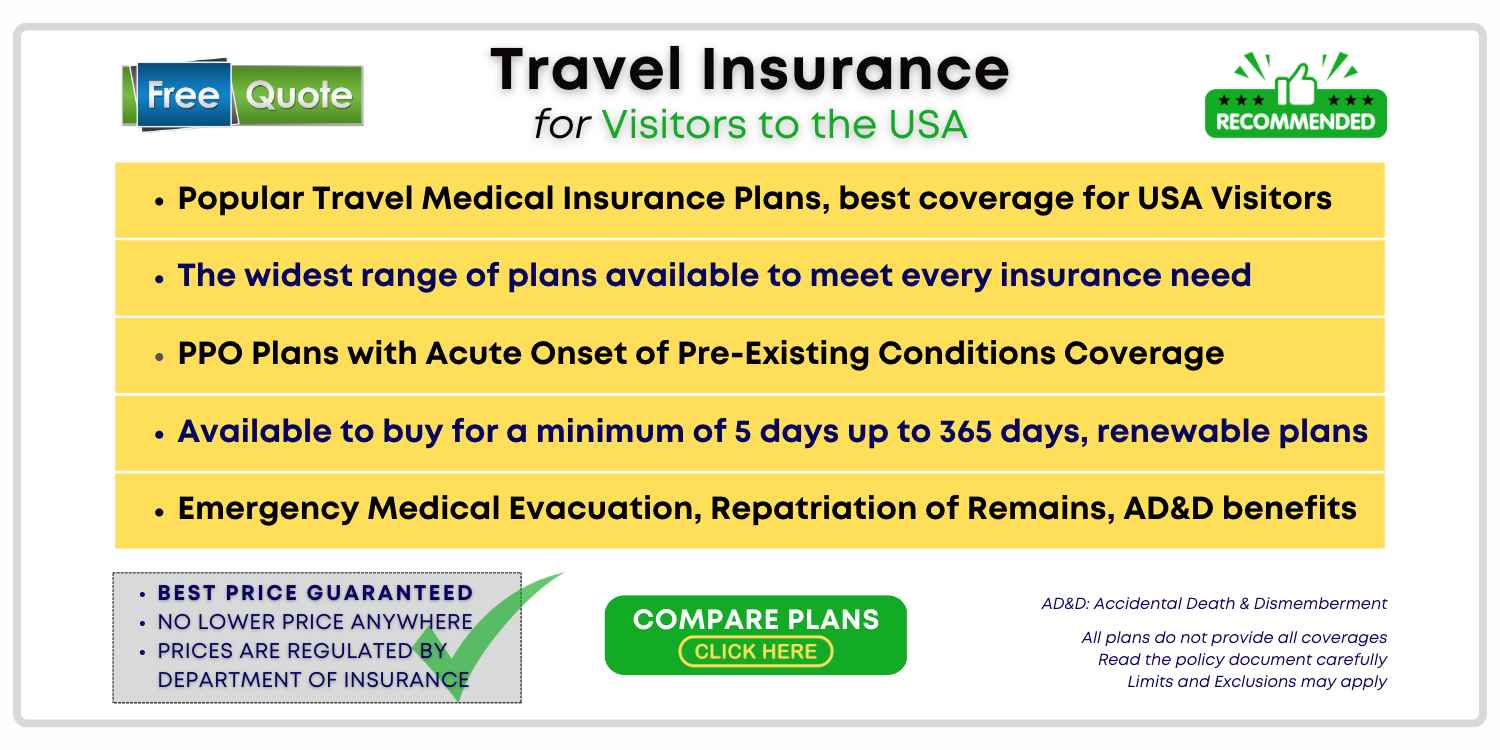 How should prescription medication be packed?
Travel experts advise packing all doses of medications and medical supplies you'll need for your vacation, if at all possible, even if the TSA advises only bringing the prescription pills and medical liquids you'll need for your trip.
Since you won't have access to your checked luggage until you get at your final destination, unexpected delays could leave you without enough medication.
It is simpler and safer to bring all of the prescription medications and place medically required liquids that you will need on your vacation with you in your carry-on luggage, even if you have to go through additional screening at the TSA checkpoint.
Frequently Asked Questions
Can I enter the US with over-the-counter medications like cough medicine?
This is a little complicated because some cough treatments contain ingredients that are illegal in the US. Consult the FDA or CBP beforehand. Carrying it without a valid prescription might be dangerous.
What Should You Do If a Problem Occurs at a TSA screening Checkpoint process?
Talk to a TSA supervisor about your prescriptions if you have any questions or concerns during your security screening. The supervisor should decide how to handle the situation.
Which medications are often restricted in the USA?
ICE has provided a list of the medications by type that is permitted and calls for specific permission. The ICE HSC/US CBP Medication List can be checked out.
What quantity of medication should I bring?
30 days supply of medication is often accepted almost everywhere. If the dosage is higher than that, a doctor's note is required, and you need also to have the original prescription. If you have more pills or liquid medication than is typically allowed by the TSA, just allow extra time at screening.
Are there any other countries with restrictions on medication?
Yes, there are restrictions on medications in some places. This can apply to medications that are controlled substances. For instance, some allergy and sinus medications as well as certain inhalers are prohibited in Japan.
Can I travel with restricted medication?
No, you cannot travel with restricted medication.
What about vaccinations or common medication is given to travelers?
Check with your doctor before receiving any vaccinations or common medications given to travelers (e.g., anti-malarial or anti-diarrheal medications) to ensure that they can be taken safely alongside your current medications. Consult your doctor or the Centers for Disease Control and Prevention (CDC) if you are doubtful about it.
Bottom Line
Traveling with medication is not as simple as packing your toiletries for a trip abroad. It is critical to take prescribed medications legally when traveling to other countries. Plan ahead of time and conduct research.
We hope our article has helped you understand how to travel to the USA with prescription medications.
Travel safe!