What is skiplagged and is it allowed?
If you google flights to your destination you often find that flight fares are very expensive. Especially on popular routes. If you are traveling with the family the cost of air tickets can quickly escalate.
What if there is a way you can make traveling more affordable?
If you're a budget traveler, you should be acquainted with websites & budget airlines that let you book flights at a lower price. But we just discovered a travel hack that has reportedly been around for some time, but we had never heard of it before.
We're sharing all we've learned about a travel hack that seasoned travelers adore and airlines hate.
By using this technique, you can arrange a flight for a lot less money than if you had just purchased a ticket for your desired destination.
In this article, we will cover how to use skip-lagged to find cheap flights, how it works, and what to keep in mind before using skip-lagged.
Let's look at the practice and why travelers love it and airlines hate it.
What does skiplagging mean?
The process of planning an itinerary where the layover serves as the traveler's actual and planned destination is known as skiplagging.
It is also known as 'hidden city ticketing' or 'throwaway ticketing'!
A traveler would purchase a ticket that takes them from point A to point C with a layover at point B.
Point B is the passenger's true destination, and they depart the airport during this layover, leaving their seat vacant for the B to C leg of the trip.
Here is how it works: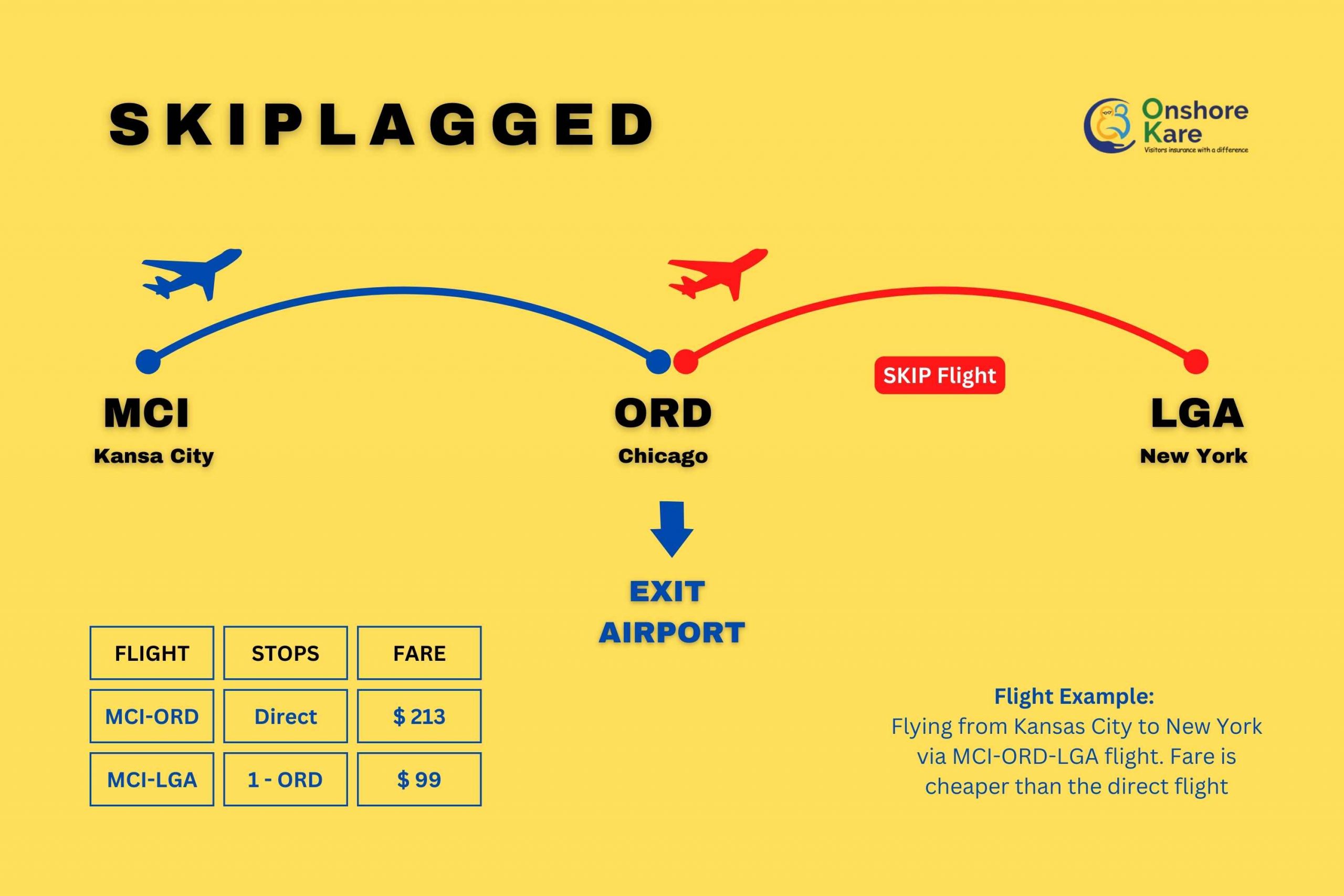 For instance, it costs $213 for a direct flight from Kansas City to Chicago as per the data given by kayak.com whereas skiplagged.com shows a $99 flight from Kansas City to NewYork with a layover at Chicago.
This shows that booking the other flight can save hundreds of dollars.
It's critical to remember that if the passenger wants to bring checked baggage, this method won't work because you will skip the flight's final destination leg.
In the end, the luggage is marked to proceed to the designated (ticketed) location. The airline would probably have to unload your checked luggage if you did it because they would have realized that your boarding card wasn't scanned for the latter portion of the trip.
Additionally, this method would only be effective in one way. This is due to the likelihood that an airline would cancel the return tickets once it learned you never finished the first leg of your trip.
Why is skiplagging considered a controversial topic?
It's not surprising that airlines object to this behavior. In essence, they are unable to fill a seat that is physically available on one aircraft because a skiplagger who is not present is supposed to be seated there. These days, the practice of skiplagging is expressly prohibited in many airlines.
There are additional factors to take into account, as airlines may have some impact on you. This might include your elite status, your hard-earned frequent flyer mileage, and the membership itself. Airlines might even openly reject you. Given all of this, you might not have the time, energy, or resources to pursue them in court even if you believe you could win.
Things to keep in mind in order to skiplag safely
There is no doubt that saving hundreds of dollars on a flight is exciting. Booking Skiplagged hidden-city tickets entail a number of concerns, though. These range from minor inconveniences, like having to carry a bag, to serious problems, like perhaps losing your frequent flyer account and all of your airline miles.
Consider these "rules of skiplagging" before implementing them on your upcoming journey.
Skiplagged works for one-way tickets only:
You cannot arrange a roundtrip journey while purchasing a Skiplagged ticket. That's because, if you miss your first flight, the airline will cancel all of your subsequent flights.
This is the most significant aspect of hidden-city ticketing. The restrictions are the same for every flight: if you skip a segment, the remaining of your reservation will be canceled. Therefore, if you leave a roundtrip flight midway through, you won't have a flight home. You would need to purchase two unique one-way tickets if you wanted to employ this technique for a round trip.
No checked bags:
If you are traveling on a Skiplagged ticket, you shouldn't check your bag. This is due to the fact that your checked bag will be sent to your final destination, which you will not be visiting. And you cannot simply persuade the check-in representative to simply pass it through to your departure city. That will undoubtedly draw more attention and raise a major red signal for these agents.
Schedule alterations may affect your Skiplagged ticket:
Flight schedules are continuously modified by airlines. Your best-laid plans may end up in ruins due to these itinerary adjustments.
For example, if you purchased a round-trip ticket from Munich to New York with a stopover in Charlotte. The airline canceled your Munich-Charlotte return flight in a schedule update a few months before your flight. As an alternative, the airline put you on a flight that passed through another city instead of your intended destination.
If you had chosen this route in an effort to get a cheap flight from Munich to Charlotte, you would have been forced to take a connection through another city and ends up in another destination. The best thing you can do is ask for a refund due to the flight cancellation and rebook an alternate flight.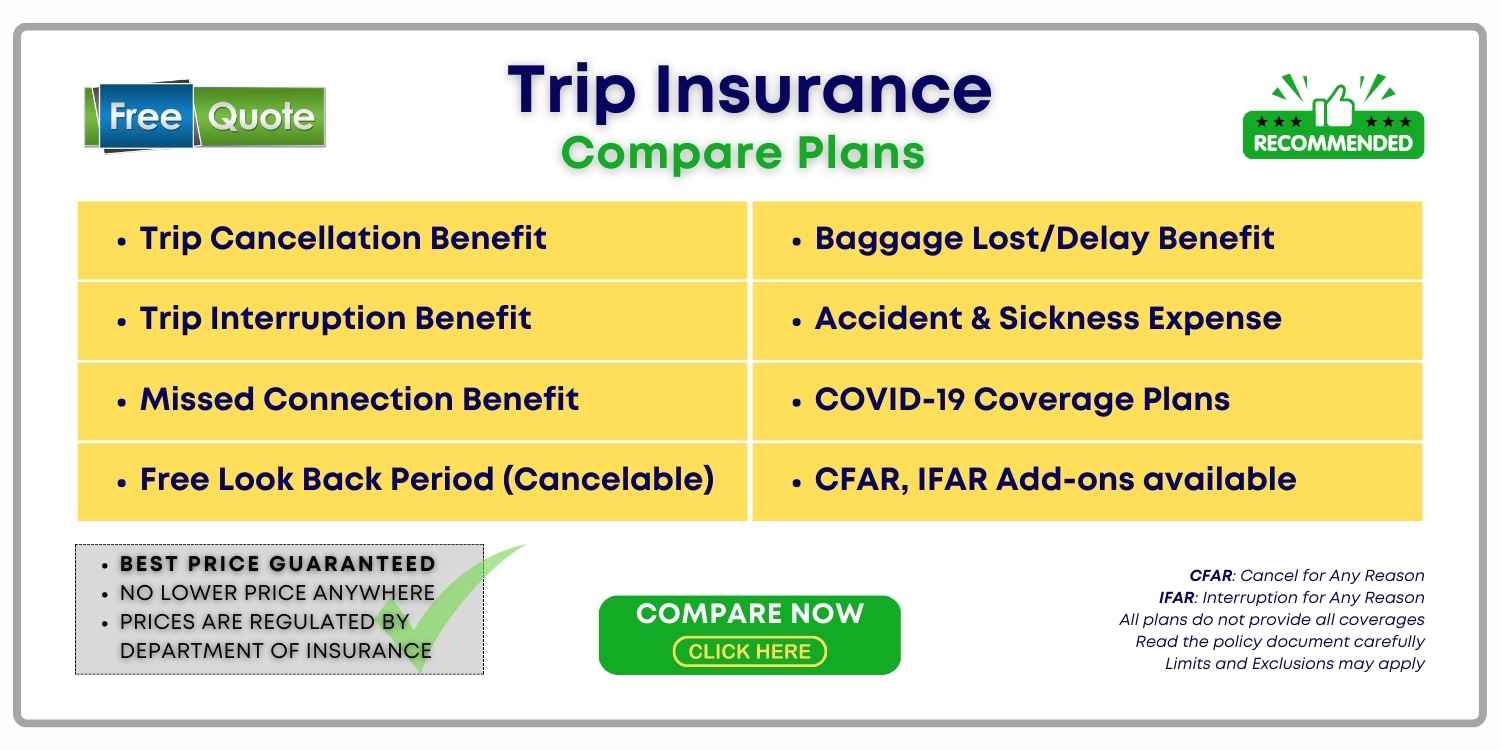 Which websites offer Hidden City ticketing?
It's called Skiplagged. It is a flight booking website that was established a few years ago by travelers who were inspired by the hidden city travel tip.
The way Skiplagged operates is by displaying the fare to a location. Skiplagged can suggest a trip from Kansas City to New York that makes a stopover in Chicago if you wish to travel from Kansas City to Chicago but the costs are expensive. By booking the hidden city tickets, you get where you're going and pay less.
How can you find cheap flights using skip lagged?
Finding cheap flights using skip-lagged is very simple.
Search for the flights on skip lagged:
Visit the skip-lagged website or skip-lagged app and select which type of trip you would like to purchase whether it is a round trip or a one-way trip.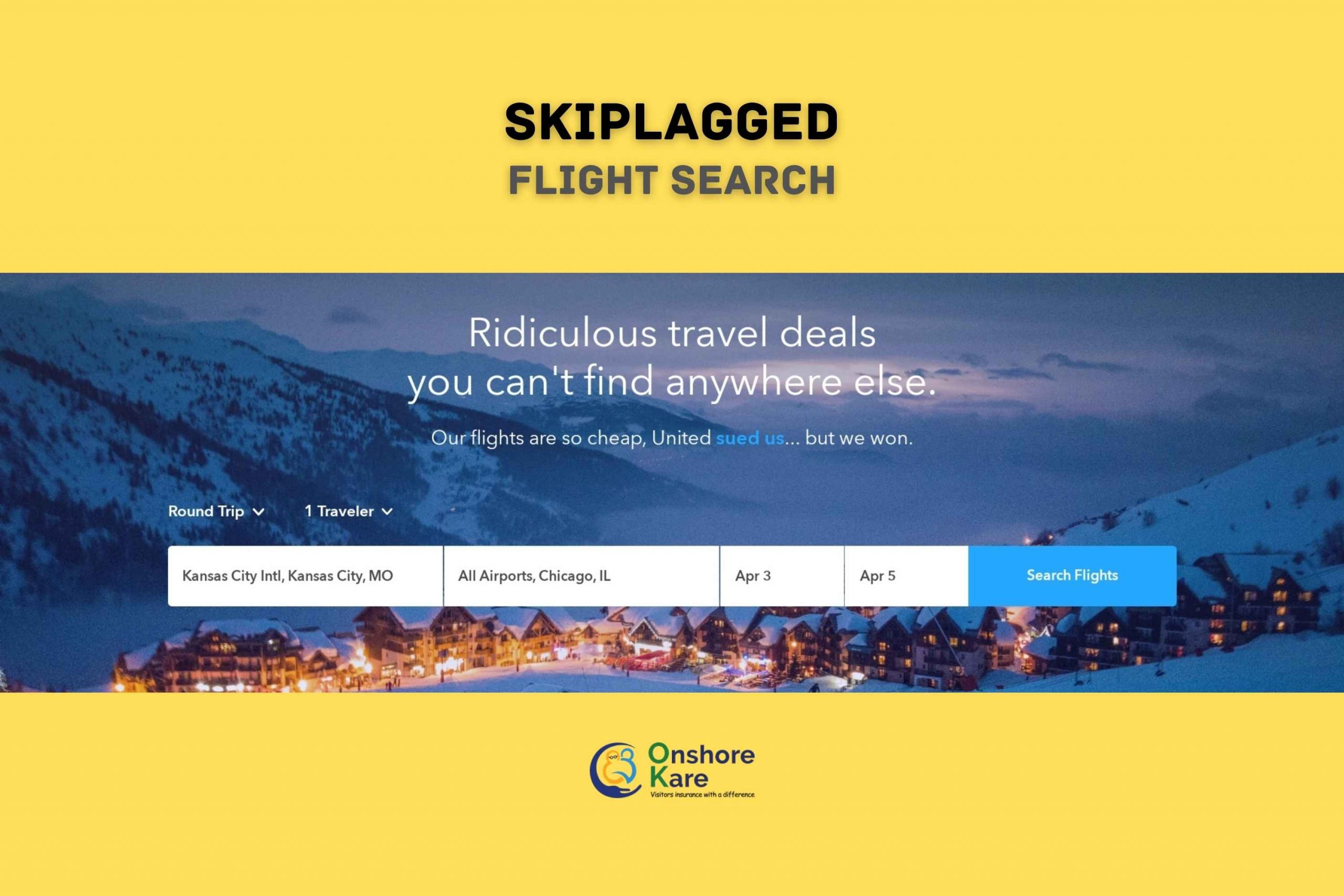 Filter the results on skiplagged:
Select "Search Flights." You'll be shown the cheapest options, which in this case are two hidden city fares. They are hidden city fares because the left side says "skiplagged rate".
You also have a number of filter options, as seen on the left-hand side of the search results. The entire list consists of:
The number of stops, timings for takeoff and landing, duration of the flight, duration of layover, preferred airlines, airport of arrival, and layover cities.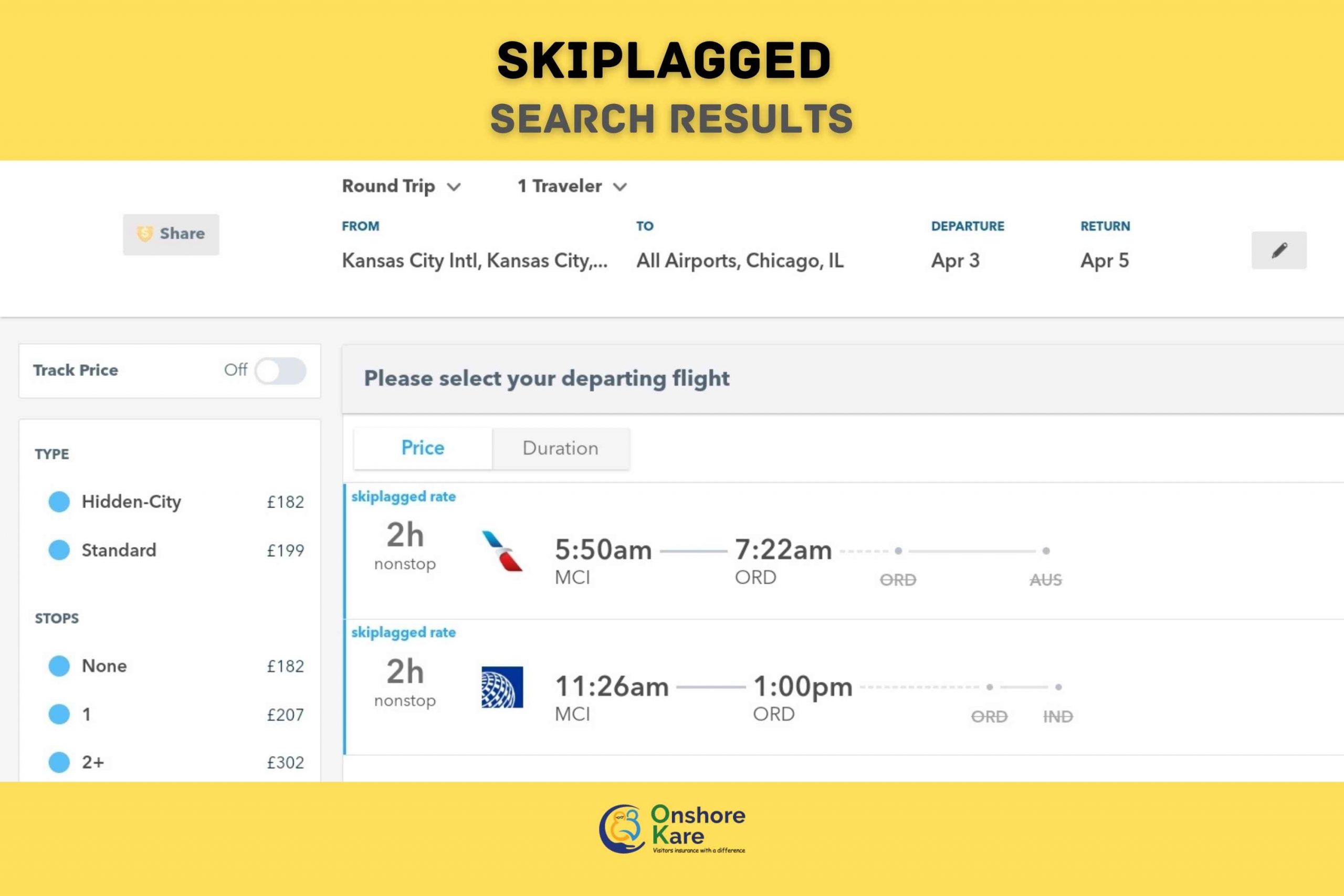 Find the hidden city flights fares on skiplagged:
It's more important to know when a hidden city ticket can be less expensive than taking the conventional route.
Almost all United Airlines flights have a connection in Chicago to or from smaller cities in the American Midwest.
Therefore, if you're looking for a flight to Chicago, it can be less expensive to purchase a hidden city ticket with a layover there but the actual destination is elsewhere.
The final leg of the route will be marked off, and it will be indicated as a Skiplagged rate, letting you know it is a hidden city route.
If a hidden city flight is included in the cheapest option, you will need to reserve two additional one-way flights if you want to travel roundtrip. This is because the airline will cancel your return ticket if you book a roundtrip flight but skip the final leg of your outgoing travel.
How to book a flight on skiplagged?
When you're ready to make a booking, Skiplagged immediately offers you the option of making two separate one-way reservations, which you must always do unless the leg of the schedule you want to skip is on the return. The airline will cancel all the following legs of your trip after you skip one.
In this table below, you would reserve a hidden city flight for the outbound trip but a normal route for the return flight. You must reserve two one-way flights since the leg you want to skip is on the way there otherwise, after you skip the Chicago to Baltimore's leg, your return trip will be canceled.
You can purchase regular flights directly with the airline or through Skiplagged. They charge a service fee for these flights starting at about $8.
Benefits of Skiplagged
Incredible Discounts:
Some of the costs are incredibly low since the platform searches for inexpensive flights differently than other flight booking platforms. You can significantly reduce your annual travel expenses by occasionally flying with Skiplagged.
Direct Flight Booking:
You don't need to visit the airline's website to book a flight if you find one on the Skiplagged website that appeals to you. Instead, Skiplagged offers a direct booking link so that you can instantly secure cheap airfare.
Wide Range of Search Customizations:
When using Skiplagged to make hotel or travel reservations, you may tailor your search using a variety of parameters. By doing this, you can obtain customized options without having to search through extensive, disorganized listings.
Limitations of Skiplagged
No Check-in baggage:
You won't be able to check your luggage if you book a hidden-city flight with Skiplagged because it will continue to travel further without you.
Controversial Methods:
By often using Skiplagged, you are violating the confidence of the airlines, which could have dire long-term effects. Overall, the aviation sector cannot support the method.
Requests for Location Access:
You must grant Skiplagged full access to your location in order to use the app.
About Skiplagged App
Along with a user-friendly website, Skiplagged also provides an accessible app that you can use to make reservations for booking flights and hotels.
Both Android and iOS users may download the app, which makes it simpler to keep track of your reservations and remain up to date on price changes.
How to redeem Skiplagged rewards?
You can earn up to $25 for each flight or hotel reservation you make on Skiplagged, which you can use to make other reservations on the site.
You can also get paid when others use your unique link to book hotels or flights on Skiplagged. Not all accommodations and travel arrangements qualify for awards.
Log into your Skiplagged account to redeem rewards. When you arrive at the booking page after making your selection, click "Travel Credits" and then click "Pay using travel credits."
Frequently Asked Questions
Can skiplagged flights be use from india to usa?
Booking skiplagged flights may not be beneficial for flying internationally from India to USA because US is not a layover hub for international airlines.
What are the most popular airlines which fly between India to US?
The list can go on but some of the most popular airlines from India to USA are:
Air India
Emirates
Qatar Airways
Singapore Airways
British Airways
United Airlines
American Airlines
Etihad
Lufthansa
Japan Airlines
What does skiplagging look like?
It is also known as 'hidden city ticketing' or 'throwaway ticketing'.
For example, a traveler would purchase a ticket that takes them from point A to point C with a layover at point B.
Point B is the passenger's true destination, and they depart the airport during this layover, leaving their seat vacant for the B to C leg of the trip.
What happens if my flight is changed by the airline such that it no longer passes by the hidden city?
Rarely, an airline will alter the course of a flight. It means that your trip will be ruined if you have a hidden city ticket and the routing is changed so that you fly via a different city.
Can I skip the first flight leg?
No, and it's important to understand this. If you miss the first leg of your flight, the airline will immediately cancel all the following flights on that itinerary.
However, if you use Skiplagged to look for flights and the cheaper flight is a hidden city fare, Skiplagged will direct you to book two different flights. If you're skipping a leg on the outbound trip, you must reserve two separate one-way flights.
Can I book hotels using skiplagged?
Skiplagged offers hotels at a discounted price. You may uncover great hotel rates by using skiplagged.
What exactly does "hidden city" on Skiplagged mean?
A hidden city fare is a route that ends at the layover location even though you have a ticket for a flight to a location further away. These rates are designated as "Skiplagged rate" which also crosses out the portions of the itinerary that you will book but not use.
Is there a charge for using Skiplagged?
Each typical booking made with Skiplagged entails a service fee, which starts at $8. Bookings for hidden cities are made straight through the airline.
What are some alternatives to Skiplagged?
In terms of searching hidden-city fares, no other website performs what Skiplagged does. To test whether you can locate inexpensive fares with a secret city, you can utilize various flight search engines and filters to choose where you want to have a layover. Some of the other options are:
Google Flights
ITA Matrix
Skyscanner
Momondo
Kayak
Orbitz
Travelocity
Expedia
Priceline
Can baggage be checked on Skiplagged?
You can check luggage if you've booked a normal ticket on Skiplagged, but not if your itinerary includes a hidden city. The official final destination, not the layover location, will receive them, thus you and your luggage will wind up in two distinct locations.
Bottom Line
A practical approach to save money is to purchase a hidden-city ticket that connects to the destination you want to go to. And Skiplagged makes finding these less expensive "throwaway" tickets as simple as ever.
However, there could be negative effects as well. Airlines have made their rules stricter and expressly restrict purchasing tickets for concealed cities. If you consistently violate the regulations, the airline may eventually issue you a bill or possibly file a lawsuit to recoup the savings.
It can be a terrific method to save money if you need a last-minute ticket, but it might be difficult to find hidden-city fares or skiplagged. You'll need to bring only the bare necessities, and it might be a big hassle if your plans change.
We hope our article has helped you understand everything about skiplagged. Discover extraordinary travel deals with skiplagged and always travel safely.