ChoiceAmerica and Inbound USA Insurance – which is better?
Looking for a Limited Coverage Plan? This comparison between ChoiceAmerica and Inbound USA will help you choose the best plan.
Visitor insurance is a travel health insurance plan that protects foreign visitors from any unexpected medical emergencies and other risks.
When searching for visitor insurance plans, you want to be aware of what is covered and what isn't covered. Medical care and medical expenses can be extremely expensive in some countries, especially the USA.
Your travel insurance plan should provide comprehensive coverage including adequate medical benefits.
Visitor insurance is designed to provide coverage in the event of an accident or medical emergency, and pay for medical expenses like hospital bills, lost or stolen luggage, canceled flights, and more.
Between Comprehensive Coverage plans and Limited Coverage Plans if your risk is high we recommend considering a Comprehensive Coverage Plan.
If you want more details on the difference between Comprehensive Coverage and a Limited Coverage plan, you can get more information here.
If your perceived risk level for a medical emergency or other travel risks is lower then these 2 Limited Coverage Plans can be a good choice.
These plans are compared in this article to help you decide which one best meets your travel insurance needs for visiting the USA.
These visitors' insurance policies are designed to include both trip insurance and medical coverage, giving you good protection.
Choose the travel medical insurance policy that best meets your needs by taking into account both the price and the benefits of each one.
Still, thinking if you need to buy Travel Insurance?
Watch our video on YouTube on the Top 10 reasons to buy travel insurance
Key Highlights: ChoiceAmerica vs Inbound USA travel medical insurance plans
Despite the fact that there are numerous visitors insurance plans available, ChoiceAmerica and Inbound USA insurance are two of the top limited coverage travel insurance packages for International travelers to the USA.
Both insurance plans have a strong reputation and offer fixed travel medical insurance coverage limits.
One of the key differences between the two plans is that ChoiceAmerica includes COVID-19 coverage while Inbound USA basic insurance does not.
Regardless of their obvious similarities, these two plans have important differences. You can choose the best plan for your needs with the help of the comparison table below.
About ChoiceAmerica Travel insurance
The insurance company or the plan administrator for Choice America travel health insurance is the International Medical Group (IMG). It is a plan that provides coverage for various potential travel-related issues, including trip cancellations, interruptions, and delays; medical emergencies and evacuations; lost or damaged baggage; and much more.
It also offers 24/7 assistance services to help travelers with any issues that may arise while they are on their trip.
The ChoiceAmerica coverage is a scheduled benefit plan with low costs that offers the best medical and visitor health insurance for trips to the United States, Canada, and Mexico. ChoiceAmerica Insurance gives all the necessary travel protection at a fair price, making it a consistently excellent plan even though the coverage may be considered basic or straightforward.
It is a member of the First Health PPO network. When heading to a medical provider or a doctor, hospital, or urgent care facility, display your ID card and identify the coverage as travel medical insurance.
You might need to make a payment, for which you can submit a claim, depending on the facility's billing policy.
Non-US citizens who are traveling to the United States, Mexico, or Canada, between the ages of 15 and 79 are eligible for ChoiceAmerica Insurance. The applicant cannot be a citizen or a permanent resident of the host nation where they will be traveling.
Read out the travel health insurance review on the ChoiceAmerica Travel insurance plan
About Inbound USA visitor health insurance
This limited coverage insurance policy covers foreign nationals visiting the US temporarily.
Inbound USA offers 2 options viz. basic and choice where the coverage limits are higher in Inbound USA Choice as compared to Inbound USA Basic.
Inbound USA is a low-cost insurance policy that provides limited coverage for each occurrence.
Green card holders or other permanent cardholders who are US residents who travel into and out of the country cannot use Inbound USA Insurance.
Travelers to the United States should be aware that American medical costs are among the highest in the world. The cost of emergency medical evacuations can be extremely high, if you need to be transported to medical service in case of an emergency then this plan pays up to $1,00,000.
For your protection against getting sick or harmed while traveling, it's crucial to think about getting a travel medical insurance plan like Inbound USA.
It provides 24/7 multilingual travel assistance services offered by an expert team who can help you obtain medical treatment.
How much do the plans cost?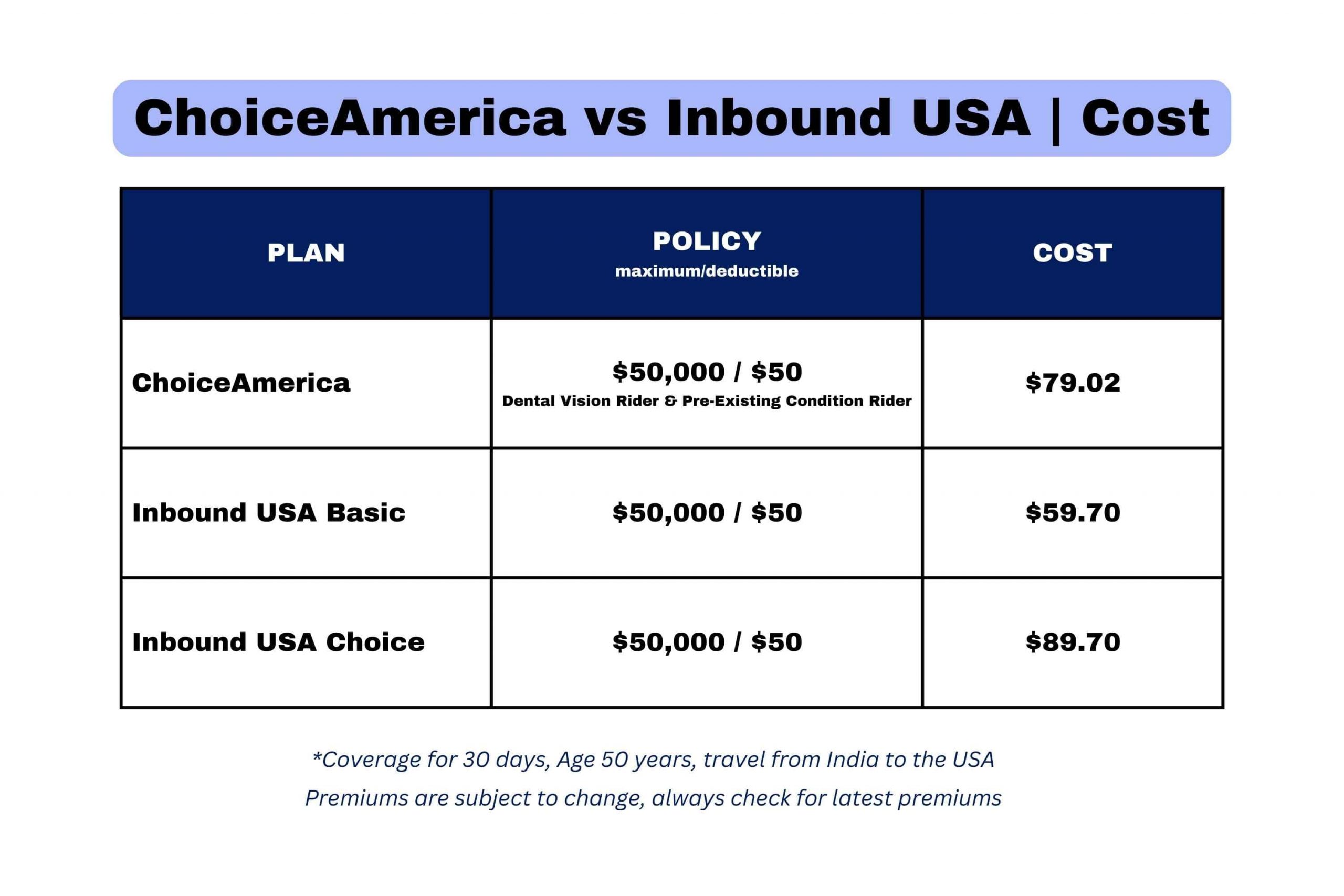 The plans are very competitively priced, you need to make a choice basis the medical conditions coverages needed and the limits defined in the policy document of each plan.
For example, if you need acute onset of pre-existing conditions coverage you can buy it as an add-on to the Choice America plan, the cost shown above included this rider.
Do bear in mind that this is a limited coverage plan so the limits for the onset of pre-existing conditions are capped:
Deductible per acute onset of pre-existing condition $50/incident
$1,500 Maximum Limit – Emergency Room and/or hospitalization per pre-existing condition
$1,000 Maximum Limit- Laboratory and Radiology per pre-existing condition
$150 Maximum/Visit – Physician (Maximum 3 visits)
$100 Maximum Limit – Prescriptions for acute onset of pre-existing conditions
If you need more acute onset of pre-existing conditions coverage then you need to for Comprehensive Coverage Visitor Insurance plans.
What is Pre-existing conditions coverage?
Any medical condition, sickness, injury, disease, mental illness, or mental nervous disorder that required medical advice, diagnosis, care, or treatment, or for which a prudent person would have sought treatment is referred to as a "Pre-Existing Condition."
Any medical issues you had prior to the policy's effective date are referred to as pre-existing conditions. When a qualifying application is enrolled, this coverage can be added. Make sure to review the coverage offered by this rider to not miss any important details.
Inbound USA also provides coverage for the acute onset of pre-existing conditions up to 79 years of age.
Up to the age of 79, acute onset of pre-existing conditions is covered. For this benefit, those under 70 receive $50,000 or $75,000 for the Basic or Choice option. The coverage limit for those between the ages of 70-79 is $25,000. No coverage for 80 and over.
A chronic, congenital, or progressively worsening pre-existing ailment is not covered by this benefit. It excludes coverage for known, anticipated, essential, or scheduled medical care, medications, or treatments that existed or were required prior to the effective date of coverage.
Covid-19 coverage
In accordance with the rules of the policy, ChoiceAmerica travel health insurance provides coverage for Covid-19-related costs if infected after the policy date and other medical expenses.
As with any other illness or injury that complies with the requirements of the policy for a disease, ChoiceAmerica insurance includes Covid-19 coverage (illness occurred after the policy effective date).
While Inbound USA visitor insurance does not provide coverage for COVID-19.
Therefore, as far as Covid-19 is concerned, the insured individual is protected during the duration of the policy by ChoiceAmerica travel health insurance plans.
Policy maximum
Policy maximum coverage comparison of these limited coverage plans:
ChoiceAmerica Insurance Policy Maximum Limit: $ 150,000
Inbound USA Insurance Policy Maximum Limit: $ 1,50,000
ChoiceAmerica travel medical insurance policy offers 3 options on a policy maximum
Option 1. $50,000
Option 2: $100,000
Option 3. $150,000
Inbound USA offers 3 options:
Option 1. $50,000
Option 2: $100,000
Option 3: $150,000
The policy limits for Senior travelers:
Age 79-99: $50,000/$100,000
Insurance companies of both the plans and their benefits
ChoiceAmerica – International Medical Group (IMG) Travel Insurance
IMG Travel Insurance is one of the reputed and leading visitor insurance providers based out of Indianapolis.
International Medical Group (IMG) is a provider of global health and travel insurance. The company offers a range of insurance products and services for individuals, families, and businesses, including travel medical insurance, international health insurance, and emergency assistance services.
IMG provides coverage for individuals traveling abroad, as well as expatriates living and working in other countries. The company has a network of providers and medical facilities around the world and offers 24/7 access to assistance services.
Some of the benefits of plans offered by International medical group are:
Comprehensive plans offer coverage and access to a wide PPO Network
They offer customer assistance and service so you can always have access when you need
IMG offers a wide variety of travel health insurance plans for every need
Check out our complete coverage of IMG Travel Insurance
Inbound USA – Seven Corners Travel Insurance
Seven Corners is a travel insurance company that offers a variety of visitor insurance and international health insurance plans. These plans can provide coverage for things like trip cancellation, medical expenses, and emergency evacuation.
Some of the company's plans are specifically designed for travelers who are going abroad for work, study, or leisure. In addition to travel health insurance. Seven Corners also offers pet insurance and other types of insurance products.
For both US and non-US citizens, Seven Corners is a travel insurance company with a large selection of plan choices. The business offers annual and one-time vacation packages, as well as student-specific choices and travel health insurance.
The following are some advantages of the plans provided by SEVEN CORNERS:
Visitor insurance plan with comprehensive coverage including emergency medical evacuation for people traveling to the USA.
They provide customer support so you can always get in touch with them when you need them.
For every need, Seven Corners provides a wide range of travel insurance options.
Check out the Complete Guide to Seven Corners Travel Insurance
Other Coverages
Any illness or injury that is covered by the travel health insurance plan is paid for as qualified medical expenses. Any incident that the insurance document defines as covered will also be paid for or repaid to you in accordance with the conditions and restrictions in the policy document.
Let's have a look at the other benefits provided by ChoiceAmerica travel health insurance vs Inbound USA insurance in the table below
Border entry protection coverage for ChoiceAmerica
Some people may find it difficult to travel through North America, particularly if their tour is cut short at the port of entry. Obviously, it is incredibly frustrating when border agents refuse to let you in. Additionally, booking a flight home again comes at an unexpected cost.
Travelers in this circumstance will be given an economy-class air ticket to return to their home country in accordance with the terms of the policy.
ChoiceAmerica Insurance is a good limited coverage or fixed coverage plan money can buy. Inbound USA scores over ChocieAmerica in a number of areas with higher limits available.
Frequently Asked Questions
How are pre-existing conditions covered by Seven Corners' Inbound USA policy?
They are protected by the benefit of Acute Onset of Pre Existing medical conditions. For more information, including monetary amounts and age limits, refer to the policy documents. Based on age and plan, coverage varies.
Is covid-19 covered by ChoiceAmerica?
If the virus is contracted after the policy's effective date and you have left your country of residency, ChoiceAmerica will cover it and treat it the same as any other qualifying medical condition.
Is seven corners a legitimate insurer?
Since 1997, Seven Corners Inc. is an insurance provider and has been selling travel insurance. With over 200 workers and offices in Carmel, Indiana, Seven Corners Travel Insurance provides both domestic and international travel insurance policies. Seven Corners Insurance offers travelers health coverage, protection, and security for travelers away from their home country.
Are the coronavirus vaccine and boosters covered by the ChoiceAmerica plan?
The COVID-19 vaccine and booster are not covered by the ChoiceAmerica plan, however, if COVID-19 is contracted after the policy's effective date, COVID-19 treatment and services will be covered in the same way as any other qualifying condition. The policy does not cover COVID-19 preventive care, such as booster shots or immunizations.
How can Inbound USA Basic be used while seeking medical attention?
Inform the healthcare practitioner you are visiting that you have Inbound USA Basic insurance. If they want to confirm your benefits and eligibility, show them your ID card and instruct them to contact Seven Corners Assist.
Will my ChoiceAmerica plan be automatically renewed or extended?
Your Choice America plan won't automatically renew or be extended. The extension or renewal must be manually activated after logging into your account online. Check the terms and conditions of your policy to see if you qualify for renewal.
Choiceamerica or Inbound USA: which is better?
Your need for travel insurance will determine the best type of insurance. Visitors to the United States are provided with medical insurance coverage, along with other covered travel and emergency services with ChoiceAmerica limited plan while the Inbound USA plan is a simple plan designed to provide visitors to the United States with fixed or scheduled health benefits that can be renewed for up to 364 years of short-term medical protection.
Our parents are elderly travelers visiting us in the USA, which travel insurance plan should we consider?
We recommend considering a Comprehensive Travel medical insurance plan, you can read more about things to consider when buying insurance for seniors
A reputable online marketplace for travel insurance, such as OnshoreKare, allows you to compare and purchase visitors' insurance.
Bottom Line
We hope this article has helped you in gathering information about the comparison of ChoiceAmerica and Inbound USA basic.
Both of these limited plans are excellent and highly well-liked for visitor health insurance. When we travel, especially when family members are coming to the United States, one of the main things we think about is our travel medical insurance policy.
For foreign visitors to the USA, ChoiceAmerica and Inbound USA are both highly recommended insurance options.
Travel Safe!