Royal Caribbean Travel Insurance – Complete Guide
It is important for vacationers visiting the USA to consider purchasing travel insurance, including coverage for cruises. Cruise insurance can provide financial protection in the event of unforeseen circumstances such as trip cancellations, medical emergencies, and lost or delayed luggage.
Additionally, cruise insurance can offer peace of mind and help travelers enjoy their vacation without worrying about potential mishaps.
A cruise often serves as a once-in-a-lifetime vacation for many travelers. To ensure that your cruise is smooth sailing, it is necessary to research and buy the best cruise travel insurance.
If you miss a port departure or fall ill on board the cruise and get confined to your cabin, the right cruise travel insurance policy can cover your extra costs.
This article will help you understand what cruise travel insurance covers and why it is important to choose the best cruise insurance for yourself.
What is Royal Caribbean Cruise Insurance?
Royal Caribbean Cruise Insurance is a type of travel insurance that provides coverage for Indian vacationers visiting the USA on a Royal Caribbean cruise. It covers a wide range of potential risks and expenses related to the cruise, such as medical emergencies, trip cancellations, travel delays, and baggage loss or damage.
The insurance covers the cost of medical treatment and evacuation in the event of a medical emergency, as well as the cost of canceling or interrupting the trip due to unforeseen circumstances such as natural disasters or personal illness. It also provides coverage for travel delays and other unexpected expenses, such as the cost of additional accommodations or meals.
In addition, the insurance includes coverage for accidental death or dismemberment. It also offers 24/7 assistance and support services, including help with lost or stolen documents, emergency translation services, and legal assistance.
Royal Caribbean Cruise Line is a global cruise company that offers a wide range of itineraries and destinations for its passengers. This International Cruise Line is one of the largest cruise lines and has a fleet of over 50 ships, including some of the largest cruise ships in the world.
Overall, Royal Caribbean Cruise Insurance provides Indian vacationers with peace of mind and financial protection during their cruise in the USA.
What is Covered by a Cruise Travel Insurance Policy?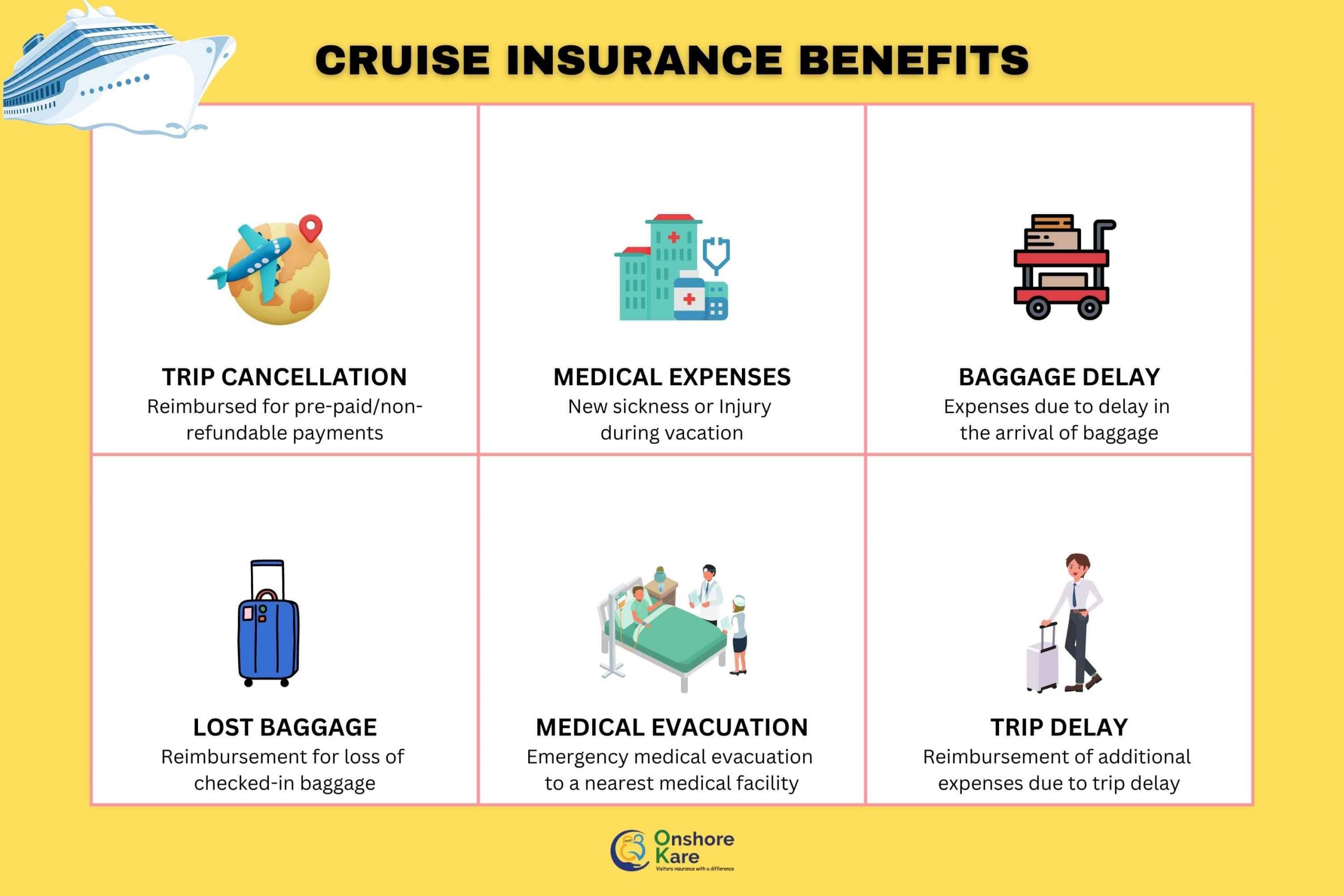 Cruise travel insurance policies provide coverage for unexpected events, such as trip cancellations, medical emergencies, and lost or damaged baggage.
Depending on the specific policy selected, coverage may also include emergency evacuation, trip interruption, and other benefits. It's important to carefully review the terms and conditions of any insurance policy before purchasing, to make sure it provides the coverage you need for your trip.
Trip Cancellation
The possibility of canceling a trip is a major worry for travelers. Prior to your departure date, you might have to change your vacation plans, incurring financial losses, if you become sick or hurt accidentally. Without cancellation insurance, trip cancellation is not only upsetting but also extremely stressful.
The following reasons for cancellation are permitted by the Royal Caribbean Travel Protection Program:
Unexpected traveler or family member illness, injury, or death.
Involvement in a collision that prevents you from making it there on time for your trip
Natural calamity, fire, flood, or burglary.
We have also covered the difference between trip insurance and travel insurance, read here.
Trip Interruption
A trip interruption is an event that occurs while you are traveling that makes you miss part or all of your vacation. Similar to trip cancellation, it occurs while you are traveling.
The most frequent reason for a vacation to be cut short is a traveler's illness or injury. Trip interruption pays for the unused portion of the trip as well as the expense to continue the current trip if you were injured or ill while on vacation but are now healthy enough to continue traveling after receiving treatment.
Additionally, a family member's sudden serious illness or demise can cause a trip interruption. If your eligible scenario involves terminating the trip and going home early, Trip Interruption also reimburses for the unused portion of the trip, plus the increased expense of going home.
Trip Insurance: Cancel For Any Reason (CFAR) benefit
The highest amount of flexibility and reimbursement is offered by Cancel For Any Reason (CFAR) cruise insurance in the event that you need to cancel your vacation for a reason not covered by the policy.
90% of the pre-paid, non-refundable cancellation fees paid to Royal Caribbean are credited toward future trips if you cancel your cruise for an unlisted cause.
Policy conditions for Cancel For Any Reason include the following:
Purchase the policy between 10 and 21 days (depending on the policy) after the date of your initial payment or deposit.
Subject to cancellation fees or restrictions insure 100% of the prepaid trip costs. Insure within 10–21 days (depending on the policy) of each additional payment added to your trip for any additional prepaid, nonrefundable payments made after the purchase of the policy
Cancel your trip at least two days prior to the departure time.
Medical Insurance for Emergency Treatment
Possessing sufficient medical insurance when traveling is among the most crucial considerations when choosing trip insurance. Everything is possible, including unintentional harm or a fatal illness. Royal Caribbean offers a $25,000 medical insurance benefit.
If you travel abroad without adequate medical insurance coverage, you risk being stuck with expensive, unforeseen hospital fees.
Emergency Medical Evacuation
You are taken from the scene of your injuries or illness to the nearest hospital via emergency medical evacuation. Medical Evacuation takes you home once you are stable enough to travel, either on a regular flight or, if necessary, a private medical jet.
Regular health insurance does not cover the expense of medical flights, which can run up to $25k per hour.
Medical Evacuation of up to $50,000 per person is included in the Royal Caribbean Travel Protection Program. You may relax knowing you have enough insurance to get you back home if necessary.
Pre-Existing Conditions
Unless you purchase the policy within the necessary time frame from your initial trip deposit date, the majority of travel insurance policies do not cover pre-existing conditions. Whether or not, the insurer will check to see if you have any pre-existing medical conditions they won't cover 60, 90, or 180 days from the date you acquired the insurance. This is known as the Look Back Period.
Pre-Existing Conditions are not covered by the Royal Caribbean Travel Protection Program during the look-back period of 60 days.
We have covered how to choose travel medical insurance for parents with pre-existing conditions, read here.
What are the benefits of the Royal Caribbean cruise line travel protection program?
Royal Caribbean cruise lines provide multiple travel medical coverage. Some of the benefits are as follows:
Cancel For Any Reason benefit (CFAR):
No matter what happens, the travel insurance company will pay 90% of the unused portion of the cruise if you need to cancel your cruise vacation.
Health Insurance Coverage
The plan reimburses up to $25,000 for medical expenses if you are ill or hurt while on vacation as well as up to $50,000 for emergency air or ground transportation.
Baggage Protection
If customers are delayed, the travel insurance company will compensate them up to $1,500 for lost, stolen, or damaged luggage and up to $500 for covered replacement items.
24/7 Assistance
Their customer support is available to assist you with a variety of needs, including cash transfers, misplaced documents, and trip costs, no matter where you are or when you need them.
Coverage of Travel Delays
In the event that you miss the ship, you will be covered up to $500 of your paid trip cost in order for you to meet them at the following port.
How much does cruise insurance cost?
Cruise insurance typically costs between 4-10% of the total cost of your trip. The exact cost will depend on a number of factors, including the length of your trip, the destination, and the activities you have planned.
It's always a good idea to check around and compare prices from different insurance companies before purchasing a policy.
A reputable online marketplace for travel insurance, such as OnshoreKare, allows you to compare and purchase travel medical insurance according to your choice.
Additionally, you should carefully read the fine print of any policy you're considering to make sure it provides the coverage you need.
What to consider before buying the best cruise insurance?
In addition to the typical coverage offered by travel insurance, travelers should search for a comprehensive package that includes perks like cancellations and medical emergencies. Full coverage is typically provided by a comprehensive policy, which can help travelers save some extra cash.
The following are some advantages of cruise cancellation insurance:
Trip Cancellation Insurance: Traveler's booked and non-refundable trip expenses, such as their airline, cruise, excursions, and tours, are reimbursed in the event of a trip cancellation. Most insurance with trip cancellation coverage includes hurricane and weather coverage.
Emergency Medical: Since ordinary medical check-up costs have been increased, it is advised that passengers on cruises have travel insurance with an Emergency Medical provision of at least $100,000.
Emergency Medical Evacuation: Cruisers should acquire a policy with a minimum of $250,000 in medical evacuation coverage because the likelihood of needing an evacuation while on a cruise line is increased. A good travel insurance package will cover luggage, missing connections, and travel delays in addition to cancellation and medical expenses coverage. Few insurance policies provide itinerary change coverage, which enables passengers to request reimbursement for missed activities in the event that their travel provider alters their schedule.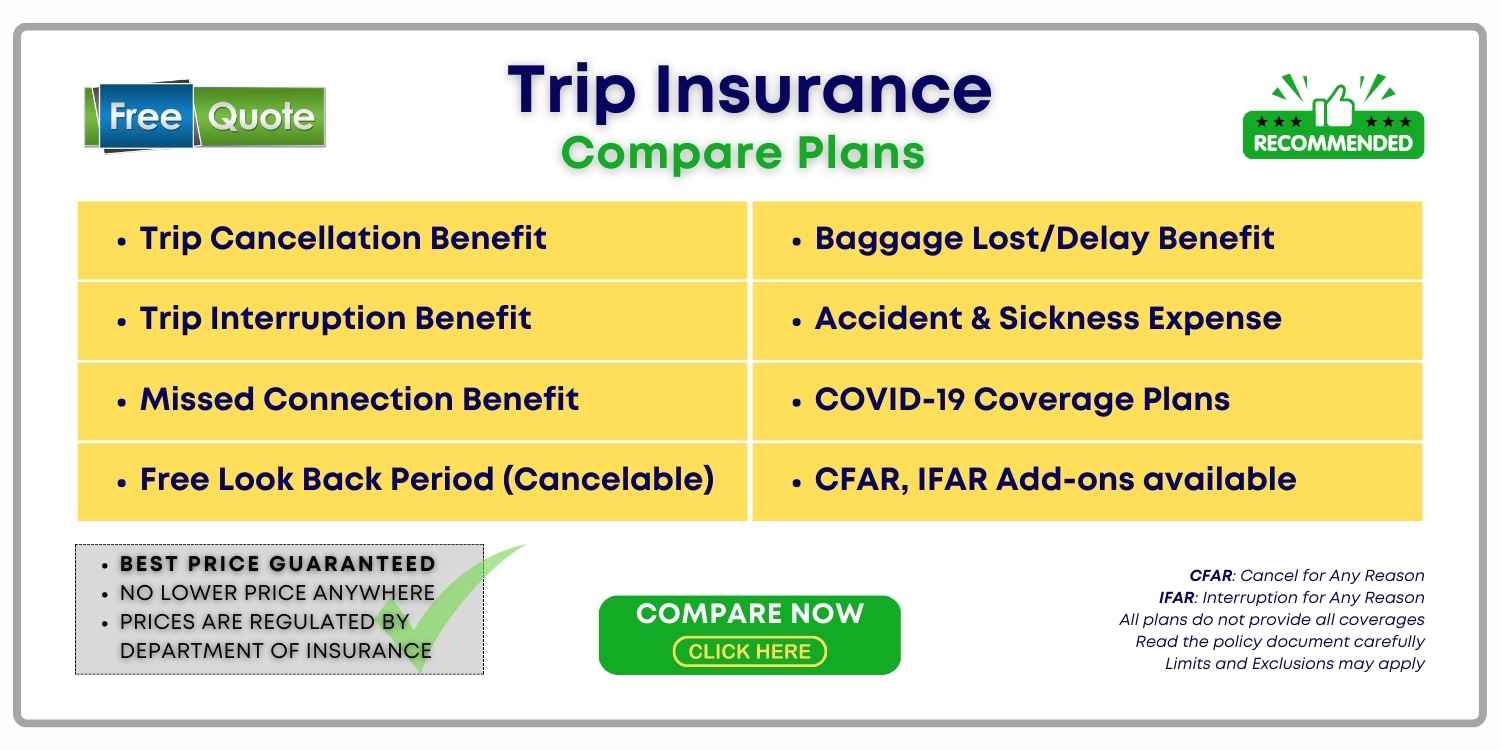 Frequently Asked Questions
1. Is it worth buying cruise insurance?
When a traveler encounters any unforeseen circumstances while on a cruise line, acquiring adequate cruise insurance might make all the difference for an unforgettable trip. Generally, cruise lines do have a doctor onboard the ship that can attend to minor medical issues. Depending on the coverage advantages offered, cruise travel insurance premiums can range from 5 to 10% of the trip cost.
2. What types of coverage are offered by cruise travel insurance?
The majority of cruise travel insurance policies offer the following protections:
Trip Cancellation insurance
Trip delay
Emergency medical evacuation
Luggage loss
Luggage delay
Medical protection
Some policies include supplemental coverage options, such as Cancel for any reason benefit.
3. When can I purchase cruise insurance?
It is preferable to purchase cruise insurance as soon as you pay the initial trip payment. The benefit of the cruise cancellation insurance kicks in as soon as you purchase it, even before the trip itself departs.
4. What does cruise cancellation insurance cost?
A typical trip cancellation insurance policy will cost 5% to 10% of the total cost of the traveler's vacation. The price of cruise travel insurance is influenced by a number of things.
Traveler's age: The price of travel insurance is directly inversely correlated to the age of the traveler. The cost of the visitor's health insurance will increase as the traveler gets older.
Travel insurance categories: Comprehensive travel insurance costs more than fixed benefits since it offers more comprehensive coverage and travel protection
Deductible options and maximum coverage: The cost of visitors' health insurance is directly correlated with the maximum medical coverage and inversely related to the selected plan's deductible.
Coverage area: The cost of travel insurance is based on the coverage area. The most expensive visitor health insurance is for the United States since the cost of medical treatment in the US is very expensive.
Travel insurance coverage duration: The cost depends on the duration of coverage and will increase since visitor medical insurance is required for a longer period of time.
5. Who is eligible for the Royal Caribbean Travel Protection Program?
Except for New York, Royal Caribbean offers the Royal Caribbean Travel Protection Program as an add-on for travel insurance when you book a cruise.
Bottom Line
We hope this article has helped you understand why it is important to purchase cruise travel insurance while you are on a cruise vacation. Royal Caribbean cruise line travel protection is one of the options you should check out as they provide a wide range of coverage including travel expenses, emergency medical evacuation, and many more.
You can also buy Cruise Insurance from OnshoreKare.
We recommend considering a Comprehensive Travel medical insurance plan while you are on a vacation to prevent unforeseen circumstances, you can read more about things to consider when buying insurance for seniors
Enjoy your Crusie!