Choosing US Travel Medical Insurance for Parents With Pre-Existing Medical Conditions
Having parents with pre-existing medical conditions may increase concerns regarding travel insurance coverage and the cost of their trip to the United States. This can get overwhelming, especially if you're unsure about how health insurance works in the US. Read more on the common exclusions in Travel Insurance Plans.
What are the available Travel Insurance options?
Healthcare in the USA is expensive. There are 3 main types of travel medical insurance for visitors to the U.S.: 
1. International Health Insurance Plans from your Home Country:
These policies cover medical expenses while in the US, so long as you purchase them before your trip. However, the U.S. has a complicated and expensive healthcare system. Usually, insurance purchased outside the U.S. has a reputation for claims not being paid or plans being limited to a poor insurance network.
Also Read: Should you buy Travel Insurance from your Home Country or the USA when visiting the USA?
2. Temporary International Health Insurance Plans from the U.S.:
Travel Medical Insurance plans offer temporary health insurance for the duration of your trip in the U.S. They are intended to provide coverage against medical emergencies, including medical evacuation. Travel medical insurance offerings also vary depending on your policy and the provider. Make sure you read the details in the policy document, and here is a checklist of what you should look for in a travel medical policy.
Also Read: Benefits of buying Travel Medical Insurance from the USA!
3. All-inclusive generic Trip Insurance Plans:
Some companies offer all-inclusive plans that provide limited coverage, including general liability and property damage protection. These policies do not provide enough coverage to cover medical emergencies. Furthermore, medical care outside your home country can be very expensive if it's not covered by your health plan or doesn't fall into one of your overseas medical coverage exemptions. 
Also Read: How Does Trip Insurance Work?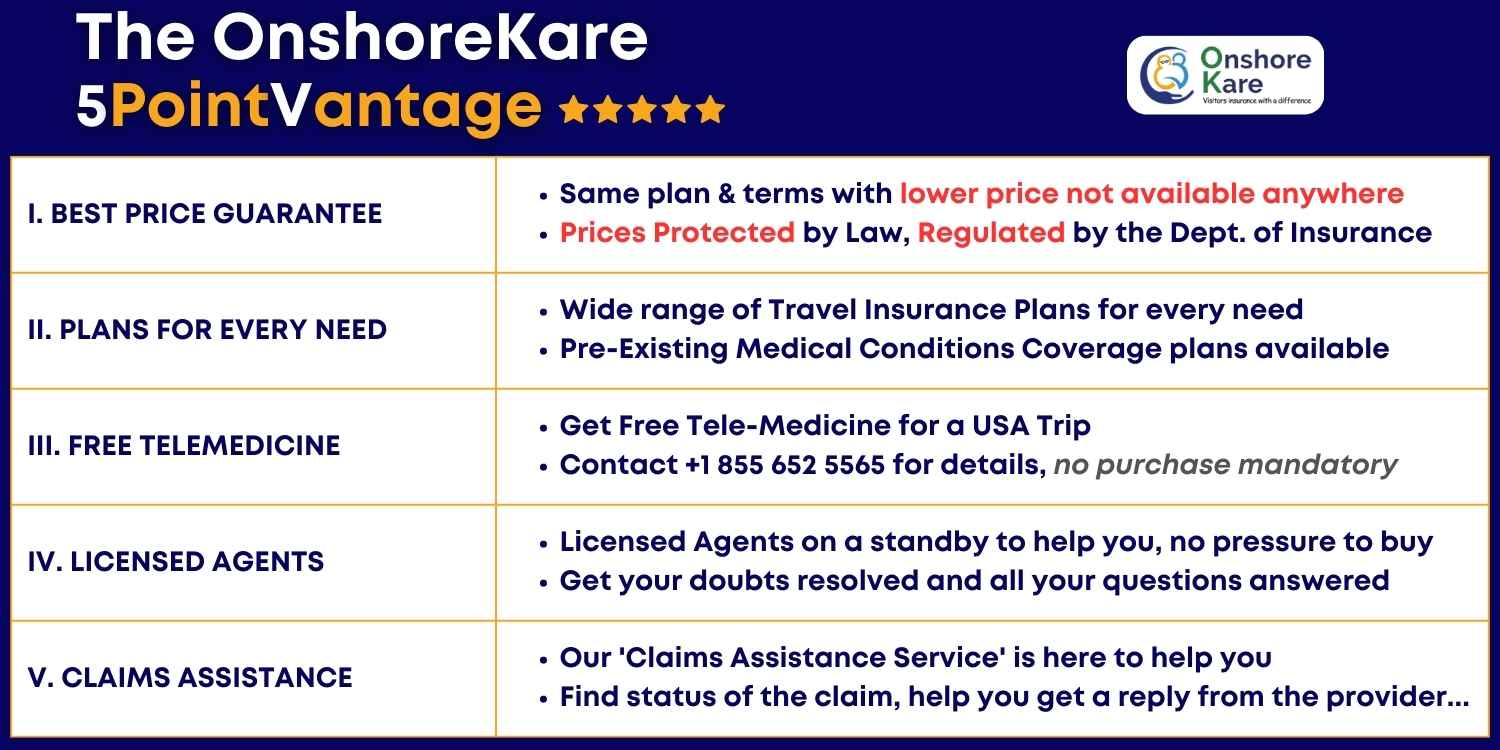 What is a Pre-Existing Medical Condition?
According to the U.S. Department of Health & Human Services, "pre-existing medical condition is a health problem you had before the date that new health coverage starts." A health problem can be an injury, illness, sickness, disease, other physical, medical, or mental condition, disorder, or ailment. 
The condition is that the health problem existed at the time of buying the insurance. Most travel insurance policies do not cover pre-existing medical conditions. Many travel medical insurance policies do cover the acute onset of a pre-existing condition. 
How is a Pre-Existing Condition different from an Acute Onset of a Pre-Existing Condition? 
An acute onset is defined as a sudden and severe health problem related to a pre-existing condition. To be classified as acute onset, the health problem must occur without advance warning, which should be confirmed by a physician. 
The criteria for acute onset of a pre-existing condition varies depending on the insurance provider and insurance plan. 
In order for a health problem to be considered an acute onset of a pre-existing condition, it must meet the criteria set by the specific insurance policy. 
Diabetic policyholder:
If a policyholder is diabetic and is on insulin before the effective policy date, insulin will not be covered. However, suppose the diabetic policyholder were to require immediate medical attention that includes glucagon injection due to a health problem such as a state of severe hypoglycemia, commonly known as a diabetic shock. In that case, it should be covered under the criteria of an acute onset of a pre-existing condition. 
Asthmatic policyholder:
If a policyholder is asthmatic and is on some form of medication for regular use, let's say a bronchodilator. This will not be covered, but if the asthmatic policyholder has an asthmatic attack and needs immediate intervention/and hospitalization, it might meet the criteria to be qualified as an acute onset of a pre-existing condition. 
My father has just had a heart attack. Will he be covered under the Acute Onset of a Pre-Existing Condition? 
A heart attack may or may not be covered under the acute onset of a pre-existing condition. The physician's report will determine if it is considered a pre-existing condition or not.
Keep in mind that travel insurance policies are designed to provide coverage for emergencies, new sicknesses or injuries, accidents, or any severe medical episode that may require medical intervention and/or hospitalization while you are a visitor in a country.
However, even if your parents have a Pre-Existing Medical Condition, Travel Medical Insurance can help you and your parents enjoy a short trip to the United States without the added stress over medical expenses if there is an Acute Onset of Pre-Existing Condition. 
If your parents are visiting the USA and plan to stay for more than 90 days then you may want to consider buying Travel Insurance covering Pre-Existing Conditions.
Best Travel Insurance Plans that cover Acute Onset of a Pre-Existing Condition:
Also Read: Comparison of Atlas America vs Patriot America Plus vs Safe Travels USA Comprehensive.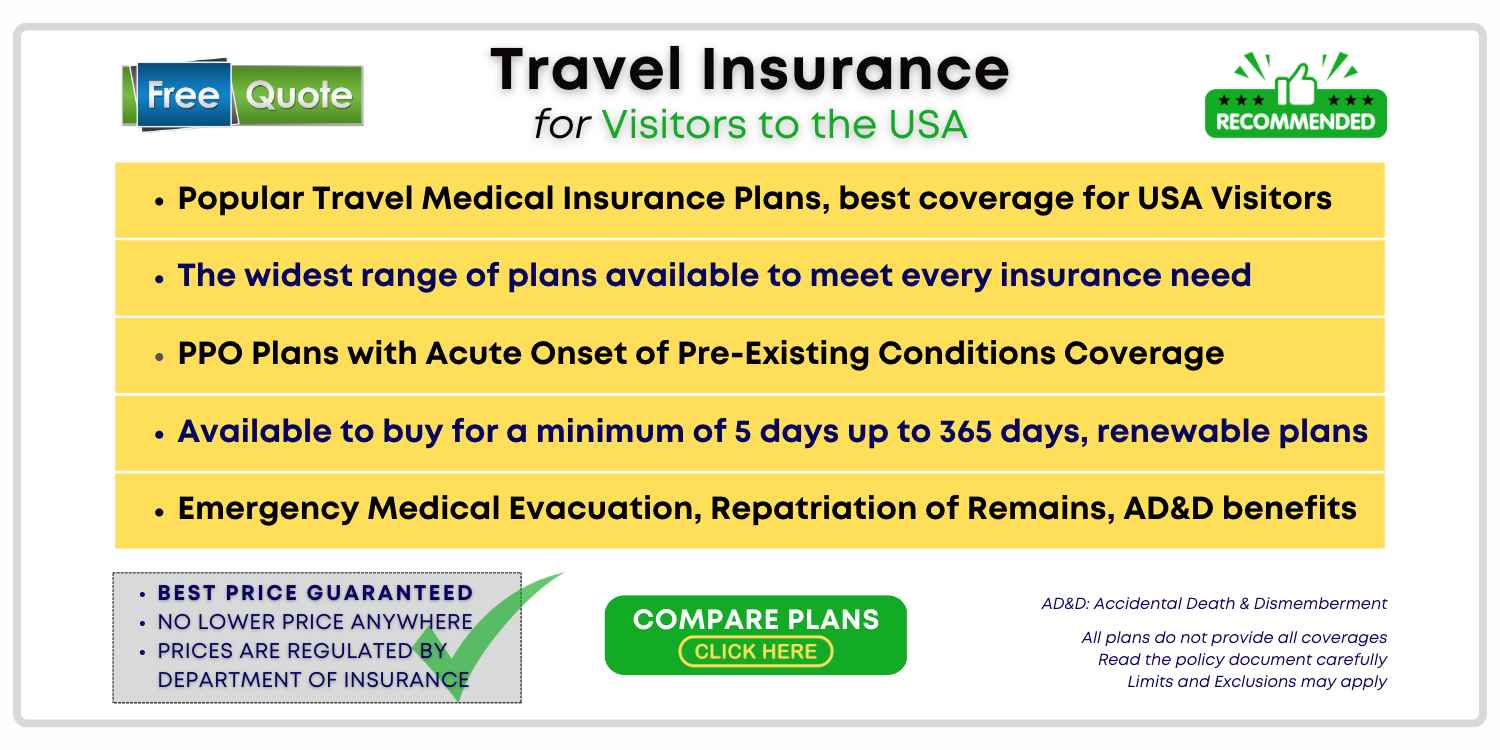 Also Read: Complete Review of INF Travel Insurance
Choosing a travel medical insurance plan that caters to your parent's specific needs is crucial if your parents are traveling to the US.
Comparing plans side by side can help you surmise the features or exclusions you need and require the most. These requirements vary based on different destinations within the US, the ages of travelers, and pre-existing medical conditions. Performing some research will save you money in the long run. 
The key to finding medical coverage best suited for your parents begins with making an honest assessment of whether or not they have any type of underlying illness, injury, disability, chronic illness/disease/condition, etc. that requires ongoing treatment (more than eight weeks per year) that may not be available overseas or at certain locations during their vacation.
Some people underestimate the distance of their coverage treatment available overseas. But, it's always better to err on the side of caution when planning a trip to the United States by securing top-notch medical coverage. There is a hidden cost to buying the cheapest medical insurance plan.
Plan premiums, deductibles, and coverage details must be carefully compared. 
How do I choose between the different Travelers Insurance plans offered?
It's important to understand that all plans are not created equal, and policies may differ drastically from one insurer to another. If your parents have a chronic condition or pre-existing condition, you need to compare your options carefully. 
Some companies will exclude coverage for certain ailments altogether, while others might let you add coverage after purchase but charge extra for it. Some other points to consider are: 
What medical tests do they cover? 

Will they help arrange appointments with US doctors? 

Are there deductibles or copays? 

Are there any differences between claims made overseas and claims made in your home country? 

Are prescription drugs covered under every plan offered by an insurer, or does each company use its own rules/formulary to determine which medicines are included under its plan(s)? 
Sounds confusing? Get simple and hassle-free quotes from OnshoreKare now.
Is Emergency Medical Evacuation covered in my Parent's Travel Medical Insurance Policy?
To be covered by a travel medical insurance policy under emergency evacuation, there are a few standard conditions the policyholders need to meet. 
The two most important ones are: having a current medical certificate and an eligible destination within the US. Additionally, some destinations may require an additional risk assessment since they are deemed more harmful to the policyholder's health than others. 
Currently, a medical certificate is not mandatory to buy travel medical insurance. However, when you file a claim, the doctor who treated your parents has the final word on whether it was a new condition or linked to a pre-existing condition. Then depending on what their plan coverage includes what the insurance company will consider for claims.
Emergency evacuation is medically necessary to save the policyholder's life or prevent permanent disability. The Emergency Evacuation definition may vary by plan; please refer to the specific plan's terms and conditions to determine what is covered. 
Many insurance companies define emergency evacuation as air, land, or sea medical transportation service that provides you access to a Level 1 trauma facility within 24 hours of being injured. 
This means that if your parents are already hospitalized when they need to be evacuated, it will not be considered an emergency evacuation.
While a medical evacuation is not necessarily a covered expense by all policies, some do cover up to $50,000 or more in medical evacuations per trip – which could make a huge difference. Look for plans that provide coverage for medical evacuations after an emergency occurs overseas.
With travel medical insurance, if evacuation is required, policies will pay up to $50,000 (typically) toward transportation expenses. This includes land ambulances and air ambulances. However, it is critical to know that it does not cover air evacuation, as the expenses typically run upwards of $30,000 and can exceed $100,000.
Conclusion
Travel Insurance for Parents with pre-existing medical conditions should be purchased before traveling from India to the United States of America. The peace of mind of knowing your parents are protected if there is an acute onset of a pre-existing condition is invaluable.
There are many benefits to purchasing coverage before leaving India, including saving time and money. If you know your parent's current health status, secure coverage right away before their next travel plan. 
The most significant advantage is that the coverage starts the moment their flight takes off. Any incidents (coverage as stated in the plan) during the flight or at stop-overs will also be eligible for claims.
Remember, healthcare is expensive in the U.S. an ambulance ride for a few minutes may even cost you upwards of $3000. 
Find out if any of your parent's medications are considered controlled substances in the US; it may be impossible to refill their medication in the US or be extremely expensive to refill while they are on a long trip.