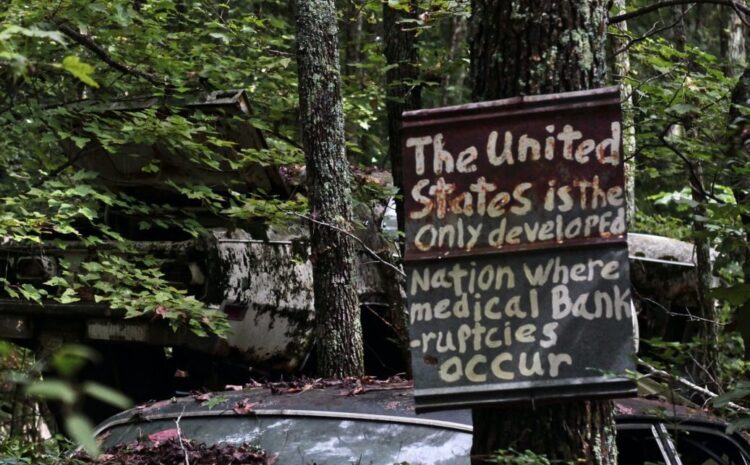 Complete Guide on Buying USA Travel Medical Insurance
You might have heard the phrase, "The American healthcare system is broken". 
To be fair, the ongoing covid-19 pandemic has made us all realize that there is not a single healthcare system in the world that can't break.
When it comes to the United States, there is no universal healthcare, which means the U.S. government does not provide healthcare benefits to its own citizens let alone visitors to the country. 
Contrary to popular belief, the U.S. spends more on healthcare, than any other country in the world, including Switzerland.
Switzerland has the best universal healthcare system in the world regulated by the Swiss Federal Law on Health Insurance. 
What does the current American healthcare system mean for visitors? 
For any use of any healthcare facility in the US, one has to pay for it. Be it citizens, refugees, or visitors needing medical treatment or access to even basic healthcare services.

If you have the money or

a good medical insurance plan

, you have access to one of the best healthcare facilities in the world.

If you have a medical emergency without proper insurance, you will most likely be taken care of by the emergency services, but you will end up with a huge bill.

According to

U.S. government estimates

, if you break your leg, you could end up with a bill of $7,500 or $30,000, if you need to stay in the hospital for three days.

A new study published in American Journal of Public Health found that 66.5 percent of all bankruptcies in the US were tied to medical issues.
In addition to masks, sanitizers, and gifts for friends and family, a good Travel Medical Insurance plan should be part of your travel checklist. Insurance for USA with the best coverage limit should be on the top of your agenda when planning your trip.
Best travel medical insurance plan for visitors in the U.S. 
There is no one-size-fits-all when it comes to Visitors Insurance. Travel Medical Insurance provides coverage against unexpected medical risks during your stay in the US.
There are travel insurance plans that provide good medical coverage and health insurance benefit and there are plans that provide good trip cancellation insurance to provide you a cover for trip costs including lost luggage, flight delays, and flight cancellation that all add to your trip cost.
When you are traveling with your family members your trip expenses are high and you need to have visitor insurance to cover any medical emergencies.
Hence look for a travel health insurance plan with high medical coverage and if you have senior members traveling then preventative options for pre existing conditions with emergency medical evacuation in a foreign country.
Typically, medical risks covered by travel health insurance include, but are not limited to:
Physician consultation

Hospitalization

Ambulance services 

Emergency room 

Prescription drugs

Laboratory tests such as X-rays, CT Scan, MRI, etc 

Surgical procedures

Emergency medical evacuation
Naturally, the best visitor insurance would be the one that is tailored to your needs. Ask for quotes tailored to your needs and compare. 
Here are 5 factors you should consider while evaluating your travel medical insurance plan for travelers visiting the US:
Type of Travel Insurance Plans
There are predominately two types of visitor insurance, namely:
Fixed Coverage or Limited Coverage travel insurance plan
Comprehensive Coverage travel insurance plan
The clear difference between the two is 'medical insurance cover'.
Coverage in travel insurance refers to the amount of risk, liability, or potential loss that is protected by the specific international travel insurance plan.
And basic economics tells us that the higher the risk, the higher the cost, and vice-versa. Comprehensive travel insurance is better than a fixed coverage plan from medical costs and how much the insurance company pays.
So if you purchase insurance with a fixed coverage / limited coverage travel insurance plan is a low-cost option but has low coverage meaning it will cover fewer risks/ risk amounts.
If you purchase insurance with Comprehensive travel insurance coverage, this travel medical insurance is a premium option but it has high coverage.
In the event of a medical emergency, the likelihood that you will have to pay from your own pocket because you have crossed the medical coverage limit is higher in the case of fixed/limited travel insurance.
Type of Healthcare Network
There are different types of networks for healthcare services in the U.S.
Health Maintenance Organization (HMO)
Exclusive Provider Organization (EPO)
Point of Service (POS)
Preferred Provider Organization (PPO)
The travel insurance plans essentially determine the cost and access of healthcare service providers i.e. doctors, hospitals, pharmacies, among others, through three conditions:
Restrict your medical provider choices
Charge you a higher cost for providers outside the plan's network
Pay less or offer full coverage for cost using providers within the plan's network
In general, the healthcare plan network applicable to Visitors Insurance is the PPO network. As the name suggests, the PPO network is a network of participating hospitals, doctors, and other medical service providers.
PPO plans typically provide out-of-network coverage but at an additional cost. Please note that the health insurance from your home country is not likely to be within the network.
So when you are buying Travel Medical Insurance, make sure you choose a plan that is part of a popular PPO network such as United HealthCare and First Health Network.
This will ensure you can take advantage of all the plan benefits and reduce your out-of-pocket expenses through network-negotiated fees, which are typically lower than their regular fees.
Tip: Mention your PPO network when you use any of the healthcare services. 

Cost of the Insurance Plan
Before we compare the cost of health insurance plans, let's understand what constitutes the cost.
Premium is often weighted as the cost of a health insurance plan. The premium of your insurance plan will depend on multiple factors such as the age of the visitor, duration of coverage, coverage amount, and type of plan, among other things.
Here is the catch: if you need medical services, health insurance plans with a lower premium would mean lower coverage. So you need to pay a huge cost even for minor events.
Remember there is no such thing as minor expenses when it comes to healthcare costs in the U.S. – a short ambulance ride can cost upwards of $1,000 and occasionally even reach $2,000 or more.
When choosing a travel insurance plan, we recommend thinking about the cost of the insurance plan in line with the overall healthcare cost including out-of-pocket expenses, not just the premium.
A deductible is an out-of-pocket expense that you have to pay before the insurance company starts paying for your medical expenses. For Travel Medical Insurance plans, there is generally no concept of copay, so deductible is the only out-of-pocket expense that is at your discretion.
Different Travel Medical Insurance plans offer multiple deductible options. The rule of thumb is:
Lower Deductible = Higher Premium
Higher Deductible = Lower Premium
Using this thumb rule and depending on your comfort level, it is recommended that you buy a plan with a higher premium. You should choose a plan with a lower deductible if you would like to be covered early and even for minor expenses.
Alternatively, if you choose a plan with a low premium and high deductible you risk paying a lot on out-of-pocket expenses.
Claims Process of the Insurance Plan
Travel Medical Insurance is one product that we purchase hoping we never have the need to use it.
However, if we do use it, we need to understand the claim process to ensure hassle-free claim filing and reimbursement of medical expenses in the shortest time possible.
After using your Travel Medical Insurance, the healthcare provider can bill you in three different ways:
Bill you in person & take the payment from you at the medical facility
Send the medical bill to you after you have been discharged
Direct billing, also known as direct pay, is when your healthcare provider bills the insurance company directly
Billing is at the discretion of the healthcare providers. Regardless of the billing process, filing for a claim is mandatory, even in the case of direct billing.
You need to report and file claims with your insurance provider, usually within 90 days of taking the services. Filing a claim is the only way the insurance provider can reimburse you for the cost incurred.
Insurance claims still function on a legacy system, so make sure you have hard copies of your documents:
Copy of your insurance ID card of the insured that you can use at the hospital
Completed claim form with copies of required documents such as passport
Copies of your medical bills and receipts need to be submitted to your insurance provider as soon as possible
While buying a visitor insurance plan, read the fine print to understand the claim process, turnaround time, and if your preferred payout method is included.
Tip: If your claim gets rejected, you have the option to contest and appeal. 
The claim process, PPO network, and the policy benefits are highly dependent on the quality of the insurance providers. Here are the top travel medical insurance providers with a good standing:
* All the Companies are not listed in any specific order
How to Purchase Travel Insurance
Purchasing travel insurance can be a time-consuming affair if you add it to all the other transportation bookings you need to make for you and your family members.
Add to it, so many travel insurance companies offer multiple visitor insurance policies.
We recommend that you use a travel insurance marketplace where you get information and the ability to generate a quote, compare plans and purchase travel insurance at a click.
We recommend purchasing insurance with comprehensive coverage and depending on the plan add top-up as per need if offered and not already covered in the travel insurance plan, like accident coverage, emergency evacuation coverage, covid coverage, emergency medical transportation like an ambulance, acute onset of pre existing conditions.
Always read the details in the insurance policies before you purchase insurance, your travel insurance cover may provide extra coverage or no coverage.
Look for plans that also offer trip insurance when traveling abroad. Trip interruption coverage, trip cancellation coverage, lost luggage, accidental death cover, emergency evacuation, the trip insurance should apply when you start from your home country.
Bottom Line
If you or your loved ones are visiting the U.S., you should consider buying a travel medical insurance plan for their temporary stay, no matter how healthy they are or how short their stay is.
The main factors to consider are:
Types of insurance plans,
Types of healthcare networks,
Premiums & coverages, and
Deductibles & Out-of-Pocket expenses.
Before you buy Travel Insurance, make sure you read the fine print to understand the claim process, and which PPO network your insurance plan will belong to.
What kind of hospital costs are covered, how much coverage is offered, covid coverage offered or not, what kind of medical care and medical facility you can use if the acute onset of a pre existing condition is addressed.
If you are considering buying travel insurance for your parents visiting you ensure that insurance for the USA is effective before they leave their home country.
This way their trip cost and medical coverage and medical benefits start before they board a flight, this ensures that if they need any emergency medical care during their journey or at a stop-over in a foreign country, the travel insurance coverage can help them.
Remember medical emergencies come unannounced and the need for medical care and medical facilities can be immediate and this can add a huge out-of-pocket to trip expenses if you dont have travel insurance.