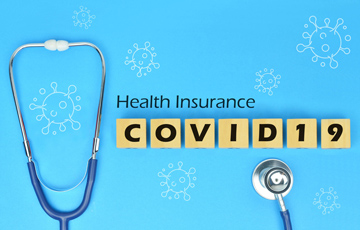 Is travel medical insurance important in the COVID pandemic?
Mr. Vikram and his wife have recently planned to travel to the U.S. to meet their son and his family. Their son settled in New Jersey 4 years ago, and since then, they have been unable to meet. While their son had been busy with his new job and home, Mr. Vikram wanted to make the most of his last few years before retirement. After retirement, he finally has an abundance of extra time on his hands.
After planning with assiduousness and consideration, Mr. Vikram has a lingering thought that will not go away. He has never taken such a long journey and is ruminating about the possible travel medical insurance plans. Being 60 years old with a history of cardiovascular disease and a 58-year-old travel companion, finding an appropriate policy is a little perplexing for him. To add to his worry, it looks like that the coronavirus is here to stay. Mrs. Vikram is worried about contracting the virus more than anything else. It is established through observation and research that the risk for severe illness with COVID-19 increases with age, with older adults at the highest risk. All this is making Mrs. Vikram concerned, and she has asked Mr. Vikram to delay the trip. But for how long? There are myriads of couples out there who share the same story. The pandemic has disrupted the logistics of traveling, and now is the time to purchase medical travel insurance more than ever. How will travel medical insurance help the Vikrams in this situation?
Below is a meticulous review of what international travel medical insurance includes, what are its restrictions, and what are some of the best policies for people visiting the USA.
Why Is Travel Medical Insurance Important And What Does It Include?
COVID-19 became a part of our lives a year ago. Since then, it has disrupted our lives in many ways, including how we travel. Although travel medical insurance is an essential part of international traveling, its importance has multiplied since the coronavirus outbreak. The case study of the Vikrams provides just one instance of why travel medical insurance might be necessary. Having proper travel insurance can save you from many setbacks during your trip. Although the U.S. has exceptional medical services, it also has the highest healthcare expenses. Without proper travel medical insurance, paying for medical expenses from their pockets is unmanageable for most people. As a result, adding travel medical insurance to your packing list is essential to help you recoup medical expenses. Coronavirus can affect anyone irrespective of age, gender, and ethnicity. Although, older adults, like any other disease, are also more prone to experience heightened and more severe symptoms of COVID-19. Due to this, travel medical insurance with COVID-19 protection is imperative for your health and safety.
Travel medical insurance with coronavirus coverage includes coverage for COVID-19 like any other medical condition.Covid-19 travel medical insurance benefits typically include:
COVID Testing: if you start experiencing coronavirus symptoms while on your trip, your travel medical insurance plan will cover the necessary testing required for diagnosis.
Covid-19 Treatment: insurance plan covering COVID-19 will also cover treatment if you contract the virus while on your trip.
Emergency Medical Expenses: medical expenses are considerably higher in the U.S. and it is unlikely that your health insurance (if you have any) will cover you if you are outside your home country. Travel medical insurance provides emergency medical expenses should you get ill or injured during your trip.
Medical Evacuation and Repatriation of Remains Coverage: An emergency medical evacuation benefit can cover the cost of transporting you to the nearest hospital or the one best suited for you. In cases resulting in death,repatriation of remains benefit can cover the cost of transporting your body back to your home country. Similarly, a local burial or cremation benefit can provide for your burial or cremation if required.
Supplemental Travel Benefits: depending on the plan you choose, your travel medical policy may also include benefits for trip interruption, loss of luggage, passport or wallet, and travel delay due to COVID-related (travel ban, lockdown) or any other reason.
Transportation Coverages Due to Medical Emergency: Your travel medical policy may cover the cost of transporting a family member to your side if you become hospitalized. Similarly, your policy may provide coverage for the safe return home of your children or travel companion.
Accidental Death and Dismemberment (AD&D): As the name suggests, AD&D insurance provides coverage for death due to an accident. It generally also pays if you lose a limb or a function such as a sight, hearing, or speech in an accident.
Not all travel medical insurance policies include the points mentioned above. Depending upon the policy you purchase, it might comprise all or some of the above-mentioned benefits. However, most policies have the option of upgrading with extra charges.
What Are Some of the Exclusions?
Certain types of medical expenses are not included in most travel medical policies. Here are some of the most frequent exclusions to keep in mind:
Onset of pre-existing conditions
Routine medical examinations and care (i.e. wellness exams, ongoing prescriptions, etc.)
Routine prenatal, pregnancy, childbirth, and post-natal care
Medical expenses for injury or illness resulting from participation in some extreme sports
Medical expenses related to any form of cancer or neoplasm
Mental health treatment
Injury due in whole or in part to the effects of intoxication or drugs (this does not refer to drugs taken following the treatment prescribed by a physician)
As mentioned earlier, not all policies have these exclusions, and you can add some of these benefits through upgrading. Some companies have the option to upgrade your plan to include COVID-19 if you purchased the policy before the pandemic was made official. Be sure to read the complete description of coverage for your desired plan to verify that it includes COVID-19 coverage.
What Are Some Of The Best Travel Medical Insurance Plans Covering COVID-19?
Many countries have lifted travel bans placed earlier; however, they have made travel medical insurance with COVID-29 coverage a prerequisite. To help our esteemed clients, we have prepared a brief list of plans with COVID-19 cover for you. For couples like the Vikrams, Trawick International provides travel medical insurance to protect you and your loved ones. All the policies offered by Trawick International travel insurance cover COVID-19. Through Trawick International COVID travel insurance, you get the maximum coverage (up to $1 million) for COVID-19 and other illnesses. You also get a visa letter confirming your travel insurance with COVID-19 coverage.
Trawick International provides four plans that cover COVID-19:
Safe Travel USA Comprehensive
Safe Travel Cost saver
Safe Travels USA
Safe Travels for Visitors to the USA Insurance
The main difference between these policies is that Safe Travels for Visitors to the USA Insurance and Safe Travels USA Comprehensive provide coverage for acute onset of pre-existing conditions, including cardiac diseases. The amount of coverage varies with the age of the policy-holder. All four provide coverage for dental, athletic sports injury, lost baggage, and trip interruption, otherwise not included in many travel medical insurance policies. The plans are available for a minimum of five days for up to 12 months. These policies can be renewed for up to 2 years.
All plans provide you with protection if you become ill with COVID-19. This is in addition to covering other illnesses and injuries that occur while traveling outside your home country. While you are spending thousands of dollars in planning the trip, buying tickets and presents for your loved ones, it only makes sense that you purchase a travel medical insurance policy as well. For couples like the Vikrams, Trawick Trawick International's Safe Travel USA Comprehensive is bound to provide maximum coverage for COVID-19 and other illnesses.
International Medical Group (IMG) is also providing two plans with COVID-19 coverage:
Patriot America Plus
Patriot Platinum insurance
Both policies provide COVID coverage up to the policy maximum limit; $50,000 to $1,000,000 for Patriot America Plus and $2,000,000 to $8,000,000 for Patriot Platinum Insurance. The plans include medical illness (including COVID-19) coverage for up to the maximum limit, political evacuation & repatriation, natural disaster evacuation, return of minor children, and return of mortal remains or cremation/burial with other benefits. You can customize your plan to include trip interruption, lost luggage, dental benefits, sports injury coverage, AD&D, and other benefits.
Onshorekare also provides plans that cover COVID-19 by Tokio Marine HCC and INF. You can view and compare all the policies by visiting our website Onshorekare.com If you have any queries or require further assistance, feel free to get in touch with us at 855-OKALLOK / 855-652-5565 or email us at info@onshorekare.com