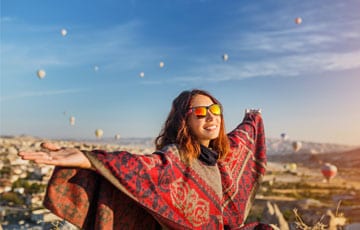 Explore California – The Golden State of USA
There's more to California than just movie stars and Disneyland.
This State boasts many stunning natural attractions like pristine beaches, bone-dry deserts, gushing waterfalls and majestic monuments and is also home to many exciting cities, towns, and wineries.
Eager to visit the Golden State? Here are a few offbeat places in California which will guarantee an unusual experience.
1. Glass Beach – Fort Bragg, California.
Rumor has it that when a sailor is lost at sea, the mermaids cry brilliant sea glass tears that are washed ashore. Of course, this is just a rumor but that does not change the fact that it is an unusually beautiful beach. This beach gets its name from the smooth colorful glass pieces that you can find mixed with the pebbles on the beach. With activities like Hiking, Tidepooling, and Beachcombing, this beach is a must visit for a fun Californian exploration.
2. Idle Hour – Los Angeles, California.
The perfect combination of modern and classical style!
This restaurant in LA is certainly a unique structure. With the main building shaped like a keg and a beautiful beer garden patio, this is a relaxing place to unwind at the end of the day.
3. Malibu Hindu Temple – Malibu, California.
With just one look you can tell how intricate the architecture of this temple is. Situated in a pristine valley with a pleasant breeze, this temple radiates peaceful vibes. You will not see many temples like this in the US as this temple is dedicated to many Hindu deities like Balaji, Shiva, Ganesh, etc.
Keep this temple in your travel checklist as you wouldn't want to miss this spiritual embrace.
4. Cable car rides – San Francisco
A trip to California is incomplete without riding the cable cars. Hop on a cable car and pass by local attractions like Chinatown and Lombard Street. Riding these old historic cars will take you back in time and that is something you should not miss.
5. Methuselah Tree – Big Pine, California.
Did you know a 4,800-year-old ancient tree grows high in the White Mountains of eastern California?
Named after the Biblical figure that lived for 969 years, Methuselah is a Bristlecone Pine which is the second oldest tree in the world. This is nature's mighty wonder that you cannot miss.
6. Redwood National Park – California.
Redwood National Park is one of the World Heritage Sites and an International Biosphere Reserve which protects nearly half of the world's old redwoods. You can walk, bike, camp and even ride a horse along the parks 200-mile trail. Home of the world's tallest trees, you can also spot whales, seals, and seasonal wildflowers along the park's forests, hills, rivers, and coastlines.
7. Point Reyes National Seashore – California
Home to many cultures over thousands of years, Point Reyes National Seashore preserves a tapestry of stories. This place is a natural sanctuary as it sustains over 1500 species of plants and animals like Tule Elks and Elephant Seals. With activities like kayaking, hiking, camping, and visiting the lighthouse, this place is a gem.
8. Yosemite National Park – California
Yosemite National Park is one of America's most popular parks which boasts some of the most scenic views, hiking trails, and family picnic spots. The valley is a 7-mile wide canyon with mighty rock formations like El Capitan, the world's tallest granite monolith and one of the world's top rock climbing destinations.
When you visit this park, you can spot the Black bear, Mule Deer, Foxes, and other mammals that can be found throughout the Yosemite Valley.
Vibrant cities, beaches, restaurants, and natural wonders like nowhere else on earth make California an interesting land of possibilities for travelers.
Planning a trip to the US? Definitely visit the Golden State.