Health insurance for OPT students
"Optional Practical Training," – OPT is a work permit that lets students on F-1 visas put what they've learned in the classroom to use practically on the job.
After students finish their degree program, they may be able to get up to 12 months or more (more for students from STEM) of optional practical training without needing to get an H-1B visa.
The eligibility and conditions related to pre-completion and post-completion OPT apply, you can read more about it here.
Students on OPT (optional practical training) are usually not eligible for the school's insurance plan, and your employer may not offer health insurance for international students.
Health insurance for opt students is designed keeping in mind the specific needs of a student on F-1visa and their insurance needs are a little different from those who are permanent residents in the USA or the ones who are working on employment visas or green card holders.
Read this article to understand more about health insurance for OPT students.
What is OPT Health Insurance?
The terms 'OPT insurance', 'OPT medical insurance', 'OPT health insurance' 'OPT student Insurance' all refer to health insurance for overseas students in the United States, who are on the Optional Practical Training (OPT) on their student visa i.e. F-1 visa.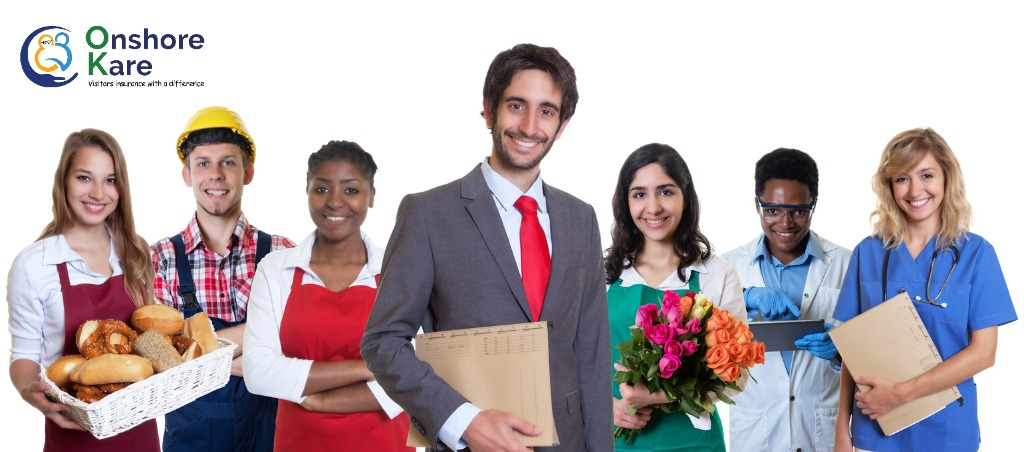 After completing their required coursework, international students in the STEM (Science, Technology, Engineering, and Math) education stream in the United States are granted OPT status, they have an option to extend this for 24 months taking the duration of OPT for up to three years
After completing their university education, international students in the United States who are not enrolled in STEM programs are normally granted OPT status for a year.
What is the purpose of OPT health insurance?
Healthcare expenditures in the United States are quite high, posing a severe financial danger to students, an illness or an accident might cause a medical emergency at any time.
It's a good idea to purchase health and accident insurance as soon as you get your OPT status. Purchase OPT health insurance to ensure a stress-free stay in the United States knowing that you have a cover for medical expenses.
Why should students on F-1 Visa purchase OPT insurance plans?
International students with the F-1 visa are eligible for optional practical training (OPT):
a 36-month internship for STEM students (Science, Technology, Engineering, Math)
a 12-month internship for non-STEM students. These students are no longer eligible for student insurance because they are no longer enrolled in university courses. Because international students are not US citizens nor permanent residents (Green Card holders), they are unable to purchase domestic insurance coverage.
Employer-sponsored OPT insurance option
Some employers may provide you with health insurance even if you are on OPT. But since you are still a temporary resident in the USA with no permanent work authorization or Green Card you need more than just coverage for medical expenses and treatment.
Health insurance for opt students is specifically designed plans for the needs of OPT students. Employer-provided medical insurance plans may not cover repatriation of the body to the home country, in case of a death.
God forbid if something unfortunate was to happen you need to have a provision for an eventuality like this.
When purchasing OPT medical insurance plans, keep in mind that the coverage has limitations. You are responsible for any charges that exceed the limit.
Do not assume that every medical situation will be covered regardless of the circumstances. Pay special attention to OPT medical insurance plans' "Exclusions and Limitations" section to understand what is not covered or has restricted coverage.
International Students insurance plans and OPT health insurance
When you get admission to a school/college your institution will guide you on international students' insurance plans, some make it mandatory to avail the plan provided by the institution while others allow you buy it from the open market.
Once you move to OPT health insurance since you no longer are mandated by the institution because you are now working and not studying, you need to pay special attention to your international student insurance.
Your insurance plan's medical coverage contains a maximum amount that it will pay. A deductible and a percentage of the amount that your insurance plan will cover are also included.
All health care in the United States is private, therefore if you don't have insurance, you'll be responsible for the entire medical costs.
International Student Insurance Plans for OPT Students
You may be considering purchasing health insurance as an OPT student and wondering are there OPT insurance plans?
There are health insurance plans that consider the specific needs of a student on OPT and include it in the plan details or provide an option to add on those features.
Emergency Medical Evacuation
You might be curious as to what emergency medical evacuation insurance is and why you might require it. If you are injured or sick and the nearest medical facility is unable to give the care you require, you may need emergency medical evacuation to be taken to a medical facility where you can receive the treatment you need.
Please do note that the acting physician and insurance company are responsible for determining if the transport is necessary. Travel to your native/home country is not guaranteed by emergency medical evacuation insurance.
Repatriation of Remains
Return of Mortal Remains or repatriation of remains is extremely important for students on OPT because they are temporary residents and need to plan for such eventualities.
This coverage pays for remains to be delivered to family/relatives back home in case of a death of the student. This part of an insurance plan takes care of the planning, logistics, and cost, so your family at home doesn't have to.
While purchasing health insurance be mindful of the above options to be included in your plan. You can purchase insurance for as little as a few days to as long as 2 or 3 years as International student insurance under OPT option.
How can Health Insurance benefit OPT Students?
Ensure you have the correct OPT student health insurance coverage.
1. Medical care – Medical expenses are covered by OPT student health insurance programs.
2. Emergency transportation – As part of the OPT student health insurance plan, emergency transportation is available to provide medical assistance.
3. Emergency medical care – This insurance covers you in the event of an unexpected injury.
4. Coverage of Covid-19 – Covid infections can be extremely dangerous to your health. Covid-19 is covered under the OPT student health insurance plan.
5. Alternative domestic insurance – International students are unable to enroll in domestic insurance policies. Student health insurance policies are good alternatives.
How should OPT students select health insurance?
The cost of OPT student health insurance is determined by several criteria, including your age, the number of days you need coverage, the policy limit, and the deductible option you select.
Keep the following in mind:
Age: The cost of insurance is proportional to one's age. Your insurance premium will rise as you get older.
Policy Maximum: What is the best policy maximum to choose? It's difficult to know how much is sufficient. Before deciding on your policy limit, you should consider the premium you are comfortable paying.
Provider Network: Provider networks will have an impact on how easy it is to obtain medical treatments. Staying in the network of the OPT student health insurance plan you choose will help with direct billing and securing negotiated pricing for medical treatments.
Deductible: Higher the deductible (out-of-pocket expense) lower the insurance premium and vice-versa
Is it mandatory to get health insurance while on OPT?
Many overseas students wonder if OPT students on F1 visas are required to obtain health insurance. If you are on Optional Practical Training, or OPT, status in the United States, student insurance is not mandatory.
The expense of healthcare in the United States is extremely high. Because OPT student health insurance is less expensive for younger students, it is recommended that you purchase good OPT student health insurance.
If your company provides health insurance, you do not need to purchase a separate plan while on OPT. If you don't have access to employer-sponsored health insurance, obtaining medical insurance will help you feel more at ease while in the US.
OPT students' best health insurance
Although it is critical to understand and select the best plan for you, the process of doing so can be overwhelming. OnshoreKare will offer you the assistance you require. Compare the best medical insurance policies for opt students and pick one that meets your needs and suits your budget.
Make sure you understand the coverage and restrictions of the different student health insurance plans before choosing one. The following may not be covered or have restrictions if covered by medical insurance plans for OPT students:
Pre-existing health conditions
Maternity coverage
Dental checkup
Eye care
Preventative medicine
Options for OPT Insurance Coverage Levels:
Student Secure plans from WorldTrips can be a good option with monthly payments and coverage that can be for up to 4 years of continous coverage, there are various options to select:
Platinum / Elite – This plan level provides the most extensive coverage and is considered to be the best. This is as excellent as it gets, with a maximum medical benefit of $500,000 and the best coverage after a deductible. Preexisting condition coverage begins after six months, and there are maternity and college sports perks.
Gold / Select – Coverage is still adequate. There is a maximum medical benefit of $300,00, with 80 percent coverage up to $5,000 after the deductible, and then 100 percent coverage up to the maximum amount. Preexisting condition coverage begins after six months, and maternity and college sports benefits are included.
Silver / Budget –  this is a highly cost-effective option. After a deductible, the maximum coverage of $250,000 kicks in. Up to $25,000 in coverage, there is 80% coverage, then 100% coverage up to the maximum medical benefit. Pre-existing conditions are covered after 12 months, while pregnancy and college sports are covered to some extent.
Bronze / Smart – This is the most cost-effective option. You pay 80% of the maximum coverage amount after the deductible with a $200,000 maximum benefit. Pre-existing conditions are only covered if they develop suddenly, and college sports and maternity are not covered.
Conclusion
Now that you have a better understanding of OPT health insurance and how to buy medical insurance for OPT students, always compare plans and read the fine print in policy documents. Best of luck with your research and selecting the best medical insurance for your needs.