Healthcare Costs in the US – How Much Does it Really Cost?
Healthcare costs in the US varies widely depending on several factors, including the type of care needed, insurance coverage, and location.
These costs can be significantly lower for individuals with health insurance coverage, as insurance typically covers a portion of the expenses.
You should consider buying USA Travel Medical Insurance. This will help keep your out-of-pocket health care spending to a minimum in case you need to avail of medical service during your trip.
Factors Determining Healthcare Cost in the U.S.
Many factors influence hospital pricing, including:
An individual's health status
The cost of lab testing, X-rays, etc
Surgical procedures, Operating room
Post-surgery expenditures
Prescription drugs, and
Doctors' and specialists' fees
Also, this depends on 2 more factors
You have health coverage
How much does a visit to a Doctor in the US Cost?
The cost depends if you just need initial consultation or do you need a specialist.
Initial Consultation, costs between $100 to $200
Visit to a specialist Doctor, Costs anywhere around $ 250 or more
What is the Cost of an Emergency Room visit in the US?
If you are unwell and need ambulance services to take you to the hospital for further treatment. The cost could be upwards of $500 to $1500 +
If you need further testing, you may be charged another $100-$500.
Medication and emergency room, ER visit another $150 – $20000 +
Urgent Care costs around $100-$500 +
If you need Air Ambulance, The cost could be way beyond $2000 – $200000+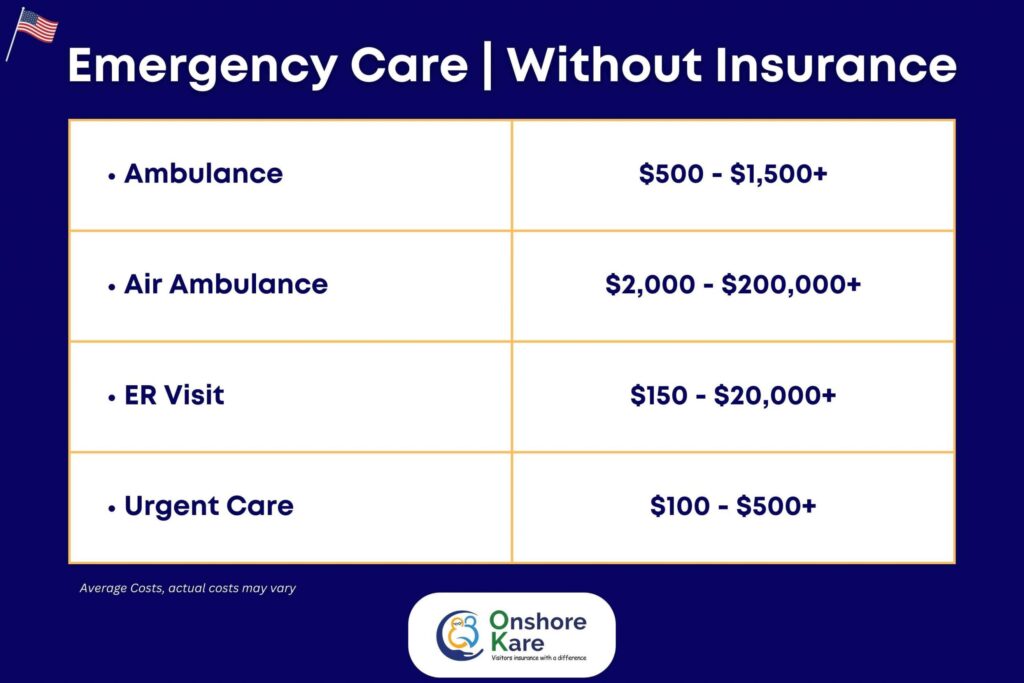 What is the Cost of Common Lab Tests in the US?
Common Lab Tests are important to diagnose your medical problems: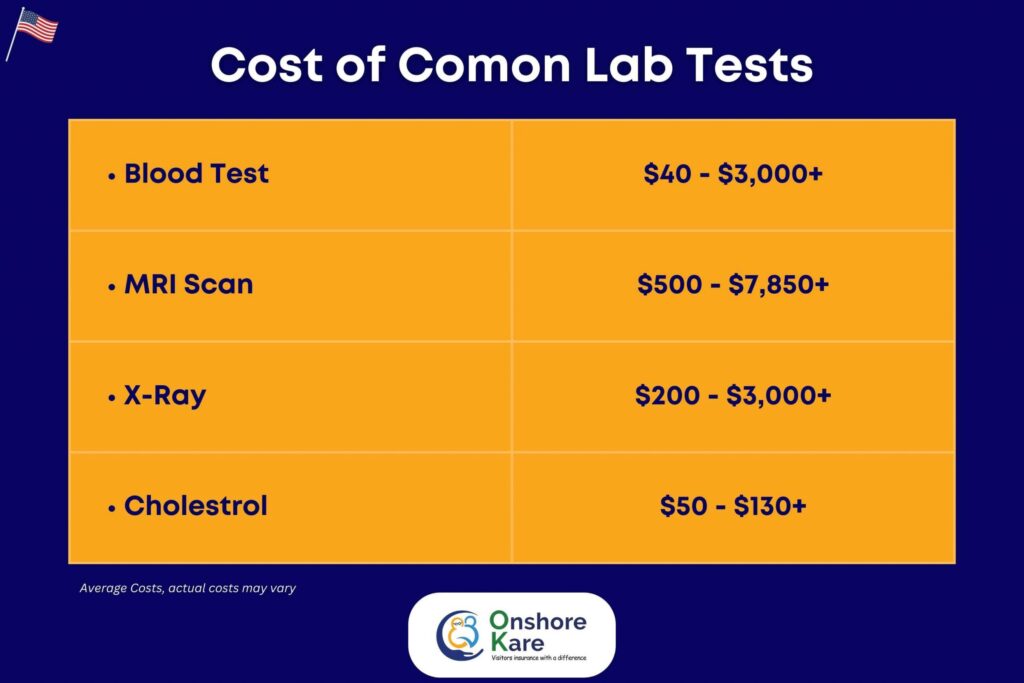 Depending on many factors/circumstances the cost of tests could vary.
A blood test could cost between $40 to $3000+
An X-ray could cost $200 to $3000+
An MRI scan could cost from $ 500 to $7850+
A cholesterol test can cost $ 50 to $ 130+ (Walk-In clinic)
A cholesterol test can cost $ 40 to $ 75+ (At home kit)
What is the Cost of Prescription Drugs in the US?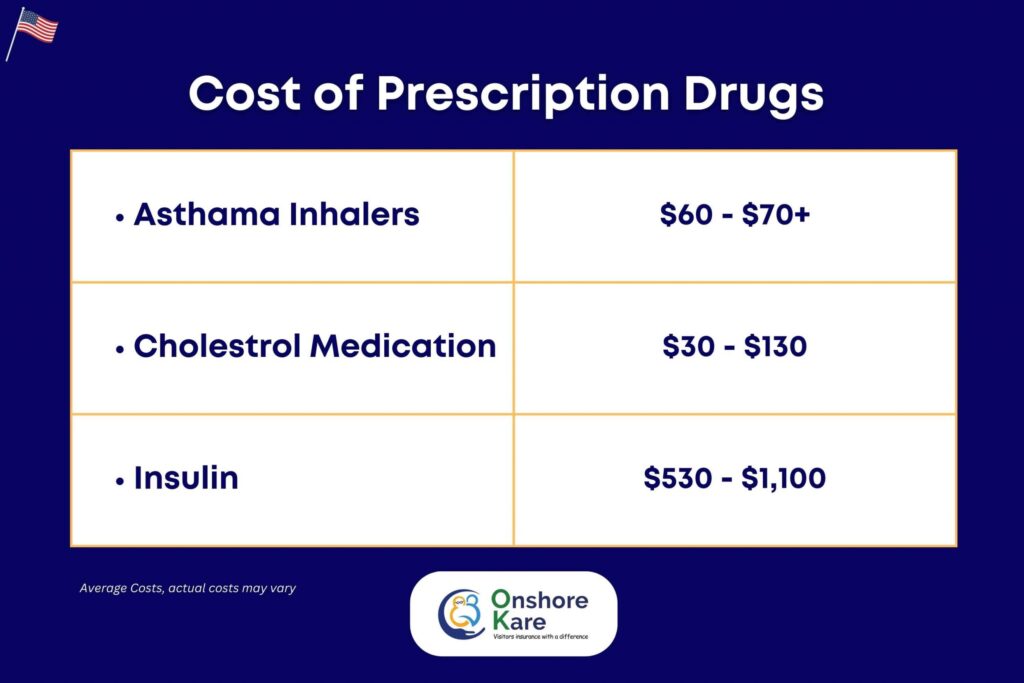 Asthma Inhalers Cost around $ 60 to $ 70+
Cholesterol Medication could cost $ 30 to $ 130
Insulin could cost around $530 to $1100
Visiting the USA?
Read Travelers Guide to taking Prescription Medicine into the US?
What is the Cost to have Surgery in the US?
Some average costs to have a Surgery in the US:
Cranial Lesion $50,000
Spleen removal $48,000
Heart Valve replacement $170,100
Spinal fusion can cost $110,000
Coronary artery bypass costs $21,500 to $254,000+
Gallbladder removal $ 8,000 to 54000 +
Angioplasty costs $ 28,200
Gastric Sleeve costs $16,750
Cornea costs $ 17,700
Cataract surgery could cost $ 330 to $ 12,000.
Appendectomy (A surgical operation to remove Appendix): between $1,800 to $82,000 +
Hysterectomy (Surgical operation to remove Uterus) Cost: between $ 8,700 to $ 16,000 +
These are average rates and may vary
You also need to consider the following associated costs, which add up to your medical bill.
Surgeons Fee
Anesthesia
Operating room (Per-hour-Costs)
Hospitalization Costs before surgery
Hospitalization Costs after surgery
Anti-rejection medications
Visits with the surgeon
Here are some common ER visits with average costs.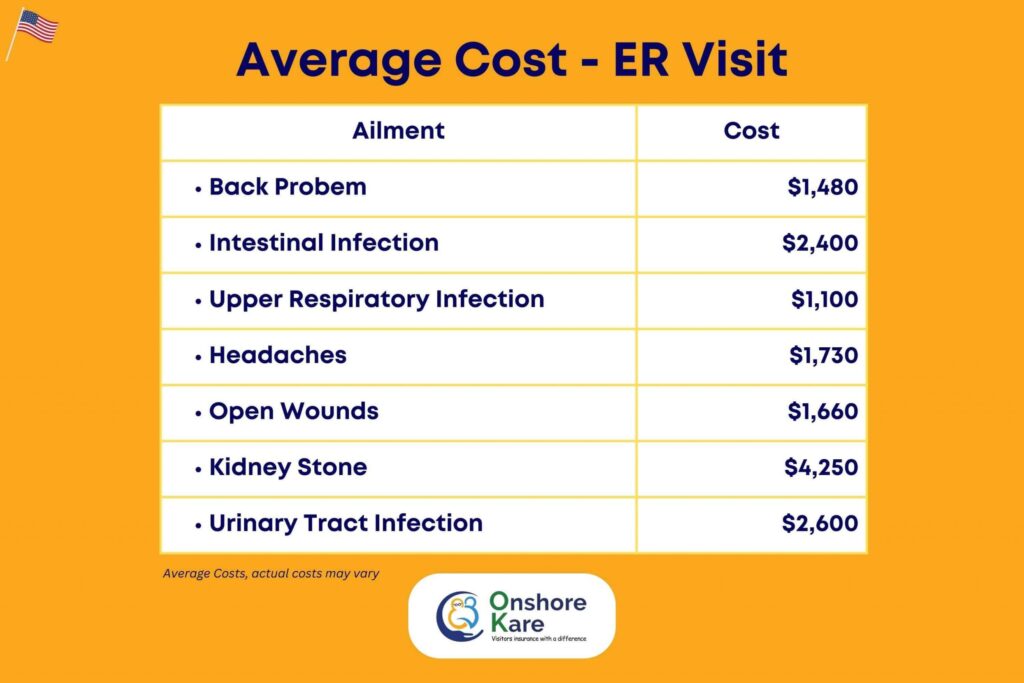 In the U.S. the average length of hospital stay is 5.5 Days
Note the cost of Elective surgeries in the US is higher than in other countries.
Cost of Sprain or Broken Bone.
If surgery is not needed then a sprain or a broken ankle could cost less than if surgery is needed.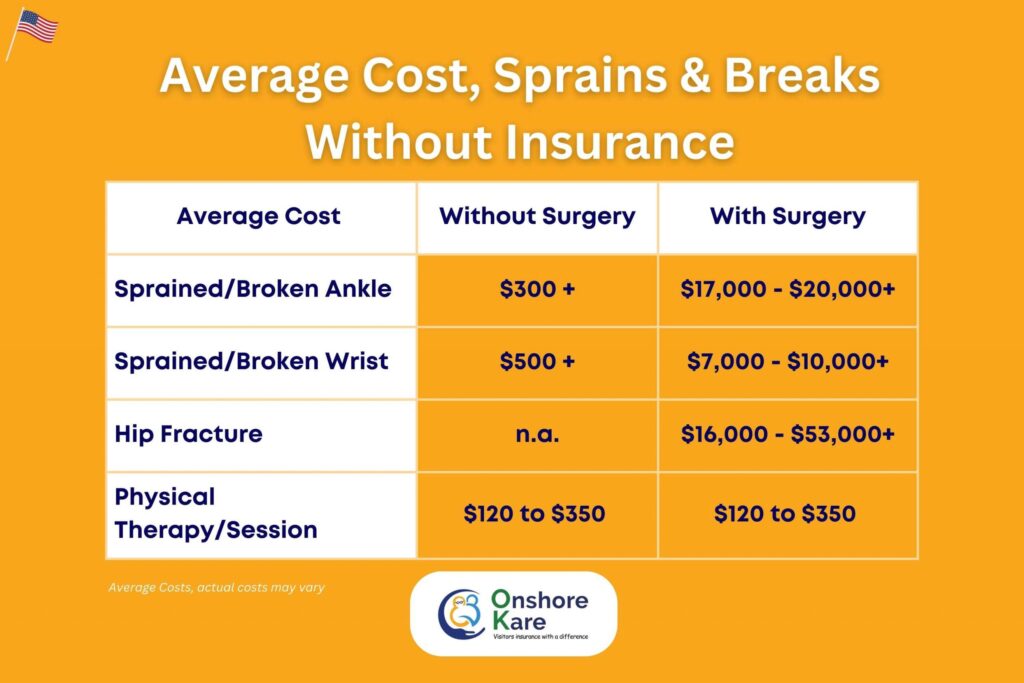 A sprained ankle could cost around $300 with surgery it could be $17,000 to $20,000+
A sprained wrist could cost around $500 with surgery it could be $7,000 to $10,000+
A hip fracture could cost around $ 16,000 to $ 53,000+
Depending on your injury, you will need physical therapy, Per session can cost you $120 to $350.
Cost of Cancer Treatment in the US.
It is one of the costliest treatments and comes at a very high cost.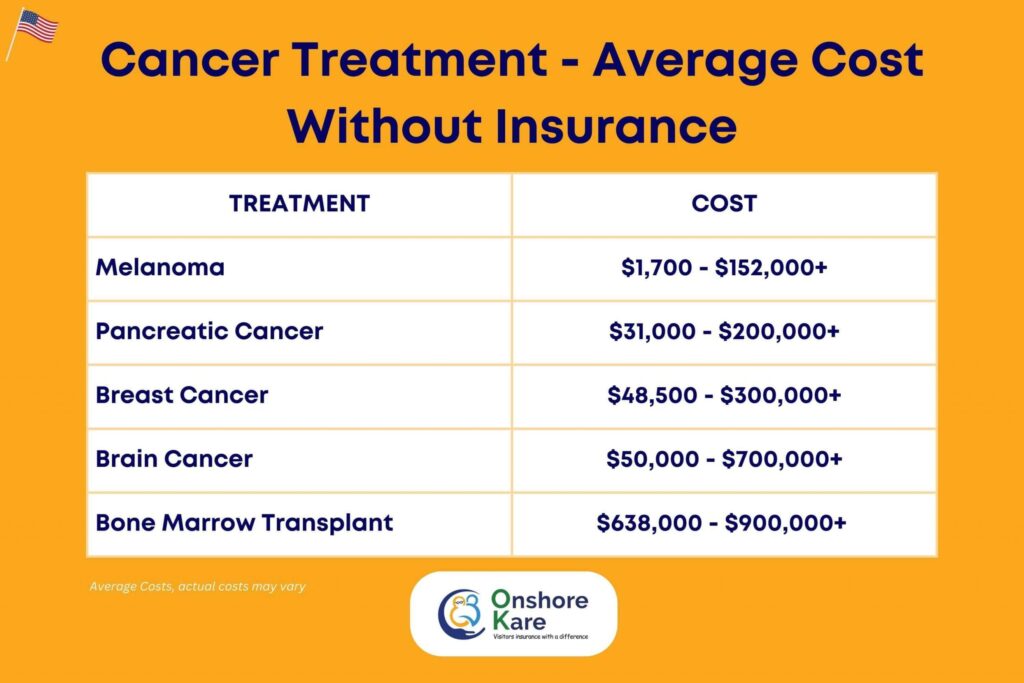 Treatment for Melanoma costs $ 1,700 to $152,000+
Treatment for Pancreatic Cancer costs $31,000 to $200,000+
Treatment for Breast Cancer costs $48,000 to $300,000+
Treatment for Brain Cancer costs $50,000 to $700,000+
Bone marrow transplant $638,000 to $900,000+
What is the Cost of Dental Services in the US?
Considering America has one of the highest costs of healthcare in the world, A trip to the dentist can also be costly, though it will not put you in financial jeopardy.
The following are the average expenses for some more frequent dental problems:
A dental examination costs approximately $50 to $80
Basic tooth cleaning is $75 to $200
Dental X-Ray can cost $20 to $250
Tooth extraction costs approximately $280
The cost for Tooth Filling (Per tooth) is $90 to $ 250+
Cost for Root Canal $695+ to $1,500+
White Porcelain Crown $800 to $2,000+
Metal Crown $500 to $1,500+
Dentures are expensive too
Full top set $1,957 to $2,410+
Bottom Set $1,922 to $2,315+
All above are average rates and may Vary
Frequently Asked Questions
What is Medicare?
Medicare is a federal health insurance available to everybody aged 65 or older adults, and some people under 65 with certain disabilities or conditions. Medicare services help them be able to get health care that they otherwise will not be able to avail themselves.
Regardless of income. Individuals who have paid Medicare taxes on their wages while working are automatically eligible for Medicare.
For most people, Medicare assistance provides a significant reduction in insurance premiums while still requiring a little monthly contribution.
Foreigners and ex-pats are not eligible for Medicare benefits until they have worked in the United States for at least ten years.
What is Medicaid?
Medicaid is a joint federal and state program, and Medicaid is a national public health insurance program supported by income taxes that was established in 1965.
If a person's income is below the Federal Poverty Level or they have a certain handicap, their state government will pay for their medical coverage in part (or fully).
This 'health care' covers drugs, doctors, hospitalizations, custodial care, and nursing home care.
What happens to uninsured people? Do they receive Health Care?
If individuals do not carry health insurance, they are still entitled to hospital emergency care, including labor and delivery care, regardless of their ability to pay.
People who do not have insurance are not turned away if they become ill
Hospitals and doctors must provide health care to individuals in need, But
At the end of the treatment, an Invoice is mailed to the patient
Depending on their financial situation, the cost incurred could be paid in installments
Insurance may not always cover all incidents, know the exclusions in your policy
Plans less expensive may offer basic/limited cover, & out-of-pocket expenses will be high
What Happens if you have no Health Insurance?
Without insurance, you risk incurring significant debt, jeopardizing your health if you postpone treatment, and, depending on your state, you may even face tax consequences.
If you do not have insurance, you are considerably more likely to accrue medical bills that you will be unable to pay. You could be sued and your wages garnished in the worst-case situation. You could even be compelled to declare bankruptcy.
Health insurance and administrative costs have been increasing for several decades
Some of the factors driving increased healthcare costs in the United States are
Population aging
Increase in chronic sickness.
Shifting towards HDHPs Plans (High-Deductible Health Plans)
Administrative costs might be higher due to the complicated system of healthcare in the United States, where federal, state, and municipal governments, employers, insurers, and citizens all contribute.
How much does healthcare cost in the US for one person?
As USA Healthcare spending reached $4.3 trillion. Average healthcare cost per person is $12914.
Despite having the highest level of healthcare spending, Americans had fewer doctor visits than their counterparts in the majority of other countries.
Americans visit the doctor at half the rate of Germans and Dutch, with four visits per capita per year. The rate in the United States was equivalent to that of New Zealand, Switzerland, and Norway, but greater than that of Sweden.
Why is Healthcare in the US so Expensive?
US health care is complex, and costs tend to be market driven. Healthcare costs are high in the United States.
The high average cost of healthcare in the United States is the result of a number of factors that contribute to an increase in the high cost of healthcare.
Pharmaceutical drugs cost almost 4 times more than other developed countries
The American system also favors more frequent interventions and more complicated operations, Increasing the cost.
Prices for drugs and healthcare depend on market forces
Doctors, Nurses, are paid very well and hospital charges are more in the US.
Hospitalization and diagnostic tests are more expensive
More money is spent on administratively planning, regulating, and controlling medical services.
All of these and also other factors contribute to the increase in healthcare prices in the US.
Are healthcare costs rising in 2023?
Health insurance companies predict that costs for medical services could increase. With an expected 4% increase, The average monthly cost of health insurance in the US could be $560 Healthcare costs would increase for most Americans.
Conclusion
All the costs mentioned in the article are estimates and actual treatment costs may vary depending on the individual situation, medical care, hospital stay, region, city, state, and several more factors.
It is essential to have coverage from a health perspective and get covered either by your employer or individually.