Complete Review of Patriot Platinum International Travel Insurance Plan 2023
For US citizens traveling abroad, Patriot Platinum International Insurance provides maximum coverage while traveling outside the US.
Patriot Platinum Travel Medical Insurance protects travelers from unanticipated medical emergencies and other unforeseen travel-related expenses.
It's important to know, what is covered what isnt covered looking at travel medical insurance coverage.
The travel medical insurance you purchase should offer complete protection, including sufficient medical coverage.
Travel medical insurance is intended to offer protection in the case of an accident or medical emergency which requires urgent medical care and to cover a variety of eligible medical expenses, including hospital bills, lost or stolen luggage, canceled flights, emergency medical evacuation, pre-existing condition coverage, and other costs.
In this complete guide, let us find out if this plan is suitable for your travel outside the US.
General Details:
Patriot platinum international travel medical insurance is a travel medical insurance plan by IMG (International medical group), here is our review of IMG.
The patriot platinum travel medical insurance provides comprehensive coverage benefits to US citizens traveling outside the US.
Patriot International Platinum insurance is underwritten by SiriusPoint Specialty Insurance Corporation, and is rated A- "Excellent" by A.M. Best.
Plan Details:
The highest overall maximum limit range between $1,000,000 to $8,000,000 is provided under this plan.
Additionally, the primary insured person gets concierge services, non-medical emergency services, and complete medical benefits.
Identity theft assistance services are provided with a maximum Limit of $500
There are numerous alternatives between $0 and $25,000 in terms of Deductibles.
Individuals, families, and groups can purchase coverage both inside and outside the US.
This patriot platinum travel insurance plan does not include coverage for pre-existing medical conditions.
For a traveler's brief stay outside of their home country, Patriot Platinum International offers medical coverage along with other covered travel and emergency services.
There are options for coverage periods of 5 days which can be extended up to 3 years. Up to the maximum limit, the plan will cover 100% of eligible medical expenses once the deductible has been met.
The plan also provides improved perks and services to satisfy your needs for international travel. When receiving treatment outside of the United States, you have access to a wide selection of deductibles and policy maximum limits.
By using the UnitedHealthcare Options PPO network to choose providers, you can also lower your out-of-pocket costs when receiving treatment in the United States.
If COVID-19 was acquired after the policy's effective date, Patriot Platinum International will be able to cover it like any other covered medical condition.
For your protection against getting sick or harmed while traveling, it is recommended to think about getting a travel medical insurance plan like Patriot Platinum international travel insurance which provides comprehensive coverage. It provides protection against the sudden and unexpected recurrence of pre-existing conditions.
It offers round-the-clock, multilingual travel aid services from a knowledgeable staff who can assist you in getting medical care and providing routine health-related questions
What are the coverage eligibility requirements for Patriot Platinum travel medical insurance?
Patriot platinum international travel insurance can be purchased by US citizens traveling outside the US.
Coverage can be purchased for individuals, families, or groups.
You must be under 99 years of age and at least 14 days old in order to be covered.
Policy Maximum limits are in the range of $1,000,000 to $8,000,000
Patriot Platinum International Policy Maximum Limit per age group are:

Through age 64: Maximum Limit $2,000,000, $5,000,000 or $8,000,000
Ages 65 to 69: Maximum Limit $2,000,000
Ages 70 to 79: Maximum Limit $100,000
Ages 80 and older: Maximum Limit $20,000

Patriot Platinum International plan has a coverage duration of a minimum of 5 days to a maximum of up to 365 days
You can extend the Patriot Platinum International Plan for up to 3 years
Plan Highlights of Patriot Platinum International Insurance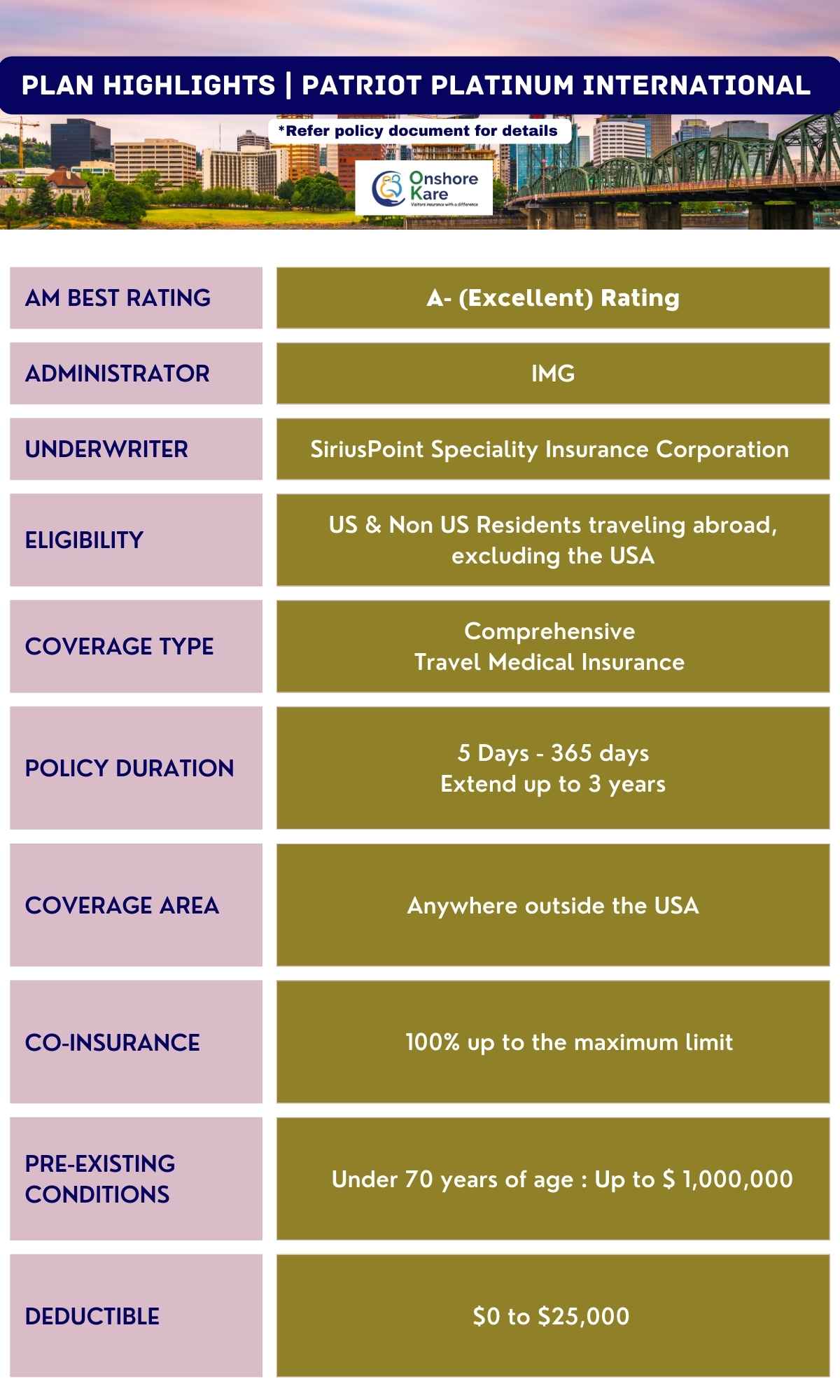 Other Coverage of Patriot Platinum International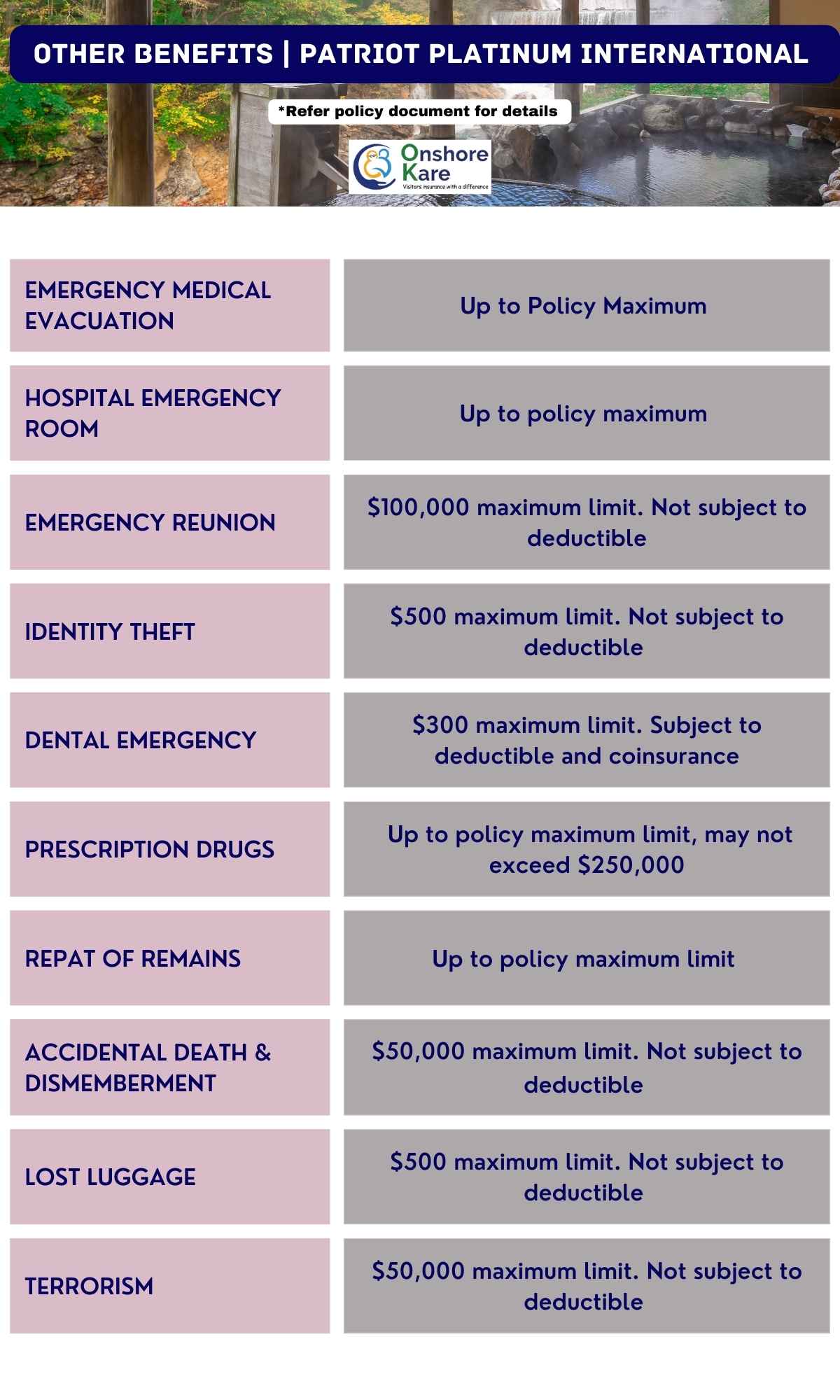 For travelers looking for top-notch medical coverage, families on vacation, or individuals on a trip, Patriot Platinum Insurance is a great choice which provides coverage up to $8 million.
Patriot Platinum America provides coverage for foreign nationals traveling outside of their home country
Patriot Platinum International provides coverage for citizens of the USA traveling outside the US
Patriot Platinum International insurance plan can be bought for a minimum of 5 days and a maximum of 3 years.
Patriot Platinum International travel medical insurance plan provides protection against the sudden and unexpected outbreak of pre-existing conditions.
The coverage provided by Patriot Platinum International is as follows
Emergency Medical Evacuation:
In the event of an emergency medical evacuation, your eligible medical expenses and transportation to the nearest appropriate facility or healthcare professional for treatment will be covered up to the maximum limit emergency reunion.
If you suddenly require a helicopter airlift, a trip home with medical supplies, or an ambulance transfer to a nearby hospital, emergency medical evacuation insurance could possibly save you tens of thousands of dollars in out-of-pocket costs.
First Class Medical Coverage:
Injuries and illnesses that occur while your policy is in effect are covered by Patriot Platinum International insurance. Benefits are paid over and beyond your deductible for medically necessary procedures and other procedures listed in the schedule of benefits.
Repatriation of Remains:
When a medical emergency arises, this insurance plan offers the benefit of transporting the policyholder to the closest hospitals and medical facilities for emergency medical evacuation.
United Healthcare PPO network:
The First Health PPO Network, a network of hospitals and doctors around the country, offers discounted, pre-arranged rates for medical services. If you have Patriot Platinum International insurance, you are eligible to get these discounted prices if you seek medical attention from an In-Network Provider.
Common Carrier Accidental Death & Dismemberment (AD&D):
This compensation will be paid out if you pass away as a result of an accidental death from a covered accident that happened while you were a passenger on a common carrier.
Trip Interruption Coverage:
The plan may compensate you for the portion of your trip that was not used and may cover additional costs for last-minute travel modifications if you are already halfway through your vacation and need to change your itinerary, return home early, or reroute your plans because of a covered reason.
Sudden and Unexpected Recurrence of a Pre-existing Condition:
Pre-Existing Medical Conditions are covered, but you should read the advantages of the insurance below to be aware of the strict conditions and any limitations. It goes without saying that US citizens will want primary medical insurance in addition to the IMG Plan. The IMG Patriot Platinum Medical Plan only provides a $ 20,000 lifetime maximum for Pre-Existing Medical Conditions in the absence of a primary medical plan. For people over 65, this amount is reduced to just $2,500.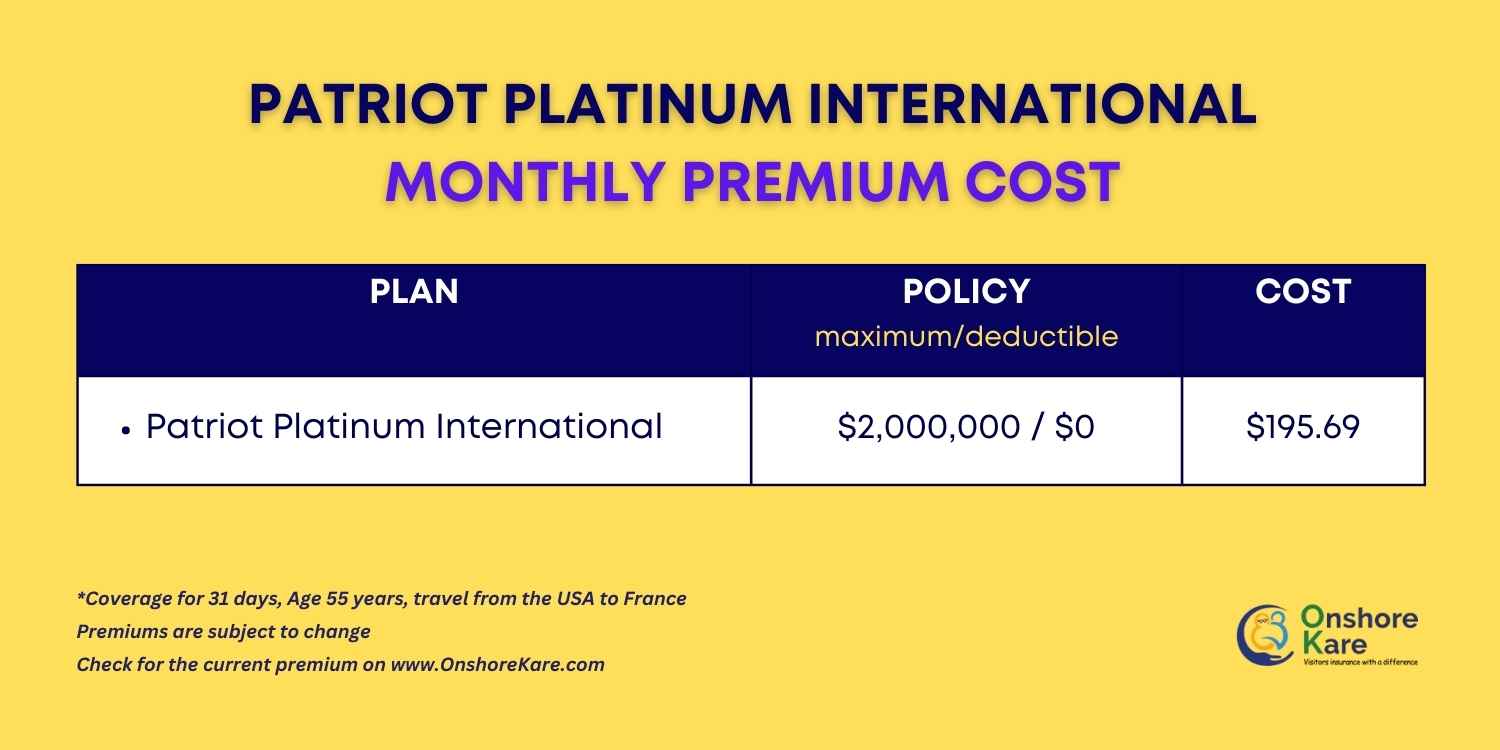 Age of the person, coverage period, the plan maximum limit, and the deductibles are only a few of the variables that affect the costs of Patriot Platinum International Travel Medical Insurance.
Policy Maximum Limit:
Your monthly premium will go up if you select a larger maximum limit for your plan. You have a choice between $1,000,000, and $8,000,000 for the policy maximum limit (subject to the age restrictions for maximum limits).
Deductible:
Choose your deductible amount between $0 to $25,000. The maximum limit can be lowered by selecting a higher deductible.
Age Factor:
As people age, their premiums and maximum limit increase. The plan is open to anyone who is older than 14 days, minor children can be covered under this plan.
For US citizens traveling abroad with their family, minor children, or alone, this plan is one of the most popular comprehensive coverage plans.
It stands out from the competition and is a well-liked option among travel medical insurance plans because of the following qualities:
It is one of the more affordable travel health insurance packages available.
Depending on the individual's circumstances and length of stay, this plan provides reasonable premiums.
Preferred Provider Network (PPO) accessibility: The broad PPO network of UnitedHealth Care.
The PPO Network, which has a significant number of renowned doctors and service providers, makes it more likely that you will discover a provider who is compatible with this plan.
Many people are reluctant to travel abroad because they worry about the acute onset of pre-existing conditions. For policyholders up to the age of 70, this plan offers acute onset of pre-existing condition coverage up to the policy's maximum limit.
The exceptional characteristic of this plan is that it will cover travel dates as long as they are covered by the policy at the time of purchase. By doing this, you may be sure that you are safe from the moment you leave your home country.
If COVID-19 is acquired after the policy's effective date, it is covered just like any other qualified medical condition.
Obtain continuous coverage because the plan is renewed for up to 3 years.
Choice of a high policy maximum limit is up to $8,000,000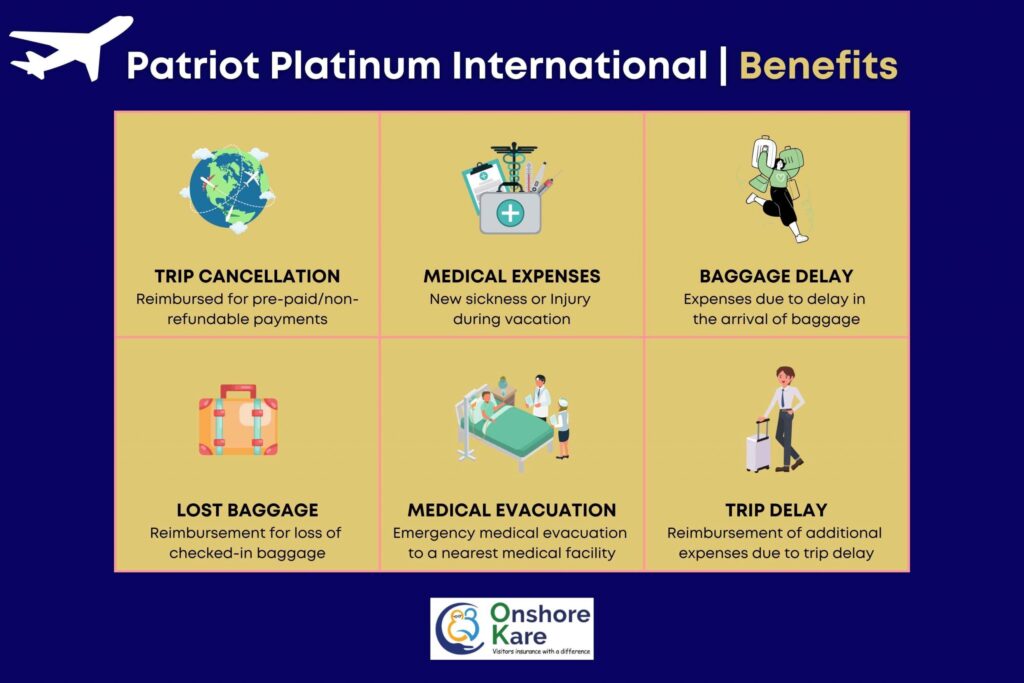 International Medical Group (IMG) is a highly reputed Travel Insurance Company with a 4.6 Trustpilot rating.
The following are some advantages of the plans provided by International Medical Group:
Comprehensive Plans with coverage and access to a large PPO Network
They provide customer assistance services and are available when you need them.
For every need, IMG provides a wide range of travel insurance options.
Key differences between Patriot Lite International and Patriot Platinum International Travel Medical Insurance for providing coverage outside the USA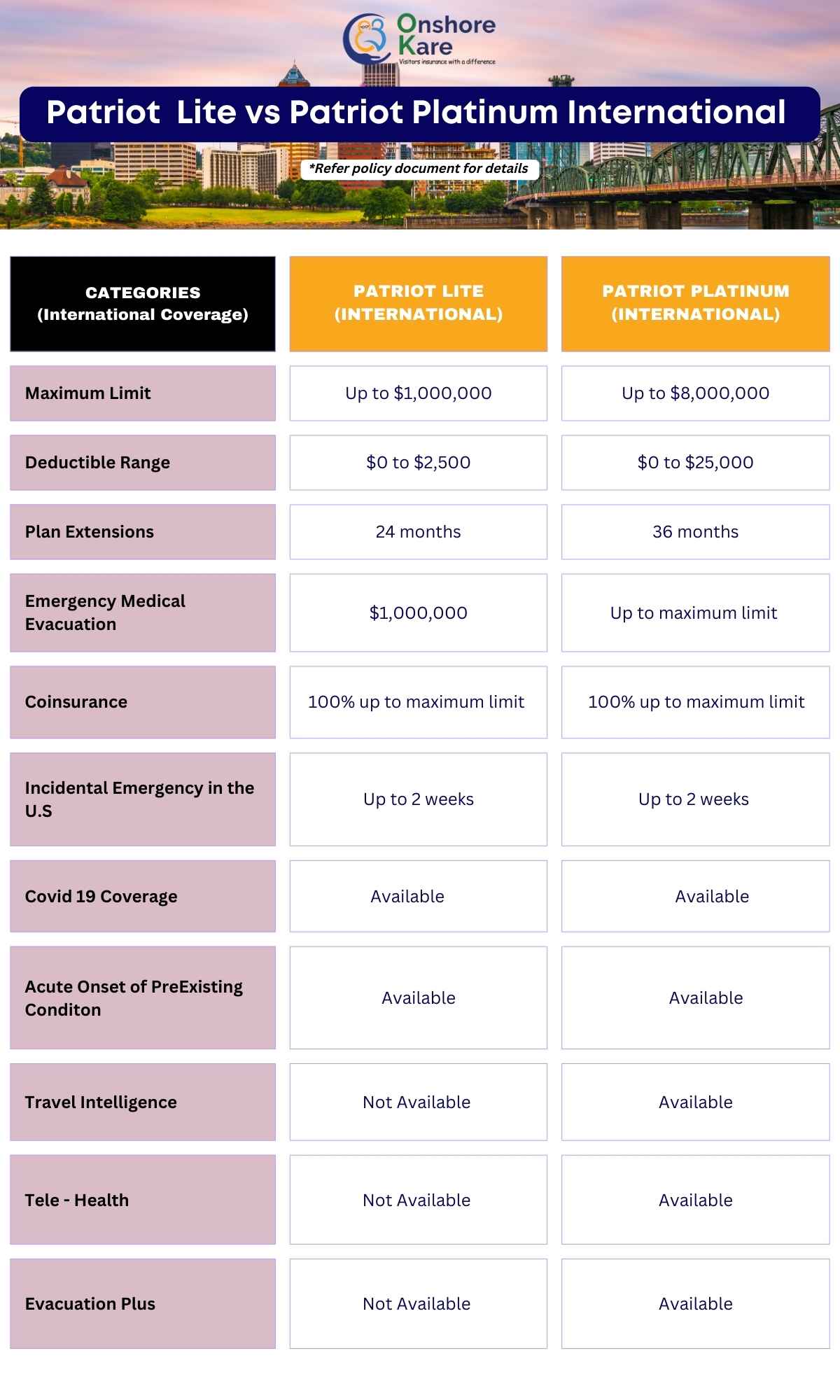 What is the Acute Onset of a Pre-Existing Condition?
When suddenly a pre-existing condition gets worse. It is referred to as a "acute onset of pre-existing conditions".
Which includes abrupt onset or recurrence of symptoms, followed by a rapid deterioration of the condition and the need for immediate medical intervention.
Pre-existing medical conditions that have an acute onset do not include those that are chronic, congenital, or get worse over time. The term "acute onset" does not apply to any condition that the insured has after the effective date but was nonexistent on that day.
Some travel insurance policies do, however, provide coverage for the abrupt emergence of a pre-existing condition. An illness brought on by a pre-existing ailment that manifests acutely refers to an incident that happens unexpectedly and without warning.
Visitor insurance plans with acute onset of pre-existing conditions covered in detail.
Is the Acute Onset of Pre-Existing Conditions covered by Patriot Platinum International Insurance?
Yes, this policy does cover the acute onset of pre-existing conditions. The insured is protected up to the policy maximum limit when a non-chronic pre-existing condition develops acutely and treatment is received within 24 hours.
A medical emergency evacuation may cost up to the medical maximum limit. The insured person must be under the age of 70.
For qualified medical expenses incurred during the Period of Coverage, the Insured Person will receive reimbursement up to the amount indicated in the Benefit Summary.
A Pre-existing Condition which is a chronic or congenital condition that gradually becomes worse over time and or known, scheduled, required, or expected medical care necessary prior to the policy's effective date shall be considered the same as any other Illness.
What Patriot Platinum Travel Medical Insurance does not cover?
There aren't many services that this plan doesn't offer. It appears to be a composite of all of their other plans, but with the additional ability to make a very comprehensive and detailed choice.
However, nowhere on the schedule of benefits does it clearly include maternity care. Although labor and delivery might fall under different categories, you should find out whether they might apply to you.
For persons 69 years of age and younger, the policy's upper limit is $8 million. The maximum limit reduced to $ 1 million for persons 70 years old or older.
There has been a noticeable decline in the upper limit. Keep this in mind, As older travelers consider their insurance options.
What are Patriot America Lite and Patriot America Plus Insurance Plans?
The Patriot Series of travel insurance policies from IMG offers these two options.
Patriot America Lite Insurance
For non-US nationals as well as foreign travelers to the US, Patriot America Lite Insurance provides comprehensive international travel health insurance. A reasonably priced option for your family's trip to the USA.
It is available with an insurance maximum limit of $50,000 to $1,000,000 and deductibles of $0 to $2,500.
Five days to two years are the available purchase terms for Patriot America Lite. It does not cover any costs related to pre-existing conditions, routine checkups, vaccines, or pregnancy, but it does cover any new medical conditions, accidents, or injuries that may develop after the policy's start date.
Patriot America Plus Insurance
For foreign visitors to the US, the Patriot America Plus Insurance Plan offers the best value in all-inclusive travel medical insurance.
When purchasing the plan, you can choose a minimum of 5 days and a maximum of 2 years. For those going outside of their home country, it offers a customizable plan with a wide choice of maximum limits and deductible possibilities.
The policy provides emergency medical coverage for individuals, families, and big groups of at least five travelers traveling outside their home country.
The range of total medical benefits would be $50,000 to $500,000, and insurance deductibles might be $0 to $2500.
Examples of the comprehensive coverage plan covered in the plan include emergency medical evacuation, acute onsets of pre-existing conditions, and political evacuations.
We have covered Patriot America Plus insurance complete review in detail.
Key differences between Patriot America Lite and Patriot America Plus Insurance | Coverage inside the USA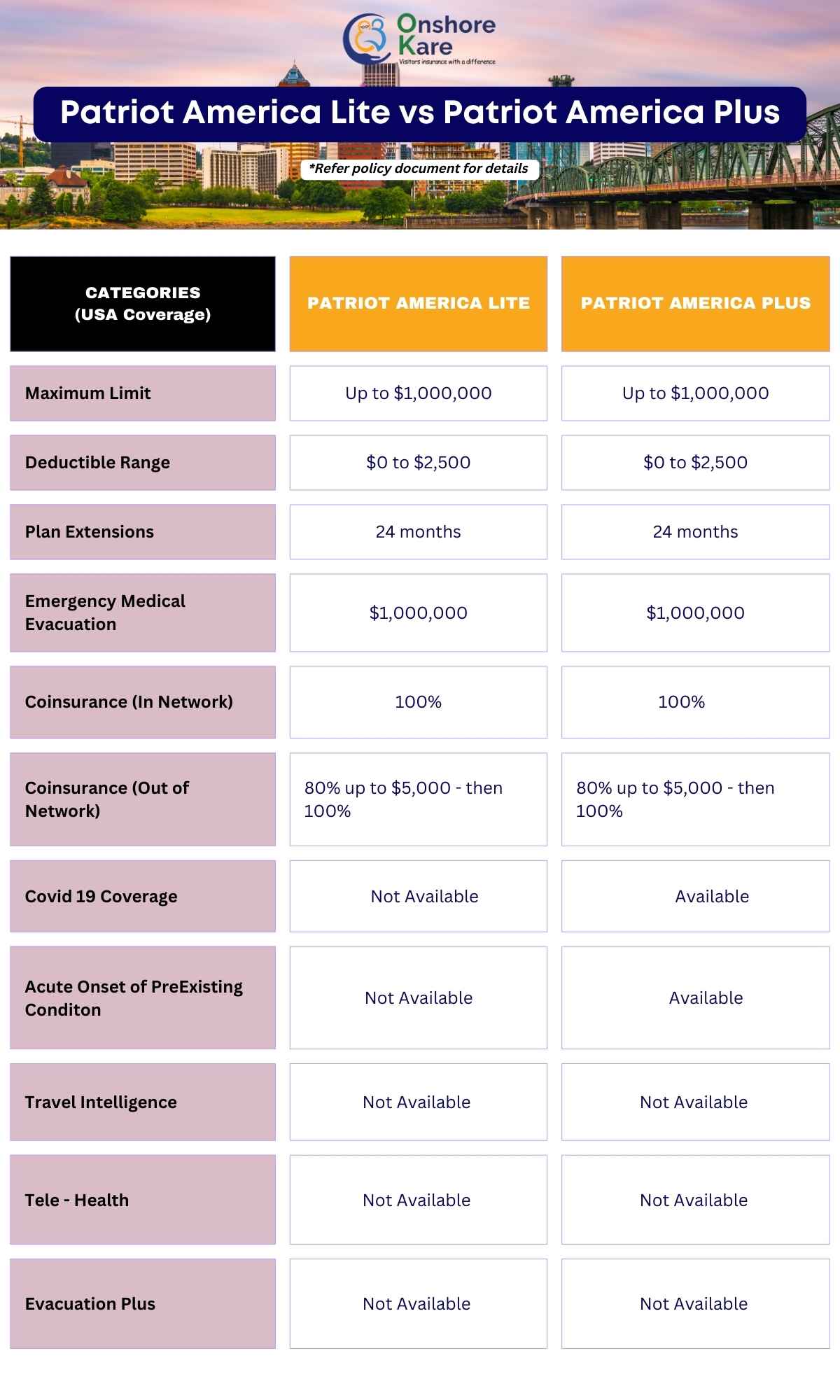 Frequently Asked Questions
DOES PATRIOT PLATINUM INTERNATIONAL COVER CORONAVIRUS?
If you contract COVID-19 after the policy's effective date and have left your home country of residence. Patriot Platinum travel medical insurance will cover it and treat you the same as any other qualifying medical condition.
DOES PATRIOT PLATINUM INSURANCE COVER ADVENTUROUS SPORTS?
The Adventure Sports Rider is available to people under 65 for an extra cost. The lifetime maximums listed below are applicable to pursuits such as abseiling, BMX, bungee jumping, parachuting, wildlife safaris, and windsurfing. Check the Certificate for the list of activities covered.
For Ages 0-49 years: $50,000 certificate period
For Ages 50-59 years: $30,000 certificate period
For Ages 60-64 years: $15,000 certificate period
WHAT IS THE PROCEDURE OF A CLAIM?
Make copy of each pertinent document before submitting a claim for payment and keep it with you at all times.
Fill out the Claim Form after obtaining it.
Send copies of all your passport pages.
Please include any necessary bills and receipts if you paid cash for the service.
You must present the aforementioned documents no later than 90 days following your provider appointment.
Read more about the claims process for travel insurance.
HOW IS PATRIOT AMERICA DIFFERENT FROM ATLAS AMERICA TRAVEL INSURANCE?
We have covered this in an article, you can read about the differences between the plans.
Bottom Line
Patriot Platinum International offers advantages and coverage that outweigh the cost of the plan.
US Citizens traveling abroad would benefit greatly from this temporary medical insurance.
We hope that this article has given you a better understanding of the coverage and worldwide benefits that Patriot Platinum International offers to US citizens going abroad temporarily.
Before purchasing the plan, make sure to read the policy's terms and conditions. Do not hesitate to get in touch with our customer care staff if you require assistance with any plan-related queries.