What Are the Common Exclusions in Your Travel Medical Insurance?
When you buy an insurance product including travel insurance you expect that it would cover any eventuality you may encounter and save you from financial losses.
But insurance coverage is a complicated business and every type of insurance coverage be it travel insurance or any other type of insurance, has inclusions, exclusions, limits, and restrictions.
No wonder the insurance policies are so long, with so much fine print!!! looks like travel insurance companies design them this way to discourage consumers from reading them.
In this article, we look at the common exclusions in travel insurance.
It will help you understand travel insurance coverage which otherwise seems so complicated.
Why Do You Need Travel Insurance?
The current pandemic has emphasized the importance of Travel and laid a spotlight on how it has become the essence of life, it also has shown us that you could get stuck in a totally different part of the world when disaster strikes and hence purchasing travel insurance coverage is so essential in such a time. Is Travel Insurance Worth It?
This is especially true when visiting a country like the USA, which has one of the world's most expensive medical ecosystems.
It is necessary to protect and have medical coverage as part of travel insurance from a reputed travel insurance provider.
Travel insurance is fast, easy, and necessary to protect the trip of your dreams. There are numerous types of the domestic and international travel insurance plans targeted toward visitors, tourists, students, and family members looking to visit the US.
However, the eligibility criteria and the claim process differ with every travel insurance plan. Your travel health insurance will have inclusions and exclusions that it covers and you need to know them.
Some of the common questions when it comes to travel insurance coverage are:
Does it cover the initial trip payment as part of trip insurance coverage

Does it provide for emergency medical care and medical treatment

Does it offer emergency medical evacuation coverage

What about the "cancel for any reason" trip cancellation option

How do I file for reimbursement of a medical claim

What about a pre-existing condition?
These are some of the things to look for in your travel insurance policy. Along with adequate planning, an approved visa, and advanced booking, decent and viable travel insurance from a good travel insurance company is a prerequisite to a stress-free trip from India to the USA.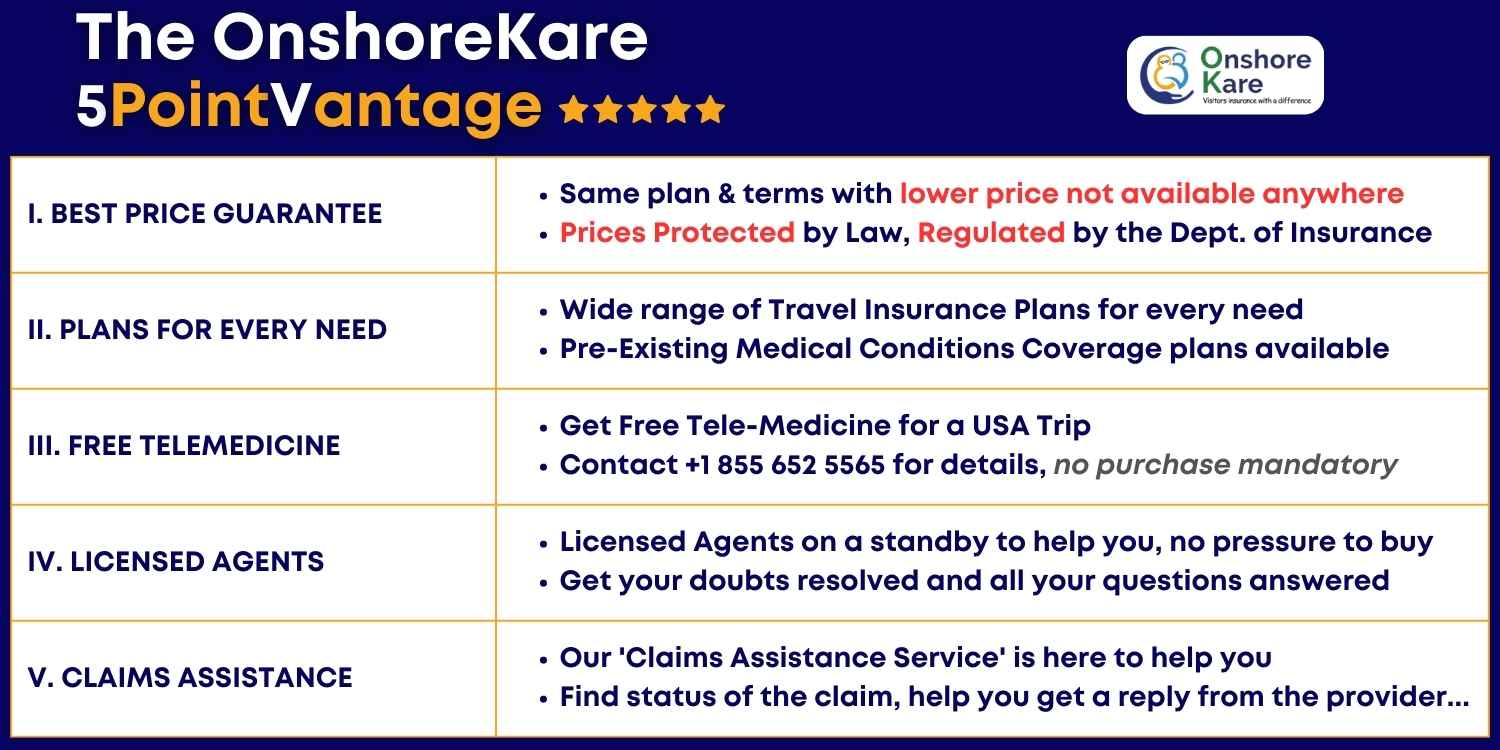 What Are the Benefits of Travel Insurance?
Here are some of the benefits that make a travel insurance plan vital to your international trip:
Travel insurance safeguards you and your family member from potential financial losses

Travel insurance offers protection from unexpected medical bills

Travel insurance may also cover your trip cancellation and loss of baggage cover

Travel insurance may offer Cashless hospitalization facilities

Travel insurance policies may offer Zero deductible features

Travel insurance may offer some protection against an onset of a pre-existing condition

Travel insurance plans can be extended if your trip extends for some reason
While looking for the most suitable travel insurance policy, one often looks at the premium and the benefits offered for coverage by a travel insurance company.
However, one thing people miss in the process is exclusions by travel insurance companies.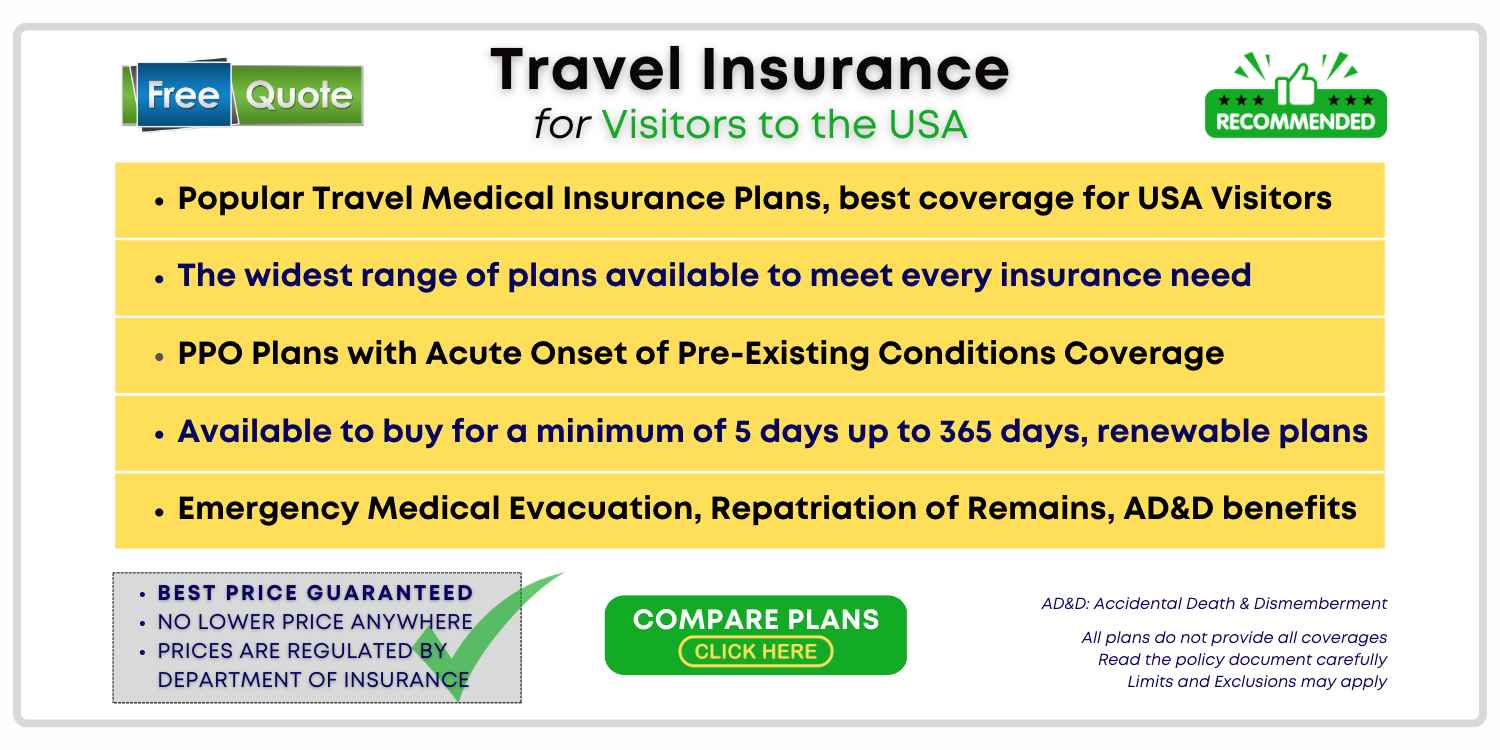 9

Common Exclusions including pre-existing conditions
Exclusions are terms and conditions based on which the travel insurance company may deny your insurance claim.
Hence, being well aware of both inclusions and exclusions is paramount if you want to ensure a successful insurance claim from your insurance company.
Here are some of the most common travel medical insurance exclusions:
Pre-Existing Medical Condition
When you buy travel insurance, it generally doesn't cover the treatment of a pre-existing medical condition.
If you are diagnosed with a medical condition before traveling, it becomes a pre-existing medical condition and your insurance will not cover the medical expenses of a pre-existing condition.
However, few insurance plans cover the acute onset of pre-existing conditions depending on the person's age and up to a certain amount.
Hence, you should get a complete health check-up done, keep your medical records, identify any pre-existing conditions and buy a travel medical insurance plan accordingly.
OnshoreKare offers travel insurance plans that offer coverage for Pre-Existing Conditions.
Medical Examinations
During the trip, routine medical examinations, vaccinations, immunizations, and transplants are categorized in exclusions.
They cannot be claimed under the travel medical insurance plan unless the policy has an add-on.
Furthermore, no cosmetic treatment or procedure that is not medically necessary is covered under a travel insurance plan.
Dental Coverage
Before you fly, ensure you haven't delayed any necessary dental check-ups or treatment. The majority of travel insurance plans provide limited dental coverage.
Select travel insurance plans will cover the expenses only under rare circumstances, like when you need an emergency dental procedure. Hence, you should avoid routine or cosmetic dental care while traveling internationally.
Mental Health Conditions
Conventionally, travel insurance plans don't cover expenses related to mental health conditions like Schizophrenia, Bipolar Disorder, Clinical Depression, Substance Abuse, Self-inflicted injuries, etc. You must consult a doctor and take the prescribed medication while traveling, to manage any mental health condition.
Vision Coverage
Travel Medical Insurance serves as temporary insurance for medical emergencies. So certain medical conditions that are not an emergency will not likely be covered. Vision coverage related to an eye examination, lenses, and spectacles are included in exclusions and cannot be claimed.
If you are traveling to the United States, it is better to go for an eye check-up before traveling and, if required, carry additional pairs of frames to avoid having to consult an opthalmologist in a foreign country.

Maternity and Childbirth
Although traveling during pregnancy isn't advisable and should be avoided unless it's a necessity, you must understand the exclusions related to pregnancy. Apart from some travel insurance plans that cover expenses arising out of complications within the twenty-six weeks of pregnancy, no expenses related to pregnancy or childbirth are covered under travel medical insurance plans.
Adventurous Sports
If you plan on engaging in adventurous sports like Bungee Jumping, Parachuting, Rafting, Skiing, etc., it is advisable to opt for add-on coverage that includes such expenses. Without such add-ons, travel insurance plans do not cover expenses incurred as consequences of indulging in dangerous sports in the name of thrill and joy.
Accidents and Bad Weather
Medical expenses occurring because of natural calamities, protests, wars, terrorism, etc., are generally covered under travel medical insurance plans. If you have already been warned of the possible repercussions of visiting a dangerous place, yet you choose to explore an accident-prone area, then you cannot claim insurance.
Personal Belongings
Although expenses occurring because of delay or loss of baggage are covered, the insurance company will not reimburse the loss of items inside your bags. It's only in certain cases that the loss of some items is covered to an extent. Hence, it is important that you read the exclusions of your travel insurance plan.
Conclusion
Traveling to a different unfamiliar country is never easy. You do not know the rules, and especially if you are traveling to that country for the first time, you can end up incurring huge costs due to an existing medical condition or if an uncertain event happens. In the United States, any medical condition and treatment are expensive. From a travel expenses point of view, if you don't add cancel for any reason you may not be able to claim any trip cancellation cost if you decide not to travel.
Travel Insurance Plans work on the principle of managing risk and avoiding unnecessary exposure to ensure transparency. Your insurance plan may offer trip insurance along with medical coverage for most unforeseen expenses. However, as there are the exclusions mentioned above, it becomes critical for every policyholder to read and understand the expenses they can not claim.
You can also use these exclusions to analyze and compare different travel insurance policies and find an ideal one. As far as travel and medical expenses are concerned, prevention is always better than cure. Prevent unnecessary expenses through a comprehensive travel insurance policy.