Is Travel Insurance Worth It? Here is a Guide to help you decide!
"Adventure awaits, but so does the unexpected." Traveling is a chance to create memories that last a lifetime, but it can also put a dent in your wallet. With expenses piling up from flight tickets to accommodations, you may be wondering if travel insurance is worth the extra cost.
The answer is a resounding yes! It may seem like an added expense to your travel budget but think of travel insurance as your personal financial safety net, protecting you or a family member against unexpected events like trip cancellations, medical emergencies, and lost luggage.
In this article, we will help you decide the best travel insurance plans for your next trip.
Watch a short video
Travel Insurance costs, is it Expensive?
With so many travel insurance providers, plans, and factors to consider, picking a travel insurance plan might be overwhelming.
The best option varies from person to person and depends on the priorities and needs of the traveler. We will cover the factors that will impact your cost of travel insurance.
#Protip Before purchasing any travel insurance, get quotes from different travel insurance providers from a reputable online marketplace for insurance like OnshoreKare and choose the one that best meets your needs.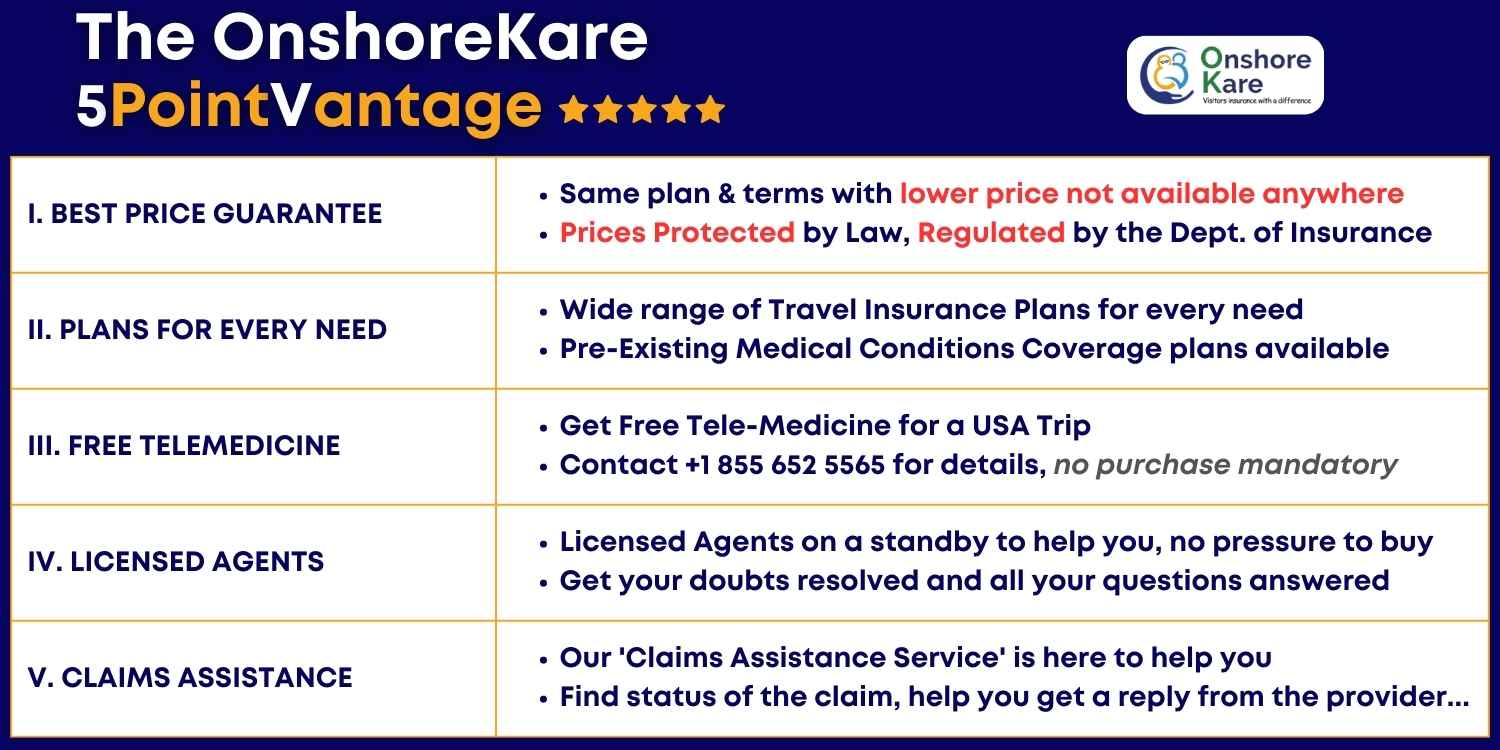 Factors to consider in choosing the best Travel Insurance
Here are the top factors to consider while choosing a travel insurance plan for yourself or your loved ones:
Destination: Think about where you're going and what risks might be there, like natural disasters, terrorist attacks, or disease outbreaks.
Length of trip: How long your trip is will determine how much coverage you need and how much your insurance policy will cost.
Existing Coverage: If you already have health insurance, you may have coverage for certain things. Check the details of your current coverage to see if you need more insurance.
Although, for countries such as the United States, we recommend you get a travel insurance plan that includes medical care.
Pre-Existing Medical Conditions: When choosing travel insurance, it's important, to be honest about your health. If you have a pre-existing medical condition, you may need to purchase additional health coverage to ensure you're protected.
Type of Coverage: There are several types of travel insurance, including trip cancellation insurance, medical coverage, and emergency evacuation insurance.
Consider what type of coverage you need based on your specific needs. If you plan to do high-risk things like adventure sports, you may need to buy extra coverage.
The Reputation of the Provider: Make sure to choose a reputable travel insurance provider with a strong financial rating and a proven track record of providing quality coverage.
What is Travel Insurance?
Travel Insurance is a type of insurance policy that provides coverage for various risks and expenses incurred while traveling.
As the name suggests, travel insurance typically covers medical emergencies, trip cancellations, and other unexpected events that can happen during travel.
The coverage and benefits provided by travel insurance policies can vary, but the main goal is to protect travelers from unexpected financial losses due to unforeseen events and provide peace of mind while traveling.
What does Travel Insurance cover?
Travel Insurance covers the cost of your trip and any unforeseen expenses while traveling. Many travel-related concerns are typically covered by travel insurance, including flight delays, lost or stolen luggage, and unexpected medical costs.
Your coverage amount is determined by the policy you purchased and the other factors mentioned above. The majority of travel insurance companies provide a number of different policies, each with varying levels of coverage and pricing.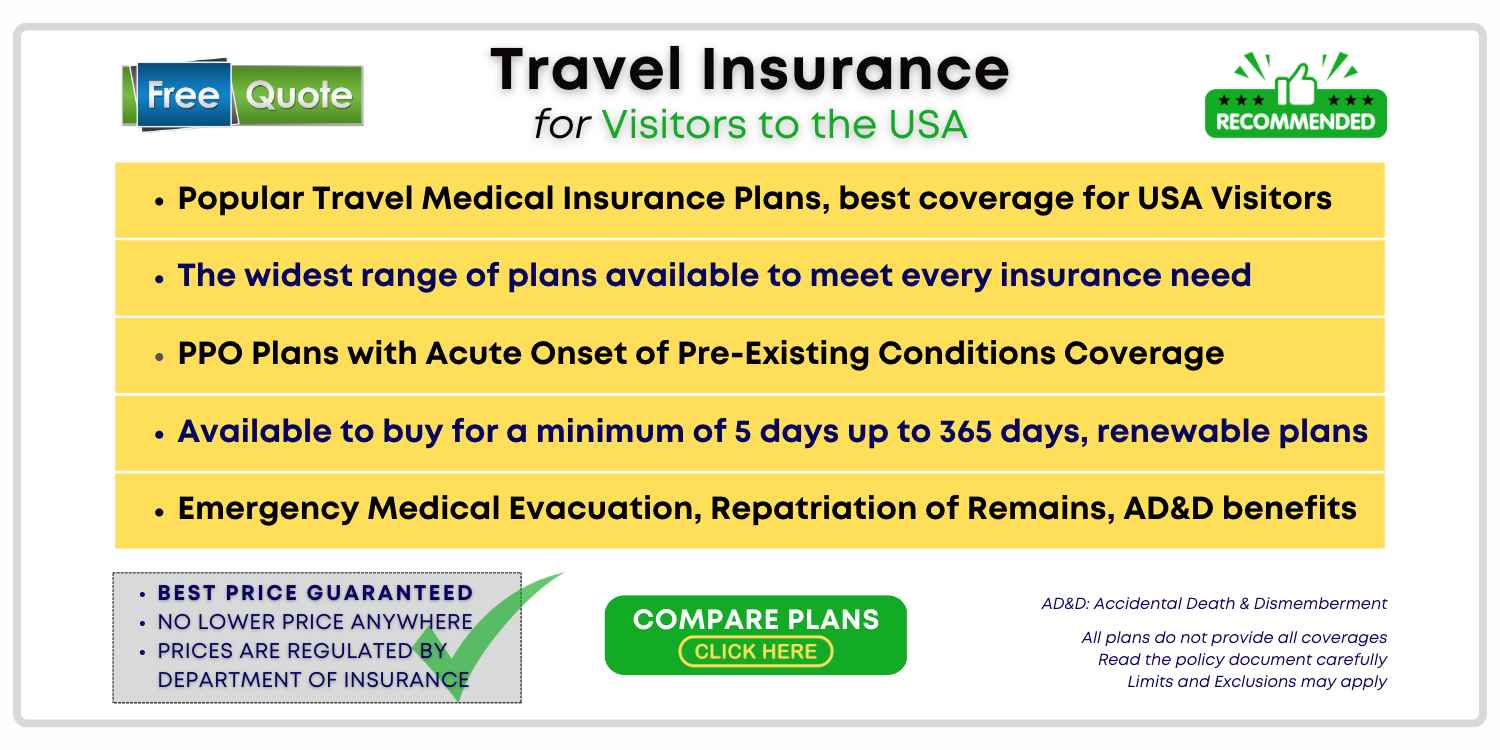 Types of Travel Insurance Coverages
Trip Cancellation Insurance
Trip cancellation insurance is a type of coverage offered as part of travel insurance policies. It provides financial protection for nonrefundable costs if a trip is canceled due to unexpected events, such as illness, death, natural disaster, or a tour operator going out of business.
This coverage can help protect travelers against financial losses due to trip cancellations or trip interruptions and can provide peace of mind for travelers who have made significant upfront payments for their trips.
We recommend that you review the specific coverage and exclusions of a trip cancellation insurance policy before purchasing it, as coverage and reimbursement amounts can vary by policy and insurance providers.
Cancel For Any Reason Travel Insurance
Cancel For Any Reason (CFAR) insurance is a type of travel insurance that offers more comprehensive coverage for trip cancellations.
CFAR Insurance, as the name implies, allows travelers to cancel their trip for any reason, rather than just the limited list of covered reasons stated in a standard travel insurance policy.
CFAR gained popularity during the pandemic when travel was uncertain and dangerous. Even though CFAR insurance usually has a higher premium, it gives travelers who worry about trip cancellations the most freedom and peace of mind.
However, it's important to note that CFAR insurance typically provides reimbursement for a percentage of the trip cost, not the full amount. Additionally, there are often specific requirements, such as canceling the trip at least 48 hours before departure, in order to be eligible for reimbursement.
Medical Emergency Travel Insurance
Medical Emergency Travel Insurance is a type of travel insurance that provides coverage for medical expenses incurred while traveling abroad.
This type of insurance is particularly important for travelers who may not have comprehensive health insurance coverage while traveling or who are visiting countries with high medical costs such as the United States.
Medical Emergency Travel Insurance can provide coverage for a wide range of medical expenses, including hospital stays, doctor visits, medical transportation, medical bills, and evacuation.
It's important to carefully review the specific coverage and exclusions of a Medical Emergency Travel Insurance policy of the travel insurance company before purchasing it.
Coverage and reimbursement levels might vary greatly depending on the coverage, and they may be subject to deductibles, co-payments, or other restrictions.
Missed Connection Travel Insurance
Missed Connection Travel Insurance is a type of travel insurance that provides coverage for expenses incurred as a result of a missed connection. This can happen due to various reasons, such as flight delays, cancellations, or missed connections.
This type of insurance is especially necessary for travelers with tight schedules, connecting flights, or who are traveling for major occasions like business meetings or weddings.
Travel Delay Insurance
Many travelers dislike delays in their travels. When a flight is delayed for a cause specified in your policy, such as inclement weather or a technical issue, restaurant, and lodging costs may be reimbursed.
For example, the Safe Travels Voyager plan from Trawick International covers travel delays of up to five hours for up to $150 per day or up to $2,000 in total. (*Refer to policy documents for details)
The travel delay benefit may also pay for your costs to return home or catch up to your destination, or it may even pay for any pre-paid, non-refundable trip costs that you don't utilize.
Baggage Insurance
A travel insurance plan includes lost baggage insurance which can provide you with compensation if your luggage is misplaced, stolen, or destroyed while you are traveling. Your lost bags and valuables can be covered by baggage insurance coverage.
Your personal belongings are covered by baggage insurance, so you can make a claim if your backpack is stolen. Keep in mind that baggage insurance only covers the depreciated value of your possessions, not the cost of replacing them with new ones.
What is not covered by Travel Insurance?
In general, visitor insurance doesn't cover losses brought on by factors and events that are under your control.
It is intended to protect your travel investment in the event that unanticipated events interfere with your plans.
For example, trip cancellation benefits are only applicable if you have to cancel for the reasons specified in your policy, which are unavoidable circumstances beyond your control.
Therefore, if you just decide not to go on your trip, you will not be able to make a typical trip insurance claim. You would require CFAR coverage for that.
All visitor insurance plans have exclusions, so it's important to read the fine print and become familiar with what your policy doesn't cover.
When is it worth getting Travel Insurance?
Travel Insurance is typically something to think about if:
You cannot afford to lose the money you have spent upfront on your trip.
You are visiting another country or a far-off place where there aren't many medical services.
You have a full schedule of pre-paid, non-refundable excursions, day trips, and activities scheduled while visiting a hurricane-prone country.
Your journey involves numerous destinations or connecting planes.
When traveling internationally, you want to be reimbursed for covid-related cancellations and medical difficulties.
If you decide to postpone or cancel your trip for whatever reason, you want to receive a partial refund.
What are the top Travel Insurance Companies in 2023?
Some of the best visitor insurance companies for travelers who are planning international trips are:
IMG (International Medical Group): IMG provides coverage for individuals traveling abroad, as well as expatriates living and working in other countries. The company has a network of providers and medical facilities around the world and offers 24/7 access to assistance services.
Trawick International: Trawick International specializes in international visitor insurance and international student insurance.
Seven Corners: Seven Corners is a visitor insurance company that offers a variety of visitor insurance plans. These plans can provide coverage for things like trip cancellation, medical expenses, and emergency evacuation.
When is Travel Insurance not necessary?
If you're not paying sizable non-refundable trip deposits or if your current health plan will cover where you're going, you usually don't need travel insurance.
For instance, if you're going on an inexpensive domestic vacation, you probably won't have many pre-paid non-refundable charges so travel insurance might not be necessary.
Frequently Asked Questions
Does my credit card insurance not protect me from my trip?
Some individuals mistakenly believe that the travel protection offered by their credit card company is equivalent to travel insurance. But that is not always the case.
Travelers who paid with a credit card can challenge the charges or receive a refund for some of the things they purchased with that card when something goes wrong on the trip.
Vacations are not intended to be protected by credit cards. Cards occasionally offer coverage, but it's typically not as comprehensive as a stand-alone visitor insurance policy.
To understand what is being covered as part of the credit card benefits and, perhaps more crucially, what is not being provided, you should read the fine print of the policy.
Does travel insurance cover Covid related expenses?
If you're concerned that you might catch COVID-19 while traveling and have to cancel your reservation and stay in a quarantine hotel, you should check for visitor insurance policies that cover COVID-19, including for medical emergencies or quarantine costs.
In the event that the government issues travel warnings, there can be an exclusion based on the destination.
If this worries you, you should learn more about the "cancel for any reason" policy or purchase travel insurance that treats COVID-19 like any other sickness.
How long does it take to get my insurance refund?
The refund process could take up to 14 days. It is preferable to wait a few weeks for a refund than to receive none at all, but the length of time can vary depending on the type of claim you make and the firm you buy insurance from.
Before buying visitor insurance, you should be able to quickly get this information, therefore always verify with the insurance provider directly. Some expenses could be processed right away, while others could take up to 14 days.
WHICH TRAVEL INSURANCE POLICY IS THE BEST FOR COVID-19?
Most companies that offer visitor insurance have modified their rules and regulations to include COVID-19 coverage.
For instance, if you have to postpone your trip and undergo quarantine as a result of a positive COVID-19 test, depending on the visitor insurance plan you purchased from your visitor insurance company, they may be able to reimburse cancellation fees. First, confirm with your provider.
CAN I BUY TRAVEL INSURANCE FOR MY PARENTS TRAVELING TO THE USA?
Yes, you can buy travel insurance which provides medical coverage for your parents visiting the USA.
Before purchasing travel insurance for seniors, always compare visitor insurance companies to get the best travel insurance policy that covers medical expenses during unforeseen events. You can also buy plans that cover Pre-Existing Medical Conditions.
You can compare travel insurance policies and buy from an online reputed travel insurance marketplace like OnshoreKare.
The Bottom line
With the right travel medical insurance and coverage, traveling to your dream vacation or even taking that cruise ship can be made even more stress-free and delightful.
The general rule is that we must arrive at our destination safely and return home without any extra costs due to unplanned expenses, the need for emergency medical evacuation insurance, or a required period of quarantine.
Buying travel insurance is absolutely worth it. The key to making an informed decision is to first understand your own priorities and potential risks while traveling.