If you're planning a trip to the US, it is important to consider Visitor Insurance because you never know what might happen during the trip.
If you plan to also visit Canada and Mexico along with the US then you need to look for a plan that will not only provide coverage in the USA but also in Canada and Mexico.
One of the most important benefits most travelers require is coverage for Pre-Existing Medical Conditions.
Many tourists, particularly parents visiting the US, are dealing with Pre-Existing Conditions and are unsure of where to turn for help. Pre-Existing Conditions are covered by a few travel health insurance policies, and INF Elite is a popular option.
Let us dig deeper into how INF Elite Insurance works, the eligibility criteria, and the benefits provided by the plan.
INF Elite is a Comprehensive Travel Medical Insurance plan with an 'A rating' that offers medical coverage as well as other covered travel and emergency services.
It covers medical expenses for travelers to the United States (temporarily visiting the USA outside of their home country).
The coverage periods range from 90 to 364 days. After the deductible is met, while abroad, the plan will cover 80% of eligible medical expenses up to the policy maximum within the United Healthcare PPO network.
The plan will cover 60% of eligible medical expenses outside of the PPO network.
Pre-Existing Condition Coverage is also provided by INF Elite Network Plan and Covid-19 is also covered like any other sickness.
INF Elite Covers Pre-Existing Conditions
How does the INF Elite International Visitor Accident & Sickness Insurance Company work?
International Visitors with pre-existing conditions can get comprehensive coverage with the INF Elite plan when they travel to the United States, Mexico, or Canada.
It is a travel medical insurance plan that provides pre-existing condition coverage which is beneficial for any traveler with chronic conditions, any accident or disease that was diagnosed or acquired before departure, or both.
The most complete coverage for travelers with ongoing medical issues, medical treatment, and pre-existing conditions is offered by INF Elite.
Pre-existing medical conditions are no longer a barrier to travel, staying in touch with family who lives abroad, or taking a relaxing holiday because of the availability of INF Elite.
This plan is recommended for medical coverage, especially for elderly parents with pre-existing medical issues who are visiting the USA.
INF Elite travel insurance offers full coverage for worsening pre-existing conditions and is available to non-US citizens, Non-US Residents.
If you are a US Citizen or US Resident inviting your family from overseas to meet you, consider this plan for their medical coverage and medical treatment in case of emergency.
This plan is a popular plan for parents coming to the USA as visitors, from India.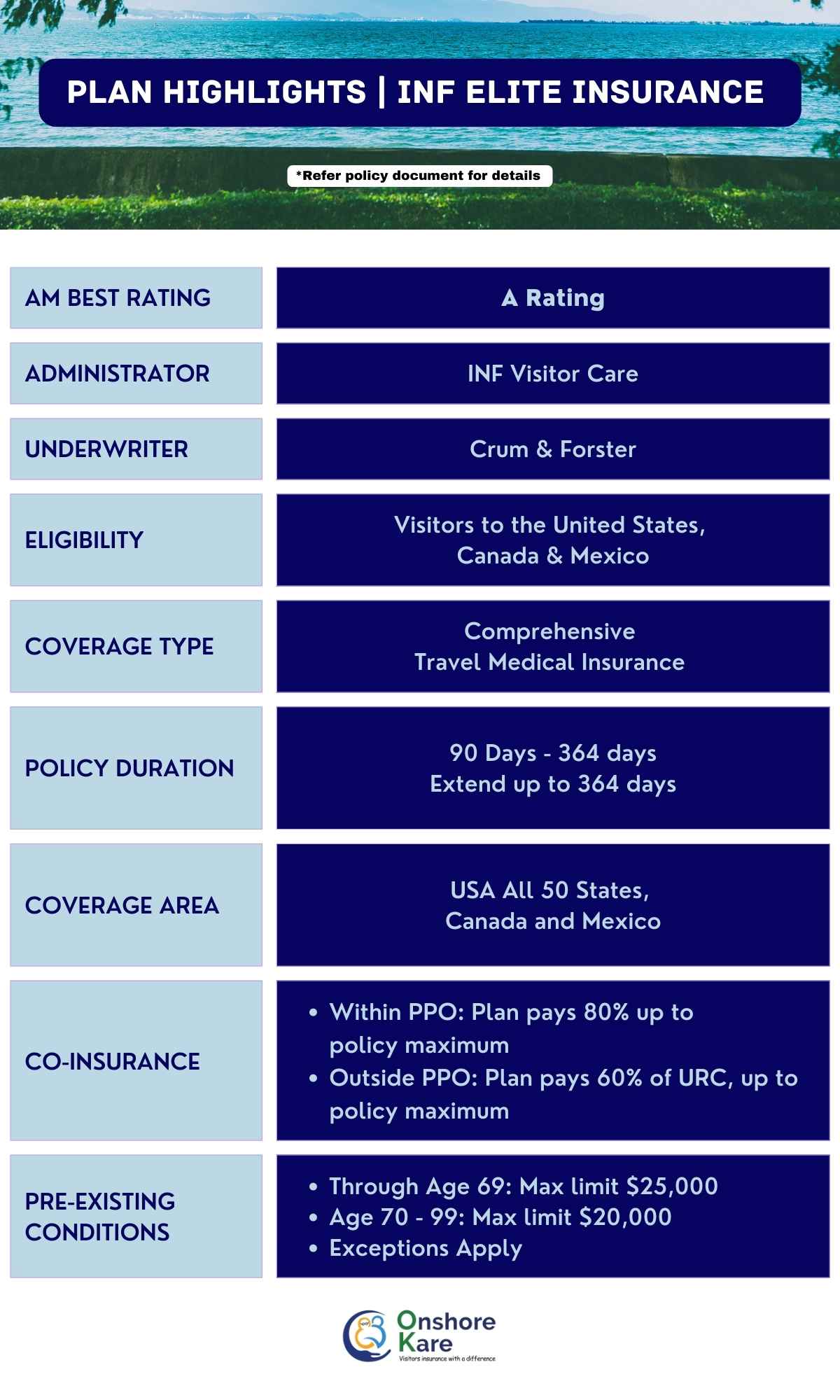 What are the eligibility criteria for INF Elite Insurance?
You are eligible to access the benefits of INF Elite if you qualify for the following:
You are neither citizens or residents of the United States and are visiting the United States, Canada, or Mexico
Age: 1 month to 99 years old
90-day minimum to 364-day maximum duration of coverage
The plan can be renewed for a maximum of 364 days
The policy must be purchased before leaving the home country
You should consider purchasing the INF Elite plan for the coverage and benefits it provides:
Pre-existing conditions are covered by the INF Elite
INF Elite plan is underwritten by ACE American Insurance Company (AAIC), a member of the Chubb Group of Companies
It is a complete pre-existing coverage plan for visitors from outside the US and their qualified dependents
It provides medical expenses for hospital stays, specialist visits, and doctor's visits
Additionally, up to the maximum limit, this plan will pay for urgent care visits and lab tests related to pre-existing conditions
The additional benefit of INF Elite is that it has a very high age restriction and offers coverage up to 99 years of age groups
INF Elite offers coverage for emergency medical evacuation, Repatriation of Remains, AD&D & Emergency Dental Services
This travel insurance plan offers coverage in Mexico and Canada for those who plan to go outside the United States
They can be renewed or extended if the traveler decides to extend his vacation
You are able to renew the Elite Travel Insurance Plan for any amount of time after the initial coverage period
What are the benefits provided by INF Elite plan?
The only short-term insurance plan for non-US citizens that cover pre-existing conditions is the INF Elite plan.
This implies that the plan will cover the medical bills for hospital stays, specialized care, urgent care visits, blood tests, and laboratories are all covered by the insurance.
The Elite Network is the only provider of comprehensive insurance for all ages, up to age 99. Only INF travel insurance offers products that cover you no matter what happens.
Pre-Existing Maximums of up to $25,000 ensure your coverage, allowing you to travel with confidence.
Emergency Medical Evacuation and Repatriation:
This insurance plan provides the benefits of transportation of the policyholder for emergency medical evacuation to the nearest health care providers and medical facilities in times of emergency services.
Accidental Death and Dismemberment:
The INF visitor accident sickness insurance company provides coverage for loss of life resulting from a covered accident.
United Healthcare PPO network
A nationwide network of hospitals and physicians known as the First Health PPO Network provides discounted, pre-arranged rates for medical services.
You are qualified to get these reduced costs if you seek medical care from an In-Network Provider if you have signed up for the INF Elite Network Plan.
How much does INF Elite Insurance cost?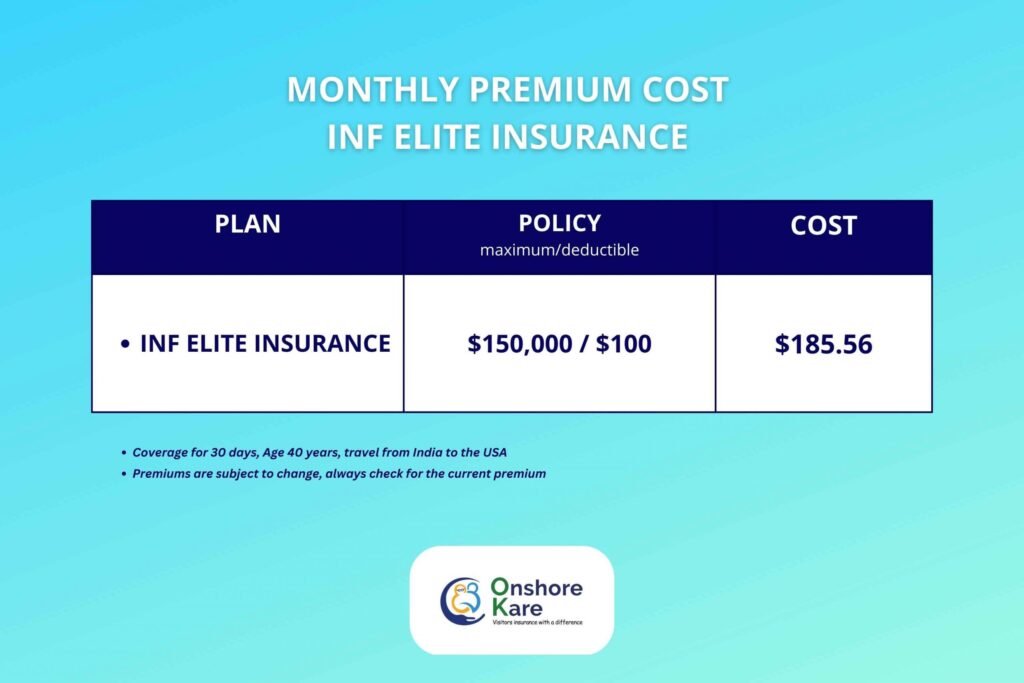 The cost of the insurance depends on many factors including age, coverage length, the limit of the plan, and deductibles.
INF Elite Covers Pre-Existing Conditions
Limit of the plan:
If you choose a higher maximum benefit for your plan, your monthly premium will increase accordingly. In terms of policy maximums, you can pick between $1,50,000, $2,50,000, $30,0000
Deductible:
Select a deductible amount between $100, $250, $500, $1000, $2500, and $5000. The premium can be lowered by selecting a higher deductible.
Age factor:
As one gets older, one usually has to pay a higher premium or rate. The premium increases as one gets older. Anyone with more than 30 days old can sign up for the plan.
Other INF Insurance plans for Visitors
INF Premier includes coverage for pre-existing conditions in addition to other benefits for unanticipated medical occurrences, such as coverage for blood tests, lab work, and hospital stays.
Regarding age, pre-existing condition coverage, and the number of short-term days, the coverage is identical to that of the Elite plan.
This fixed benefit plan's policy maximum is $100,000 for age groups 79 to 89 and $150,000 for age groups 0 to 69.
The pre-existing coverage has a maximum limit of $60,000.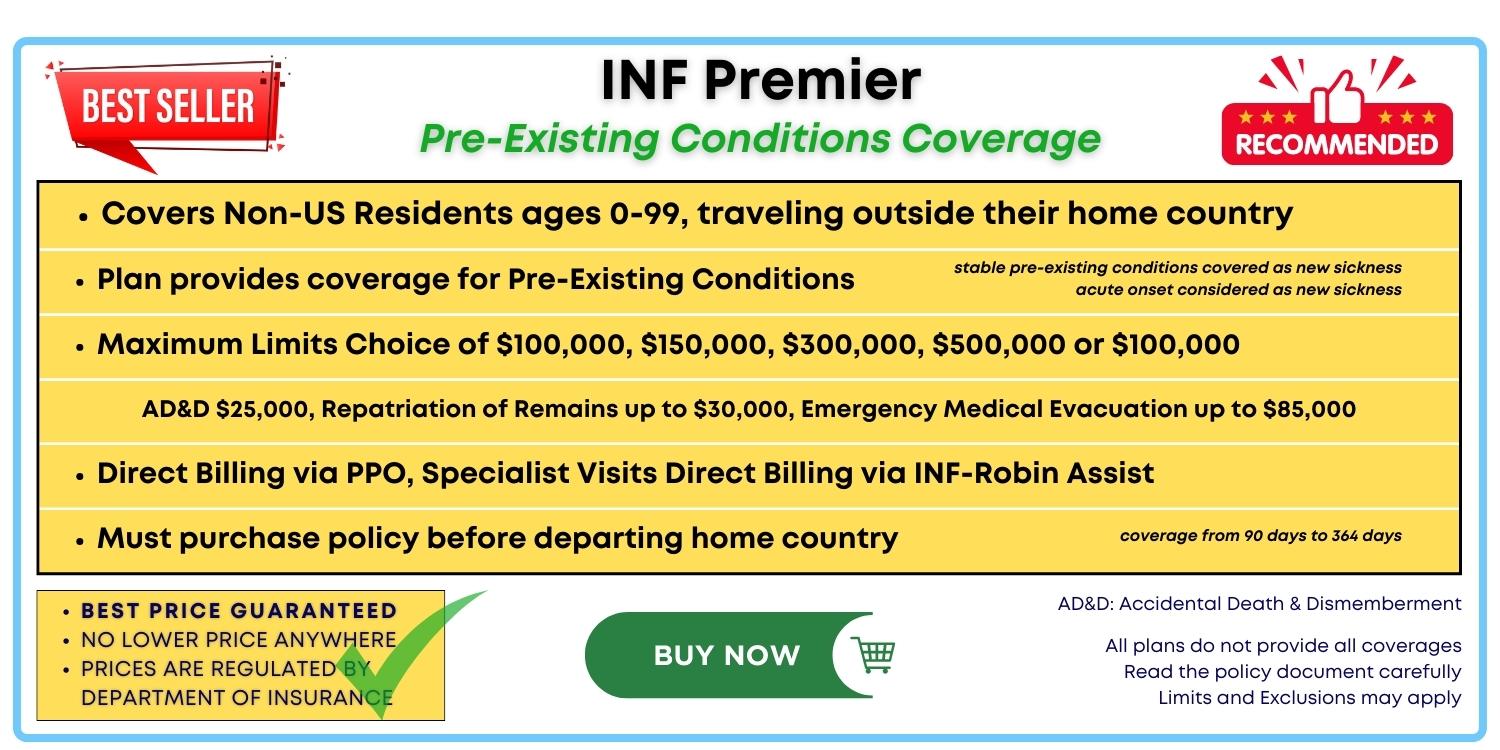 Maximum limits under this plan are $ 75,000/- for ages seventy to ninety-nine.
For the age group zero to sixty-nine, the options are $150,000/-, $ 250,000/- or $ 300,000/-.
The plan utilizes United Healthcare Options PPO and includes direct billing.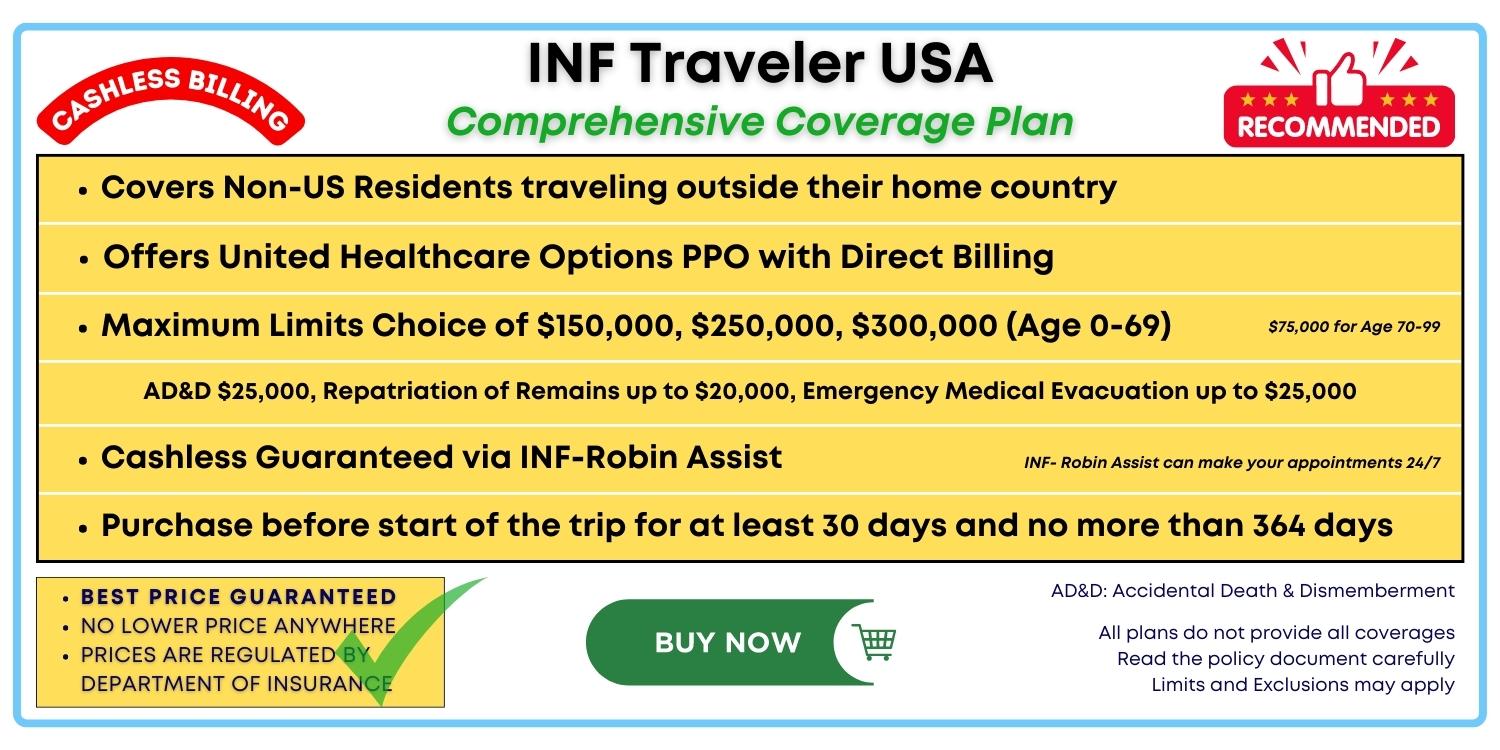 Any non-US citizen or US expatriate between the ages of 0 and 99 who is traveling outside of their nation of residence is eligible for this plan. For a period of up to 12 months after the initial involvement period, it is possible to renew it online. Short-term travel medical insurance is valid for 30 to 364 days.
The policy maximum is $50,000, $100,000, and $150,000. Pre-existing conditions are not covered by this plan.
It includes dental treatments, prescription medications, eye irritation, pregnancy and childbirth, chiropractic therapy, and urethritis. It also covers dental procedures and prescription medications. It's important to remember that this plan is only accessible to travelers before they arrive in the US.
INF Standard an International Visitor Accident and Sickness Insurance
How to file an INF Elite's Claims Process?
INF Elite Insurance claims may be submitted quickly and easily. A smooth process is always guaranteed by completing the necessary documentation and mailing it on time.
To submit a claim, simply follow these easy steps:
Obtain a claim formSubmit the following files as an attachment

Filled-out claims form
Copy of the passport of the insured person
A copy of every medical invoice
Copies of all invoices
A cover letter containing a synopsis of the insured's condition and current treatments
We strongly suggest you fill out a claim form correctly so the insurance company has a record of your visit to the health care provider & will be able to pay your claim in a timely manner.
Medical Bills & Receipts can be sent to the following address: Administrative Concepts, Inc. (ACI) 994 Old Eagle School Rd., Suite 1005, Wayne, PA 19087-1706.
Frequently asked questions
CAN I BUY INF Elite FOR MY PARENTS VISITING THE USA?
Yes, you can buy INF Elite for your parents visiting the USA. It is a popular & amongst the best visitor insurance plan which covers pre-existing conditions. Read about the complete review of the INF plan in detail here.
If your parents with pre-existing conditions are visiting the US, read this article to understand how to choose US travel medical insurance for parents with pre-existing conditions.
My parents have already arrived in the USA, which other travel insurance can I buy for them?
Elite Travel Insurance plan can be bought before the insured person leaves the home country. Since your parents have already arrived in the USA you can consider other popular travel insurance plans:
Can I renew the Elite Travel Insurance Plan?
You are able to renew the Elite Travel Insurance Plan for any amount of time after the initial coverage period. The travel insurance company will send email, text, and phone call reminders to you 1 week & 1 day before the policy expiration.
What is the difference between Pre-existing medical conditions and the Acute onset of pre-existing medical conditions?
A pre-existing condition is a medical ailment that you have before enrolling in a new health insurance plan. Examples of pre-existing medical illnesses include diabetes, cancer, chronic obstructive pulmonary disease (COPD), and sleep apnea. They usually last a long time or are chronic.
A sudden and unexpected outbreak or return of a previous condition, which happens spontaneously and without prior warning in the form of symptoms or doctor's advice, is referred to as an acute onset of a pre-existing condition.
What is an Acute Onset of Pre-existing conditions? Read this article where we have covered acute onset explanation in detail.
WHICH TRAVEL INSURANCE PLAN SHOULD YOU CONSIDER IF YOUR PARENTS ARE ELDERLY TRAVELERS VISITING THE USA?
We recommend considering a Comprehensive Travel medical insurance plan, you can read more about things to consider when buying insurance for seniors
A reputable online marketplace for travel insurance, such as OnshoreKare, allows you to compare and purchase visitors' insurance.
Bottom Line
It is critical to note that this plan pays according to a percentage of the bill and covers pre-existing conditions within the limits allowed by the conditions of the policy. Don't let pre-existing medical issues keep you from visiting the US, Canada, and Mexico.
INF Elite is absolutely something to think about!