Best Travel Insurance for Senior Citizens – INF Elite Insurance and INF Premier Insurance
Traveling becomes more difficult and potentially risky as we age due to the increased likelihood of health issues and pre-existing medical conditions. Specially for senior citizens. Here are some good options of travel insurance for senior citizens worth considering. 
Note: OnshoreKare offers tailored travel insurance products for senior citizens.
These plans offer a variety of benefits that can help alleviate some of the worries of Senior Citizens associated with traveling and provide peace of mind.
Here are some of the most important advantages of INF Insurance Plans for senior travelers available with OnshoreKare.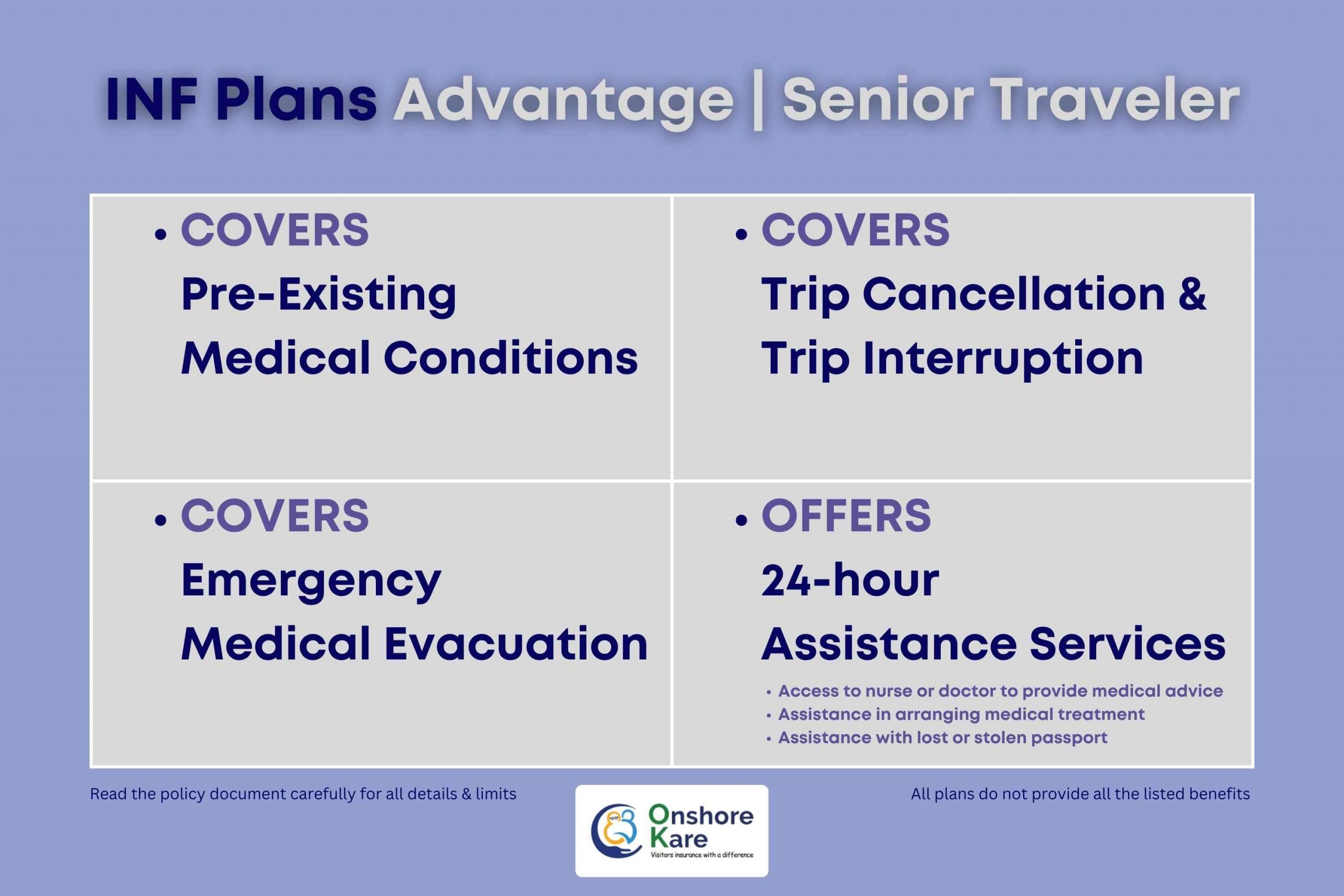 For Senior Citizens, one of the worries is about how to carry prescription drugs, do read the details. This will help carry your prescription medicines.
Pre-Existing Condition Coverage – INF Plans
One of the most important advantages of INF plans is that they provide coverage for pre-existing medical conditions.
A standard travel insurance plan does not offer coverage for a pre-existing medical condition due to the high-risk nature of such plans. Some of the popular travel insurance plans do offer Coverage for Acute Onset of Pre-Existing Conditions.
Pre-Existing Medical Conditions can be a significant issue for older travelers who may have multiple medical conditions.
INF plans, on the other hand, typically provide comprehensive travel insurance policies which include coverage for pre-existing conditions that cover the eligible medical expenses as long as the traveler meets certain criteria, such as being stable for a specified period prior to the trip.
This can be a huge relief for older travelers who may otherwise struggle to find adequate coverage.
Emergency Medical Evacuation Coverage
Emergency Medical Evacuation coverage is another important feature of INF plans. If you have a serious life-threatening medical emergency while traveling, INF travel insurance can cover transportation to the nearest appropriate medical facility or back to your home country for additional treatment.
This is especially important for senior travelers, who are more likely to experience medical emergencies and may require specialized care that is not available locally.
Trip Cancellation and Trip Interruption Coverage
INF plans typically cover trip cancellation and trip interruption due to unforeseen events such as illness or injury. This can be a huge help for older travelers who may have a harder time recovering from unexpected expenses or rescheduling travel plans.
With INFPlans, you can be confident that you will not lose your total trip cost if something unexpected occurs.
Worldwide Assistance
Many INF plans also include 24-hour assistance services, which can be invaluable when traveling in an unfamiliar location.
Access to a nurse or doctor who can provide medical advice, assistance in arranging medical treatment, or even assistance with lost or stolen passports are examples of these services.
When you're traveling, knowing you have someone to call in an emergency can give you peace of mind.
Travel Insurance: What is it?
Travel Insurance, commonly referred to as:
Travel Health Insurance
Travel Medical Insurance
Trip Insurance
Trip Protection
International Insurance Plan
is a category of insurance that compensates you if you need to postpone or cancel your trip. If you get sick or have an accident while traveling, it may also reimburse for your medical expenses if you have to pay them out of pocket.
There are some differences and overlaps between travel insurance and trip insurance.
The majority of travel insurance coverage is sold for a single-trip plan, which means that only the events that occur within your trip's predetermined dates are covered. But, annual plans or multi-trip plans will provide coverage for you over a longer period of time, making them the best option for frequent travelers.
We recommend that you read the policy document in detail before you buy travel insurance. Each plan is different and has inclusions, exclusions, limits, and restrictions on what the plan coverage limit may be for a specific incident and the process to get medical treatment. This helps you during claims. If the recommended process, as defined by the policy terms, is not followed it may delay your claim reimbursement or the travel insurance claim may even be denied.
Watch our video on YouTube on the Top 5 Reasons Why Travel Insurance Claims are denied.
Is Travel Insurance Worth It? Read this article to get more details on this topic.
What is covered by Travel Insurance?
If you've been searching to purchase travel insurance, you may have observed that the majority of carriers provide a range of perks and coverage options.
Continue reading this to learn more about some of the usual coverage that is frequently featured in travel health insurance plans for business travelers.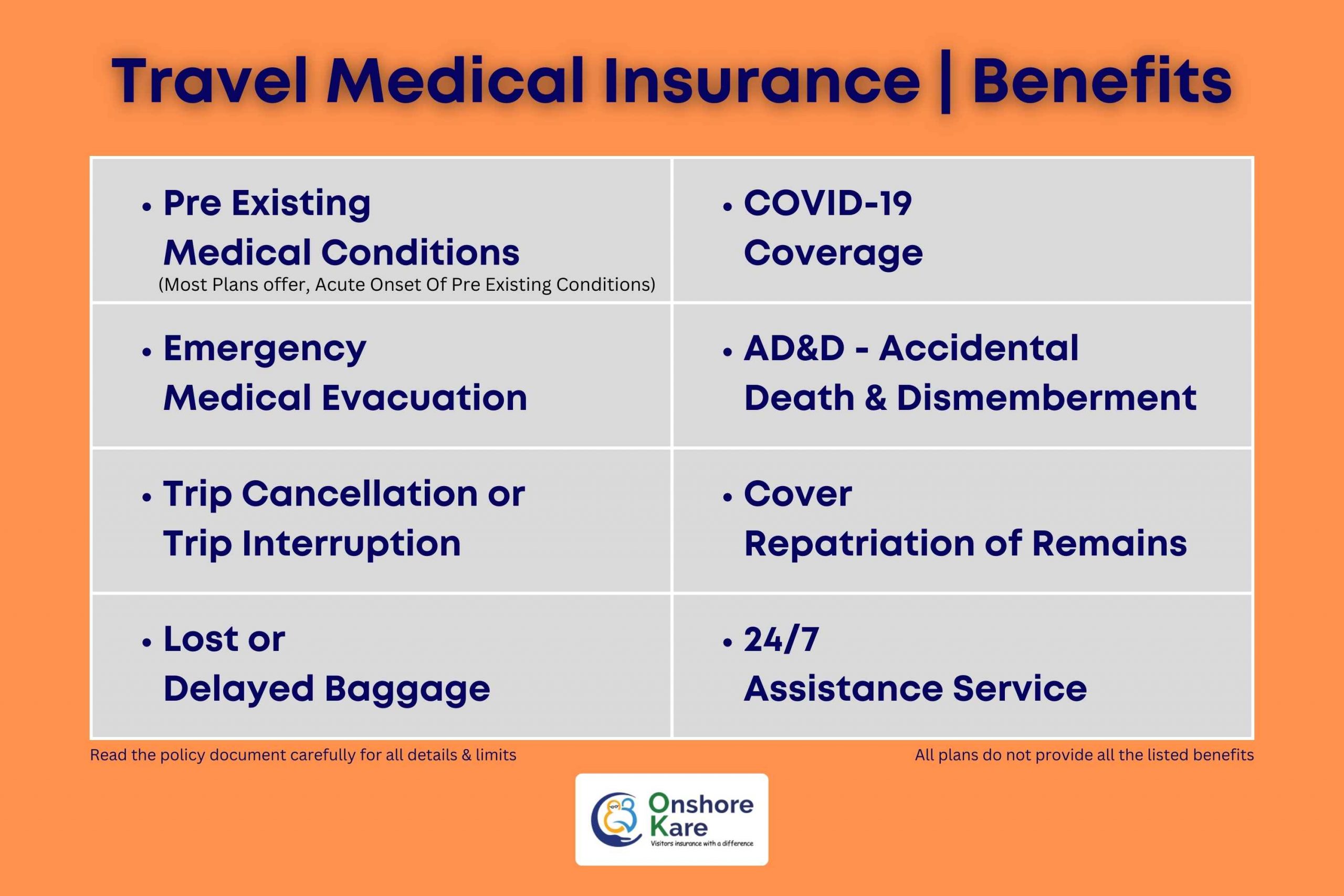 Trip Cancellation Coverage
As long as the cause for cancellation is covered by the policy and the trip has not yet started, trip cancellation insurance will reimburse up to 100% of the paid, non-refundable trip cost.
Trip Interruption Coverage
If the trip has already begun and is cut short, your insurance policy would usually reimburse you for the time that was not used as well as any costs you might have incurred to return home, such as last-minute airfares. Such interruption insurance can contain a maximum on the amount that can be reimbursed, say 150% of the trip's original cost.
Baggage Delay Protection
When a common carrier (like an airline) fails to deliver your checked bag within a predetermined amount of time of your arrival at a destination, baggage delay protection may offer payment for necessary materials and apparel. In most cases, you may be compensated up to a specific sum, either per event or per day.
Trip Delay Coverage
Some insurance companies will also cover costs associated with travel delays, such as meals or hotel accommodations while you wait. Several businesses provide coverage for airport delays brought on by missed connections. Any flight change fees or extra costs paid while attempting to catch up with your travel plans will be reimbursed.
Emergency Medical Coverage
In the event that you need emergency medical treatment while you are traveling, travel insurance might be quite useful. Travel Insurance plans help reduce the financial burden.
Personal Effects and Luggage
If your luggage is delayed or goes missing while you're away, this coverage is meant to help. You normally have to wait two to six hours for your baggage with baggage delay coverage before you can submit a claim. Up to the insurance limit, the coverage offers reimbursement for replacement items you bought during the wait.
Travel medical insurance can reimburse you for misplaced baggage up to the policy amount, which is often between $500 and $1,000. Claims frequently request purchase receipts or a description of the things in the suitcase, and a deductible can apply.
In case they need to file a claim, we advise insured passengers to prepare a list of the things in their luggage and have it with them at all times.
Emergency Medical Evacuation
If a medical professional and the insurance company determine that a medical evacuation is essential, the insurance company can arrange and pay for one. This coverage can be especially helpful if you're visiting a place with subpar medical resources. Read more on emergency medical evacuation.
24/7 Assistance
Look for travel insurance provider that provides 24/7 emergency assistance in all countries you are visiting preferably with a local number. Make a note of the phone numbers and addresses of the local contacts you'll need before you leave home and keep the information close to hand.
Several insurance providers add additional emergency resources to their client service. They might include round-the-clock, multilingual medical hotlines that can provide you with advice on your health and/or direct you to nearby medical facilities if you need in-person treatment.
What are the Popular Add-Ons to Travel Insurance?
There are several add-ons or riders that enable you to boost benefit levels and cover activities that may be restricted from ordinary plans if your coverage needs go beyond what a basic travel medical insurance policy offers.
Typical add-ons include:
Car Rental Insurance
In the event of an accident, this extra rental car insurance will pay for injuries to you or others as well as damage to the rental car.
Coverage of Adventure Sports
This rider will cover losses or injuries sustained while taking part in extreme activities like skydiving or bungee jumping. Basic insurance often does not cover claims resulting from these actions.
Prevention of Identity Theft
This extra coverage helps you replace lost passports, credit cards, and other vital documents as well as alert creditors, deactivate cards, and obtain replacements.
Emergency Options
Some travel insurance plans may offer emergency coverage options like Repatriation of Remains, Emergency Medical Evacuation, and AD&D limits if not offered as standard in the plan.
How much does Travel Insurance cost?
The price of travel insurance varies depending on the provider, the type of coverage, the trip cost, the destination, the traveler's age, residency, and the number of travelers they wish to cover.
Travel insurance is an essential component of any trip preparation. It provides coverage for unforeseeable events such as trip cancellation, lost baggage, medical emergencies, and more. The travel insurance cost, on the other hand, can vary significantly depending on a number of factors, including the age of the traveler, the policy maximum, the deductible, and the number of travelers.
Age Factor
The traveler's age is an important factor in determining how much travel insurance will cost. In general, the higher the cost of the policy, the older the traveler. This is due to the fact that older travelers are more vulnerable to medical emergencies, as well as the risk of trip cancellation or interruption. Insurance companies take these factors into account and adjust the premium accordingly.
Policy Maximum
The policy maximum represents the maximum that an insurance company will pay for a covered claim. The premium increases as the policy maximum increases. If you are traveling to a country with high medical costs, such as the United States, it is critical to select a policy with a high policy maximum to ensure proper coverage.
Deductible
The deductible is the amount of money you must pay out of pocket before the insurance company begins to cover the costs. A high deductible policy will have a lower premium, whereas a low deductible policy will have a higher premium. It is critical to select a deductible that you can comfortably afford in the event of a claim.
Number of Visitors
The travel health insurance cost is also affected by the number of travelers. If you travel in a group, you may be eligible for a group discount, which can significantly lower the cost of the policy. If you travel with family members, however, the cost may be higher due to the increased risk of a claim.
What does it mean by Pre-Existing Condition?
Pre-existing conditions are health conditions that were identified by a doctor before you bought travel insurance.
You should definitely consider asking your chosen travel medical insurance provider about its policies because failing to comprehend its terms and conditions may result in a claim being rejected. Each travel insurance provider will have their own definition of these conditions.
Read our coverage of the best visitors insurance for pre-existing conditions.
How are Pre-Existing Conditions covered by INF Travel Insurance Plans?
When it comes to obtaining travel medical insurance coverage, pre-existing medical conditions can be a significant challenge.
Most travel medical insurance policies exclude or limit coverage for pre-existing conditions, leaving travelers without sufficient coverage in the event of an emergency needing immediate medical treatment.
INF Travel Insurance benefits, on the other hand, offers plans that cover pre-existing conditions under certain conditions and limits per incident or policy period.
The coverage is subject to the policy's terms and conditions, which may vary depending on the plan chosen.
The following are some key characteristics of INF Travel Insurance plans that cover pre-existing conditions:
Pre-Existing Conditions Coverage
INF Travel Insurance has a plan designed specifically to cover pre-existing conditions. The INF Elite plan covers travelers under the age of 70 for the acute onset of pre-existing conditions. Acute onset is defined as the unexpected and sudden onset of a pre-existing condition that necessitates immediate medical attention.
What is a pre-existing condition and what is an acute onset of a pre-existing condition?
Read this article to learn more about the explanation of the acute onset of a pre-existing ailment.
Coverage for chronic conditions
INF Travel Insurance plans also cover the treatment of chronic illnesses. This coverage is subject to the policy's terms and conditions and varies depending on the plan chosen.
How to pick the best travel insurance coverage?
Follow these easy steps to choose the travel insurance policy that suits your needs best: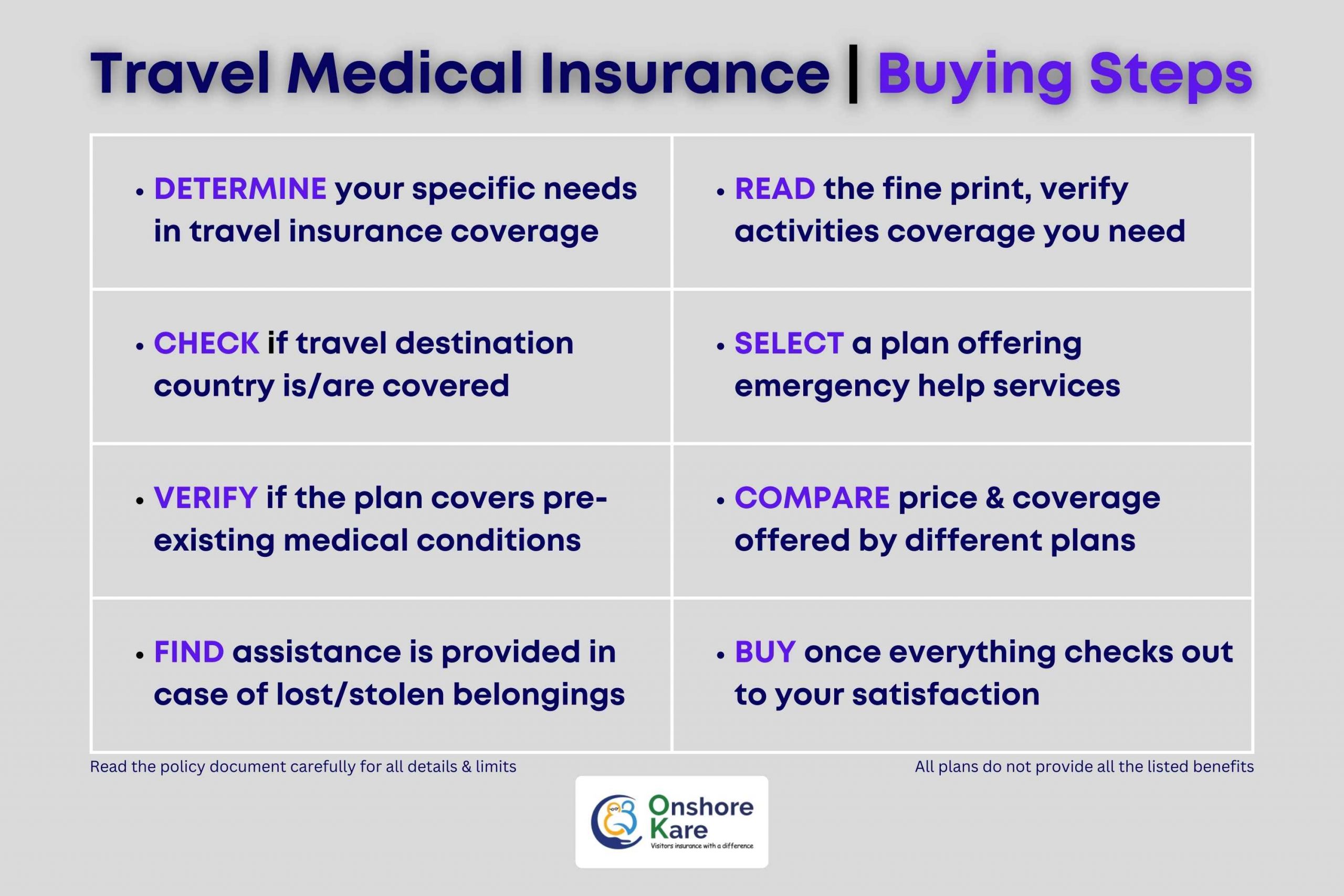 To avoid spending money on unnecessary travel expenses, determine your specific needs.
Check to see if your chosen destination is covered by the policy.
Check the medical coverage of the policy you're thinking about to see if it covers any pre-existing medical condition you may have. If it's not, you might need to buy more insurance.
Find out what kind of assistance the travel insurance provider will offer if your belongings are stolen.
Before purchasing, read the policy's fine print to be sure that the activities you have scheduled for your vacation are covered.
Choose a policy that offers emergency help services.
Before making a decision, compare prices on various types of travel insurance.
Frequently Asked Questions
Can I buy INF insurance plans for my parents visiting the USA?
Yes, you can buy INF insurance plans for your parents visiting the USA. We have covered a complete review of INF insurance in this article, do read to know the details.
How does travel insurance work?
If the reason for the loss is covered by your policy, travel insurance pays or reimburses you for any expenses or financial losses you incur before, during, or after your trip. Travel insurance can also cover losses for items you pre-paid for, such as airlines, hotels, tours, etc. While many people think of travel insurance as providing medical coverage, this is not always the case.
You must file a claim and present proof of the loss. After receiving your claim, the insurance company will investigate it and pay you for your medical assistance if it finds the claim to be covered by the policy. You can always appeal the provider's refusal if they reject your request for coverage.
Is it worth it to purchase travel insurance?
Medical expenses in a country like the USA can be very expensive, healthcare is expensive in the USA. If you are contemplating travel insurance read if it is worth buying travel insurance.
What does travel insurance not cover?
The most typical exclusions from travel insurance include:
Accidents brought on by extreme sports
Personal things like jewelry and electronics being stolen or lost
Problems associated with pregnancy
Injuries sustained while under the influence of drugs or alcohol, even if doing so is permitted where you are going
Finally, remember that insurance providers may at any time modify their coverage. Many insurance providers temporarily excluded COVID-19 cases from coverage when the coronavirus pandemic started in 2020, and they may do so again in the future.
Before you get travel insurance, be sure to carefully check your policy documentation since the insurer always has the final say regarding what is and isn't covered.
Conclusion
Travelers with medical conditions can benefit from INF Travel Medical Insurance plans that provide coverage for these conditions. INF Elite plan offers coverage for pre-existing medical conditions. With these options, travelers can have peace of mind knowing that they are covered for unexpected medical emergencies while traveling. It is important to carefully review the terms and conditions of the policy to understand the extent of coverage provided for pre-existing conditions.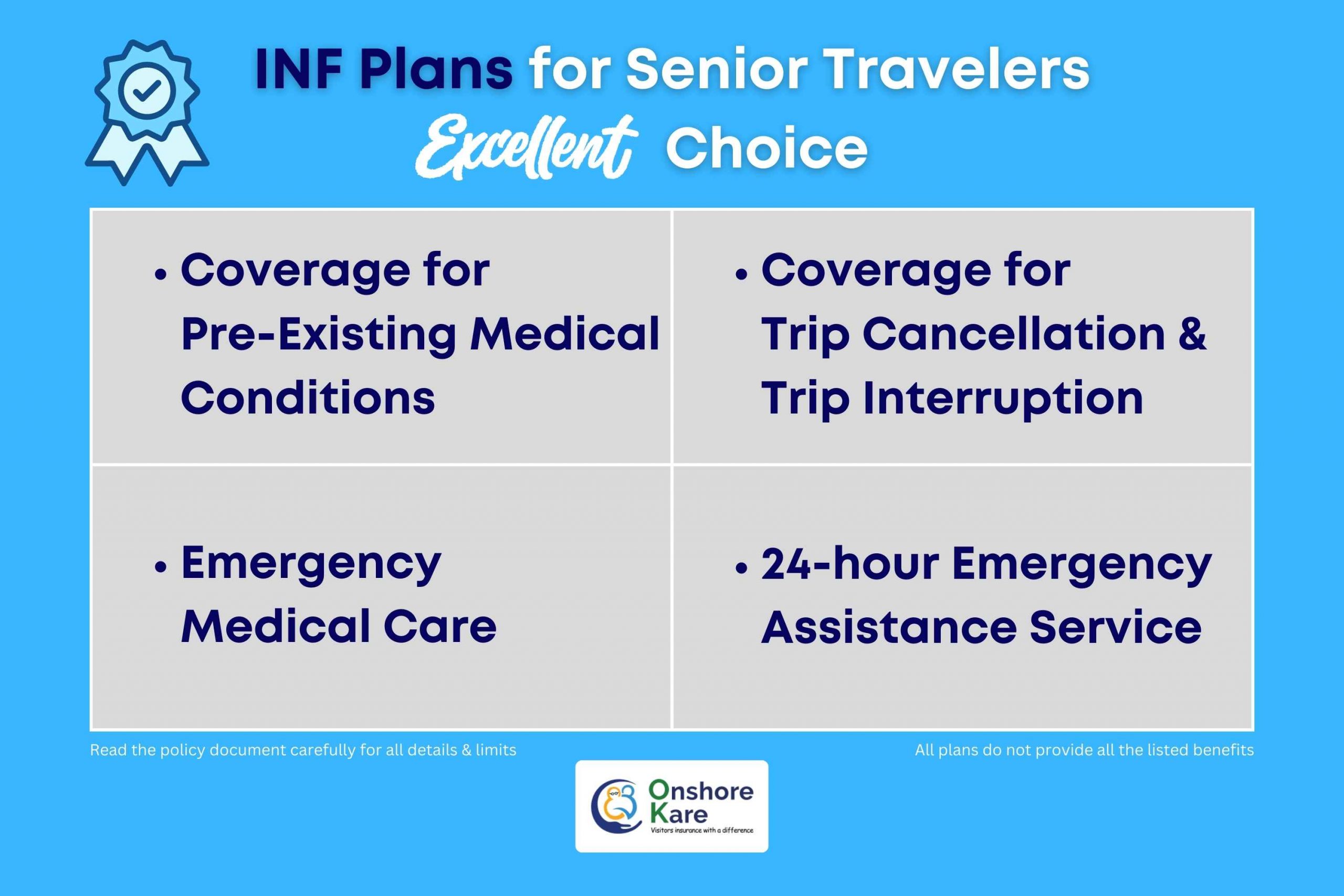 Finally, INF Travel medical insurance plans are an excellent choice for senior citizens who want to protect themselves against the risks of travel.
These plans provide comprehensive protection for pre-existing conditions, emergency medical care, trip cancellation coverage and interruption, and 24-hour emergency assistance services, allowing you to enjoy your travels with confidence.
If your trip is more than 90 days and you have not left your home country yet, you may be eligible for INF Insurance plans with pre-existing conditions coverage.
If your trip to the USA is less than 90 days then you can explore some of the other most popular travel insurance options listed in this article.
Always travel under the cover of insurance!