What Is Travel Insurance?
What is travel insurance? If you wonder if it's worth it! this article will be of help.
According to the U.S. Travel Insurance Association (UStiA), during the period 2018-2020, consumers spent approximately $1.72 billion on various types of travel insurance products.
Travel insurance is a unique, specialized insurance product created to protect you financially from unforeseen events that may occur before or during your trip. It provides coverage for a wide range of potential mishaps, such as trip cancellations, medical emergencies, lost luggage, and more.
Travel insurance is a type of insurance policy designed to cover different risks while traveling. It is coverage for unexpected unfortunate events during a trip. It covers unforeseen losses incurred while traveling either domestically or internationally. These losses could be minor or significant like a medical emergency overseas.
Most health insurance does not provide full coverage in foreign countries, Travel insurance works in addition to your health insurance and can help supplement medical costs if you are sick or injured during your travel.
Types of Travel Insurance
Basically, there are two types:
Trip Insurance
Travel Medical Insurance
Trip Insurance:
Helps to protect travelers from complete financial loss of certain prepaid expenses including flight bookings, hotel costs, missed flight connections, lost baggage or passport, and rental car booking costs.
Eligibility: Only U.S. residents are eligible to purchase
These plans may reimburse the traveler for non-refundable expenses if they are unable to take or complete their trips.
Focuses on protecting the financial investment in a trip
Covers trip cancellations, interruptions, and baggage loss
Coverage Provided under these plans:
For outbound travel from the United States
Domestic travel within the U.S.
Trip cancellation plans usually cover:
Illness and death of traveler or their loved ones
Quarantine, hijacking, strike, natural disaster, terrorist incidents, etc
Inclement weather causing delays or missed flight connections
Emergency medical evacuation as determined by a physician
Note: Specifics of what various insurance companies and policies cover vary
Travel Medical Insurance
Also known as temporary medical insurance, these plans usually cover new illnesses, conditions, and injuries that a traveler might encounter while away from their home country.
Travel medical plan will not cover an insurer like a normal insurance would, but instead is designed to cover policyholders in the event of catastrophic or unexpected events that require immediate medical attention
Specialized coverage for medical emergencies during travel
Addresses emergency medical expenses, evacuation, and repatriation
Travel medical insurance falls under two categories
Limited and comprehensive.
Limited Travel Insurance:
Limited plans are budget-friendly, less expensive, and offer limited benefits for travelers
Comprehensive Travel Insurance
Provides more extensive coverage for medical emergencies and baggage loss
Combines elements of both trip and medical coverage
Offers a broader range of protection for various travel-related events
Why Do You Need Travel Insurance
Financial Protection:
It safeguards your financial investment in a trip, covering expenses related to trip cancellations, interruptions, and unexpected medical issues
Peace of Mind:
Travel Insurance provides a safety net, allowing you to enjoy your trip with less worry about potential setbacks
Mostly travel insurance bundles these three types of coverage into a single comprehensive policy.
Financial reimbursement For:
Trip Interruption,
Trip cancellation
Trip delay
For situations arising from conditions such as illness or bad weather, and for baggage loss or delayed luggage.
Medical insurance coverage and medical evacuation coverage in case you are :
Injured while traveling
Become ill while traveling
24-Hour assistance:
Help find a doctor when you need it
Help arrange accommodation
Contact your family in case of an emergency
Other assistance in case of emergency
Travel Insurance Explained
Travel insurance is a financial tool that allows travelers to prepare for the unexpected. When an insured event occurs, policyholders can file a claim to receive reimbursement or coverage for eligible expenses.
The purpose is to minimize the financial impact of unforeseen events, enabling travelers to focus on enjoying their journey.
It can be a useful protection for domestic or international travel. It covers medical costs, flight cancellations, lost luggage, and other losses a traveler can incur while traveling.
Travel Insurance Description
A travel insurance policy typically includes various types of coverage. It serves as a safety net for travelers, offering protection for non-refundable trip expenses, medical emergencies, lost luggage, and more. It is a valuable companion for any trip, ensuring that travelers can navigate unexpected challenges with confidence.
Risks Covered By Travel Insurance
The most common risks covered by travel insurance include:
Trip cancellation, delay, or interruption
Emergency medical coverage and evacuation
Accidental death and dismemberment
Baggage delay or loss
Rental property and rental car coverage
Extreme sports (with additional coverage)
Political unrest (with additional coverage)
Tour operator defaults due to financial issues (with additional coverage)
Some scenarios are not covered by a travel policy including:
Fear of travel due to pandemic
Outbreak, or other reason
Illegal activities
High-risk activities
Routine Physicals
Dental care, and physical therapy
Known storms
Epidemics
Acts of war, and travel restrictions imposed by government authorities
Leaving your personal belongings unattended
Travel insurance policies can vary in terms of coverage and specific risk here's a list of common risks and coverage typically found in travel insurance policies: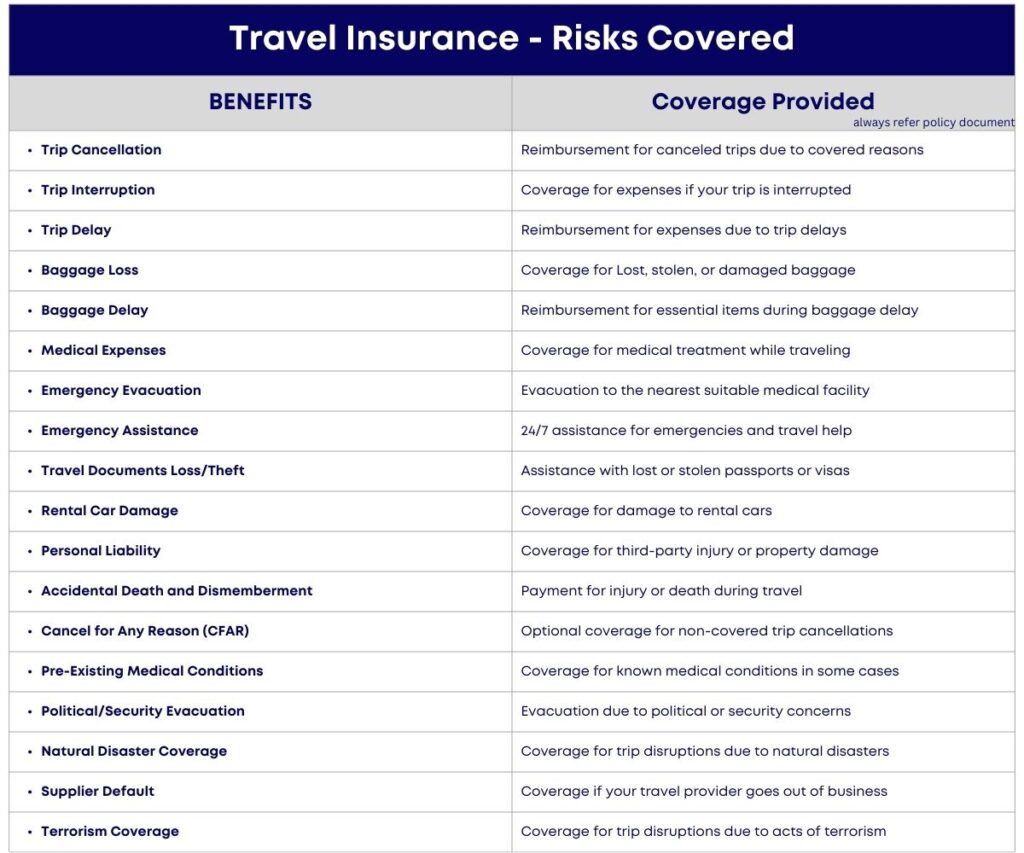 Types of Travel Insurance
Travel insurance comes in several forms, each catering to different aspects of your journey:
Trip Cancellation Insurance: This covers non-refundable trip expenses if you need to cancel your trip due to unforeseen events such as illness, injury, or death in a family.
Trip Interruption Insurance: It provides coverage if you must cut the trip short and return home due to unexpected events.
Trip Delay Insurance: This reimburses additional expenses incurred during trip delays caused by covered reasons like airline delays or severe weather.
Baggage Loss or Delay Insurance: Offers protection against lost, stolen, or delayed luggage including reimbursement for essential items during baggage delays.
Medical Expenses Insurance: Covers emergency medical treatment while traveling, including doctor visits, hospital stays, and prescription medications.
Emergency Evacuation Insurance: Provides coverage for evacuation to the nearest suitable medical facility in the event of a severe illness or injury during your trip.
Emergency Assistance Services: Often included in travel insurance, these services offer 24/7 assistance for emergencies and travel-related issues, such as lost documents or medical emergencies.
Travel Documents Loss/Theft Insurance: This assists in obtaining replacement travel documents, like passports or visas, if they are lost or stolen during your trip.
Rental Car Damage Insurance: Covers damage to rental vehicles in case of an accident.
Personal Liability Insurance: Offers coverage for third-party injury or property damage you may unintentionally cause while traveling.
Accidental Death and Dismemberment Insurance: Provides a benefit or payment in the event of accidental death or covered injuries while traveling.
Cancel for Any Reason (CFAR) Insurance: This is an optional coverage that allows you to cancel your trip for reasons not typically covered by standard trip cancellation insurance.
Main Types of travel insurance

Trip Cancellation or Interruption Coverage
The Trip Cancellation Coverage
Trip cancellation coverage falls under the umbrella of travel insurance and serves to provide financial security in the event you must cancel your trip prior to departure for a covered reason.
Here are some key points about trip cancellation insurance coverage:
Trip cancellation coverage can be included as a component of an all-inclusive (comprehensive) travel insurance policy, or it might be offered at no cost when you possess particular premium credit cards.
The benefit is structured to safeguard pre-paid, non-refundable trip costs (reservations), encompassing flights, hotel reservations, and other bookings, in the event of trip cancellation due to an exceptional circumstance.
Each policy will state exactly which events are considered valid reasons for cancellations.
Trip cancellation insurance does not provide coverage for losses arising from self-inflicted harm, events that could have been foreseen, acts of war, participation in activities considered high-risk (such as bungee jumping, skydiving, endurance races, etc.,) committing a felony, dental treatment, and other specific circumstances.
If you have the question Does trip insurance cover cancelled flights? then be sure to get the answer before moving any further.
Trip Delay Coverage
Trip delay coverage is a category of travel insurance designed to assist in covering extra costs you may face when your travel arrangements with a common carrier experience delays. Common carriers typically encompass airlines, ferry operators, passenger railroads, and long-distance bus service.
Here are some key points about trip delay coverage:
Trip delay insurance additionally provides coverage for delays caused by weather or unexpected situations, in contrast to airline policies that typically cover delays that are under their control only.
Trip delay insurance policies may vary, but they generally include compensation for essential expenses resulting from travel delays. Eligible reimbursement includes meals, lodging, toiletries, medication, and other personal use items
The policy's terms will define the duration of the necessary delay for coverage activation, Several policies necessitate a minimum delay of six to twelve hours or an overnight stay.
Trip delay coverage is typically limited to a specific dollar amount per day or per trip.
Trip delay coverage is often included in comprehensive travel insurance policies but it can be purchased as a standalone policy.
Trip Interruption Coverage
Trip interruption coverage is a type of travel insurance that can help reimburse you for unused, pre-paid, nonrefundable trip expenses if you have to end your trip early due to a covered reason.
Here are some key points about trip interruption benefits:
The coverage typically covers pre-paid, non-refundable travel expenses (like flights, hotels, tours, etc.,) if you have to end your trip early due to a covered reason.
Covered reasons may include a serious illness or injury, a natural disaster, a terrorist incident, or other unforeseen events.
Trip interruption coverage is usually included in comprehensive travel insurance plans
It also covers additional expenses you incur due to the interruption, such as booking a new flight home, additional hotel nights, and airport taxi fare
Trip interruption insurance does not cover every incident, and coverage may exclude travel interruptions connected to

Being intoxicated or under the influence of a controlled substance when injury occurs.
Committing an illegal or criminal act,
Injury related to mountaineering, skydiving, hand gliding, or deep-sea scuba diving
While Trip Insurance and Travel Medical Insurance may appear to be synonymous, they are not. Understanding the distinctions between the two can help you select the best coverage for your needs and avoid unpleasant surprises while traveling.
Cancel For Any Reason Insurance
This benefit is an optional add-on and is available when you purchase travel insurance, Not all plans offer this benefit.
Cancel for any reason (CFAR) trip insurance is a type of insurance that allows you to cancel your trip for any reason, and get a partial refund of your nonrefundable deposit as long as the cancellation occurs at least two days in advance of the trip date.
CFAR reimburses 50% to 75% of the total trip cost which is worth when considering an expensive trip.
It typically costs more than standard trip cancellation insurance
Most CFAR (cancel for any reason) plans cover literally any reason, but a small number of providers have recently added an exclusion to CFAR insurance for cases where a travel supplier goes out of business and does not provide the travel arrangements you paid for.
Travel Medical Insurance
Travel medical insurance is a type of insurance that provides coverage for medical expenses incurred while traveling outside of your home country.
Covered benefits generally include emergency medical evacuation, repatriation, accidental death and dismemberment, and 24-hour assistance
Here are some key points about travel medical insurance cover:
Protects you in the event of unexpected injuries or illnesses while abroad
It provides coverage for emergency medical expenses, including medical evacuation, while you are traveling.
Ideal for international vacationers, relatives visiting from overseas, people going on cruises, safaris, or guided tours, international business travelers, and students studying abroad.
Can be purchased as a standalone policy or as part of a comprehensive travel insurance policy.
Other trip insurance protections will be limited, The Policy will be cheaper than a comprehensive travel insurance plan as a result of reduced coverage for other events.
Safe Travels for Visitors to the USA is a good option that provides a pre-defined amount for medical coverage and emergency services.
Is Travel Insurance Right for you?
To determine if it is right for you, You must ask yourself some basic questions.
Does my health insurance cover me in a foreign country?
Ask yourself if you are injured or become ill while traveling in a foreign country away from your home does your health insurance cover you?
Can I afford a Financial risk?
You must ask yourself if you can afford the financial risk of losing your vacation investment if something goes wrong due to unforeseen circumstances or if you become ill or you are injured while traveling
Can I afford the cost of a return airline trip home?
You must ask yourself if something goes wrong and you have to cut your trip short because of an emergency can you afford the cost of a return airline trip home
In case of lost baggage can you buy replacement necessities and pay for extra lodging?
In case of lost baggage or you have to spend an extra night because of severe weather can you afford to buy replacement necessities and pay for extra lodging
If your answer is a NO to even a single question mentioned above you must consider having travel insurance coverage as it can offer you coverage and you may save a lot of money above all you can have peace of mind while traveling and concentrate on your trip rather than worry about unforeseen circumstances that may cause you financial losses.
Why Buy travel insurance coverage
There could be a number of reasons why you may need a travel insurance cover and you may want to purchase travel insurance.
Here are some of the reasons to buy travel insurance:
Cut your trip short: You may have to cut short your trip because of an illness
Family Member had an accident: You may have to cancel your nonrefundable trip as your family member had an accident.
Flight delayed: Because of bad weather, Your flight may get delayed overnight and you may need a hotel room
Delayed luggage: Your baggage is substantially delayed
Lost luggage: You have a bad experience and have lost luggage
Missed Cruise Lines Departure: Because of a weather-related flight delay, you missed your cruise line departure.
Natural Disaster at Destination: You are unable to go home because of floods, hurricanes, or other natural disasters.
Trip cancellations: You have to cancel a trip as your home is flooded.
Need medical assistance: You are abroad and you need medical assistance abroad
Legal Assistance: You need legal assistance as you have an auto accident in a foreign country
What Travel Insurance Coverage Should You Get?
This will depend on your needs and what are you looking for in your travel insurance policy
You may need insurance for Trip Cancellation and Trip Interruption, for your trip.
You may need insurance for trip cancellation, trip interruption, and trip delay
You may need medical coverage and medical evacuation coverage while traveling
If you are a frequent traveler you may consider an annual policy
You may need a 24-hour assistance line to help find a doctor, contact your family, or other assistance in case of an emergency
Here are some special circumstances
Are Pre-existing conditions (medical) covered?
If you are on a sports trip, you may need sports-related injuries covered
You may be more concerned and might need strikes, civil disturbances, and terrorist acts covered
You must also check if you are covered in case your travel supplier goes out of business
If on a cruise line or tour you must check if the policy covers the entire trip, including hotel, shore excursions, airfare, pre and post-touring, and sightseeing,
What does travel insurance cover?
Basic policies generally only cover emergency medical expenses, trip cancellation, and lost or delayed luggage.
Comprehensive travel insurance policies include cover for any cancellation fees or lost deposits relating to cancellation of the insured person's trip for a range of unforeseen and unexpected circumstances, such as illness or injury, natural disaster and bad weather, strikes and riots, hijacking, and family emergencies.
It can help protect you from medical expenses abroad that your normal health insurance doesn't cover.
The main categories of travel insurance include
Trip Cancellation or interruption coverage
Baggage and personal effect coverage
Rental property coverage
Rental car coverage
Medical coverage
Accidental death coverage
Travel insurance plans usually do not include coverage for every possible thing that can go wrong, You can add optional extras to your policy for an upcharge.
Some of the extras you can add to your policy include:
Cancel for any reason (CFAR) coverage, It reimburses you for unused, nonrefundable costs in the event you must cut the trip short and return home for a covered reason. and lodging expenses in case you get sick abroad.
Key Considerations When Choosing Travel Insurance
Choosing the right policy can be a crucial decision for any traveler. Here are some key considerations to keep in mind.
Coverage Needs: Consider the specific risks associated with your trip and select coverage that addresses those needs. If you're taking an international adventure, overseas insurance may be a wise decision.
Policy Limits: Understand the coverage limits, including the maximum amounts that the policy will pay for various types of claims. Ensure these limits align with your trip's cost and potential expenses.
Pre-Existing Conditions: If you have pre-existing conditions, make sure to choose a policy that covers them, as many policies have specific terms regarding pre-existing conditions.
Exclusions: Review the policy's exclusions to understand what is covered. Common exclusions include high-risk activities like extreme sports.
Trip Duration: Ensure the policy covers the entire duration of your trip, from departure to return.
Optional Coverage: Explore optional coverage like Cancel for Any Reason (CFAR) if you want additional flexibility in canceling your trip.
Cost: Compare the cost of the policy against the coverage it offers. Choose the one that provides the best value for your needs.
Travel Supplier Coverage: Check if your travel providers (airlines, cruise lines, hotels) offer their own coverage or protections, as you may not need duplicate coverage.
How much Does Travel Insurance Cost?

Cost is based on
Your Destination:
Length of your trip: The longer the trip the higher the price of your policy
Age of the policyholder: The older the insured the more expensive is the policy
The breadth of coverage: The higher the limits and more the covered events the pricier the policy
Travel insurance generally costs around 4% to 8% of a trip's price (total trip cost)
Having travel insurance from India to USA for anyone traveling to the USA from India needs proper consideration, the need to buy visitors insurance should not be overlooked.
What To look Out For In A Travel Insurance Plan Before Purchasing A Travel Insurance Policy?
You must check and compare:
The Travel Insurance Company
The Policy Coverage
The Benefits Offered
The Price
Check what is included
Check what is excluded
If the coverage offered covers your needs
Where can you buy travel insurance?
It can be purchased from:
A private travel insurance firm
Travel agents
Insurance brokers
Travel suppliers (Tour Operators, Airlines, Cruise lines, Hotels)
You can generate a free no-obligation quote from a marketplace like Onshorekare.com and decide if you like the rates offered to you. compare your rates and services offered to you and then make the purchase. .
Frequently Asked Questions
Travel Insurance Definition
Travel Insurance, often referred to as trip insurance, is a financial product that offers protection against unexpected events and financial losses related to travel. It serves as a safety net, providing coverage for various travel-related risks and disruptions
What is the purpose of Travel Insurance?
The primary purpose is to provide travelers with peace of mind by offering financial protection against a variety of unforeseen events that can disrupt travel plans. It serves as a safety net, ensuring that travelers can recover non-refundable expenses, receive necessary medical care, and navigate unexpected challenges during their journeys.
Travel insurance Meaning
The meaning lies in its ability to mitigate the financial risks associated with traveling, It means that travelers can explore the world with confidence, knowing they are protected against a range of potential mishaps.
What is Travel Insurance Policy?
A travel insurance policy is a legal contract between the policyholder (the traveler) and the insurance company. It outlines the terms and conditions of coverage, including the specific events, limits, and exclusions. When you purchase, you are issued a policy that provides details on the coverage you've selected.
What is Overseas Insurance?
Overseas insurance, often known as international travel insurance, is a specific type of travel insurance designed to provide coverage when traveling to foreign countries. It offers protection for the same risks as domestic travel insurance but takes into account the unique challenges that international travel can present, such as foreign medical systems and different legal and cultural environments
What is Travelers?
"Travelers" can refer to individuals or groups of people embarking on a journey. Travelers are the beneficiaries of travel insurance, as they are the ones protected by the coverage provided in the policy.
What is travel protection?
Travel protection is another term often used interchangeably with travel insurance, It represents a set of insurance coverages and assistance services aimed at safeguarding travelers from unexpected events and providing financial protection.
What is Trip insurance?
Trip insurance is a subset of travel insurance, primarily focused on safeguarding your investment in a specific trip. It includes coverage for events that could disrupt or affect that particular journey, such as trip cancellation, trip interruption, and occasionally, trip delay. trip insurance is especially valuable for individuals or families taking a one-time trip and seeking to protect the non-refundable expenses associated with it.
Conclusion
In the world of travel, unpredictability is a constant companion. That's when travel insurance comes in, offering the security and assurance that, no matter what life throws your way, your journey remains a source of joy and inspiration. The right policy provides the peace of mind you need to explore the world with confidence.
Having travel insurance offers peace of mind you are worry-free in case something goes wrong on an upcoming trip. Travel insurance includes numerous important benefits. Getting acquainted with them empowers you to make the right choice about the type of coverage to consider for your next trip.
As you plan your next adventure, take the time to understand the different types, evaluate your specific needs, and choose a policy that aligns with your travel aspirations.