INF Insurance Reviews – Complete Coverage
For visitors needing pre-existing condition coverage, complete INF Insurance Reviews can help to decide if their plans can meet visitors needs.
If your parents are visiting the USA their pre-existing medical conditions quickly ramp up the medical bills in the case of any unforeseen medical incident, given the high cost of healthcare in the USA.
The innovative international medical products they offer include:
Coverage for travelers of all ages up to 99 years
Dental and vision coverage for travelers
Telemedicine benefits
Cashless claims and direct billing benefits
24/7 travel assistance service
No paperwork and instant ID
With a Trustpilot rating of 4.9 INF Insurance Company can be relied on to offer superior medical coverage to visitors. Some of their plans have an AM Best Rating of A.
INF Travel Insurance for International Travelers Visiting the USA
The INF insurance provider offers a wide variety of travel health insurance:
INF Elite Plus
INF Premier
INF Premier Plus
INF Safe Traveler USA
INF Standard
INF Hop Assist
BMI Plan
Diplomat America
INF Insurance provides unique and innovative accident and sickness insurance to individuals worldwide visiting the United States, Mexico, and Canada. Getting visitors insurance for pre-existing conditions can be critical for a United States visit.
Some of these plans cover pre-existing conditions like the INF Elite plan and the INF Premier plan. We have also compared INF Premier Plus and INF Elite Plus, it help you understand the differences.
Please note that INF Elite, INF Premier, INF Traveler, and Standard travel insurance plans are not available to US residents and are only available to non-US residents. Hop Assist and Hop Mindoro Assist are travel assistance plans and not insurance plans.
The INF Elite Plan
INF Elite plan is a comprehensive insurance plan and has the following unique features:
Underwritten by Crum & Forster, SPC
AM Best rating of A
Insurance benefits include coverage only for non-US residents from Age 0-99 years
The short-term travel medical coverage is from 90 days to 364 days
Policy Maximum Limit:

Age 0-69: $150,000, $250,000, $300,000, $500,000, $1,000,000
Age 70-99: $75,000

Covers Pre-Existing Conditions
PPO Network: United Healthcare PPO Network, including Direct Billing
The plan covers eligible medical expenses up to the policy maximum limits only and/or otherwise as specified on the policy document. Get to know the United Healthcare PPO network.
INF Elite – Pre-Existing Medical Conditions Coverage
Pre-Existing Conditions Cover:

Age 0-69: up to $25,000, $30,000, $40,000, or $50,000
Age 70-99: up to $20,000
The INF Elite Plus
Basically, the INF Elite Plus plan is similar in all the features of the INF Elite Plan with added benefits and enhanced limits for some coverages like emergency medical evacuation, repatriation of remains, etc.
The INF Elite Plans – Overview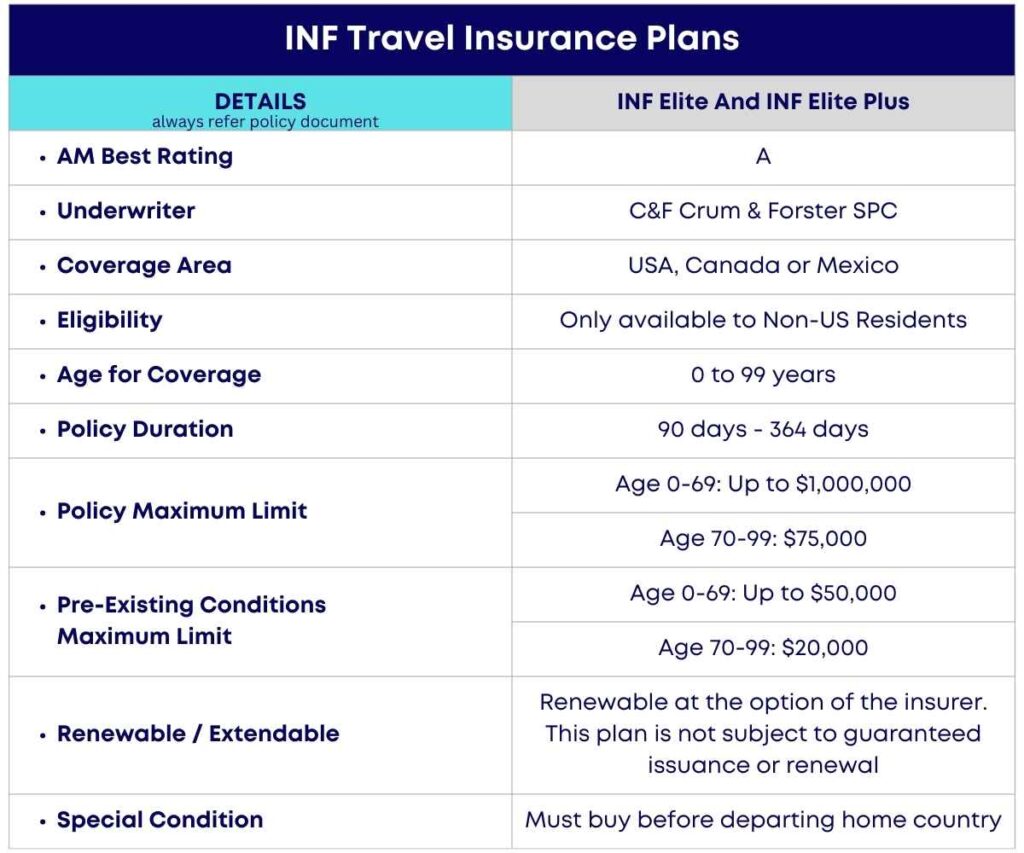 Policy Maximum Limits And Pre-Existing Condition Coverage Limit – INF Elite Plan and INF Elite Plus Plan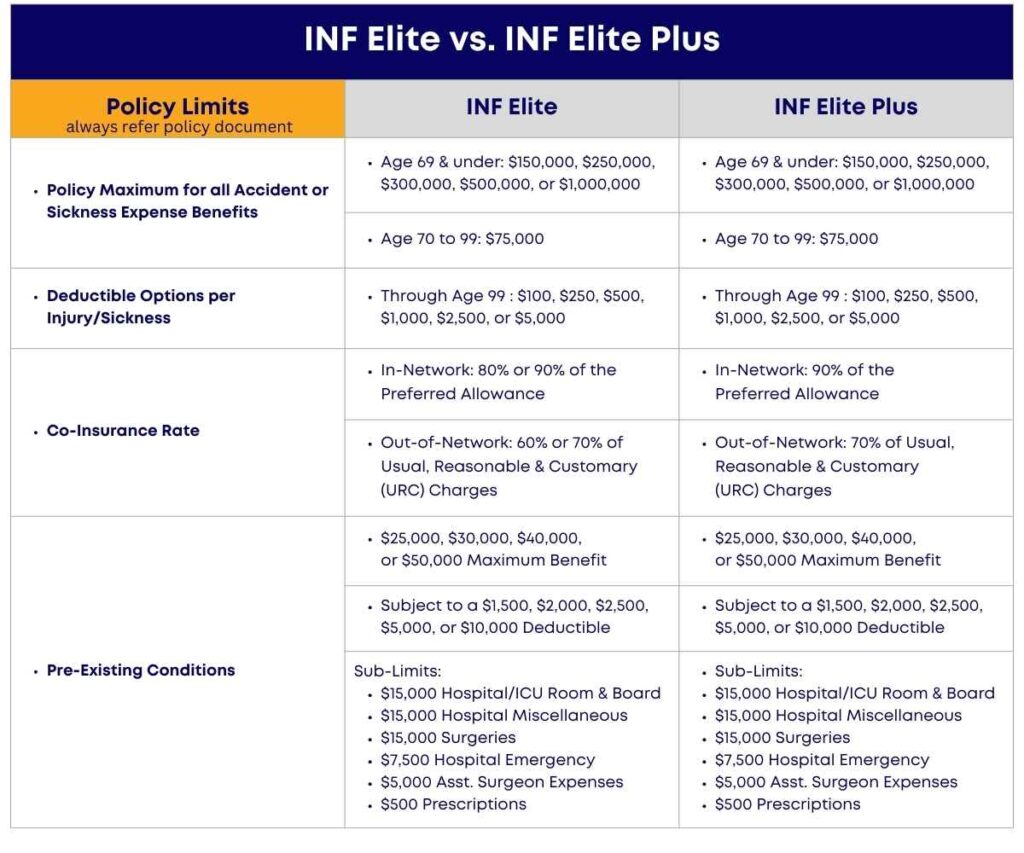 Emergency Coverage Limits of INF Elite Plan and INF Elite Plus Plan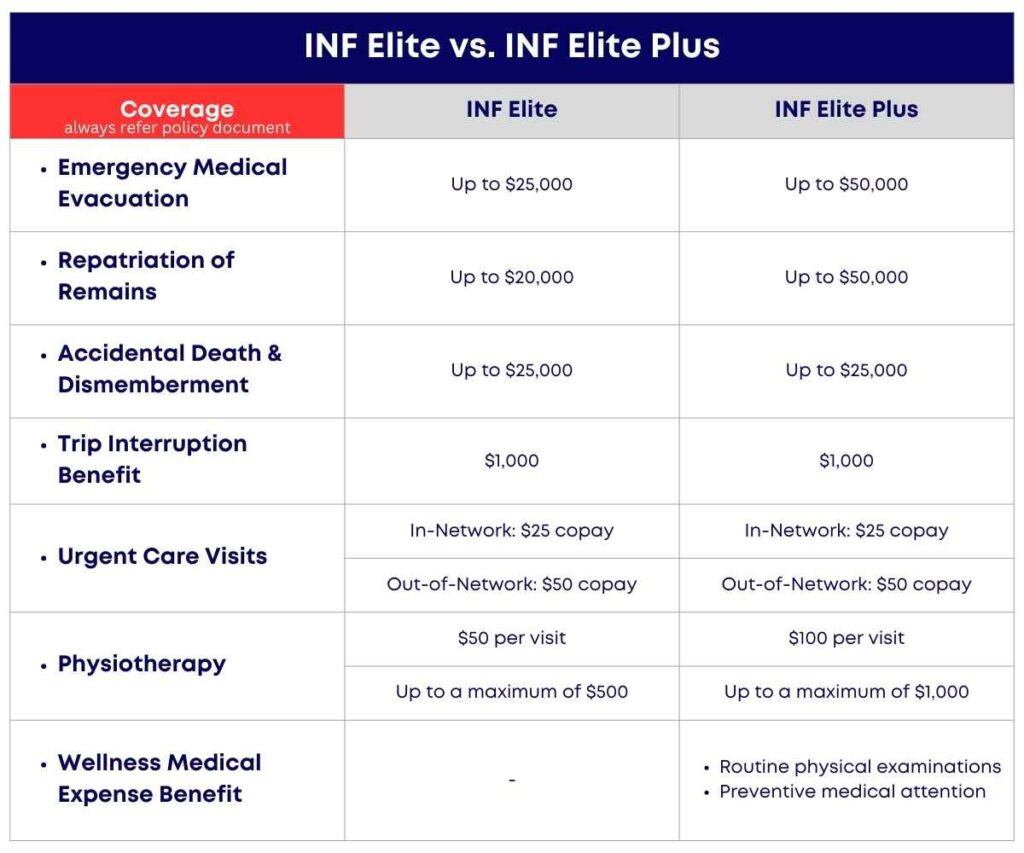 NOTE: The INF Elite and INF Elite Plus Plan need to be purchased before departing the home country and the minimum period of coverage is 90 days.
INF Premier And INF Premier Plus
INF Premier & INF Premier Plus are limited coverage/fixed benefit plans.
The plan covers pre-existing conditions, including coverage for blood tests, lab work, and hospital stays, apart from other benefits for unexpected medical incidents.
Many other details like the coverage from 90-364 days, and age groups of 0-69 years, and 70-99 years are the same as the Elite plan.
INF Premier – Policy and Pre-Ex Conditions, maximum coverage limits: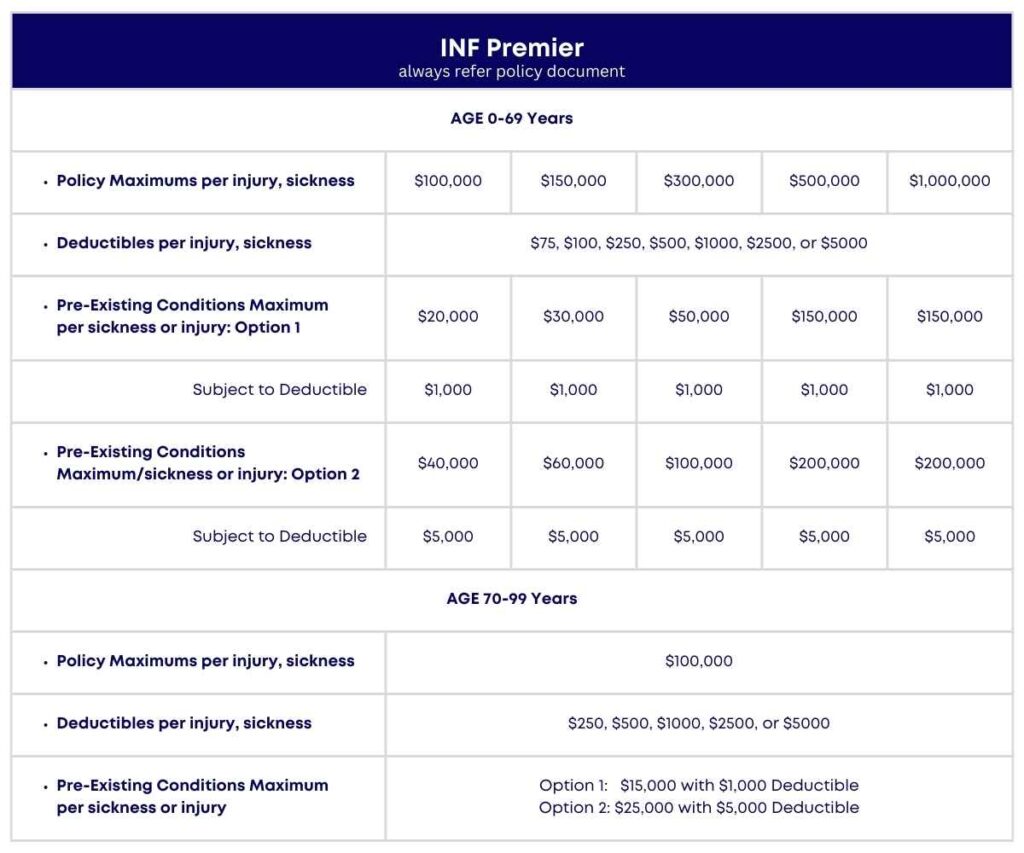 INF Premier Plus – Policy and Pre-Ex Conditions, maximum coverage limits: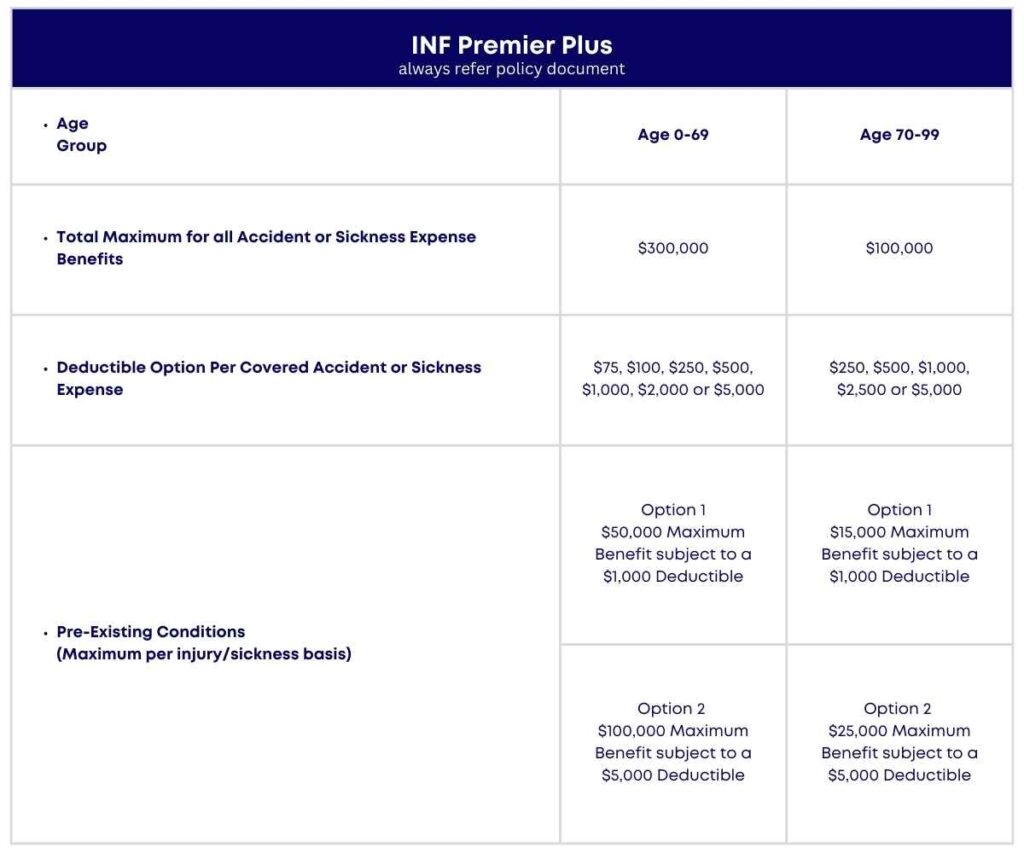 The plan covers eligible medical expenses like ambulance expenses, dental treatment (injury only), prescription drug expenses, emergency medical evacuation, repatriation of remains, accidental death and dismemberment benefits, urgent care visits, and more. The limits and exclusions are available in the policy document.
INF Premier Plan Offers INF-Robin Assist
INF-Robin Assist arranges for:
Direct billing
Cashless claims with providers worldwide and
Provides 24/7 responsive claims, emergency travel, and medical assistance from any device, any time, any place
INF-Robin Assist will process your claim, coordinate with medical providers around the globe, determine eligibility, and even handle evacuation and repatriation services.
INF Premier Plus Plan also provides a Wellness Expense Benefit for visitors to the USA, Canada, or Mexico.
Covered wellness expenses include:
Routine physical examinations: per plan term, which includes, one routine physical examination, laboratory tests, x-rays, and any other medical expense related to the examination.
Preventive medical attention: Immunizations Include: flu shot, tetanus, diphtheria, pertussis, Tdap, hepatitis A, hepatitis B, HPV, measles-mumps-rubella, pneumonia, varicella, meningococcal; only as recommended by the U.S. Centers for Disease Control and Prevention.
INF Safe Traveler USA
INF Traveler USA Comprehensive Coverage Plan offering United Healthcare PPO Network access. The plan details: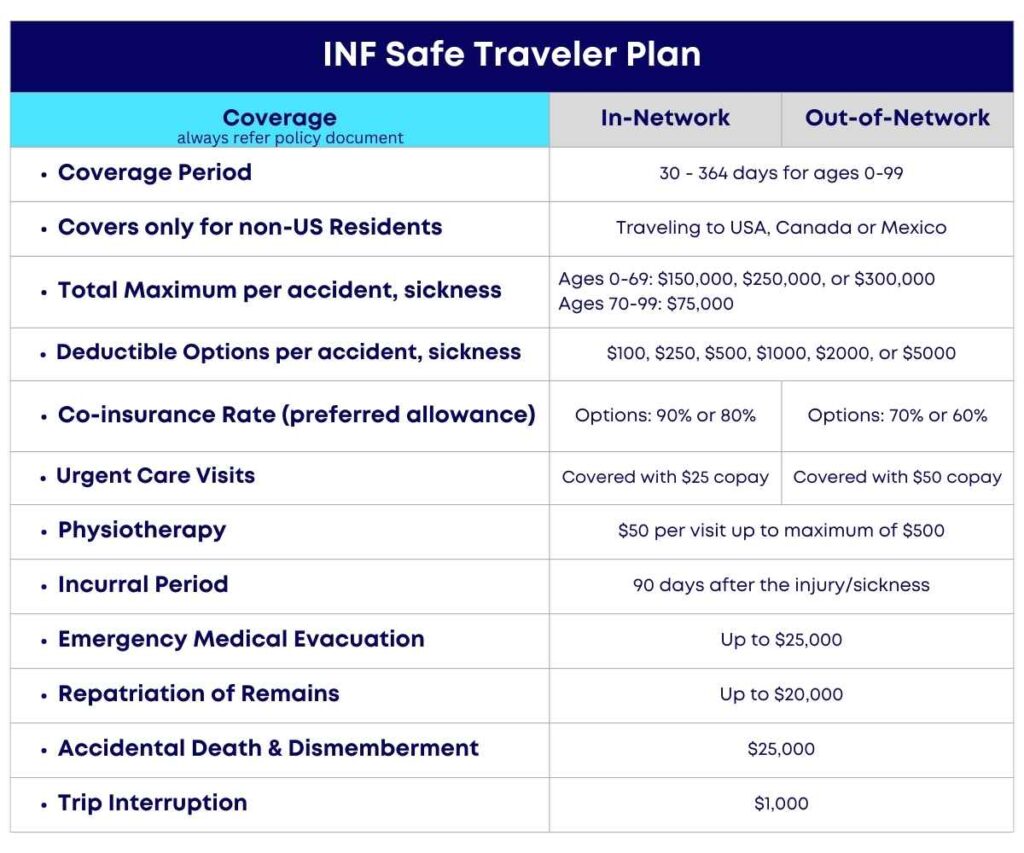 INF Standard
Only available to non-US Residents visiting the United States, Canada, or Mexico. Any non-US citizen traveling to the USA will be covered if the USA is not their country of residence.
Coverage is available from ages 0-99. It can be renewed online up to 12 months after the initial involvement period. The tenure for the plan is from 30 days to 364 days.
Direct billing may be available from providers, but no coverage for pre-existing conditions is available with this plan.
It includes coverage for dental, prescription drugs, vision issues such as eye irritation, pregnancy and childbirth, chiropractic care, and urinary tract infections. It is important to note that this plan is only available for visitors before coming to the USA.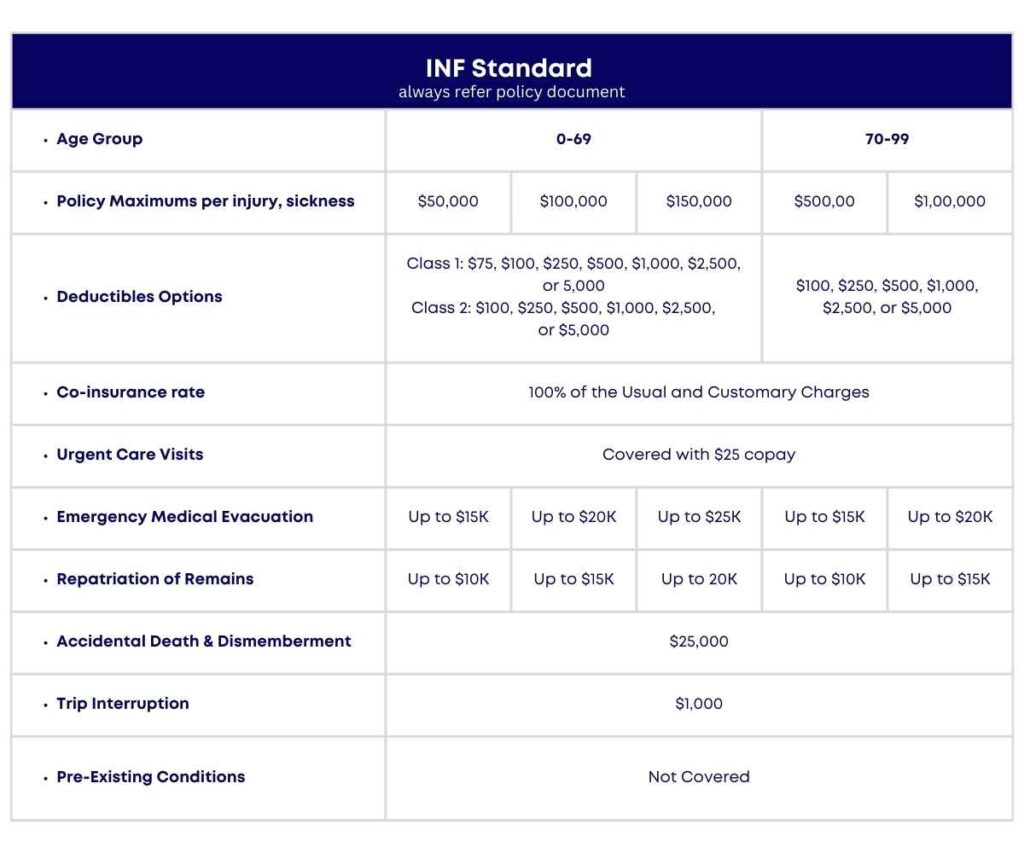 INF Standard is an International Visitor Accident and Sickness Insurance (IVAS). This plan is available to non-US residents ages 0-99 traveling to the US, Canada, or Mexico when purchased before the start date of your trip for at least 30 days and no more than 364 days, which is the Maximum Period of Coverage. Enrollment can be completed Online.
INF – BMI Travel Assist Plan
BMI Plans from INF are Travel Assistance Plans. The BMI Travel Assist provides travel and medical assistance for international trips with no deductible or copayments. BMI Travel Assist also provides assistance for pre-existing conditions, acute onset of a pre-existing condition, and COVID-19.
To avail of these plans, you must always and without exception contact the emergency center, who in turn will coordinate a virtual appointment by Telemedicine.
Please note that travel assistance plans are not insurance products.
Diplomat America Details
This plan is designed:
Parents visiting the USA
Non-US citizens visiting
Available for a minimum of 15 days to 365 days, the plan covers
COVID-19 covered as a new sickness
Emergency Medical Evacuation and Repatriation: $ 500,000
Return of mortal remains: $50,000
Emergency Medical Reunion: $50,000
Return of a Minor Child:$50,000
Trip interruption: $5,000
Loss of Baggage: $50 per article, up to a max of $250
Emergency Dental Treatment: $100
Accidental Death & Dismemberment (AD&D): $25,000 (enhanced benefit amounts available)
Athletic & Hazardous Activity Benefit available
Political and Natural Disaster Evacuation: $50,000
Co-Insurance: The plan pays 80% up to $5,000 of eligible costs – after you pay the deductible, then 100% to the Medical Maximum.
An additional $250 deductible is applicable for each emergency room visit as a result of an Illness. This deductible will be waived if hospital admittance is within 12 hours of the incident.
Deductible Choices: $0, $50, $100, $250, $500, $1,000, $2,500, $5,000 (per person per policy period)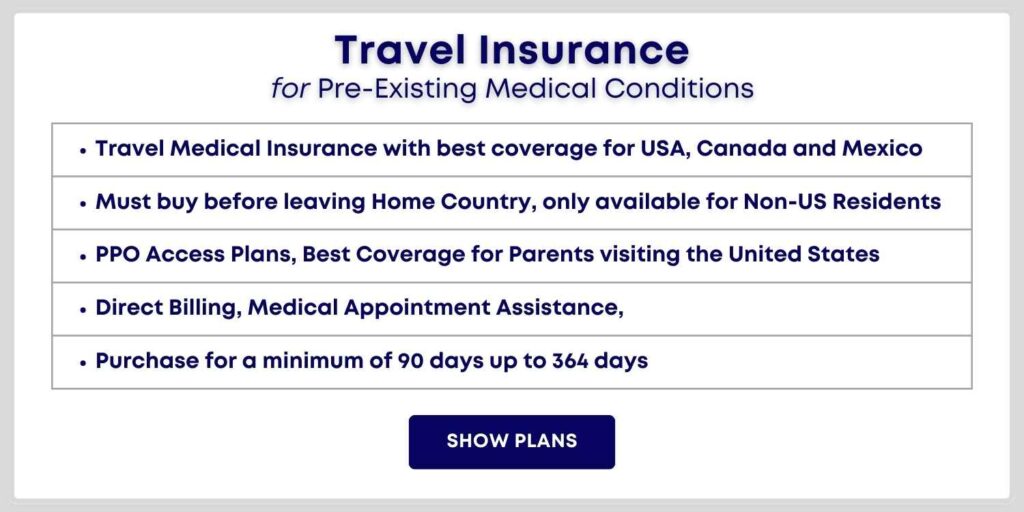 Why INF Travel Medical Insurance?
INF Plans Insurance Company founded in 1988, specializes in international medical and travel insurance.
They offer some of the best medical insurance for pre-existing conditions for international travelers to the United States. Perhaps the only other plan that can be considered for pre-existing coverage would be Visitors Protect from IMG.
INF also specializes in the most competitive Schengen Visa and international medical and travel policies on the market.
INF offers a suite of inbound USA and outbound USA travel insurance products for parents visiting USA leisure or business travelers, immigrants, green card holders, and international students.
The Common Benefits Across INF Plans
Most of the plans that INF offers have the following common features:
The plans cover non-US residents traveling to the US, Canada, or Mexico
Emergency Medical Evacuation benefits
Accidental Death and Dismemberment benefits
COVID-19 treated as any other sickness
Plans may have pre-existing conditions coverage (INF Elite & INF Premier plans)
Telehealth is provided by MDLIVE (for visits to the US only)
Careington International coordinates dental, vision, hearing, and prescription discounts
Some plan members will also be eligible for free lounge access at airports via prioritypass.
INF Plans and Pre-Existing Conditions Coverage
One of the most important benefits most travelers require is coverage for pre-existing medical conditions. Pre-existing conditions coverage makes INF plans unique compared to other travel insurance options.
The acute onset of pre-existing conditions is covered by INF's comprehensive plans. Some plans even cover the routine check-ups associated with pre-existing conditions.
Pre-existing conditions coverage essentially means that for a traveler covered under the INF Elite and Premier plans, issues for which a doctor's treatment has been received in the past year will be considered pre-existing.
Similarly, if medication for a condition were started last year, it would be considered pre-existing. In other words, common issues like BP and Diabetes that are stable are covered as new sicknesses.
Cancellation Policy at INF
Refund of premium will be considered only if INF Health Care receives the cancellation form before the effective date of coverage. After that date, the premium is considered fully earned and non-refundable
Unlike other insurance companies that give a prorated refund, there is no cancellation after the policy's effective date at INF. Due to this enrolling for 2 to 3 months and then renewing would be a better option than enrolling for six months or more at a stretch.
Extension of INF Plans
INF's Elite, Premier, and Standard plans can be extended up to a maximum of 364 days. It is a hassle-free process that is available online.
Why INF is a Good Choice for Travel Medical Insurance?
INF has provided innovative options for visitor insurance to millions of travelers to the United States for more than 30 years. There is a commitment to providing innovative insurance products, quality customer care, and supporting members when they need it the most. INF offers some of the most comprehensive travel medical insurance plans. Let us have a look at their notable features:
Their 30-year-old track record
Expertise in visitor insurance
24-hour customer care service
Exclusive plan offerings
Simpler experience with built-in technology
No paperwork – instant ID secure purchase
Offers plans covering pre-existing conditions
Telemedicine services
Discount card for vision, dental, and hearing included in plans
Now let's take a look at the areas that are not aligned with customers' needs:
After the effective policy date, there is no option for cancellation
The minimum coverage duration is 90 days on most plans that cover pre-existing conditions
The benefits that INF's plans provide are many. For a traveler, what could be better than going to the USA with a mind free of the anxiety and stress of unforeseen events?
INF truly offers the ease that travelers look for in insurance plans. The many advantages highlighted in this article are proof of the intent to make medical travel insurance as customer-friendly as possible. It is evident that INF plans are best suited for travelers to the United States with chronic or other pre-existing conditions.
How Do the Premiums on INF Plans Compare With Other Travel Insurance Providers?
There are many competitive options in the marketplace for travel insurance and there is no one-size-fits-all solution. The premiums for INF Plans tend to be higher than other service providers due to the nature of coverage provided.
If you or your parents are healthy with no pre-existing conditions, you may also find these popular plans meeting your travel insurance needs:
Comprehensive Coverage Plans:
Limited Coverage Plans:
Travel medical insurance coverage choices are plenty for seniors looking for alternatives to INF Plans.
Make sure you generate a quote and compare the plans before deciding.